Francis's News Feeds
This combines together on one page various news websites and diaries which I like to read.
Also: BBC In Pictures | mySociety panopticon | mySociety Google reader | Francis is (my own blog)
---
May 21, 2013
Interesting photos - 19 May 2013 - Flickr | by Daily interesting photos - Flickr | 21 May 2013, 05:50 AM
---
Regulating utilities | by John Redwood MP | 21 May 2013, 05:04 AM
             Many people think their energy, water and other utility bills are too high. We have often examined the EU and UK policy background to some of the high prices, with many of you joining my criticisms of the carbon levies, renewables obligations and the rest that is pushing up our energy costs.
            There is a further problem with our utility industries that the UK still has the power to fix. There is a lack of  competition in several major areas. People claim these great utilities are natural monopolies. Government buttresses their strong market positions  with statutory protections, and they rely on Regulators to avoid high monopoly prices.
           Unfortunately the absence of competition means a lack of innovation, a complacent reliance on older methods of production and delivery, and a lack of market test on the cost base.  In order to have better industries delivering more and cheaper water, more and cheaper power, and delivering more and cheaper public transport, we need to encourage or require more competition.
            John Penrose MP has recently written an interesting paper entitled "We deserve better". It helps us realise that there are two essentials we need to improve the performance of the large utility areas. The first is the simple ability for customers to switch easily between companies supplying water, or electricity or gas or train travel or  banking services. The second is the easy ability of a challenger business to use parts of the existing pipe or cable or clearing network to link them to customers in their early days as they build up their customer base.
                There are many good examples of pipes and cables being used as common carrier systems. The UK needs to get on with providing easier access, as the means to create more competition. Once you allow more competition you will get more  capacity and plenty of new ideas. Just look at the way mobile phones took off once we broke the BT monopoly.
---
Minimum Equipment For Standard Bug-Out-Bag by Talon | by Survival Blog | 21 May 2013, 04:35 AM
Many of the articles that I have read on various web sites are, in my not so humble opinion, not adequately addressing the equipment necessary for a Bug-Out-Bag (BOB). Having had many years of experience in the survival arena, winter and summer, in the Arctic, mountains, tropic and desert regions, many times in hostile theaters, I have drawn up a list for a BOB, along with some accompanying information. There are variations for some of these items and the list of potential equipment and gear is nearly infinite. However in my considerable experience, what I have listed below has proven to work.
Minimum Equipment
Weapons and Ammunition
Semiauto handgun in .45 ACP, 40 S&W, in (A 9mm, is less desirable. The bigger the projectile (bullet) the bigger the hole and big holes and deep penetration.)
Four loaded magazines for handgun
Additional 50 rounds for handgun
Fixed blade combat knife
Folding tactical knife
Tomahawk with sheath (excellent for bush craft & a formidable weapon)
Compact weapons cleaning kit for weapon caliber (Bore Snake and CLP)
Other Tactical Equipment
LED Key Chain flash light with green lens (to read maps)
Compass
GPS
Holster for your handgun (see info below)
Handgun Magazine Pouches
Camel back style Hydration System with inline filter, 100 fluid. oz
Multi-tool, black or OD in color
Small SureFire (or other tactical-type) flashlight
Six spare batteries for lights, GPS, etc.
Six spare batteries for Surefire lights
One (1) spare flashlight bulb for each style of light
Appropriate first aid kit
Small binoculars
GMRS/FRS Radio
Radio pouch for GMRS/FRS size radios
Head set with push to talk for GMRS/FRS radio
Wristwatch with covered dial/face. Nothing that reflects. (See SOP)
Knee pads
Ruggedized Cell Phone with spare battery
Cell Phone charger for 12 volt and 110 volt
Topo maps of your area of operation (AO)
Shelter
Sleeping pad (Thinsulate)
Good quality large size Space Blanket or Rain Fly, either camo in color or with camouflage net
Water / Food
Water bottle with filter
Several coffee filters to strain sediment from water
Flint & Steel with Magnesium Bar (practice building fires in the rain)
Zip Lock Bag of Dryer Lint (fire starter)
Dehydrated food for at least seven days, entrees only
Heavy duty Fork and Spoon
A way to cook your food, i.e. MSR Multifuel stove or MRE cook pouch. You probably will not always have time for a cooking/warming fires and there will be many times that you do not want to expose yourself with that type of a signature.
P 38 can opener
Clothing
1 set of Camo appropriate for your location
1 pair of combat style boots that are well broken in to your feet
Camo rain gear or winter gear as needed
Hat
Sun glasses
Tactical belt for pants
Dry socks (No socks with seams over the toes! i.e. Smart Wool brand)
Camo rain poncho
Store everything that has to stay dry in heavy duty Zip Lock bags
Other
If you wear prescription glasses or contact lenses you must have a spare pair/set
Toilet paper and know a natural alternative in your AO. Save the T paper for when you have to be quick
Tooth brush
10—six inch black zip ties (to repair equipment in the field)
10—heavy duty 12" black sip ties to secure bad guys
One roll black electric tape (UL listed)
Partial roll of camouflage Gorilla Tape
100' of 550 cord
Potassium Iodate tablets
Several one gallon size Zip Lock Bags (spares)
Two leaf/yard size trash bags
Two small roles of picture hanging wire for snares etc.
Hooks, flies, lures, line, sinkers, swivels, weighted treble snagging hook with steel leader, all sized for your A.O.
One small plastic container of cayenne pepper
Mosquito repellent
* Coagula XL, 2 ounces
* Dysentery Stop, 2 ounces
SOP (Standard operating procedure)
No glow in the dark, shinny, reflective gear of any kind, including but not limited to:
Stainless side arms or Leatherman tools (unless painted)
No glow in the dark sights (tritium type). Black them out for night ops
Shiny pistol grips
Ink pens
Watches and watch bands
Rings and other jewelry
Flashlights
Eye glass frames
There will be nothing in your Bug-Out Bag that rattles or makes noise.
No perfumed products of any kind
GENERAL INFORMATION
After reading this list, I am sure that each of you has many different questions and I will try to answer some of them here.
One question that I am asked a lot is "How do I carry all of this stuff with me?" Some people prefer to have some type of day pack or back pack. Personally, I am not a great fan of packs because they throw your center of gravity to the back making it more difficult to navigate difficult terrain. Personally, I like a tactical vest better than anything else does. The tactical vest, in my not so humble opinion, is far superior to day packs and is much more comfortable to carry. A tactical vest is much less fatiguing to wear all day than carrying a pack. You do not have to take the tactical vest off to access the most critical items because they are carried in your front pockets. You can conceal your tactical vest in a duffel bag while at work or in your vehicle.
Good tactical vests for a standard bug out bag (BOB) can be bought at Blackhawk.com. This company makes very good equipment and I have personally used a lot of their gear. If the only weapon that you plan to carry is a handgun (or no gun at all, which is foolish at best and catastrophic at worst) then I suggest that you get the Blackhawk Mega Tactical Vest (Medic/Utility), along with a Patrol Belt & Pad. This vest has many pouches to carry your gear/equipment. I also suggest that you get the S.T.R.I.K.E. LRRP Butt Pack GP, which easily attaches to the back of the vest. This allows you to carry extra supplies in the Butt Pack. A 100 oz. hydration bladder will also work with this vest, so get one. I also suggest that you get the Serpa Drop Leg Holster (Platform) for your handgun on your strong hand side and an additional drop a leg STRIKE platform for your weak hand. These attach to the Patrol Belt Pad (which attaches to the vest). The weak hand platform can be used to carry your first aid kit or other things in a separate pouch or pouches. BLACKHAWK carries a wide variety of STRIKE pouches. If you do decide to use a day pack, get the best one that you can possibly afford. Tactical Tailor, Blackhawk and 5:11 Tactical all make great packs.
[JWR Adds: As I've previously mentioned in SurvivalBlog, I personally find the weight of drop-leg holsters uncomfortable for walking long distances. I prefer traditional belt holsters. Not only is the weight distribution more natural--on your waist rather than on your thigh--but they are also quicker to access. But your mileage may vary. If you have the chance, try out this style gear before you buy it.]
Personally, if it is not in the winter, I do not take a tent or sleeping bag if I am going to be gone on a (dismounted) patrol/mission for less than 10 days and, depending on the climate/terrain etc., sometimes longer. I take a Thinsulate closed cell foam sleeping pad just to stay off of the cold ground, a space blanket and maybe an extremely light water proof shelter.
Here is the scenario. All of a sudden without warning, there is a meltdown in the nation, whether it is social/economic, a terrorist strike, natural disaster or some combination of these. You grab your BUG-OUT-BAG and head for the door, be it from your place of work or your home. The next question is "Where am I going and can I get there from here?" If you plan to head home, you have to consider that someone else might be occupying your home by the time that you get there. What will you do then? Have you ever considered this? Do you have a plan in place for this event? No? Then make one, make several. It is critical to your survival and the survival of your family and loved ones that you have a plan for this. Just taking off with your BOB, family in tow, with no destination in mind is going to be a world-class train wreck for you and your family. So get a plan and then make several alternate plans and stick with it. Always have several backup plans.
Be absolutely certain that you have a communication (commo) plan set up with all of your family members. If things get bad during a weekday, you will be at work, your wife at home or at work, your kids in school….in other words almost everyone in your family will be away from home with no way to communicate with each other. Do you think that is impossible? The government always shuts down local cell phone service in a crisis to keep the bad guys from communication and remotely detonate IEDs. Just wait until the cell phones go down, the electricity goes out, the land line phones go out…then what are you going to do to communicate with your family? Have a Rally Point (RP) that you know that you can all get to and have at least two alternate RPs in case the first one is compromised (overrun). Everyone in your family has to be able to get there from all the places that each of them spends most of their time away from home. Be able to pick up your kids from school on your way to the Rally Point and have an alternate plan for that. If your kids are old enough to be able to make it to the RPs on their own in case you can't get there they need to be trained in how to do that, where to go, what to do, who to trust and who not to trust. Make it known to the school that your kids can and may be picked up by your trusted friend or relative. Then this trusted friend must be willing and able to transport your kids to your RP.
A few words about your handgun: Buy only a good quality semi automatic handgun like a Colt or a Glock. Then get some quality tactical training with your handgun! I cannot stress this enough! After you get the training, practice and practice and practice some more. If you cannot hit a 3" X 5" note card four out of five times at between 7' and 21' than you need to practice some more. In a survival situation where the nation is completely falling apart, if you do not have tactical training with your handgun then somebody is going to take it away from you and use it on you. I have heard this many times "nobody's taken' my gun away from me!" but here is a news flash for you. If you do not have proper tactical training and if you do not keep current with your proper training then you will one day be in for a very rude awakening! When the chips are down and someone is trying like mad to kill you or one of your family members, believe me, when you return fire it is not the same as shooting at paper targets on the range with your friends! And one more thing…get a concealed carry permit and carry your weapon with you….always! If you are three seconds away from your weapon, then you are unarmed!!!
You very well might not make it out of Dodge if you leave too late, and you might very well bug out but not make it all the way to your RP or your retreat location with your vehicle. In that scenario you will be stuck trying to survive with what you have on your back until you get to your RP or to your retreat. If you do not have a retreat location that is already stocked, then you will have to spend the rest of your days trying to make it with what you have on your back, what you can hunt, catch or gather and what you can take from the enemy. Not a very pretty picture is it? So get a retreat and get it stocked…yesterday!
Remember this: Many so-called experts only recommend that you have 72 hours worth the food in your BOB. If that is the only thing that you have in your BOB, then you are only 72 hours away from being just another refugee. You must have the necessary equipment (and knowledge) in your BOB to obtain more food, build a shelter, and provide heat and first aid treatments!
Another thing that I highly recommend you get is some wilderness and urban survival training and some Escape and Evasion (E&E) training. Let's face it; most of you do not know anything about E&E when the bad guys are hot on your heels and very little to nothing about surviving in the wilderness or in an urban setting with nothing but your BOB. None of this great stuff in your BOB will do you any good if you do not know how to use it. Get the training. You CAN survive with the gear/equipment on this list but you need some training in how to do it.
Also, get some training in map/compass orientation and navigating. The civilian portion of the GPS system will likely be shut down in the event of a terrorist attack! Or…..what are you going to do if your GPS batteries run out or just gets broken and quits? If you cannot read a map and use a compass, and know how to orient yourself and navigate to your destination, you are going to be in very deep trouble!
When you have made up your Bug-Out Bag use it before you need it. Get the kinks worked out of before you have to put it to use in a real world situation! Take nothing but your BOB and head into the bush for a few days. You will be surprised at what you learn works and what does not work.
This list may seem very long but most of the stuff is small and light and you will be surprised at what little room it takes up in your vest or pack.
Keep your Bug-Out Bag with you at all times! It will do you no good if you leave it at home and you find yourself miles (or even several blocks) from home when you need it and there is no way to get back home. If you chose to use a tactical vest for your Bug-Out-Bag then keep it in a duffel bag or larger back pack and keep that with you all of the time. It will be far less noticeable. When things fall apart, do not worry about what you will look like wearing a tactical vest. Wearing a tactical vest with a drop leg platform/holster, you look like a professional and that you are serious. I promise you that the bad guys will be far less apt to mess with you. They will pick a different target, probably the person wearing a day pack with his weapon his hidden inside.
*Note: (I have listed two items that you might not be not aware of. One is Coagula XL and the other is Dysentery Stop. Here's a quick blurb on each product that, I pray that I will never have to go into a survival situation without these two products!
Coagula XL is a blood coagulant accelerator made from all natural products, it is non-toxic, chemical free and with no negative side effects. It works on topical applications for open wounds, and it works equally well given orally for internal bleeding. It also helps keep the wound from becoming infected. I have seen this product save people lives when an onsite prepped operating theater would have failed. This will save your life when nothing else will.
Dysentery Stop does exactly what it says. It is also an all natural product, non toxic and chemical free. Diarrhea/dysentery in a survival situation spells nothing but disaster. Dysentery causes you to become rapidly dehydrated so you will drink more water, which may be the cause of your dysentery to begin with. I know of a tactical mission that had to be aborted when the entire team came down with dysentery and they had nothing to stop it with. In a survival situation, you may be forced to drink water that is not too good, eat food that may be slightly tainted, and you will be exposed to every bacteria, virus and germ you could ever imagine. This stuff is a must have.)
When I am on a mission, everyone on my team carries two ounce bottles of both of these products in their personal first aid kit and our Combat Medic carries even more.
Both of these products can be purchased from BHP in Alaska by calling (907) 567-7486. FYI: The company does not take credit or debit cards. You might have to leave a message but they will get back to you.
---
Five short links | by PeteSearch | 21 May 2013, 03:16 AM
---
VC presentation parody | by IdeaTransplant | 21 May 2013, 02:30 AM
This cartoon of Nikola Tesla (who do you say?) pitching VCs highlights many of the dynamics that are happening in VC pitch meetings (unfortunately).


Two comments to this though:

While entrepreneurs have no shortage of ideas to make a parody about VCs, I think VCs might have equally rich material to make fun of entrepreneurs pitching.
But more importantly, anticipate this sort of VC behaviour. In this video the entrepreneur did not manage to get across what it is that he is actually doing early enough, and as a result the investor focused more on their email. VCs probably make up their mind whether something is worth listening to in the first few minutes of your pitch, partly maybe because they are arrogant, but also partly because it is the only way to deal with thousands of ideas being thrown your way. Get that elevator pitch ready, and the objective of the elevator pitch is not to land the investment, but to get the attention for the next 20 minutes.
---
Geomedia | by BLDGBLOD | 21 May 2013, 02:14 AM
[Image: "Laser Cut Record" by Amanda Ghassaei].

An incredible example of what can be done with laser-cutting, Amanda Ghassaei's project "Laser Cut Record" features music inscribed directly into cut discs of maple wood, acrylic, and paper, resulting in lo-fi but playable records.



For what they are, the otherwise scratchy and off-kilter audio quality is actually quite amazing, and the sounds themselves are made all the more haunting and strange by the crackling noise and resonance of the material that hosts them.


[Image: "Laser Cut Record" by Amanda Ghassaei].

Some technical details are available at Ghassaei's Instructables page, and you can see the laser-cutting itself at work in the following video.



I'm reminded of a short letter called "Acoustic Recordings from Antiquity," written to the Proceedings of the IEEE in August 1969 by a man named Richard G. Woodbridge III. The somewhat eccentric Mr. Woodbridge explains that he has been researching accidental recording of sounds found, after careful analysis, on the surfaces of physical objects rescued from antiquity—in particular, pieces of pottery originally shaped on potters' wheels (seen here as a kind of primordial record platter).

Woodbridge even claims some sounds have been "recorded" as re-playable waves in the slowly drying shapes of oil paintings.

To listen to these lost recordings, the letter suggests, you simply hold a record cartridge near the work of pottery in question, such that the needle of the phonograph can "be positioned against a revolving pot mounted on a phono turntable (adjustable speed) 'stroked' along a paint stroke, etc." When this was done properly, he claimed, a "low-frequency chatter sound could be heard in the earphones."

That is, the voices of people present in the room during the making of the pot could be re-played from the surface of the pot itself.


[Image: "Laser Cut Record" by Amanda Ghassaei].

Woodbridge suggests that this might have alternative applications: "This is of particular interest as it introduces the possibility of actually recalling and hearing the voices and words of eminent personages as recorded in the paint of their portraits or of famous artists in their pictures." So an experiment was orchestrated:
With an artist's brush, paint strokes were applied to the surface of the canvas using "oil" paints involving a variety of plasticities, thicknesses, layers, etc., while martial music was played on the nearby phonograph. Visual examination at low magnification showed that certain strokes had the expected transverse striated appearance. When such strokes, after drying, were gently stroked by the "needle" (small, wooden, spade-like) of the crystal cartridge, at as close to the original stroke speed as possible, short snatches of the original music could be identified.
Through this technique, the overlooked—overlistened?—acoustic qualities of various objects, beyond high-brow pottery and oil paintings, can thus be revealed:
Many situations leading to the possibility of adventitious acoustic recording in past times have been given consideration. These, for example, might consist of scratches, markings, engravings, grooves, chasings, smears, etc., on or in "plastic" materials encompassing metal, wax, wood, bone, mud, paint, crystal, and many others. Artifacts could include objects of personal adornment, sword blades, arrow shafts, pots, engraving plates, paintings, and various items of calligraphic interest.
Woodbridge calls the pursuit and revelation of these sounds "acoustic archaeology."


[Image: Like the rings of Saturn, from "Laser Cut Record" by Amanda Ghassaei; in fact, perhaps the rings of Saturn are an unread recording...].

But why stop at sounds?

Perhaps in two years' time, we'll watch as Amanda Ghassaei cuts DVDs—"the data on a DVD is encoded in the form of small pits and bumps in the track of the disc"—with a combined and simultaneous laser-cutter/3D printer ensemble, coating inscribed "small pits and bumps" with reflective metals.

Suddenly, wood, rock, metal, even exposed geology in situ can host visual content. Indeed, perhaps it already does, but we haven't invented—or we simply haven't applied—the right technologies for decoding it. In other words, we have DVD players; we just haven't, learning from Richard G. Woodbridge III, used them to "read" other materials.

In August 2015, you and some friends hike up to a rock wall in the middle of Utah, and there are DVDs printed all over the surface of the hillside, full-length albums laser-burned into White Rim sandstone, and audio-visual pilgrims carrying deconstructed laser-lens systems, scanning for hidden film fests and warbling soundtracks, swarm every surface all around them.

It's the rise of geomedia.
---
Economics and Investing: | by Survival Blog | 21 May 2013, 02:11 AM
Andrew Maguire: Physical Demand Shows Gold In Massive Bull Market. (Thanks to Jim W. for the link.)

US regulators adopt weakened rule on derivatives trading; critics say large banks to benefit
Doug Noland: Financial Euphoria
H.M. sent: Slovenia's shaky banks bring a downgrade from Fitch
Items from The Economatrix:
Our Current Financial System Is So Toxic, A Collapse Is Imminent
The Fed Is Creating Class Warfare And The Recovery Is Being Distorted
---
Where Tumblr Came From | by Anil Dash | 21 May 2013, 12:49 AM
Seven years ago, my wife Alaina Browne and I were living happily in San Francisco when she went off to NYC to visit with our friends and attend a party. By the time she flew back, we were on a path that not only led to our return to New York City, but to getting a front-row seat to the birth of what would become Tumblr. Along the way, I've had the chance to see Tumblr from the perspective of a user, a competitor and a fan. Since so much of the conversation today is about the dollar amount of their sale, and the speculation about their future with Yahoo, I thought it'd be nice to look back at a few distinct moments in their evolution, as seen by an interested outsider.
Before the Beginning
Alaina had come back excited from visiting New York, telling me about having been introduced to Ed Levine by our friends David Jacobs and Meg Hourihan. Ed wanted to build a food community site called Serious Eats, and had hired two young guys recommended by Fred Seibert to build out the site. I heard secondhand from my friends about the content management system that was being built by Davidville, the consulting company run by David Karp and Marco Arment. David and Marco were building a tool to power Serious Eats, but I didn't know anything about them except that they were really young.
Serious Eats had gotten a launch sponsorship, and as a result needed to get up and running by the holiday season. But by October, all that I'd seen of the publishing tool they were building was a very simple single-column blog that presented photos really nicely, but had no way to show standard banner ads at all. After debating whether the ads that needed to be delivered could be fit into the simple structure of the tool that had been built, the team decided in favor of just launching Serious Eats on off-the-shelf technology because they needed to get running quickly. As David Jacobs described in his post on the Yahoo/Tumblr deal, the team picked Movable Type since they were all very familiar with the software and knew those of us who worked on making that app.
In short, some of the fundamental constraints that shaped Tumblr in its most nascent stages was that publishers weren't yet able to get advertisers to buy native, in-stream ad units, and that traditional ad buys made units that were not easy to integrate into super-simple tumblelogs. Hmm!
Update: I think Marco had some objections to my characterization of this point in the evolution of their work. His tweets on the matter follow:
Given that I made no assertion over how much code was shared between the two companies, and since a simple CMS is usually little more than a nice wrapper around an MVC framework, it seems there's little in dispute here except whether the content management system was a poor fit for being too complicated or for yielding output that was too simple. I'm happy to believe Marco has a better memory of the project than I do, since he worked on it and I barely even visited.
Marco also offered some other snarking at Meg about whether the client or consultant was to blame for an underspecified set of goals for the content management system, but these things are almost always everybody's fault, and that's sort of beside the point which is that the ideas of Tumblr were in tension with conventional blogging of the era.
Tumblelogs Take Off
Meanwhile, David and Marco took that simple publishing system they'd built and kept refining it. They were insistent even in those early days on calling the output "tumblelogs" instead of just "blogs", which I mentally filed away as "those sites like projectionist".
At the time, Tumblelogs had been around for a little while, best known to us old-time bloggers due to Jason Kottke's seminal post on Tumblelogs, which defined the format just as it was about to take off, and featured project.ioni.st as its leading light. But in a classic case of geeks looking at a thing from a technical standpoint instead of from a cultural one, many of us who were familiar with blogs already saw tumblelogs as "just a simple blogging template", similar to what we were already doing on Movable Type or WordPress at the time, rather than a fundamentally different medium.
Despite that myopia, there was a lot of momentum around simplified, media-rich blogging at that moment in history. Twitter had launched just a few months earlier in mid-2006, without any of its current photo or video capabilities, but with a super-simple posting experience similar to what made Tumblr so easy to use. Much of the early team behind Movable Type had moved to working on a platform called Vox, which was a simpler blogging tool for sharing media from other services, but included privacy features similar to the Flickr or LiveJournal, which kept it from being as dead-simple to use as Tumblr. WordPress, too, had incorporated a feature called "Asides", based on a popular plugin from Matt Mullenweg, and it made regular posts of photos, quotes and video clips easy to integrate into a more traditional blog.
At a technical level, many of these efforts were descended from a super-geeky concept that folks had been kicking around a few years earlier, called structured blogging. The technical focus of people in the community resulted in it having the super-nerdy name "structured blogging" and yielded a set of poorly-adopted technical specifications rather than a usable experience for normal people. But the fundamental idea behind structured blogging was that people would want to easily post the cool stuff they were finding on other sites and publishing in other media such as photo or video. And Tumblr proved that the idea of this kind of sharing was exactly right, even if the "structured blogging" name and implementation was exactly wrong.
One of the most important justifications for putting "structure" around different kinds of content was so they could be aggregated together into a reader, something like Google Reader, or earlier tools like Bloglines or My Yahoo or Userland Radio. The difference with Tumblr was that David and Marco very early on built in their reader, just like Twitter and LiveJournal had done, making viewing and creating take place in almost the same environment, and forming better connections between users on the site.
Tussling With Tumblr
By the time Tumblr opened up to the public just a few months later, it was clear they'd hit a perfect mix of features to connect with an audience that cared more about expression than technology. Gina Trapani was one of the early, enthusiastic users, and as Marco rightly pointed out in a podcast the other day, part of what made Tumblr so popular early on was that they let people use their own domain name, with a beautiful design, for free. Other free tools were either more complicated, or like WordPress or Blogger, they charged extra to use a domain name and/or constrained the template customization that a user could do.
Since I worked at the time for a company that mostly made its money by selling paid software and support for blogging, I didn't really see Tumblr as a threat so much as an interesting new entrant that offered the best free product for many users. I jokingly made a reference to Tumblr a year later on a promo page for TypePad, which I worked on at the time and after Fred Wilson and Bijan Sabet picked it up, Marco took offense, to my great surprise. In retrospect, it was obvious that Marco would see us as competitors and my joke as disrespect, but at the time I really had thought it was clear I was being playful but respectful because Tumblr had made something cool and I had met, and liked the founders.
Elbow to Elbow
When I say that I knew Marco and David a little bit, it's impossible to overstate how close the NYC tech community was at this point. The office where Tumblr was still based back then was 419 Park Avenue South, and Tumblr shared the space with Serious Eats, Next New Networks (now YouTube Next Lab) and Frederator, Fred Seibert's studio.
When I ran into David around that time a few blocks away at Shake Shack, I excitedly pulled him aside and said "I really think Tumblr is like LiveJournal 2.0", which is another one of those endorsements that probably sounded to him like a slight or an insult or some willfully obscure reference, but to me was about as high a form of praise as I could offer — LiveJournal is and was the most seminal social networking platform that's ever existed, and almost nobody had captured the addictive, expressive environment of its friends list as well as Tumblr's dashboard did.
Part of what I learned in my very-limited interactions with David and Marco in those early days was how disconnected and arrogant my own view of blogging and social software could be. Because Tumblr recapitulated many earlier ideas, albeit in a vastly superior way, I had thought it wasn't really as new as it has turned out to be. And some of this is just generational; My very first impression of meeting the then-20-year-old David and 24-year-old Marco was "Wow, these guys have a really good eye, and are really full of themselves." I still think both those things are true, and that those traits have served them very well.
But there was also a half-generational gap between me and these millennials, a cultural difference I hadn't yet understood or reckoned with. It led me (and many others I know) to underestimate what Tumblr's importance was, and actually retroactively made my analogy to LiveJournal seem more apt than perhaps I'd intended.
What's Next
In the case of LiveJournal, I got to watch first hand as many of the most fundamental parts of social networking and blogging were invented and then mishandled as advertising was introduced. But I never thought those mistakes were intrinsic to this kind of evolution in communities - it just required leadership that understood and truly respected a community.
In the case of Yahoo's acquisition of Tumblr, I mostly don't have a lot to say — my Activate cofounder Michael Wolf is on the board and we've done work that makes me far from objective in this regard, but even if we hadn't, I'd be optimistic about this deal. For me, it's the concepts I wrote about in Stop Publishing Web Pages — we've found a model for user interaction and social connection that really works, and it feels like the more places that's adopted and embraced, the better. Whether that's on Yahoo's homepage or Tumblr's Dashboard, or in some new app on my iPhone, we're reaching a consensus around how we want to connect with each other.
It's been fascinating to watch Tumblr evolve, and as a member of the New York tech community, I am thrilled for the whole team (and its inestimable investors) on the success of the company. As a blogger, it's still a really sweet moment to watch the medium of blogging be validated in this way, since a huge number of dollars is a clear signal even to those who don't understand the artistic and expressive importance of blogging. And as someone who still loves hacking on these kinds of software, it's been tremendously useful to see my own assumptions and preconceptions be challenged by a new generation of young entrepreneurs and creators who take this medium I've watched since its inception, and push it to fascinating and inspiring new forms.
---
Letter Re: Late Corn Planting in the American Midwest Does Not Bode Well | by Survival Blog | 21 May 2013, 12:33 AM
Mr. Rawles,
Greetings from the occupied territory of Coloradostan.
I am a long time reader and first time responder to the blog. I am an agricultural economist and read Woody's perspective with interest, as I am sure many did. I just examined USDA's crop progress report from this afternoon. Much progress was made in the 18 primary corn producing states. We are now 71 percent planted versus the previous five year average(which is skewed by last years data) of 79 percent. Woody's home state of Ohio, about which he's was particularly alarmed is now 74 percent planted vs. 58 percent for the five year average. To be clear his quote of 12 percent planted on 12 May 2013 is in error as the latest report shows 28 percent planted last Sunday and 71 percent last evening. We are now further along in corn planting than we were in both 2009 and 2011.
His disdain for USDA is a little troubling as they do a far better job than the ag department of any other. Are they perfect? Certainly not, but as one of my mentor always said, "but they are official!". Common wisdom may hold for common corn varieties but that isn't what is being planted in the US. Mote than half of this year's planted acreage will be stacked gene varieties and nearly 90 percent will be some form of biotech variety. Stacked gene varieties accounted for only 1 percent in 2001. Even if we lost the 8 percent we are behind vs the five year average it would still be the fifth largest corn planted acreage in US history.
Corn price haven't responded or rallied because the acreage number is record large and even with conservative yield estimates corn ending stocks for the 2013/14 crop are expected to more than double to the largest corn surplus since the late 1980s. The renewable fuel standard will keep corn prices from approaching prices seen for the 1987/88 crop but they are still expected to drop by 25 to 35 percent. Just wanted folks to know before they loaded the boat so to speak. I'd buy some if I didn't have any but wouldn't lay in my entire needs of a lifetime.
Most respectfully, - D.W. in Colorado
---
Notes from JWR: | by Survival Blog | 21 May 2013, 12:30 AM
Today is the birthday of weapons designer John Douglas Pedersen. (Born 1881, died 1951.)
--
Today we present another entry for Round 46 of the SurvivalBlog non-fiction writing contest. The prizes for this round include:
First Prize: A.) Gunsite Academy Three Day Course Certificate, good for any one, two, or three course. (A $1,195 value.) B.) A course certificate from onPoint Tactical. This certificate will be for the prize winner's choice of three-day civilian courses. (Excluding those restricted for military or government teams.) Three day onPoint courses normally cost $795, and C.) Two cases of Mountain House freeze dried assorted entrees in #10 cans, courtesy of Ready Made Resources. (A $350 value.) D.) a $300 gift certificate from CJL Enterprize, for any of their military surplus gear, E.) A 9-Tray Excalibur Food Dehydrator from Safecastle.com (a $300 value), and F.) A $250 gift certificate from Sunflower Ammo. and G.) A roll of $10 face value in pre-1965 U.S. 90% silver quarters, courtesy of GoldAndSilverOnline.com. The current value of this roll is at least $225.
Second Prize: A.) A gift certificate worth $1,000, courtesy of Spec Ops Brand, B.) A Glock form factor SIRT laser training pistol and a SIRT AR-15/M4 Laser Training Bolt, courtesy of Next Level Training. Together, these have a retail value of $589. C.) A FloJak FP-50 stainless steel hand well pump (a $600 value), courtesy of FloJak.com. D.) A "grab bag" of preparedness gear and books from Jim's Amazing Secret Bunker of Redundant Redundancy (JASBORR) with a retail value of at least $300 and 10 TAPCO polymer magazines (5 AR and 5 AK) courtesy of Armageddon Armory, E.) A $250 gift card from Emergency Essentials and F.) Two cases of Meals, Ready to Eat (MREs), courtesy of CampingSurvival.com (a $180 value).
Third Prize: A.) A Royal Berkey water filter, courtesy of Directive 21. (This filter system is a $275 value.), B.) A large handmade clothes drying rack, a washboard and a Homesteading for Beginners DVD, all courtesy of The Homestead Store, with a combined value of $206, C.) Expanded sets of both washable feminine pads and liners, donated by Naturally Cozy. This is a $185 retail value, D.) A Commence Fire! emergency stove with three tinder refill kits. (A $160 value. E.) A Tactical Trauma Bag #3 from JRH Enterprises (a $200 value), and F.) Two Super Survival Pack seed collections, a $150 value, courtesy of Seed for Security.
Round 46 ends on May 31st so get busy writing and e-mail us your entry. Remember that there is a 1,500-word minimum, and that articles on practical "how to" skills for survival have an advantage in the judging.
---
A Reminder: JWR Shuns Social Networking | by Survival Blog | 21 May 2013, 12:26 AM
Please refrain from trying to get me to join Twitter, LinkedIn, Facebook, or any of the other social network sites. I get more than 175 e-mails per day, and that is bad enough, but getting an extra 20 proclaiming that "John Smith is following you on Twitter" and "I'd like to add you to my professional network on LinkedIn" is distracting. I consider these networks a security risk, so I simply don't respond. Knowing that even "deleted " Facebook posts, profiles, and photos are stored indefinitely, and most recently learning that the IRS is actively mining Facebook posts to find new "suspects" also has me concerned. Count me out! - J.W.R.
---
Letter Re: Some Observations on the Price of Beans | by Survival Blog | 21 May 2013, 12:25 AM
Mr. Rawles:
In every decent sized town I've lived in there has been at least one "discount" grocery store. The stores that sell almost-expired food, dented cans or torn bags, local farmer over-production, that sort of thing. (And FWIW, only one can in a flat has to be dented for "the powers that be" to deem the entire batch unfit.)
My most recent good buy has been repeated three years in a row here. It's May, and the local store is selling one-pound bags of black-eyed peas at the discount price of 3 for $1. New Year's Day was 5.7 months ago and the bags are marked 2012. It's a seasonal product, like Thanksgiving cranberries or Christmas and Easter candy. The peas will be good for 4-10 years, at least, if treated properly. Given that every other grocery store in town still has black-eyes at anywhere from $1.29 to $2.29 a pound, three pounds for a buck is ridiculously cheap. The best price I usually see on any form of dried beans in pound bags is about a dollar. The best price I've EVER seen at a normal store is 50 cents a pound for pintos at Sam's, but that's gone up recently, and it's a 25-50 pound bag.
Point being, smart shoppers should know what average prices are, know what the "buy" price is, and (best yet) know when to buy everything the store has, or all they can afford. I now have about 60 more pounds of viable food for a $20 expenditure. The buckets are free at another store's cake-frosting department, and the mylar bags are a necessary, arguably negligible expense.
For those who don't know: Red beans, black beans, black-eyed peas, field peas, pintos, etc. can all be put in a crock-pot or solar cooker with good results. One pound of dried beans and four cups of water (more or less, with no pre-soak usually necessary) and you have food. Add an onion, half a pound of smoked sausage and Tony Chachere's to taste, and you've got a Southern classic, best served over fresh cornbread with sweet tea on the side. Just don't add the sausage or spice mix until the beans are cooked, or the beans will get tough.
And up next (starting in about two weeks) we've got blueberry season, organically grown pick-your-own for $9 a gallon. - J.D.C. in Mississippi
---
What to do after college? | by Udemy blog | 21 May 2013, 12:24 AM
You had worked hard to finish school, which you didn't like most of the time. Then you might have gotten some further education. Maybe you have even graduated from university. And then?
Well, you want to leave home and have meaningful, paid work! You want to make a living for yourself. And build up your future. But that looks like an increasingly distant dream, doesn't it?
It's hard to find any job and you didn't finish college to flip hamburgers 40 hours per week.
Finding a suitable job is very difficult, if not impossible. What makes it even harder is that you are not clear about what you really want, what your passion is and what your strengths are. And at the same time, you want to do something meaningful, you want to make a positive contribution to society.
Do you recognize yourself in this situation? And what CAN you do about it? Let's start with some numbers first.
Youth Unemployment (source: WEF 2013)
Youth makes up 17% of the world's population.

There are 1.2 billion youth in the world aged between 15 and 24.

87% of youth live in developing countries.

The global youth unemployment rate is 12,6% (2012)
Close to 75 million youth worldwide were unemployed in 2012. Middle East and North Africa (MENA) has the highest youth unemployment rate, with about one young person in four without a job.
Youth Underemployment
Even when young people are employed, they may not be in good jobs. In the developed world they are often on temporary contracts to make it easier to lay them off, or they are "underemployed" in jobs below their qualifications.
In the developing world, low levels of education, the lack of job creation and insufficient social protection means that many youth are also under-employed, engaged in low-income self-employment, informal jobs or unpaid work. 1.52 billion people – seven times the number of unemployed – are estimated to be in vulnerable employment in 2011.
This is clearly a situation, which is not acceptable. Massive action is needed to get young people to work (again). Here you can find more details about youth unemployment.
Innovation needed
There is -at the same time- a huge need for young, talented people who are willing and able to innovate. Innovation is urgently needed across many sectors and industries. Let's take a look at that need.
Each year we lose $3-5 trillion worth of natural capital; this amount is larger than the yearly costs of the economic crisis (Holzman, 2012). This is at the root of the ecological crises: the energy crisis, the resource crisis, and the climate crisis.
This means that this system crisis has also become a crisis of values. The old (current) values like short term economical ROI, efficiency and growth have caused this system crisis. New values are needed: long term social ROI, quality, trust and wellbeing. Without transition to these new values of a sustainable economy, we will automatically create the next crisis (Jan Rotmans, 2012).
The financial-economic crisis and these ecological crises are a blessing in disguise. They point us to the need for radical and sustainable innovations in the structure, culture and way of working in our society. We need to be completely sustainable in both consumption and production. And we need it fast!
These crises are the ideal breeding ground for transitions and innovations.
Therefore there is a huge need and opportunity for innovation at all levels. Mainly you, young people, will (have to) be the drivers of that innovation!
Be quick. The first 100 applicants will get The 'how to be a young innovator' course for the special price of $25!
What can you do?
Obviously you can hope that the economy will start growing again and that you will soon find a job. This is very unlikely, both from an economics point of view and from an automation point of view. Even if there will be growth, big corporations will not add a large number of new jobs, anyway.
So, what is the alternative? Basically there are two steps that you can take.
a) Know thyself
I know, it is a very old statement, but it is true and extremely helpful. You have to find answers to questions like: Who am I? What are my values? What is my passion? What are my strengths? What is my purpose in life?
These are challenging questions.
The good news is that there are many resources like books, webinars, coaches and courses, which can help you in this process.
b) Know your itch
Really, anyone knows a place where they want to change and improve something. It might even be a problem which has irritated you for a long time. Where do you feel that itch? Is it about the lack of service in department stores, or growing sustainable food in your community, or making hospitals more human-centered?
You might say that you are not creative, so you cannot innovate. But we are all innovators and creativity can be learned.  Also there are plenty of resources to help you, whether books, courses, trainings, and/or MOOCs.
What is next?
It is essential to take control of your own life. You have to create the life that you want. Nobody will create it for you. You have to be the driver and not the victim. So, which problem would you LOVE to address? The need for innovation is undeniable, the world needs YOU!
How can you be an innovator?
There are both the professional as well as the personal requirements for being an innovator. I call this ProPer, Professional as well as Personal. In other words, both  the yin and the yang of being a young innovator need to be addressed. That approach will enable you to become a stable and successful innovator. There is a lot of information available about the 'mechanics' of innovation (the 'doing'), but the more important aspects of living the life of an innovator (the 'being') need your attention as well.
Being an innovator is both:
Challenging and rewarding
Difficult and fun
Lonely and collaborative
Empty and fulfilling
Frustrating and empowering
Being an innovator is not just a job, which you will leave at 5pm to pick up your life again. It is a lifestyle of which you are the embodiment. It's impossible to separate life and work if you are an innovator. Innovators please be aware: it never stops!
Therefore you have to pay attention to carefully live this life, in order to be successful on all levels. For example, you have to be healthy and energetic to come up with great ideas. A clear mind is also needed to come up with solutions for the grand challenges of our society.
This How to Be a Young Innovator course provides you the tools, the questions and the coaching to fully use your potential for the benefit of yourself and society!
About the Author:
Arnold Beekes is an innovator and coach (www.coachingtheproperway.com). He is passionate about helping young people. Arnold has held international, executive positions in various industries, both in multinationals as well as in startups. Email: arnold@theproperway.com
---
News From The American Redoubt: | by Survival Blog | 21 May 2013, 12:11 AM
America's lands sharks: Wolves kill 31 sheep on south-central Idaho ranch.
o o o
Folks in north Idaho or Eastern Washington with an interest in learning how to do metal casting or looking for casting supplies should visit Lost and Foundry, in Spokane, Washington. Foundry molds ("flasks") and petrobond casting sand are heavy to ship, so look for sources like Lost and Foundry, where you can pick then up yourself. (A similar company is Budget Casting Supply, in Sonora, California.)
o o o
Some nice vintage fallout shelter models found in Montana. (Thanks to R.B.S. for the link.)
o o o
I noticed that this particular video: Patriots - Surviving the Coming Collapse - Trike Flying, with more than 21,000 views, is still the "most viewed" trike flying video by former U.S. Navy pilot TTabs. It gives a great tour of the locales in my first novel. That video was shot back when he was running just two cameras. He now shoots four views simultaneously, and cuts between them. His visually stunning One October Evening video has had more than 13,000 views. It shows the terrain, fauna, and flora in the northern Palouse, near Spokane, Washington. Be sure to watch his videos in full screen mode, at HD quality. They are spectacular.
o o o
Reader W.A. wrote to mention a Wyoming-headquartered company called LUCID that offers a couple of red dot sight alternatives which have great quality and features for a great price and use an AA battery. The the 'founder/creator' is a former optics manager for Brunton. Note that some of their products are made in the U.S., but some are made in China.
---
Odds 'n Sods: | by Survival Blog | 21 May 2013, 12:09 AM
I recently posted a link to a 1916-vintage book on steel cutting and welding that is available free, via Kindle. Then reader Richard C. followed up to mention that it is also available in a variety of other formats.
o o o
Michael W. sent: Bomb Shelter Boom Sees Underground Pools, Basketball Courts
o o o
Noah, the Super Prepper. (Thanks to David W. for the link.)
o o o
Courtesy of Mark: The Mystery of the Missing Crime Data--Corporate media spins "news" of declining criminal use of firearms to hide the truth.
o o o
F.G. sent: Gun control: Cartridge ID law to take effect.
---
Jim's Quote of the Day: | by Survival Blog | 21 May 2013, 12:08 AM
"The only purpose for which power can be rightfully exercised over any member of a civilized community against his will is to prevent harm to others. His own good... ...is not a sufficient warrant." - John Stuart Mill
---
May 20, 2013
Automated cat feeder and large plastic screws | by The Red Deeps | 20 May 2013, 11:00 PM
We've seen automated food dispensers for pets, but none that go so far as to build large plastic screws for dispensing kibble.
This isn't [Mathieu]'s first automatic cat feeder; an earlier version used a wheel to dispense cat food in excessively large version. To improve upon his first build, [Mathiu] decided to use an Archimedean screw to dispense food … Read the rest
---
Teabags, towel hooks and tank tops | by Jax (from Kentwell) | 20 May 2013, 10:26 PM
For all I've been doing well in the tots ranking scores recently, it doesn't seem to be translating into PRs beating my door down with exciting offers. Instead I've been getting the usual stream of offers of guest posts that I'm not interested in and occasional low value items.
Tea bags. I got sent tea bags. I asked for chai, thinking in terms of chai latte that you get in coffee shops. I got sweet chai, that tasted of licorice and Green chai that I don't want to think about long enough to describe. Not a success. Not that I don't like licorice, I do, but it's not what I think of when I think of chai.
And then there were nano technology towel hooks. I don't know how they're nano tech, they just look like towel hooks to me. Yet to investigate how much weight they'll hold.
I did get fabulous Bravado stuff. A feeding tank top which is just fantastic, lovely thick material and ever so comfortable, offering really good support. It's standing up to repeated washing and wearing really well, which is good as I love wearing it and so it gets cycled round the wash regularly. The original bra that I was sent is a little more daring than I would have chosen, being leopard print. But it's very comfortable and extremely practical, and I can completely see how a new mum could sleep in it. Again, it is standing up very well to repeated washing and wearing. I basically adore these products. And I love that they come with a conversion kit, so when you're done feeding you can go on wearing.
Pictures to follow tomorrow. Too tired now.
---
Why Teach Online? 12 Reasons and Counting! | by Udemy blog | 20 May 2013, 09:57 PM
Need a nudge to create your online class? Here are a few reasons why instructors, teachers, trainers, adjunct and tenure-track professors, authors, speakers, and so many others build courses on Udemy:
1) Reach a new audience teaching online. How else can you reach thousands of thousands of students all around the world?
2) Make money teaching online. If you want to charge for your course (you don't have to), you can earn real money and passive income teaching online. (For example, instructors report that it's particularly fun to get new student notifications when they're, say, lounging on the beach.)
3) Make in-person teaching and brick-and-mortar classes more meaningful: Rather than view online teaching as separate or competitive from the traditional classroom, learn how they can work together. A flipped classroom where students take online lectures before coming to class for discussion can transform learning in schools, universities and the workplace.
4) Did we mention it's free to use the Udemy learning platform? Really, it is free.
5) Explore new types of courses and content. See the world or just your course from a different camera angle. For those of you who teach in the offline world, is there something you've always wanted to teach but could never fit into the existing curriculum? Let your creative flag fly on Udemy.
6) Create a MOOC minus the hassle. If MOOC is Greek to you, worry not. MOOC stands for Massive, Open, Online Course. At most academic institutions and workplaces, you'd need to jump through hoops and take a few meetings to get one up and running. Not so at Udemy- no need to build any software or take any meetings, you can create a MOOC on Udemy on your own with a trusty camera (even an iPhone will do!).
7) Discover the world of mobile learning and mobile teaching. Our iPad and iPhone apps mean that our students take their learning with them wherever they go. Our engineering team worked really hard on these apps so you don't have to!
8) Build the brand of YOU. This one may seem a little cheesy, but it's true. How better demonstrate what you know to new students, peers, employers, customers, clients?
9) Get more value out of existing content. Many Udemy instructors, like ebook, independent- and self-published authors, offer online courses as a way to extend content they've already created into new formats.
10) Be part of an education solution. There's much in the news about rising education costs and the perils of our economy. Build something positive on Udemy.
11) Make use of technology that's already in your home or office. So many of us already own every piece of technology needed to teach a course. +1 on this if you've got a Camtasia or Screenflow license. You'll be amazed at what you can create.
12) Teaching (online) can be super rewarding. Our instructors regularly get emails from Udemy students telling them how their course helped them at work and in life. When was the last time that happened to you at work?
Convinced and ready to create a course?
We know there are many more reasons to teach online and create a Udemy course. Share your why in the comments section, and you may just get an iPhone tripod.
---
A Leave of Presence | by Roger Ebert (Chicago Sun-Times films) | 20 May 2013, 09:47 PM
Thank you. Forty-six years ago on April 3, 1967, I became the film critic for the Chicago Sun-Times. Some of you have read my reviews and columns and even written to me since that time. Others were introduced to my film criticism through the television show, my books, the website, the film festival, or the Ebert Club and newsletter.  However you came to know me, I'm glad you did and thank you for being the best readers any film critic could ask for.
Typically, I write over 200 reviews a year for the Sun-Times that are carried by Universal Press Syndicate in some 200 newspapers. Last year, I wrote the most of my career, including 306 movie reviews, a blog post or two a week, and assorted other articles. I must slow down now, which is why I'm taking what I like to call "a leave of presence."
What in the world is a leave of presence? It means I am not going away. My intent is to continue to write selected reviews but to leave the rest to a talented team of writers handpicked and greatly admired by me. What's more, I'll be able at last to do what I've always fantasized about doing: reviewing only the movies I want to review.
At the same time, I am re-launching the new and improved Rogerebert.com and taking ownership of the site under a separate entity, Ebert Digital, run by me, my beloved wife, Chaz, and our brilliant friend, Josh Golden of Table XI. Stepping away from the day-to-day grind will enable me to continue as a film critic for the Chicago Sun-Times, and roll out other projects under the Ebert brand in the coming year.
Ebertfest, my annual film festival, celebrating its 15th year, will continue at the University of Illinois in Urbana-Champaign, my alma mater and home town, April 17-21. In response to your repeated requests to bring back the TV show "At the Movies," I am launching a fundraising campaign via Kickstarter in the next couple of weeks. And gamers beware, I am even thinking about a movie version of a video game or mobile app. Once completed, you can engage me in debate on whether you think it is art.
And I continue to cooperate with the talented filmmaker Steve James on the bio-documentary he, Steve Zaillian and Martin Scorsese are making about my life. I am humbled that anyone would even think to do it, but I am also grateful.
Of course, there will be some changes. The immediate reason for my "leave of presence" is my health. The "painful fracture" that made it difficult for me to walk has recently been revealed to be a cancer. It is being treated with radiation, which has made it impossible for me to attend as many movies as I used to. I have been watching more of them on screener copies that the studios have been kind enough to send to me. My friend and colleague Richard Roeper and other critics have stepped up and kept the newspaper and website current with reviews of all the major releases. So we have and will continue to go on.At this point in my life, in addition to writing about movies, I may write about what it's like to cope with health challenges and the limitations they can force upon you. It really stinks that the cancer has returned and that I have spent too many days in the hospital. So on bad days I may write about the vulnerability that accompanies illness. On good days, I may wax ecstatic about a movie so good it transports me beyond illness.
I'll also be able to review classics for my "Great Movies" collection, which has produced three books and could justify a fourth.
For now, I am throwing myself into Ebert Digital and the redesigned, highly interactive and searchable Rogerebert.com. You'll learn more about its exciting new features on April 9 when the site is launched. In addition to housing an archive of more than 10,000 of my reviews dating back to 1967 we will also feature reviews written by other critics. You may disagree with them like you have with me, but will nonetheless appreciate what they bring to the party. Some I recruited from the ranks of my Far Flung Correspondents, an inspiration I had four years ago when I noticed how many of the comments on my blog came from foreign lands and how knowledgeable they were about cinema.
We'll be recruiting more critics and it is my hope that some of the writers I have admired over the years will be among them. We'll offer many more reviews of Indie, foreign, documentary and restored classic revivals. As the space between broadcast television, cable and the internet morph into a hybrid of content, we will continue to spotlight the musings of Pulitzer Prize-winning TV critic Tom Shales, as well as the blog "Scanners" by Jim Emerson, who I first met at Microsoft when he edited Cinemania. The Ebert Club newsletter, under editor Marie Haws of Vancouver, will be expanded to give its thousands of subscribers even bigger and better benefits.
For years I devoutly took every one of my tear sheets, folded them and added them to a pile on my desk. The photo above shows the height of that pile in 1985 as it appeared on the cover of my first book about the movies published by my old friends John McMeel and Donna Martin of Andrews & McMeel. Today, because of technology, the opportunities to become bigger, better and reach more people are piling up too. The fact that we're re-launching the site now, in the midst of other challenges, should give you an idea how important Rogerebert.com and Ebert Digital are to Chaz and me. I hope you'll stop by, and look for me. I'll be there.
So on this day of reflection I say again, thank you for going on this journey with me. I'll see you at the movies.
---
Doctor Who confirmed for eighth season. | by feeling listless | 20 May 2013, 10:30 PM
TV Surprising a few of us, Doctor Who has finally been confirmed for an eighth season and another Christmas special with Steven, Matt and Jenna a lock.

Whether that means Christmas 2013 or 2014, I'm a bit confused about but at least there's some forward direction on this, even if also we don't actually know when it'll be broadcast.

I've seen reports of Autumn 2014, which seems a looong way off.

My hunch is it's one of the reason Merlin's left us -- to allow Who to finally have a full thirteen weeks in Fall and Winter because frankly I think we'd all be a bit cheesed if it was another split season across the closing of the year, because if it was another split season across the closing of the year that would mean we're been reduced to having one full run of episodes every two years in real terms.

Which, yes, I know is more than was broadcast in the 90s but still looks a bit pokey for what's supposed to be one of the BBC's flagship dramas.

Anyway, to celebrate BBC America have uploaded the moment from The Name of the Doctor with all the Doctors so we can enjoy Murray Gold's vague cover version of the Field of Dreams piano theme once more:



"People will come Doctor, they'll come to Trenzalore and they won't know why..."
---
Coal Hill. | by feeling listless | 20 May 2013, 09:44 PM
Nature Wow, this is grim. From an ABC News affiliate in Arkansas:

"In recent months our Seven-On-Your-Side office got several complaints that we had never heard before.

People were voluntarily giving their horses to what they believed would be a "forever home," only to now have serious second thoughts about the wisdom of their decision.

We went to Johnson County... where these horses should be living out their days.

The real story is not what we found...but what we failed to find.

We didn't find a lush 60 acres. We didn't find plenty of hay. And most importantly...we didn't find any of the horses in question."
I think you can tell that this doesn't end well. Poor horses.
---
Enabling Cloud-Powered IT Without Headaches | by RightScale Blog | 20 May 2013, 08:37 PM
If you've read my previous articles on using RightScale to manage Windows Azure cloud infrastructure, you've made sense of your Software Development Lifecycle (SDLC) and you've automated your development and test environment deployments using Windows Azure virtual machines and RightScale, … Continue reading →
---
76 Totters Lane. | by feeling listless | 20 May 2013, 09:36 PM
---
1963. | by feeling listless | 20 May 2013, 09:28 PM
History Four days before he met his fate, John F Kennedy visited Tampa Bay. It was an unremarkable stop, and if the President hadn't lost his life a few days later would have gone unremarked. But a researcher, Lynn Marvin Dingfelder, is determined to illuminate why it was important for the people of Tampa with a new film:

"I want this to be about the joyous time he spent in our city," Dingfelder added. "I don't want this to be about mourning and conspiracy theories."
She's researching and collecting recollections of the visit for a documentary. The response has already, apparently been excellent, but on the off chance that someone in the area does read this blog (you never know) (I fail to be surprised by anything these days) the full details of how to make contact are here.
---
Good news, the laggards are catching up ... again | by Bits or pieces? (Simon Wardley) | 20 May 2013, 09:28 PM
Ok, we all know that organisations consist of value chains (figure 1) which consist of components that are evolving (figure 2) and that you can map this (figure 3). As those components evolve their characteristics change (figure 4) and the methods you need to apply vary (figure 5) hence you need to treat your value chains as units (figure 6). You can manipulate this environment through a whole host of techniques. Furthermore, if you count up the frequency of activities at different stages you can build a profile for an organisation (figure 7) and you apply a structure based upon evolution rather than type (figure 8) with pioneers, settlers and town planners.
Unfortunately it's 2013 and now it looks like the laggards are finally starting to catch up. Fortunately a four party system based upon the characterisations described in the post will create its own problems and in order to manage this they'll need to have a good grasp of mapping. Even better news is that without a clue on how evolution actually works then their strategies will still be endless tyrannies of "what and when" over "why", they'll talk about ecosystems but won't understand it and they will probably continue to describe many predictable things as disruptive innovation. They will almost certainly continue to jump between one fad and another - "we're an agile company", "we're a six sigma company" - and many probably won't understand let alone have adopted those next generation practices (figure 10) despite having years to do so.
To describe the last decade of industrial competition as being like "stealing candy from a kid" in some quarters is reasonably fair. Biggest problem for the players has been which industry do you want to own next? However, it was always unreasonable to expect it to last. From what I'm reading, people are slowly starting to stumble upon what many of us now take for granted. We should expect companies to become a bit tougher to walk over in the next decade.
Your future competitors will map their environments, they will know how to play the various strategic games, they will build effective ecosystems and organise around evolution and they will have all those next generation characteristics ... get used to it.
We should never ever forget that those models of understanding that create an advantage will eventually end up in a book somewhere. By which time any advantage has long gone and we need to have moved on as well. But then, life just wouldn't be exciting if this wasn't the case. If it wasn't for the laggards eventually catching up then we would never have to progress. Nothing is permanent, all practices and activities evolve and diffuse. Embrace this.
Figure 2 - Understand Evolution (circa 2005)
Figure 3 - Map (circa 2005)

Figure 4 - Characteristics Change (circa 2005)

Figure 5 - Different Methods (circa 2006)
Figure 6 - Treat as Units (circa 2006)


Figure 7 - Profile (circa 2008)


Figure 8 - Build a structure which reflects evolutions (circa 2008)


Figure 9 - Implement (circa 2008)

Figure 10 - Next Generation Practices (circa 2011)
Figure 11 - Classification of companies by level of strategic play vs use of open (circa 2012)
---
Ordinary Sea Kayak Week in Scotland | by Freesteel | 20 May 2013, 07:46 PM
This is paddling back along Loch Carron from Plockton to our lovely hostel in Stromeferry with a 20mph tailwind on Monday 13 May. It doesn't look remotely exciting in the photos, though it was considered scary and marginal conditions. Last time I was in Plockton was in 2007 where we kayak dived Loch Carron and [...]
---
Further problems with ACA implementation | by Marginal Revolution (Tyler Cowen) | 20 May 2013, 07:41 PM
From Christopher Weaver and Anna Wilde Mathews:
Employers are increasingly recognizing they may be able to avoid certain penalties under the federal health law by offering very limited plans that can lack key benefits such as hospital coverage.

Benefits advisers and insurance brokers—bucking a commonly held expectation that the law would broadly enrich benefits—are pitching these low-benefit plans around the country. They cover minimal requirements such as preventive services, but often little more. Some of the plans wouldn't cover surgery, X-rays or prenatal care at all. Others will be paired with limited packages to cover additional services, for instance, $100 a day for a hospital.

Federal officials say this type of plan, in concept, would appear to qualify as acceptable minimum coverage under the law, and let most employers avoid an across-the-workforce $2,000-per-worker penalty for firms that offer nothing. Employers could still face other penalties they anticipate would be far less costly.

It is unclear how many employers will adopt the strategy, but a handful of companies have signed on and an industry is sprouting around the tactic. More than a dozen brokers and benefit-administrators in 10 states said they were discussing the strategy with their clients.
There is more detail at the link, including a discussion of some of the legal uncertainties.  Veronique de Rugy adds comment here.
---
Bolt – Making Hardware Easier | by Feld Thoughts (Brad Feld) | 20 May 2013, 07:27 PM
Over the past few decades, the most compelling engineers and entrepreneurs I've met have tended to be working on problems that can be solved with software. Software has some great advantages but it comes with a few big drawbacks, namely it's tied to a few standard types of input, although we are trying to impact that with some of our investments in our HCI theme.
Along with the rest of the tech ecosystem, I'm starting to see more and more entrepreneurs with a piece of hardware in their development plan. These are not your parents' hardware products. Instead, they are software companies that happen to have a physical component in their stack – something I call software wrapped in plastic.
Adding the plastic around the software is no short order. MakerBot, FitBit, Orbotix, Sifteo, Modular Robotics and a slew of others have taught me that even though much of the business-side is similar to a software company, the product-side most definitely is not. From an outsider's perspective, it's stunning how much damage one bad component on a PCB board can do to a company's bottom line, or how different industrial design is from software design, or even how the brains of a software person and a hardware person collide in bizarre ways.
I've learned how critical it is to get the right kind of help for young companies with a piece of hardware, which is why I invested in Bolt. Bolt is one of the more unique accelerator programs I've seen. Ben and his team have designed, developed, manufactured, and financed a long list of successful products and they've built Bolt around best-practices for these kinds of companies. Over 6-months, accepted companies get a long list of benefits, the most valuable of which are a full-staff of senior engineers and designers at your disposal and 24×7 access to their $1M of prototyping equipment.
If you're a startup with a piece of hardware (or plan to have one) check out Bolt and apply to be part of their first accelerator class. Applications close in two days – Wednesday, May 22nd at midnight.
The post Bolt – Making Hardware Easier appeared first on Feld Thoughts.
---
Aftermath: Pakistan Elections 2013 | by Three Quarks Daily | 20 May 2013, 07:26 PM
---
Indian Army is now on Facebook | by Global Voices (India) | 20 May 2013, 06:52 PM
Prasant Naidu at Lighthouse Insights reports that after a successful start on Twitter, the Indian Army has recently joined Facebook. This is a welcome move as last year the Indian Army had issued orders asking all personnel — both officers and other ranks — to stop using social networking sites like Facebook or Orkut.
---
Sentences to ponder | by Marginal Revolution (Tyler Cowen) | 20 May 2013, 06:51 PM
Fashion models are almost twice as likely to get their visas as computer programmers, by one rough measure.
Here is more, and for the pointer I thank Andrew Rowe.
---
Afghanistan civilians: April 2013 | by The Big Picture (Boston Globe) | 20 May 2013, 06:50 PM
---
Alain Lipietz talk | by Michael Edwards | 20 May 2013, 06:39 PM
At the DPU "The crisis of the "liberal–productivist" model of development: a regulationist analysis, an ecologist response." 20 May.  My rough notes.  NB an audio recording will follow on the DPU web site.
Was economist at CEPREMAP, then elected as a green for the Paris region, the EuroParl… Says he was always connected with spatial issues, and naturally came to political ecology.
Talk about the present crisis and its ecological dimensions.  It is a "major crisis" in regulation – school terms. Characterises Fordism as a period when capitalism was pushed by demand, by demand especially for cars and housing….  and when it came into crisis in 70s… we wondered why it hadn't happened earlier, since C is such an unstable mode of production.  Basic problem is how to organise labour and do we take advantage of the know-how of the workers, then we'll be dependent on these workers.  If we can get rid of their knowhow we are free from the workers… but it is expensive… to implement Taylorism fully and de-skill the workers.  Productivity grew 6% pa in 20s.  But who can buy the new commodities? Pay the workers well was the answer, and they will then be the consumers. A rather perfect vision of a mode of regulation.
This mode of regulation had been very national in its institutional forms. When in late 60s and early 70s international circulation, this regulation f wages couldn't be managed any more(tho to some extent it worked a bit longer within the Common Market. Nations gradually cut wages and tried to seel their products to other countries… but of course it was unstable. There were various solutions but the worst one had victory – Latin American dictatorships, then Thatcher and Regan.  It turned out to be a victory for Taylorism (though we hadn't known that would be the outcome) and alternatives like Piore and Sabel, 3rd Italy, South Germany, Japan, Sweden had enable some countries to keep their position in the world. UK, France and many other countries took the other path, towards aggressive Taylorism, but this enables the spreading-out of labour across the world, with conception in a few core placed.  Many southern countries including Asian Dragons accepted this, then the collapse of communism propelled other countries into this model…  So now impossible to organise the growth of wages because of the competition from cheap-labour countries.
So this was a reversion to pre-1914 regime for labour. China and India experiencing the Gatsby period! The regime is very creative, insecure, unplanned, with huge risks, prone to herd behaviour among investors. The growth fuels the growth.
Then in late 80s the ecologic problem emerged – a surprise to mainstream and regulation economists. Lost since Malthus and Ricardo, this concern with resource constraints. Nature can't offer its free resources fast enough for accumulation, so owners of resources collect growing rent which in turn slows accumulation.  This constraint was recognised, startin Rio 92, with Johannesburg conference, and mostly failed attempts to manage the resource and ecological problems.
Let's think about the 2006-  crisis.
W fall >> debt because people used to growing consumption and system only works if workers have a house, a car, food
P grow, Investors have no idea where to invest.
State revenues fall >> public debt.
(cf Minsky. Credit crunch arises from the debt)
Very like 1930s. As Polanyi said: Stalinism, Social Democracy or Fascism were the only solutions.
So what sort of international state would we need to implement Keynesian solutions?
["Productivism" = forms of production which uses resources withut attention to depletion etc.]
Prices for food and for energy increase a lot, so workers have to chose between food, energy, and paying debts. This is what hit US. Surprised that US workers risked their houses before they risked their cars.
Energy- most people still depending on biomass (wood and other stuff); >>competition for land.
fossil >>  limited reserves and global warming problem
and nuclear >> dangerous + links with bombs.
Shift of elites from vegetable diets to meat needs 10x land and is happening now in China, India and elsewhere. Our animals in Europe are fed on soya from south which worsens situation. Droughts resulting from global warming destroy food production regions. GRAIN estimates that the food chain accounts for 50% of greenhouse gas production.
Western people respond to rising food prices by eating less / worse. Thus symptoms like book in diabetes. This in turn effects state budgets…
Solution requires soltuion to both problems: energy triangle and food problem.
Energy problem requires demand reduction:  combination of…
1. wear jumpers, share cars, (joyous austerity)
2. reduce primary energy per unit of final energy
3. renewable sources but among these biomass dodgy because of land-take
How do we do that in capitalism?  Austerity is bad for capitalism. But efficiency and renewables are good for capital accumulation.  Siemens for example is doing this. "Siemensism" maybe. But it needs state organisation. Insulation etc would be wonderful and would create lots of jobs à la Keynes.  In agriculture the spatial separation (animals in Europe but we can't put the nitrogen back into Brasil where its needed to grow th Soya).  So in Europe we have to reorient agricultural policy to regain the balance of agric and stock-raising within Europe.
But there is no state to organise it all at global scale.  Without it there will be "national" solutions like in 1930s.  Very hard to organise even within Europe. And it calls for lots of skilled labour so that is a huge problem.
These are investment problems and how do we deal with all the debt (inherited from the old model)?
Spain: holiday building boom with its motorways > now 1m empty houses. (= number of homelesss). We could say WE WILL NOT PAY.  Problem is then you spoil your credit. Or you can do a deal with creditors (like Greek).  Answer is to extend the debt for a century (like Germany did with it WW1 reparations debt, which just ended 2010). Monetise the debt (I didn't follow)
Selectivity of credit needs to be re-invesnted (abolished in Maastricht) so EIB could could use all its credit for green revolution.
END
Adriana Allen comments (i) very valuable to have such a joined-up analysis of all the crises; (ii) rare to find anyone who can do the regulation/economics and the ecology both;
AL: We are now in a position like 1932: solutions were clear (to Keynes, to Hitler, to Stalin) as they are now. It wasn't clear in 1932 which strategy would win. (Polanyi)
We should think in blocks / continents: we could be self-sufficient in Europe.
Food problems might be resolved at a national or continental scale….
Energy NOT: it has to be global and a global deal is crucial…
Lots of scope for local initiatives, however,
EU agric policy debate characterised as Prince Charles (huge landed estates) v Austrian peasants.
Has been asked to revise Le Tribut Foncier Urbaine ! after 42 years
I asked a question about rent but stupidly used the word 'rentier' which triggered a response about he disappearance of the landed class in France…  Not the point: I should have phrased it better.
Remains confident that we could create a democratic regulation at continent scale. Complexity of negotiations between continental blocks is very very great.
Very good on difference between Eng and Fr word 'regulation'.. We are good explaining a model that worked, why it stopped working.  We can't explain how the next model will appear.
You cannot make sense of the tendencies to Fascism in Europe without paying attention to the total disappearance of "the worker" – the proud, strong worker. Extreme forms of Taylorism do this to people, and then they are scrapped.
Why does EU have energy permits/quotas instead of tax?  It's because 1957 treaty made tax a unanimity q, quotas a majority q.
---
The 9th Workshop in a Box : World of Books | by Babalisme | 20 May 2013, 07:36 PM

Just in case you've been "being Patrick" (living literally under the rock, get it? :D) for the past 2 years, let me tell you this; everything you love and obsess about is now inside a box. It's been a craze everywhere, maybe the most noticeable is the beauty and make up box subscription, but almost everything is now can be found in a box. The premise is simple. It's mostly boiled down to : 1. you choose a box subscription and pay online, 2. they will customized your box to your personal preferences, 3. The box delivered to your doorstep each month. The best part is, of course, what's inside will all be a big surprise to you.Indonesians may be familiar with Beauty Treats, a box filled with, duh, beauty, make up, and skincare things. But, really, I have read there are baby and kids's clothing, food, even sport and health, gardening, and pet products in a box. Well, who doesn't love surprises?

Crafters, rejoice. There. IS. Definitely. CRAFT boxesWorkshop in a Box (WAIB)!! This is also a pretty late introduction since, yes, as you may have realized there is a number 9 on my blog post title. Wow, Ning. *rolls eyes*






The box!

My illustration of a French librarian lady-that has a nice ring to it- graze the box cover! Yay!

Workshop in a Box! (WAIB)

Anyho, WAIB was founded by two lovely ladies of the blogs dreamesh and liaspace, Amesh and Lia, respectively. Hold your horses, crafters, these boxes are not available for monthly subscription yet, but they offer more exciting alternative. Instead of delivering the box to your house, they hold a workshop and put up live tutorial/ craft class known as workshop, hence the name. The ladies themselves get their hands dirty teaching. How awesome is that? The downside is, you have to live in Jakarta. The good side is, YES you can still order WAIB previous boxes on their fanpage. The tutorial will be stored in a CD.



Pretty much everything you will receive! book making supllies!


Babalisme is also proudly collaborated on this box and their first one! So, keep an eye of my printables from time to time in your WAIB box!




And some pop up elements to make your own vintage French inspired pop up card.
---
The Adam Smith segment of the Great Economists course is underway | by Marginal Revolution (Tyler Cowen) | 20 May 2013, 06:06 PM
You will find it here, at MRUniversity.com.  We have recorded videos covering, annotating, and explaining every single chapter of Smith's masterwork Wealth of Nations, along with some coverage of surrounding historical material.  Having to explain a book "along the way" is a very interesting way to read, and I was surprised how much Wealth of Nations rose in my eyes as a result of this project.  I would like to do Keynes and Hayek and perhaps Marx in this manner as well.
---
Liverpool Central. Wednesday, 15th May. 7:20 pm. | by round the merseyrail we go | 20 May 2013, 06:36 PM


All stations have an ebb and flow. Passenger levels go up and down. West Kirby is a lot busier on a sunny Sunday afternoon than a November weekday. Hardly anyone ventures outside Sandhills' platforms for most of the week, until a football Saturday, when there are suddenly thousands pouring out the doors.

Britain's busiest underground station outside London is rarely quiet, but it does have its moments of calm. Midweek, after the workers have gone home, before the revellers come out, there's a pause; the moment where tides turn and the waves are stilled. The wide concourse, still clean and modern after its refurb, is empty.

There's a slap of flat shoes on the marble effect flooring and a group of middle-aged ladies come running through, coats flapping, clutching at their skirts to try and stop their hemlines from rising up. The one at the back of the group has got overexcited from the thrill of the run for the train. "Carol!" she bellows, too loudly, too prominently. "Carol!" And she giggles as they reach the ticket gates, even as her friends are shushing her. They disappear down to the Northern Line but not before one more "Carol!".

Dotted around the edge are the waiters, the people loitering with intent, meeting friends, killing time until they have to be somewhere. A girl in a sensible brown overcoat, big handbag, tapping at her mobile phone but glancing up at the ticket gates expectantly between keystrokes. A student in shorts and a hoodie sat on the row of metal seats. He's rocking back and forth, earbuds jammed in, eyes staring fixedly ahead. Mindlessly killing time.

Beneath our feet a train rumbles in. They're so close to the surface here; a firm kick downwards and you could make a hole in the floor to watch them pass. The metal seats shudder under us, then a sigh of brakes and another set of passengers are disgorged. Hefty men, no coats, good jumpers bought by wives, rubbing their hands together as they debate which pub to start their evening in. A smart couple, he in a camel coat, her with trim hair and red lips, striding confidently out for the dinner date. A gaggle of well-to-do old ladies off for a night at the theatre, chattering excitedly like children, a fog of flowery scent hanging around them.

This is the start of their night, but there are still people heading home; a guy with a man bag who's treated himself to a bag of chips after his day at the office, a young girl with thick rimmed spectacles who yawns as she waves her Trio at the guard. A wizard strides in, six feet tall and resplendent in a long black overcoat and wide-brimmed hat. His wife fizzes around him, a little ball of nervous energy, wearing a cape and panicking about their train. They disappear into the MtoGo for their ticket; she dashes back out, almost running to the gates, but he's icy calm, taking giant strides and keeping pace with her. The gate beeps twice as it burps their ticket out, the clatter as they pass through.

Underneath it all is the soft waterfall roll of the escalators. A constant steady rhythm of movement. The Selecta vending machine springs into life; a robotic arm scans the twirled shelves, surveying the Twixes and KitKats before stowing itself back in the hold. The walkie-talkie of one of the Merseyrail staff parps out a sentence of fractured incomprehensible static; "Yeah. Okay."

The students' mates have arrived, all of them dressed for football, a quartet of long shorts and lumpy sweatshirts. They bond awkwardly, not quite bumping fists, but clearly ready to do so if the moment should arise. His seat is taken by a trim lady with highlighted hair and a battered romantic saga. She folds it back, cracking the spine for the fiftieth time, and begins to read.

Another train comes in, another group of excitement and fun. A girl with two hula-hoops over her arm, black and gold; she wanders over to the cash machine and gets some money out, shifting the hoops round her body as though they're just a very large handbag. The bouncing stride of a man with dreadlocks down to his waist, enjoying the rhythm of whatever is streaming into his headphones, walking a tricked out bike through the station. The lady with highlights gets up and positions herself in front of the gates - the stream of passengers break around her like an island. A woman of much the same age and much the same haircut is at the back of the crowd. The two of them grin at one another, then kiss, then walk out of the station close to one another, sisters reunited in gossip and chatter.

Then it's quiet again, just the noise of the escalator, just the whistle of a staff member counting the minutes until the end of his shift, just the shuffle of feet of someone waiting for his friend. Ebb and flow.
---
How Do Our Euro Prospects Look? | by Peter Cranie | 20 May 2013, 04:26 PM

I've reposted a batch of national polling that I did in 2008, nearly a year before the last Euro Elections.

This weekend the poll ratings for us were as follows:

3% YouGov
4% ComRes
4% TNS BMRB
6% IPSOS-MORI

Things are very much "as you were" for the Greens. We had an average poll rating across 4 pollsters of 4% in August 2008. This weekend's average of the 4 opinion polls is 4.25% with YouGov once again providing the lowest rating of Green support.

Between August 2008 and June 2009, we had the huge impact of the expenses scandal, which affected all three large parties, and we had disproportionate media coverage of the BNP (compared to the Greens). Although we got an electoral boost in the Euro Elections that year, UKIP were more successful at getting the "protest" vote and the BNP benefited from their media coverage and the "dog whistle" effect it provided to them in the North West and the Yorkshire & Humberside regions.

We are seeing the same pattern much earlier on in this campaign, with UKIP getting wall to wall coverage at the moment. But it is easy to diagnose the problem, and perhaps more difficult to propose the solution. I believe we need a key idea from the Greens to impact on the national consciousness and bring us into the narrative of these European Elections. Without it, we'll be scrapping around the fringes.

We've spent a long time establishing our social justice credentials but we must recognise that Labour will still dominate on social justice, mainly because voters will hear so much more from them due to their size, representation and financial resources. In areas where we are strong on the ground, I think this message does resonate sufficiently for voters to make a positive Green choice on these issues instead of simply opting for Labour. However, in areas where there are no elected Greens and limited national media coverage of us as a party, there are huge barriers to us being seen as the party of social justice. Unless northern working class communities see someone they can relate to in our party at a local level, it is very difficult for us to benefit from the fact that when you purely look at our policies, we are proving more popular than Labour.

My current view is that the debate on Climate Change is hardening. UKIP are hardline denialists and we are the antidote to that. What we cannot do is undersell our need for action on Climate Change and indeed the Euro Elections are the best national opportunity for people to vote for action by putting Greens into elected positions where they can have a significant effect in the European Parliament. The majority also accept that human actions are driving climate change. Part of our job is to ensure that voters of the light or dark green variety can see what it is crucial for us to get more Greens elected this time. It is not the only thing, but we are not making enough of our unique selling point as a party, and we need to do so.

More from me on this in a couple of days time.
---
When oh when will Henry George make a comeback? | by Marginal Revolution (Tyler Cowen) | 20 May 2013, 04:24 PM
Mr. Tyler's entire home was only 78 square feet. And while his "Midtown mansion," as he called it, was a far cry from the lavish town homes and shimmering penthouses that have spawned a thousand lustful television shows, a video tour posted on YouTube of Mr. Tyler's little room has been viewed nearly 1.7 million times over the past year and a half. A similar video, about a 90-square-foot apartment on the Upper West Side, has been viewed even more times.
Or how about this?:
"I think there's a lot to be said for utilizing a small space, but I literally saw somebody advertising a 5-foot by 7-foot closet," said Ryan Nethery, 25, a cinematographer and Kentucky native who started the blog during his own apartment search. "The post read, 'my bedroom has two closets and I don't need one of them. Looking to rent it out.' "

That ad, accompanied by a small picture that included a visible clothing rod, boasted a Union Square location and asked $1,000 per month. Other posts include a $600 crawl space in South Williamsburg and a gray, L-shaped sofa, which appeared to be in the center of somebody's living room, for $700 per month.
Here is more.
---
MongoDB: The Definitive Guide 2nd Edition is Out! | by Snail in a Turtleneck (News) | 20 May 2013, 03:39 PM
The second edition of MongoDB: The Definitive Guide is now available from O'Reilly (affiliate link). It covers both developing with and administering MongoDB. The book is language-agnostic: almost all of the examples are in JavaScript.
Upgrading from a previous edition?
If you have read the first edition, the new edition covers a lot of new material (it is twice as long!). Everything has been updated and lots of sections on new features have been added.
Translations
I hear O'Reilly is working with their translators to get this edition translated into other languages, but I tend to be the last that so I don't know what the schedule is.
So…
Pick up a copy and let me know what you think!
---
The P2P Lab | by P2P Foundation | 20 May 2013, 02:58 PM
We are happy to announce P2P Lab's official web-platform where our completed, ongoing and future projects are documented.
P2P Lab is a media lab, based in Ioannina (Greece), interested in interdisciplinary research on free/open source technologies and practices.
In a nutshell, our mission is to:
produce innovative, global techno-economic solutions to local problems.
strive for integrative insights on the open technologies and the P2P practices, coming from various interdisciplinary fields.
organise open events for reflection and action as well as to educate people about critical and creative tools for society-changing.
More or less, what the distributed network of P2P Foundation's collaborators has been doing since 2005 with the difference that P2P Lab is a physical place in a (fragmented) state, which can serve as an ideal case study to implement P2P-oriented policies and practices.
We are looking forward to critique, comments as well as proposals for collaboration on intriguing  research projects.
---
The Why and How Of Updating Your Angel Investors | by On Startups | 20 May 2013, 02:02 PM
There's a massive amount available on the interwebs on how to improve the odds for success in new ventures. But almost nothing concrete is available on the care and feeding of your investors. You can do all of the Lean Startup experimentation you want, but we're here to tell you that one of the the easiest and most underrated skills that a startup CEO needs is knowing how to keep your investors updated, excited and engaged.
The reason is: The CEO is the investor's user interface into the business. It's how investors see what's going on, and in some minimal ways, interact with the business.
We polled several early stage investors (including ourselves) that have 30+ investments each under their belts, and asked them their advice for entrepreneurs on how best to communicate with them and update them on the business. Here are the results.
1) Write your investors consistently. probably every 1-2 months (if you're early stage), and every 2-3 months if you're a bit further along. If you have a regular advisory board or board of directors meetings, that's a good time to send out an update. This is preferable to phone calls, both for you and for them. If you're smart, you'll send this letter out, in more or less similar form, not only to your investors but also to mentors, advisors and staff. And if you do ever follow up with calls, they'll be up to speed and more productive.
2) Keep it short. 2 pages, max. Your investors want to know what's going on, but they don't need to hear every detail.
3) Use a template. We like the TechStars one. Katie Rae and Reed Sturtevant of TechStars Boston teach their companies to communicate with mentors in a way such that each letter builds on the previous one. Typically, the letter gives both highlights and low-lights since the previous communication, sets some short term goals, and then reviews the progress—or lack thereof—on the goals set earlier. Just knowing that you will be producing a report card helps focus you on the important stuff and ensures that things don't get forgotten. Check out the investor update template for a sample.
4) Remind them what you're doing (now). I know this is going to sound strange, but often your investors are not doing as good a job as they could keeping up with all your activities, news, tweets and pivots. Always include a one sentence description of what you're doing (now) just as a friendly reminder. A side benefit to this is that it forces you to write (and read) your one sentence description. This is one of the hardest tasks in startup-land.
5) Tell them the one or two strategic problems you are wrestling with. Got a few hard decisions? You'd be surprised how quickly an investor will respond. And odds are pretty good that they've seen this movie before and can help you come to a better decision. If it's personnel-related, though, you may wish to be more circumspect.
6) Keep it honest, but don't tell your secrets. Would you be comfortable if this email ended up in public, or in the hands of your competitors? If not, consider editing it down.
7) Always have 1-3 direct asks. Looking for some specific introductions? Ask. Need to source some key personnel? Ask. Want them to share some important news on their social media networks? Don't be proud, don't be shy, just ask. 90% of the time, the investor will probably not be able to help, but in the 10% of the time they can help, it's often pure gold.
8) Cast a wide net, but bcc. The more people you can keep up on your company, the more likely it is someone will be able to help you out, and the more you can leverage your network. But respect your investors' privacy, and make sure you are not revealing any confidences in the letter. (I still screw this up—when in doubt, leave it out.) One idea would be to setup a simple mailing list so you're not trying to type in email addresses manually every time.
9) ARCHIVE all correspondence in a shared folder. Your investors will be grateful that they don't have to be organized. This tip is so simple, yet almost no one does this. Your investors have more on their plate than just you. Make it easy on them by putting everything they need to see into one folder which they can reference. Send each letter by email (don't make them have to hit links or print out attachments,) but include a link to the shared folder with the full archive. Inside, have all of your historic correspondence, and perhaps even your latest pitch deck, any financials you want them to see, etc. You might consider having two separate folders—one complete one, for the inner circle, and one that's been redacted down for the broader crowd.
Startups fail for lots of reasons— but one of the most common one is that they run out of money. Informed investors are generally happier investors—and at a minimum more capable of helping. And, if you're out raising another round sometime, chances are, your angel investors are the one's that can help make intros. It's easier for them to do that if they hear from you more often than once every 12-18 months when you need some paperwork signed.
Remember, this exercise is as much for you as it is for them.
This entire process should take you less than an hour or two a month and it's worth it. Besides, if you do it right, you'll actually find that it helps you to write these updates -- and it's not a complete waste of time.
This article was a collaboration between Ty Danco and Dharmesh Shah. Ty is CEO/co-founder of BuysideFX and an angel investor/mentor (you should be reading his blog). Dharmesh is founder/CTO of HubSpot, runs OnStartups.com and is an angel investor in over 40 companies (you can follow him on twitter @dharmesh).
---
Looking for other startup fanatics? Request access to the OnStartups LinkedIn Group. 130,000+ members and growing daily.
Oh, and by the way, you should follow me on twitter: @dharmesh.

---
pergola | by Ayesha's photos | 20 May 2013, 01:51 PM
---
wisteria | by Ayesha's photos | 20 May 2013, 01:51 PM
---
Video: post-growther Donald Maclurcan interviewed by Layne Hartsell | by P2P Foundation | 20 May 2013, 01:28 PM
An Interview on Donald Maclurcan's work and research on education, nanotechnology, and post-growth economics.
Donald Maclurcan (Australia) is a Fellow of the Royal Society of the Arts, an Honorary Research Fellow with the University of Technology Sydney Institute for Nanoscale Technology, and a Distinguished Fellow at the Schumacher Institute. He is also a Co-Founder of the Post Growth Institute at the New Economics Institute.
Watch the video here:
---
Malaysia is getting worse in badminton now. | by Vincent Loy | 20 May 2013, 01:26 PM
This is in fact true. No doubt. The only badminton player left that Malaysia can hope or rely on is Lee Chong Wei. This gives him added pressure as he now appears to be the only hope or chance for Malaysia to win any badminton tournaments from now on. Where are the others? Well, once […]
---
Pat's Product Review: Skinner Sights 10/22 Takedown Case and Sights | by Survival Blog | 20 May 2013, 01:06 PM
Some time ago, I did a review on SurvivalBlog about the Ruger 10/22 Takedown (TD) .22 LR rifle. I fell in love with my sample. I liked the idea of a .22 LR rifle, that could easily be taken apart, and put back together in a few seconds. I also liked the case that Ruger ships the rifle in - very nice, and you can carry the 10/22 Takedown rifle, with a brick or two of .22 LR ammo, half a dozen magazines, a scope and some clothes for the weekend. Not a bad combination, and whenever I travel more than 25-miles from home, I toss the 10/22 Takedown in my rig - just in case something happens and I have to hoof it home in an emergency.

However, I don't always need the heavy-duty case that the 10/22 Takedown comes in. And, I looked around, but there really wasn't anything available, other than a full-sized long gun case - which defeats the purpose of having a rifle that you can take apart, making it into a smaller package. SurvivalBlog reader Wayne W. e-mailed me and told me about the Skinner Sights TD Case that Andy Larsson, the owner of Skinner Sights, is producing for the 10/22 Takedown. And the Skinner gun case is much thinner, trimmer and doesn't take-up much room at all, yet it still protects the 10/22 Takedown rifle. Wayne W. told me that I'd better not get my sample, before he got the one he ordered - not to worry, Wayne W. got his order before I got mine.

The Skinner Sights 10/22 TD case is flat and compact. However, when I got my sample, I saw that it opened from both ends, with a secure clasp. I was more than a bit concerned that, when I took the 10/22 down into two-pieces, that they would rub against one another, causing scratches on my sample. Not to fear, Andy Larsson, very cleverly designed a method wherein, when you place the barrel assembly in one end of the bag, and the receiver in the other end of the bag, they do not touch - they are in separate compartments - although it appeared to me, that they were one in the same compartments. Neat idea, Andy - job well-done!

I used to own a standard cab pickup truck and found if I filled-up an overnight bag, and tried to stuff it behind the seat in my pick-up, it wouldn't fit - too fat. Such is the case with the factory bag that the 10/22 comes in - you can't fit it behind the seat of your pick-up truck - too fat! With the Skinner Sights 10/22 TD Case, you can easily store your 10/22 Take Down rifle behind the front seat of your pick-up truck - out of sight, so no one sees it. You can also toss a brick or two of .22 LR ammo - assuming you can find any these days, because of this ammo drought - in your glove box, or under the front seat of your pick-up, along with some extra 25-magazines - again, assuming you can find any - Ruger 10/22 25-round magazines are hard to come by these days.

Also, in a previous article, I reported on the Skinner Sights front and rear sight combination that Andy Larsson sells, as a replacement to the factory provided sights on a 10/22. While there is nothing "wrong" with the sights that come on a 10/22, there is always room for improvement, and with my aged eyes, I want every advantage I can get, and by replacing the factory sights on my 10/22 Takedown rifle, with the sights that Skinner Sights has, I greatly improved my hit ratio with the 10/22.

What Skinner Sights came up with is a shortened version of their standard rear hooded sight, that works nicely on the 10/22 Takedown rifle - it doesn't hang over the joint where the barrel and receiver join together - like the original Skinner Sight would do. I want to mention, too, that - all Skinner Sights are hand-made, you are not getting a cheap, mass-produced sight set-up. Andy Larsson takes great pride in designing and manufacturing his sights here in the USA.

Skinner Sights came out with the barrel mount sight that clears the take down mechanism, and does not contact the stock during assembly. The hooded rear sights is slick and provides an amazing sight picture - one that is much easier for me to see. And, others how shot my 10/22 Takedown rifle agreed with my findings. Additionally, the 10/22 Barrel Mount rear sight, ships with a .125-inch aperture installed - 5 different aperture sizes are available - and given the uniformity of common ammunition and barrel dimension, this aperture works great. A front comes bundled in the package, too.

By having both the front and rear sights mounted on the barrel, instead of one on the barrel and one on the receiver, insures repeatability when disassembling and re-assembling the 10/22 Takedown rifle. While I never had any problems with my factory sights staying zeroed on the 10/22 Takedown, things might loosen-up, if you took the rifle apart and put it back together hundreds of times, and you might have to make some sight adjustments. With the Skinner Sights Ruger 10/22 TD Sights, you have no worries about your zero changing, no matter how many times you might take your 10/22 Takedown apart and put it back together - the zero isn't going to change on you.

The Skinner Sights 10/22 sights are $62 in blue, $63 in brass and $65 in stainless steel. Not bad at all, considering these sights are hand-made and not mass-produced. The Skinner Sights 10/22 TD case is only $49 and comes in either black or dark green - your choice of colors. I want to thank SurvivalBlog reader, Wayne W. for alerting me to these products. As if often the case, I get alerted to a lot of new products by SurvivalBlog readers. You are a very intelligent bunch of folks. And, I appreciate all the help you give me in my quest for new products, or products I might have overlooked or not been aware of. I can't be all over the Internet and through factory catalogs each day, trying to find products to write about - not enough hours in the day.

So, if you're looking for a slimmer carrying case for your Ruger 10/22 Takedown rifle, and you want some better sights to go on that gun, check out the Skinner Sights web site for more information. - SurvivalBlog Field Gear Editor Pat Cascio
---
Will there be a wave of 'maker-centric' companies? | by The Equity Kicker (Nick Brisbourne) | 20 May 2013, 01:04 PM
Venturebeat has an article up this morning titled Startups and big corporations embrace the maker movement which reports that the annual Maker Faire has this year introduced a 'Startup Pavillion' which it cites as evidence that the maker movement is moving beyond hobbies to being a 'rich source of economic potential'. Here's a selection of the 20-odd startups at Maker Faire:
SeeedStudio, an "open hardware company develops and brings to market innovative and cost-effective prototyping solutions for hobbyists and aspiring inventors."
RedBearLab, which makes a wearable BlueTooth 4.0 board you can use to interface with an iPhone or Android device.
Formlabs, makers of a high-resolution 3D printer aimed at engineers and design professionals.
Deezmaker, another 3D printer vendor, this one aimed at making an affordable printer called the Bukobot.
BioLite, a company that aims to reduce third-world pollution with a small wood-fueled stove that converts heat from the fire into usable electricity, improving combustion while allowing users to charge small devices.
BlinkM, makers of multicolored, programmable LED lights for use in your electronics projects.
Smitten, a maker of handmade "artisan truffles."
For the last couple of weeks I've been asking myself if we are witnessing the beginning of a major trend here or whether there will only ever be a small number of successful 'maker-centric' or innovative hardware companies.
Here are my observations and emerging thoughts:
the number of startups in this space is definitely increasing – there are a small number that have been around for a few years, like Jawbone, Micro Mobility Scooters, GoPro, and DFJ Esprit portfolio company Graze, and a much larger number that have been founded more recently, including Nest, Sphero, Local Motors, and Pebble.
A number of factors are combining that enable faster product iteration in hardware
3D printing is reducing the cost of prototyping
Short run manufacturing is getting cheaper and cheaper due to robot manufacturing and improved supply chain management techniques
The labour component of manufacturing is falling increasing the feasibility of local manufacturing
Kickstarter and other crowdfunding platforms are radically improving capital efficiency because customers are now paying for product months in advance and because first demand validation is now virtually free
Arduino and other open source hardware platforms are reducing costs in the same way open source software reduced costs for web companies
Companies are aggregating global audiences and selling direct making new product categories viable which wouldn't have worked when national distribution limited customers to single countries – companies which build communities around their interest area are particularly powerful in this regard – e.g. DIY Drones
Consumers like buying from companies that embrace the 'maker' ethos – i.e. companies that have a human face and a genuine interest in delighting their customers
In contrast to other investment themes that turned out big it is unclear how many opportunities there are in innovative hardware – most of the companies listed above look obvious in hindsight, but it isn't easy to list large numbers of new opportunities in the way it was for ecommerce or mobile, or to see how these companies will transform the world in the way social media has
It is still unclear how much capital these businesses will require or what the exit market will be like
Writing and reading back this list it strikes me that whilst it is too early to know how big this wave will be there is more than enough going on to want to start making some investments.
---
Why the World Got Stuck on Spreadsheets and the Future of Data Manipulation | by ScraperWiki | 20 May 2013, 12:50 PM
Guest post by Dan Thompson In 1979 a Harvard MBA student and former programmer at DEC, invented something that fundamentally change the world of IT and which still affects everyone with a desk job today. What Dan Bricklin had created … Continue reading →
---
Tumblr and Yahoo | by Continuations (Albert at USV) | 20 May 2013, 12:42 PM
It is now official that Tumblr will become part of Yahoo. Marissa announced the news in style with an animated gif. I have been lucky to be part of Tumblr's journey as an angel investor and as an active blogger on the service since February 2008.
I am excited about the combination with Yahoo. When Marissa took over Yahoo, I expected that acquisitions would play a role in her transformation of the company. At the time I wrote that the ideal target would be "startups that have very talented people and also interesting products but could benefit from the scale of Yahoo." Tumblr fits that bill perfectly. It has super talented people and a really interesting product. It can also benefit from Yahoo's scale — both for reducing its infrastructure cost and for selling the wonderfully nonintrusive ads that appear occasionally in the Tumblr dashboard.
I am also excited because this will finally bring Yahoo to New York City. During the dotcom days Yahoo moved all of its acquisitions out West (e.g. Hotjobs) which was a tremendous talent drain for New York. Now most of the big Internet companies will have a strong presence here which is great for the local community. These days acquiring companies understand the importance of New York and are enabling the local teams to build out a stronger presence (e.g. eBay and Hunch, Adobe and Behance).  We have Google to thank for starting this trend.
And now it's time for me to reply to all my friends who have sent congratulations over the last few days. I couldn't reply because the deal had not been officially announced yet. Which reminds me: to all the journalists who sent "congrats" notes fishing for an official confirmation — nice try and better luck next time!
---
Liberty for Whom? | by The Baseline Scenario | 20 May 2013, 12:30 PM
By James Kwak I feel like I should have something deep and original to say about Corey Robin's fascinating article on nineteenth-century European culture, Nietzsche, and the economic philosophy of Friedrich Hayek. In addition to the things I'm better known … Continue reading →
---
Assorted links | by Marginal Revolution (Tyler Cowen) | 20 May 2013, 12:08 PM
1. Ryan Avent on liquidity leaks, Paul Krugman also.
2. Some positive results on microcredit.
3. Some not very surprising claims about Joseph Beuys.  I am still waiting for a good book about the massive influence of Rudolf Steiner.
4. Where is the euro breaking point?
5. Is Greece turning the corner?
6. "Tsundoku", and Abenomics: the show so far.
---
Sometimes Failure Is Your Best Option | by Feld Thoughts (Brad Feld) | 20 May 2013, 12:00 PM
This post originally appeared last week in the Wall Street Journal as part of their Accelerators Program in answer to the question "When and how should you wind down a failing business."
Some entrepreneurs and investors subscribe to the creed "failure is not an option." I'm not one of them.
I strongly believe that there are times you should call it quits on a business. Not everything works. And — even after trying incredibly hard, and for a long period of time — failure is sometimes the best option. An entrepreneur shouldn't view their entrepreneur arc as being linked to a single company, and having a lifetime perspective around entrepreneurship helps put the notion of failure into perspective. Rather than prognosticate, let me give you an example.
My friend Mark's first company was successfully acquired. After being an executive for several years at the acquirer, Mark decided to start a new company. I was the seed investor, excited to work with my friend again on his new company.
Over three years, this new company raised a total of $10 million from me and several other investors over several rounds. The first few years were exciting as Mark launched a product, scaled the company up to about 40 people, and tried to build a business. But after two years we realized that we weren't really making any progress — there was a lot of activity but it wasn't translating into revenue growth.
In year three we tried a completely different approach to the same market with a new product. Mark scaled the business back to a dozen people in an effort to restart the business. Over the course of the year we tried different things, but continued to have very little success.
By the end of the year there was $1 million left. Mark cut the company back again — this time to a half dozen people. He started thinking about how to restart for a third time on the remaining $1 million.
Mark had never failed at anything in his life up to this point. He was proud of this, and the idea that he couldn't at least make his investors' money back was devastating to him. But he was stuck and started exploring creating an entirely different business, in a completely different market, with the $1 million he had left.
Mark was newly married and was working 20 hours a day. We were talking at the end of the day during the middle of the week and he was so tense, I thought his brain might explode. I told him that as his largest investor and board member, I wanted him to turn off his cell phone, take his wife out to dinner, have a bottle of wine, and talk about whether it made any sense to spend the next year of his life trying to restart the business with the remaining $1 million.
After resisting turning his phone off, I insisted. I told him that I gave him permission to decide that it wasn't worth the next year of his life at this point and that as his largest investor it was perfectly ok to shut the business down and declare it a failure. I then said I was hanging up the phone and would talk to him in the morning. Click.
He called me back early the next morning. He was calm. He started by saying thanks for giving him permission to consider shutting down the company. This had never occurred to him as an option. During dinner, he realized he needed a break as he was exhausted. He wasn't coming up with anything to do to reinvent the business and was just desperate to figure out a way to pay his investors back.
By morning, he realized it was time to shut things down, return whatever money was left, and take six months off to recover from the previous three years while he thought about what to do next.
We gracefully wound the company down and returned five cents on the dollar to the investors. Mark took six months off. He then spent six months exploring a new business, which ended up being extraordinarily successful. And he's now very happily married.
Failure is sometimes the best option if you view the process of entrepreneurship as a lifelong journey.
The post Sometimes Failure Is Your Best Option appeared first on Feld Thoughts.
---
Please support and co-finance Adtlantida.tv, for a truly free media infrastructure system | by P2P Foundation | 20 May 2013, 11:57 AM
Adtlantida.tv is different form other services like Bambuser, Ustream or Vimeo in that it only uses free tools ((Icecast at Linux server, html5 media players, Android apps); it combines live streaming on demand in only one COMMUNITARY service; and it works with uncensored free contents and without advertising. This way, you are not a media product sold to advertisers. The community self-manages with contributions that, once the development is completed, allow to pay annually the cost of a good streaming server ensuring the service stability (good upload and download bandwidth)
Please support the crowdfunding campaign of Adtlántida.tv , a community and a free radio-television system with livestreaming service. Five days left for your important donation!!
More information via Goteo!
---
Are Indian Companies "Land Grabbing" in Africa? | by Global Voices (India) | 20 May 2013, 11:42 AM
As foreign companies and governments buy or lease land in countries across Africa, the debate continues as to whether this will encourage development or is simply land grabbing, which displaces local populations and threatens food security.
The Hindu's Addis Ababa correspondent Aman Sethi (@Amannama) has recently written about Indian companies' involvement in Ethiopia and Mali, and on 19 May he took part in a Q&A session on Facebook on the issue of so-called Indian land grabs in African countries.
Susanna Myrtle Lazarus asked:
What is the purpose of land grabs in Africa? Is it for the property value or just for resources like water etc?
Aman Sethi noted that the term "land grab" is disputed:
Well that's an interesting question: the jury is still out on the whole question of "land grab". The UN, for instance, has come up with a set of guidelines on land investment. Host countries tend to lease out land, rather than sell it, so it isn't usually about property value because the lessor company cannot sell the land. Investments are invariably for the resources then – so it could be minerals, it could be timber, it could be soil and water to grow crops. The big question of course is – are host countries getting enough back in return for leasing out land and (often) displacing people?
Jayakarthik Sabarathnam's question was:
Don't you think Africa's land problems are a result of confusion over who owns the land, whether it is an individual or the government, since individuals have been staying on government land under the assumption that they are the owners whereas the government considers the land as its own?
Sethi answered:
I think this is a key and crucial point – that in at least two countries that I wrote about – Ethiopia and Mali – there is significant confusion over land titles. In Ethiopia for instance, all land is owned by the state and is leased out to private individuals and companies. In places like Gambella – as I mention in the second part of the story – communities often have pre-existing communal claims on the land, which are not acknowledged by the state. This creates a serious problem. The Ethiopian government believes that the Commune Development programme – or villagization – will actually streamline the process of land use by giving land titles to the people who are resettled under the scheme. However, this will of course involve a radical change in the way the community conceives of land.
Roybath Mylaks wanted to know if Indian investment actually helped to increase local skills:
Are Indian companies adding to capacity building of locals there? Do they hire locally or bring in workers from India?
Aman Sethi replied:
On labour – the Ethiopian government is very clear that they want companies to train local workers. Last year, I wrote about how liquor Baron Ponty Chadha had come up with a plan to bring farmers from Punjab to Ethiopia – but the plan was shot down by the government. Most governments allow companies to bring in highly skilled technicians and managers, but try to get companies to train people to become machine operators etc.
Samiksha Srivastava's question was along the same lines:
Don't you think Indian-owned companies are enhancing the development there?
Sethi didn't think there was a simple answer to that, and referred to the controversy surrounding Indian company Karuturi Global, which has been heavily criticised for its operations in Ethiopia:
Well, I think that a lot of developing countries are still figuring out what development really means to them – what path should they take, what resources should they allocate, what should be the role of the state and the market? Thus, I think that Indian companies have become a part of this debate by participating in these developing economies. Many in Ethiopia are unhappy with the fact that a foreign company has acquired such large amounts of land – while others believe that companies like Karuturi will help the country earn foreign exchange – so the debate is wide open right now.
Pranay Sinha asked:
Do you think the government needs to put in place some minimum standards for corporates operating abroad so that locals are not abused in the process of these investments, or should it be a self-restricting corporate code of conduct?
Referring again to Karuturi Global, Aman Sethi responded:
Well, I think most governments have legal frameworks to safeguard the rights of project-affected communities – however, many (much like in India) cannot effectively monitor these companies. In Karuturi's case for instance, no laws have been broken – but there seems to be a structural problem with the way the project was conceived – so I think we probably need to think beyond a legal regime and perhaps begin by trying to understand these processes as best we can. It's easy to say "neocolonial land grab" and end the discussion – but that doesn't help our understanding of the world – rather it restricts engagement because the discussion is effectively over.
---
Success Has A Thousand Fathers | by AVC - musings of a VC in NYC (Fred Wilson) | 20 May 2013, 11:41 AM
---
Happy 9th Birthday to the Open Knowledge Foundation! | by Open Knowledge Foundation Weblog | 20 May 2013, 11:34 AM
If you'd like to give the Open Knowledge Foundation a birthday gift, please consider making a regular or one-off donation to support our work opening up knowledge around the world!
Nine years ago today the Open Knowledge Foundation was born. We've come a long way from our humble beginnings in Cambridge in 2004.
From government to science to culture, open knowledge is now on its way to being established as an essential part of our information environment.
Governments around the world are now putting open data at the heart of their transparency plans. Major publishers and research funding bodies are supporting and mandating open access to research publications and data. Leading cultural institutions and cultural portals are opening up their holdings.
And there are now more projects, initiatives and organisations than ever before dedicated to using open knowledge to improve the world – from civic hacking to citizen science, from data journalism to the digital humanities.
But we still have our work cut out for us: much essential information about the world is still locked up or gathering dust, and much remains to be done if we are to put this information to work to improve the world.
To mark the occasion of us entering our tenth year, we're going to have a quick look at where we've come from, and some of our hopes for the future.
Where we've come from
Many of the Foundation's earliest projects, principles, activities and aspirations are still with us today.
The Open Definition – our foundational text
The Open Definition – which sets out principles that define "openness" in relation to data and content – was one of the first projects that we launched, and it still underpins everything we do.
The world's biggest open knowledge events
Early on we still ran our big annual open knowledge events, like the ones we run today. Writer and open source advocate Glyn Moody (who now sits on our Advisory Board) wrote of our first edition of the Open Knowledge Conference (OKCon), Open Knowledge 1.0 in London:
The location was atmospheric: next to Hawksmoor's amazing St Anne's church, which somehow manages the trick of looking bigger than its physical size, inside the old Limehouse Town Hall.

The latter had a wonderfully run-down, almost Dickensian feel to it; it seemed rather appropriate as a gathering place for a ragtag bunch of ne'er-do-wells: geeks, wonks, journos, activists and academics, all with dangerously powerful ideas on their minds, and all more dangerously powerful for coming together in this way.
Our 2010 and 2011 Open Government Data Camp events helped to transform a loose knit group of public servants, hackers and advocates into a coordinated force for open data around the world. Last year saw over 1000 people gather in Helsinki for OKFestival 2012, which was the biggest open knowledge event to date. This year, OKCon 2013 in Geneva will convene governments and civil society representatives from dozens of countries to figure out how to support the growth of open knowledge internationally.
'Raw data now'
OKF Founder Rufus Pollock's 2007 call to 'Give Us the Data Raw, and Give it to Us Now' was adopted and popularised by web inventor Sir Tim Berners-Lee in a 2009 TED talk. This became one of the rallying calls of the open data movement around the world, and was widely covered up in the media (for example, see articles in the BBC, the Guardian, or Wired).
Following the money
A prototype of our Where Does My Money Go? project – which shows how UK public funds are spent – was featured on the front page of the BBC News. The Open Knowledge Foundation went on to play a leading role in securing the release of the COINS and £25k spending data, which are amongst the most detailed spending databases ever released by any government. Our Open Spending project now has over 13 million transactions, covering over 50 countries and over 80 cities and regions around the world – from Belgium to Bosnia, Portugal to Puerto Rico.
Open source tools for open data
CKAN, our open source data platform, was one of our earliest software projects. It is now being used by governments and organisations around the world, and last week saw a major new release.
From our earliest years, the Open Knowledge Foundation has attracted developers who want to work on open knowledge projects. Our OKF Labs continue to provide a place where like-minded hackers who want to develop and use open source tools for open knowledge can collaborate.
Empowering people to use data to change the world
Over the past few years, we haven't just been working to open up the world's knowledge: we have also helped more people than ever to use, share and benefit from it.
Our School of Data project works to help journalists and civil society organisations use data to improve their research and reportage. The Data Journalism Handbook, a free book that we created with the European Journalism Centre, shows journalists how to use data to improve the news and is now being translated into many different languages including Arabic, Chinese, French, Spanish, and Russian.
Opening up our culture
We have long been interested in the digital public domain and the cultural commons – from our early attempts to build a global registry of public domain works, to trying to model copyright law in countries around the world to determine which works are in the public domain.
The Public Domain Review started life as a relatively modest project to highlight interesting public domain works and to raise awareness of importance of having an open cultural commons. In the past few years it has received extensive praise from some of the world's most prestigious literary publications, and has a dedicated base of regular readers which is just about to hit 10,000.
Our OpenGLAM initiative continues to liase with cultural institutions around the world to encourage them to open up their holdings – and to support people who are trying to create useful things using open cultural material, through initiatives such as the Open Humanities Awards.
Where we're going
Since 2004, we've become a truly international organisation. We've gone from being a handful of like-minded advocates – mainly based in the UK and Europe – to becoming a global network, spanning countries and cities across the world.
We want to continue to expand and empower this network, to open up essential information about things that matter – from carbon emissions to clinical trials to our cultural past. We want to catalyse and support projects which use open knowledge to change the world for the better, whether through greater accountability, more successful data driven investigative journalism projects, or more collaborative scientific research.
We're looking forward to many more years of open knowledge, and we have some really exciting plans for our tenth year and beyond. We hope you'll join us.
---
Do peer effects have inegalitarian implications? | by Marginal Revolution (Tyler Cowen) | 20 May 2013, 11:14 AM
By now it is well known that hanging out with healthy peers predicts (causes?) good health, and unhealthy peers predict (cause?) bad health, for instance as it applies to weight and diet.  So what might that mean?
But perhaps medical care should indeed be given preferentially to those who, in receiving such care, will yield a better return on the investment? Maybe people with families, or people who are merely very popular, should get more care?
That is from Nicholas A. Christakis, who also notes:
Taking network effects seriously means that we should value socially connected people more. From a policy perspective—if not from a moral perspective—the connected should get more healthcare attention.
That is a speculation and a question, so I don't think you should read him as necessarily endorsing that as a final conclusion.  There is more here, as pointed out by the still under-followed @jflier.
Indeed, once you take peer effects seriously, the popular become very busy people indeed, adding to their already-existing popularity-related busyness.  All sorts of things must be done to help them and to improve them, and for the same reason that people worried about Charles Barkley as a role model.  Of course on average the well-connected are successful and relatively well known or even famous, so the medical attention is not going to the poor or for instance to those unemployed whose weaker networks make it harder for them to get jobs.
I would stress the general point that utilitarian theories are less egalitarian than we often like to think.  The differential marginal utility of money point is very popular, and often true, and it does generally point in an egalitarian direction.  You hear somewhat less about many of the other implications of utilitarianism.
---
Wayfinding in a Liveable City | by The Copenhagen Bicycle Culture Blog | 20 May 2013, 12:07 PM
---
Money, food, and the local | by mathbabe | 20 May 2013, 11:03 AM
I take the Economist into the bath with me on the weekend when I have time. It's relaxing for whatever reason, even when it's describing horrible things or when I disagree with it. I appreciate the Economist for at least discussing many of the issues I care about. Last night I came across this book […]
---
Data Expedition: Mapping the garment factories | by Open Knowledge Foundation Weblog | 20 May 2013, 10:23 AM
The horrific factory collapse at Rana Plaza in Dhaka has brought the business practices of global garment brands, as well their thousands of suppliers, into the spotlight.
At School of Data we noted that corrupt and missing data were part of the story. Data on building permits in Bangladesh is largely unavailable due to lack of state inspections. However, after years of pressure on global apparel brands from labor activists, the publishing of garment factory supplier lists is becoming increasingly standardized. We're asking you to join us in mapping the data on garment factories.
Data Expedition: Mapping the garment factories 
When: Saturday May 25 – 12:00 BST to May 26 18:00 BST - link to your timezone
We'll be looking for projects such as:
Mapping garment factories locally and globally

Exploring the global supply chain of garment export and imports

Mapping the ownership of local factories and global brands with open company data

Finding stories and patterns in the connections between global brands and local garment factories
Sign up here for the Data Expedition!
Please note that limited space is available. For more information about the Data Expedition format, we encourage you to read this article.
Before the Data Expedition – Help us build an open garment factory supply list
Before heading out on this important expedition, we'll need to gather as much data as possible on garment factories. Labor activists and campaigners typically articulate the data in terms of "supplier lists." Some brands, such as Nike, provide a list of all factories in their supplier network via Excel and JSON downloads; while others, such as Levi-Strauss, only offer lists in PDF format. In order to prepare a solid dataset for the Data Expedition, we're asking you to help locate, clean, and merge the supplier lists from across garment brands into one comprehensive Open Garment Factory List.
Begin today by adding to the Open Garment Factory List and join us for a GoogleHangout on Thursday, 23 May at 19:00 CET, where we'll be engaging in joint data collection.
---
Project of the Day: Los Ojos de la Milpa in Oaxaca, Mexico | by P2P Foundation | 20 May 2013, 09:59 AM
Eugene Tisselli writes:
"I am really excited to finally share the project I've been doing together with farmers in Oaxaca, Mexico. The project is called "The eyes of the milpa" (a milpa is a traditional Mesoamerican crop-growing system, composed of maize, beans and squash), and it can be thought of as a "community memory" created by the farmers using smartphones. During an entire year, they documented their daily lives by recording their views and opinions and publishing them on a website. And now here it is, in three languages: Spanish, Mixe (Ayuujk) and English. As you can imagine, doing the translations was not easy… but it was worth it: the project includes the first-ever tag cloud and search engine done in Mixe language!"
Here are more details on the project:
""Los ojos de la milpa (The eyes of the milpa) is a community memory that captures, through images and voice recordings, a moment of transition in these complex times. It all takes place somewhere in the mountains of the Sierra Norte of Oaxaca, Mexico, in a community where the elders tell stories to the youth about how maize was planted many years ago: without fertilizers or sophisticated technology. The young ones listen as they witness how maize can no longer grow without chemical fertilizers, nor survive without synthetic pesticides. This is a place where the precious pace of the passing seasons coexists with a growing pressure to produce more, to extract from the earth not only nourishment, but also more and more profit.
But there are newcomers in the milpa: in the community of Santa María Tlahuitoltepec Mixe, Oaxaca, peach trees have recently made their appearance. This is thanks to the MIAF system (Milpa Intercropped with Fruit Trees), an agroforestry project developed by researchers from the Postgraduate College of Agronomy of the Chapingo University in Mexico. In addition to traditional crops such as maize, beans and squash, the MIAF system introduces fruit trees in the milpa to satisfy a number of needs. By forming a live barrier, they help to protect the soil from erosion caused by runoffs, a major problem in Tlahuitoltepec, where arable land is mostly found on hillsides. The trees contribute to carbon sequestration, an important strategy in the context of climate change. Finally, they also strengthen the livelihoods of farmers and their families, who eat or sell the fruits, in this case peaches. However, new knowledge, skills and technologies come together with these benefits, involving a tough learning process, an increase in the amount of required labor, and the danger of a greater dependency on external inputs.
In this scenario, Los ojos de la milpa seeks to reveal the tense interweaving of the old and the new. Throughout a crop-growing cycle, families from the Juquila and Santa Ana ranches use smartphones to capture images and record sounds of whatever happens in their milpas, and to post them on this website. By doing this, they share their knowledge, their concerns, their ways of doing and their ways of thinking. They make themselves present by presenting their stories to us, by showing us how they live and work in a community which resists as it transforms. Through their own words and points of view, they leave a testimony of a crucial moment in which the urgency of finding a balance between nature and technology, between culture and productivity, can be felt."
---
we had a blast at #campusv this past weekend. i haven't... | by Fred Wilson VC | 20 May 2013, 09:48 AM
we had a blast at #campusv this past weekend. i haven't played ping pong in quite a while. but michael got me on the table and throwing my trick shots around. good thing brian recorded it.
---
Step Right Up (And Pour Yourself Some Wine) - Alex Bleeker and... | by Fred Wilson VC | 20 May 2013, 09:48 AM
Step Right Up (And Pour Yourself Some Wine) - Alex Bleeker and the Freaks
the Gotham Gal turned me onto this song this weekend. i love it. 
---
Democratic Party of Japan Public Review Session: Japanese Politics Goes Online | by PingMag | 20 May 2013, 09:36 AM
Just under half a year has passed since the Liberal Democrat Party took back the reigns of power in late 2012, after three years and three months in the wilderness of Opposition. As society holds its breath over Abenomics, for the first time in a while we are starting to glimpse the signs of economic recovery. On the other hand, the losers of that past election, the Democratic Party of Japan, held an event on May 11th called the Democratic Party of Japan Public Review Session to much media attention, promising to reflect on what they did wrong during their government.
Use of the internet during election campaigns has now in part finally been legalized in Japan. Being able to utilize social media will undoubtedly become a major turning point for future candidates when they are battling for an election seat.
Online media is expected to make its first appearance on the political stage in the House of Councillors elections this summer. The DPJ, however, have already taken the lead in engaging with the new media. Overseas there may well be nothing unusual about this but in Japan people are only now asking how politics can work in the digital age.
Some of the answers can perhaps be found in the Democratic Party of Japan Public Review Session.
The event was open to members of the public aged thirty or under. Organized by the Party's youth committee as a chance to consider seriously why the DPJ government ended in failure, five hundred people turned up to listen to the panel: former Prime Minister Naoto Kan, former Chief Cabinet Secretary Yukio Edano, and Akira Nagatsuma, former Minister of Health, Labor and Welfare. The event was divided into three parts, the first an open talk session between the three politicians and the audience, and the second a group discussion between the young audience members. And it then ended in a meet-and-greet mingling event.
The event was streamed live on Nico Nico Douga and Ustream, with over 10,000 users watching it online. It also trended on Twitter (#daihansei), meaning it all felt much bigger than the confines of the venue space itself.
PingMag took a seat in the audience for the evening
The day of the event was rainy. In spite of the wet weather, though, the venue was packed with members of the press, as well as the hundreds of participants. Each seat had the log-in details with which you could post questions to an online message board anonymously. Before the proceedings got started, everyone could be seen earnestly punching in their questions via their smartphones. There were also hardcore participants who had their computers open, simultaneously typing in questions while also watching the Nico Nico Douga broadcast. All in all, the air was bristling with expectation and excitement for what was about to happen.
Although you had to have the ID and password that were left on participants' seats at the venue to contribute questions, anyone could still log in and view the content of the special forum. This meant that the people watching via Nico Nico Douga or Ustream could participate but, unlike the people actually there in the flesh, were not able to offer their own questions to the panelists.
The moment the three veteran legislators say down, the debate immediately ignited. As announced in advance, there was to be no speech or address from the trio, just answers to the questions selected immediately from the forum. The facilitator was Yujun Wakashin, who seemed to want to throw lots of questions at the panelists but struggled from the start when they overtalked.
Well, I posted a question and by chance it was quickly selected.
Q. To be blunt, what's the relationship like between the LDP and DPJ? Good or bad?
There's something pretty exciting about being able to ask a question directly to a former prime minister! And no matter what you ask, it seems you can trust a politician to give a serious answer.
The bulletin board saw over twenty questions and comments added every minute, a non-stop surge of questions. There was a "like" button which you could click to indicate your preference for a question, but the pace of the log was so fast it seemed like it was hard for Wakashin to keep up.
The content of the board ranged from serious questions to the less so ("Are you an alien?"), as well as plain criticisms. At times it seemed to be collapsing into a forum more like 2channel. Regardless of whether your questions would be picked or not, there was simply no holding back for the posters as it was all anonymous.
Things were exploding on Twitter as well, as the participants and people watching the livestream tweeted furiously, turning the social media channel to all intents and purposes into a second question board.
It was all over before you knew it. With the first session finished, the panelists departed and then the press was asked to leave. There was also a significant exodus of the general participants at this point, whittling numbers down to something like half. Comments like "Disappointing! I'm going home!" suddenly sprang up on the bulletin board, presumably posted by the people leaving early. The press pack was waiting outside keen to harvest negative quotes from the premature departures and interview them with leading questions. The livestream broadcast also finished with the first session and the rest of the event was not open to the public.
Online, the response seemed to be that the supposed highlight of the event, making effective use of the internet, had not been a success.
During the event there were many comments posted to the message board calling for improvements to how it was being run. Comments mentioned the need for a more efficient way of selecting the questions, since the flow of the board was so fast and more people were needed to collate the content. Another idea suggested was that every panelist could have had a screen in front of them so they could spontaneously pick out and answer questions themselves.
Part Two: Group Discussion
After a short break there followed a discussion in groups of ten on a fixed topic, facilitated by a regional assembly member.
The topic for debate was territorial disputes, which had featured a lot in the first part. With the recent issues surrounding conflicting claims to islands between Japan, Korea, China and Taiwan, this delicate subject was understandably tough to discuss in such a short time, but the participants gave it their all. The group that this writer took part in examined the dangerous influence that national sentiments can have on foreign diplomacy.
After fifteen minutes each group shared what they had discussed with everyone else, and then DPJ members of the House of Councillors took the podium for a discussion that proved franker that the previous one.
Even though the length of the talk here was shorter, this latter section of the event actually seemed to be the most fulfilling. In the first part the panelists were perhaps influenced by the presence of the media and in the face of delicate topics they frequently retreated into self-vindicatory statements. Maybe because there was no media or online audience, it was in the second part that we finally seemed to hear what the politicians really thought.
Part Three: Small Talk
For the last part, we moved rooms for a laid-back chance to mingle with the other people. There were snacks and soft drinks, so we could chat and look back on the whole event along with the regional assembly members. Members of the DPJ youth committee also went around and asked how people how it had gone.
Someone was wearing what appeared to be a school uniform. When I asked, it turned out he was a high school first grader. "I've been interested in politics since a young age, so straightaway I wanted to take part in this event," he said.
"The event was less about reviewing and reflecting (hansei), and more about vindicating. It was a bit different to what I expected from the name."
We heard the same opinion from other participants. One male fourth-year student attending a college in Tokyo said that usually the only chance to get in touch with politics was by watching the news. "I didn't hear what I wanted to in the first part. The responses by Mr Kan were also innocuous. It was that weird thing where politicians answer any question without actually saying anything."
Moderator Yujun Wakashin reflects on how it went
Last week PingMag interviewed Yujun Wakashin, who served as the moderator this time and is a senior researcher at Keio University. Wakashin is involved in a range of activities supporting Japanese youth, so we wondered how he felt the event had gone.
"
It is still only around one month since the ban on the use of the internet in election campaigning was lifted. As the flow of information constantly accelerates, the internet is sure to make politics into something more intimately connected to our lives in the future. As a first step towards that, it's probably fair to say that there are still many improvements to be made to the way the event was set up, and the politicians' response to it.
All around the world, leaders are now attempting to speak more directly with their people. If the Japanese people and their politicians could clarify what they expect from an event such as the DPJ's, and if they are both looking for the same thing, then the day may well come when even in Japan we can speak seriously with our Prime Minister over Twitter.
The first part of the event can been viewed on the following website (Japanese only):
http://seiji.yahoo.co.jp/close_up/1290
The message board can also still be viewed (Japanese only):
http://dpj-reflection2013.herokuapp.com/speaks
---
The Bystander Effect in Medical Care. Why Do I Have So Many Doctors Not Taking Care of Me? | by Three Quarks Daily | 20 May 2013, 08:54 AM
---
Digging Up Bones or, The Labyrinths beneath Our Feet | by Three Quarks Daily | 20 May 2013, 08:53 AM
---
New Air In A Fast City | by Three Quarks Daily | 20 May 2013, 08:51 AM
---
NORTH KOREA'S NERVE WAR | by Three Quarks Daily | 20 May 2013, 08:45 AM
---
Making music from trash in Paraguay | by Green Futures | 20 May 2013, 08:00 AM
Meet 'Los Reciclados': a chamber orchestra playing instruments fashioned from landfill scraps.
Welcome to Cateura, a town built on a vast landfill site outside Paraguay's capital city Asunción, where 1,500 tonnes of solid waste are dumped every day. Over 2,500 families live here, many making a living from repurposing the trash and then selling it.
Some of them are also making music – with violins, cellos, saxophones and drums all carefully fashioned from the materials to hand, a process which can take weeks. Empty oil can – or a cello frame? Used x-rays – or ideal drum kit skins?
---
54.904734°N, 111.345711°E Kurumkanskiy District, Buryatia,... | by Stochastic Planet | 20 May 2013, 07:01 AM
54.904734°N, 111.345711°E
Kurumkanskiy District, Buryatia, Russia
---
Interesting photos - 18 May 2013 - Flickr | by Daily interesting photos - Flickr | 20 May 2013, 05:49 AM
---
A new relationship with the EU – as our current membership is anti business and jobs | by John Redwood MP | 20 May 2013, 05:02 AM
          I have long argued that the government should create a new relationship with the EU. I was pleased  Mr Cameron used this phrase in his important Bloomberg speech. The businessmen who have written today to a newspaper saying it is in our economic interest to stay in the EU on current terms, as always have failed to explain why. The problems with our current membership include the high cost energy, ineffective and expensive regulations and other anti enterprise measures which adversely affect us. The EU is anti jobs, exporting them to other parts of the world by making us uncompetitive.
           To me the phrase a new relationship  means that we want to create a relationship based around the important trade the UK does with other states in the EU. We also may well need to co-operate with the neighbours, through bilateral agreements over pipelines, ferry links, air routes and all the other issues that relate to the conduct of trade and the travel of people between our islands and the continent. I leave open the possibility that we will want to undertake other matters based on mutual  political co-operation, where it makes sense for us and them and where we have a veto over whether to do it or not, just as they would also enjoy a veto.
             I do not think we can mend this broken relationship which many in the UK now find unacceptable, by a few modest treaty amendments. After all, the whole Conservative party voted No to Nice, No to Amsterdam, and No to Lisbon. The Conservative party was forced into accepting Maastricht reluctantly by a past leadership, only accepting it on the basis that we were exempted from the main points of that treaty, by refusing to join the Euro.
              I find it bizarre that the media and some other critics now make out the Conservative party is once again divided on Europe and talking  about something that matters to few people. The party I know is united behind the proposition that we need a new relationship,  and  still united around the view that at least the last three treaties and arguably more were unacceptable in surrendering  vetoes and pushing the federalist agenda.
                  In a democracy one Parliament cannot bind its successors. To recover our democracy we need to be able to reverse EU laws previous governments have adopted, and need to be able to unwind treaties we voted against at the time. Far from banging on about a minor issue, we are seeking to sort out the big issues of border control, migration, extradition, energy prices, welfare eligibility and the rest where the EU now has the power to block or amend what we want to do.
---
Perceptions | by Three Quarks Daily | 20 May 2013, 04:20 AM
---
Crib Sheet: The Atrocity Archive(s) | by Charlie Stross | 20 May 2013, 04:11 AM
(This is going to be a slightly abbreviated discussion, because I discussed the book's ideas at length in the supplementary essay bundled with it, and answered a number of questions about it in the blog entry immediately preceding this one.)
So what's left to say ...?
Rewind the clock to 1993. I was living in Watford, part of the suburban sprawl that surrounds London proper, working for a Californian software multinational and not writing enough fiction. One of my problems was starting stories and not finishing them. One of the starts I made, was this rather weird, chillingly distanced third-person-omniscient vision of a CIA photographic analyst in a world where the cold war produced even more baroque technologies than in our own: his memories of a childhood visit to an air show where nuclear-powered NB-36s were on display (in our universe, the NB-36 program was cancelled before anything flew under actual nuclear power, as with the Soviet Tu-95LAL (the follow-on Tu-119 never flew either)). His memories merge with his angst as he pores over recon imagery of .... what?
Forward to 1997. I'd read a short story by Bruce Sterling, The Unthinkable. It's a short throw-away in which a pair of arms negotiators are reminiscing about how they agreed to back away from the precipice and cut the Cold War horror arsenals by ditching the ICBMs and Hydrogen bombs chained Lovecraftian horrors ... and I suddenly realised what my analyst was looking at. I'd also been re-reading "At The Mountains of Madness" and decided, in classic naive non-metaphorical science fictional mode (where a rocket ship is just a rocket ship every time) to tackle the alienation and ennui engendered by constant exposure to the threat of annihilation, and also to make the Mythos frightening again by linking Lovecraft's horrors (by then reduced to the stuff of silly jokes and plush bedroom slippers) to a terrifying reality that had only receded into the background in the past few years.
The result was a story titled "A Colder War". I sold it, and it garnered quite a bit of attention—I get a reprint request pretty much every year.
Fast-forward to 1999. I'd finished working on "Festival of Fools" (aka "Singularity Sky") and it was on its way to an editor's in-tray. I'd written "Lobsters" and it was doing the rounds ("meritless, vapid, style-obsessed trash" said the rejection letter from the first editor I sent it to, he who had just bought "A Colder War": there's no accounting for taste). I needed a novel-length project and I had bits of the wreckage of "The Harmony Burn" to cannibalize (this was the unpublishable novel from 1994-96—unpublishable for structural/characterisation reasons, not because publishers are stupid). Secret government agencies dealing with the suppression of hard take-off singularities seemed a bit dubious to me by then, but I'd just sold "A Colder War" and, while that particular story was far too bleak to work with, the idea of rebooting the Lovecraftian/spy nexus appealed. So I began writing. And the first thing I came up with was Bob, mentally swearing at his boss as the rain trickles down the back of his neck and he tries to break into an office I used to work at in Watford to steal a deadly thesis.
At which point everything was hopelessly cross-infected by my memories of the Kafkaesque bureaucracy inside that particular company's technical publications department. And then I had Bob go back to work the next day in a grim little civil service office maze not unlike to one I'd spent three months working in as a contractor in 1996. Both jobs were so soul-destroying that you had to view them as black farce in order to work there: the software company, for example, was the one where whenever senior executives came to visit our managers would trawl the cubicle farm first thing in the morning to take down all the Dilbert cartoons pinned to the walls.
I was working in a dotcom startup at the time, and spending too much time reading Slashdot. And it occurred to me that the staid British civil service would have serious indigestion if it tried to swallow a Slashdot-era dotcom geek. But what if the bureaucracy in question wasn't allowed to fire him? There's scope for comedy there, the comedy of dissonance: round peg in a square hole, and so on.
So there you've got the ingredients. Lovecraftian horror; the secret agency dedicated to protecting us from the scum of the multiverse: the protagonist (Bob, a put-upon hacker who is an utterly inappropriate hire but who can't be gotten rid of): the cold war ambiance: the dark humour. I probably ought to mention the novels of Len Deighton, which I was re-reading at the time—one of the most significant of the British cold war thriller writers.
The whole thing snowballed into a short novel. In early 2001 I sold first serial rights to the same small Scottish magazine who'd published "A Colder War" and "Antibodies"; it ran in Spectrum SF issues 7-10 after John Christopher's last novel and was read by maybe a thousand people. (Thereafter, Spectrum SF ceased publication. I like to think I didn't kill it.) This was my first published novel, and I sold it myself; my agent's first reaction when I sent it to her was, "this is great fun but it'll be impossible to sell: it's far too cross-genre". She was, in fact, quite correct ... for a non-name author in 2001.
The rest is history, although it's a rather weird history: at some point I'm going to have to write down the tortured publication track of the first four Laundry novels just to provide some context, just to show that rules are for breaking. This series broke all the rules of publishing and somehow prospered, never mind merely surviving—even though the dice were stacked against it from the beginning.
But that's enough for now. (I've just finished the first draft of a new Laundry novella, set between "The Jennifer Morgue" and "The Fuller Memorandum", and my hands are too sore to continue typing!)
---
POETRY IN TRANSLATION: CORDOBA | by Three Quarks Daily | 20 May 2013, 04:10 AM
---
Color Coded T's | by Copenhagen Cycle Chic | 20 May 2013, 04:00 AM
The anti-thesis of Henry Ford; Wear it in any colour - as long as it's a "T". Above: "Absolutely...

For the full photographic glory and the rest of the text, you know where to go. The Original Cycle Chic awaits.
---
Geoguessr | by xkcd | 20 May 2013, 04:00 AM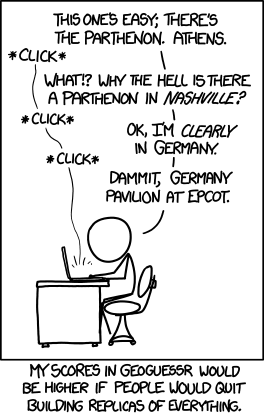 ---
Why We Need to Elect @EricGarcetti on Tues as Next Mayor of Los Angeles | by Both Sides of the Table (Mark Suster) | 20 May 2013, 02:32 AM
On Tuesday Los Angeles will elect a new mayor. And while Eric Garcetti is leading in the polls by 7%, according to recent articles a victory is not certain.
LA needs Garcetti. He would be the first tech mayor of our city. He understands our issues as a community and vows to help keep LA Tech on the map.
From his opponent I have heard crickets in the past year.
Why does it matter?
And how can you help?
If you live in LA please turn up to vote on Tuesday. In a citywide election every vote really DOES matter.
If you live in LA (or even if you don't you can help amplify) please consider Tweeting the following:
"I support the tech industry. I'd love to see a mayor in Los Angeles who does, too. http://bit.ly/Tech4Garcetti #EricGarcetti"
Why it Matters
Look at the impact that having a tech savvy leader in a city can make. Consider Bloomberg in NYC or Ed Lee in San Francisco. They both have presided over big tech booms in their respective cities. They understand that job growth and therefore overall city well-being depends on it.
While a mayor of any city doesn't have unilateral power and certainly the mayor of LA has unique challenges not faced in other cities, having a champion of business in office will help to continue to raise the profile of the city when people make crucial choices about where to grow jobs.
Consider the case of LegalZoom, one of our cities great startups. In 2010 the City of Los Angeles started trying to crack down on tax receipts of Internet startups allocating them to the least favorable gross-receipts tax bracket taking up their city tax by 500%.
The result? LegalZoom moved from Hollywood to Glendale. Doesn't sound like a big deal if you know local geographies – it's only a 20-minute or so move.
But more damning is that LegalZoom decided to open its next big center of innovation in Austin, Texas, along with 600 new jobs and a $21 million office purchase according to this article.
Garcetti worked with LegalZoom, ShopZilla, Hulu and others to try and change the tax ordinance to support the emergence of our biggest tech companies in LA city only to be stymied by the head of the office of finance, Antoinette Christovale as outlined in this article. The 600 under-employed people of Hollywood who could have worked at LegalZoom but are now in Austin thank you. As does the mayor of Austin.
Growth companies beget more growth companies.
And we need a tech visionary in the bully pulpit in the mayor's office to make sure our issues are heard & known.
In digital video between Maker Studios (where I am an investor), Machinima, Zefr, BigFrame & FullScreen we have added around 1,000 jobs in the past 3 years and this should continue, as video becomes an important part of the infrastructure of the Internet.
In our city we have leaders in finance (ZestFinance), art communities (DeviantART), commerce (NastyGal, JustFab, ShoeDazzle, LittleBlackBag, Beachmint), Internet infrastructure (Gravity, Factual), AdTech (Burstly, Rubicon, Shift, GumGum, Steelhouse, GradientX), Software (Cornerstone OnDemand), Mobile (Scopely, TextPlus, SnapChat, Whisper, Tinder), Business Services (j2, LegalZoom, Inside.com, DocStoc) and many others too numerous to list (and I'm sure I forgot some important ones).
Thousands of jobs.
We can continue to innovate in LA or watch our jobs and our engineers move up North. We can try to reinvent Hollywood film and TV (Hulu, Epoxy.tv, Blayze, Chill, TasteMade) or we can watch it migrate out of our city.
Garcetti understands this and having a vocal and visible leader amongst us is so important to win at the margin. To attract LP money to local VCs. To attract companies to locate and stay in LA. To encourage Google, Facebook, Twitter, EA and many others to plant more seeds in town and grow the local tech scene.
The Facts
I have watched Garcetti up close. He is a smart, dedicated public servant who gets tech.
Smart: He was graduated from arguably our top-rated high school (Harvard Westlake), B.A. from Columbia, Rhodes Scholar at Oxford and studied at London School of Economics.
Dedicated Public Servant: Garcetti has been a member of the LA City Council since 2001 and was a three-time president.
Gets Tech: Garcetti knows our industry's issues and can promote jobs and fair legislation. While his opponent tours around with Magic Johnson, Garcetti has been at virtually every major tech gathering in our city for the past 18 months as well as dropping knowledge on Reddit.
He is also a bilingual Jewtino (his dad's family is Mexican / Italian and his mom's is Jewish). Can't get much better in a city like Los Angeles, hey?
So please vote. This isn't a presidential election where our vote is neutered. This is a citywide election where every vote counts.
Be heard.
And let's elect a mayor who knows that building a vibrant tech community is the key to LA's continued growth and innovation.
---
Put things in perspective | by IdeaTransplant | 20 May 2013, 02:30 AM
I just returned from a camping and hiking trip in Israel's southern desert (the Negev) and came home with some beautiful pictures.

It is very hard to capture the sheer size of a landscape in a photo, and one trick to do this is the make sure to have an object in your frame that the viewer knows the size of. In the example below you see that the perspective greatly diminishes when I Photoshop my friends out.


The same is true with data in presentations. Putting the stunning image with the word "53 million" on it does not put the size of the number in perspective. Relate it to something instead.
---
No more heatmaps that are just population maps! | by PeteSearch | 20 May 2013, 01:56 AM
---
May 19, 2013
EU survey shows how much people dislike inflation | by Marginal Revolution (Tyler Cowen) | 19 May 2013, 11:47 PM
As reported by the excellent Carola Binder:
Personally, what are the two most important issues you are facing at the moment? 

This question was only asked in May 2012. For the EU as a whole, by far the most common response was rising prices/inflation. In fact, 45% of people in 2012 said that inflation was one of the top two most important issues they were facing. The pie graph below shows, for the EU as a whole, the responses people chose. Only 15% of people chose the financial situation of their household as a top issue. Health and social security also had a mere 15%. I was stunned that three times as many people consider inflation a top issue as consider health and social security a top issue.
Of course the survey respondents are wrong (see the link for more details, including on national distribution of answers).  I believe that a) they are confusing a tight standard of living with "inflation," and that b) they missed the post on Scott Sumner's blog where he mentioned nominal gdp as a way of thinking about monetary policy, gobbling up only the items on Swedish liberalism, Chinese economic growth, and Asian cinema.  The best case you can make for their response is that they understand they have privileged/protected service sector jobs, they know they will not see many more nominal wage hikes, they feel more or less protected against nominal wage cuts, they do not like the idea of renegotiating their labor contracts, and so they understand that a higher "p dot" does indeed lower their real wage more or less forever.
In any case, people really do not like "inflation," as they understand the concept.  They are not keen to hear that "inflation" should be higher, simply on the basis of a theory held by some economist.
By the way, according to one measure cited in the comments on Binder's post, measured EU inflation is running at about 1.2%.
---
May 20, 2013
The Name of the Doctor. | by feeling listless | 20 May 2013, 12:23 AM


TV Where do we start? Let's start with Alien Bodies. Alien Bodies is an Eighth Doctor novel by Lawrence Miles. I'm about to spoil the book so if you haven't read it and have any intention, I'd shift your gaze downwards five paragraphs. As you know, or you will by the end of this sentence, Alien Bodies is about the Doctor attending an intergalactic auction with its single lot of a relic containing his final remains. As with The Name of the Doctor it's a very funerary piece of work that's also extremely funny and ultimately changes our view of the character because it gives him a finite end albeit one that's presumed to be very far in the future.

Like The Name of the Doctor it also references a Time War, one which is revealed in future novels to include the destruction of Gallifrey, an act which actually negates Alien Bodies from happening in the same way because it stops the Doctor's relics from existing in quite the that form. Part of the story arc involves an alternative version of the Time Lord, the Grandfather Paradox, who has a coincidental resemblance to the Ninth Doctor, but whose actions in actively continuing the war are what the Eighth Doctor is fighting against when he destroys his own planet (as it turns out for the first time).

Why that's interesting in the context of The Name of the Doctor, is that it too features an alternative version of the Time Lord, the one, we must assume now, who destroyed Gallifrey, and because as we know now he can't be an old version of Eighth or Ninth (see far below), absolves them of the action in quite the way it's been portrayed over the past eight years on television and in some of the books. In AHistory, Lance Parkin makes a pretty good argument for both destructions of Gallifrey being the same space-time event seen from different points of view, that perhaps the Grandfather Paradox regenerated into the Ninth Doctor.

Even now the climax makes me giggle. Not since The Stolen Earth's surprise regeneration have we had a conclusion this "sexy" and so much metafictionally about the language of tv though in this case it's one based on we the audience finding out a piece of information rather than something particularly happening to the Doctor who knew about this all along. The fact that John Hurt is somehow playing the Doctor has been heavily spoilt in advanced already, thanks to a tasty set photo ala those early shots of Rose from Partners in Crime and the words coming out of John Hurt's own mouth. It's the somehow which is interesting (again see below).

Was Alien Bodies and its ensuing arc in the novels rattling around Steven Moffat's head when writing this series of Doctor Who? Let's look at the evidence. As I noticed in 2008 when coincidentally reviewing The Forest of Dead (of which this is a semi-sequel), Moffat was an avid reader of the books including the Lawrence Miles material. Alien Bodies also includes the concept of the Doctor's then companion Sam having alternative versions and in the Time/Space sketches, the Doctor talks about the TARDIS entering "conceptual space", a Lawrence Miles invention from Alien Bodies (see this review of that here). So if you want to infer all of this, you can.

But and this is a big but, designed especially for those of you who skipped the past five paragraphs (hello again!), The Name of the Doctor is one of those episodes. A glance at the TARDIS Datacore page for it shows that like similar season finales, and more-so thanks to it being an anniversary year, narrative stuff from across the franchise's half century of existence, and although most of it's on the nose animated gifs and wav files, some of the underlying html, java and python is notable for those of us who spend more time than we should pouring over Lance Parkin's AHistory, TARDIS Datacore pages and other reference "works". See also something Paul Magrs has noticed from his own work.

Did I enjoy it? Yes! Is it any good? Well … I suppose having said all of the above it depends what you want from Doctor Who. To be fair to the show, a few episodes this series have returned to first principles with bases under siege and alien invasions, but there is a point where you have to show more of the Doctor on his adventures saving all of those lives rather than of the Doctor chasing his own tail or indeed tale. Partly the current approach is as a result of this being the 50th anniversary and wanting to respect that past and introducing something new, or at least reveal something new about something in those fifty years.

But (small but this time) I do hope once the 50th is over and the eighth series begins, whenever the hell that's going to be, though it's good that we know finally that it is going to be, that we'll have another brand spanking approach, that the story arc isn't about the Doctor or the companion or a mix of the two, ending in another paradoxical situation of some form or other related to same existing or not existing or revealing something which is/was already in plain sight. We've done that and it's been thrilling. It's thrilling here, but now even I'm asking for something else. Across a whole series of thirteen episodes because the split season thing isn't working.

Right, now that I've got all that off my chest, what about The Name of the Doctor? What about The Name of the Doctor? Like I said, I loved it. Even though it does have roughly the same structure as The Pandorica Opens, The Wedding of River Song and The Angels Take Manhattan, of the Doctor receiving a message which forces him to confront that which he should never confront which is ultimately resolved by messing about in his own time stream, like the other older standards, it's how that's deployed what really matters and this is an excellent example largely because we like spending time with the characters.

If Clara (more on whom later) still seems a bit consistent in relation to how confident she's supposed to be, which isn't to criticise Jenna's playing which has exponentially improved across the season, especially her comic timing, Strax, Jenny and Vastra will remain, like Jackie, Donna and Wilf in Russell's era, his greatest creation and he clearly loves writing for them, notably Strax, whose line "Surrender your women and intellectuals!" will become the quote we all secretly wish would be put on the posters, t-shirts and badges even though we know that by implication it's really, really wrong.

Does The Name of the Doctor ruin The Forest of the Dead? No more than everything else which has been inserted into Professor River Song's backstory. The Silence in the Library and its following episode were always stronger when River was a mystery, someone in the Doctor's future. I remember watching the story on the afternoon before the broadcast of A Good Man Goes To War, knowing that I wouldn't be able to enjoy it in quite the same way again. Taking into account my previous comments, she'll also be back despite what happens here; the Doctor still has to pass to her his sonic screwdriver, take her on her final trip in the TARDIS, the dramatic possibilities of which Moffat is unlikely to ignore (even if the fact Clara didn't recognise her rules her out of the being the person who gave Clara the Doctor's phone number).

His handling of the Doctor is also really strong. Having built him up, as usual, as the great, fearful mythic god like figure, he's shown entirely outwitted (apparently) by teenagers and a blindfold. When he's confronted with his greatest fear, his first thought is to ask Jenny, who last he's heard is dead, if she's ok. Whether that is Moffat or "business worked out in the rehearsals" (which judging by the production subtitles on the classic dvds how the entire Troughton era was thrown together) ("The scripted line was…") it's an attention to detail which hasn't recently been deployed that often. Jenny was kind to him. Saved his life. Now she's under his protection.

Moffat's handling of the Doctor's darkness is equally muscular. Notice how, when listing his vanquished, those bathed in blood, Solomon the Trader is included. Remember how annoyed some of us were about his death, how it seemed to be in cold blood, how it was somehow, along with his approach in A Town Called Mercy, an indication of there being something wrong with him. Well, Mr G Intelligence seems to be suggesting here that it's just him. That's just the way he his. He's The (Oncoming) Storm, The Beast, The Valeyard. Even in these earlier incarnations he's capable of the inhuman, the morally ambiguous. Unless you're under his protection.

None of which should really be a surprise. We all like to hold him up, largely because most of the time that's how the franchise tends to portray him, as a white-hatted figure, Roy Rogers. But he's The Man With No Name, or man with a name though not even, really a man. In comics terms, his publicist might portray him as Superman, but really he's The Batman. Which when glancing back at my review of Dinosaurs on a Spaceship, makes me feel rather foolish. Nothing happened between seasons as I suggested there. Moffat's saying he's just like that. The Doctor, can be, and often is a shit. He'll still brain you with a rock if you're in the way.

Much of this is the Great Intelligence's own moral justification for his upcoming actions, gutturally spit out in one of REG's best ever performances (and if only he'd played the Shalka Doctor with this conviction) (not that it would have mattered in the grand scheme of things but at least it would have made it a bit more watchable) (perhaps he'll do it again for the dvd as a special feature) but I suppose the retrospective point being made about Solomon and the Dominators and all the other human looking people he's exploded is that they're all monsters even if they look like the people he's usually defending.

Trenzalore. Remember back in The Wedding of River Song when the descriptions of what would happen here gestured towards the epic? Again we're in "arguable" territory. Arguably Silence did fall when the question was asked. Or rather time imploded in on itself when the GI entered the Doctor's time stream causing a cataclysm big enough to destroy the universe. It's interesting there were no specific callbacks or explanations, apart from a mention of poor old Dorium. But it is another example of Moffat's slightly woolly approach to story arcs which assumes we've forgotten why things are happening anyway.

Now then Clara. In my review of The Snowmen I pondered, "it is still possible that she is fragments of the same figure blown across time Scaroth like?", to which the answer is yes, yes it is. Of course everything else I said in ensuing paragraphs is utter bollocks and most of the speculation from the past seven reviews, but I was in fairly early. Like Scaroth from City of Death, she's blasted across time with a goal, her goal being to save the Doctor. A lot. Through a method which makes about as much sense as Amy Pond remembering a whole universe plus Time Lord and TARDIS back into existence, Clarke's Third Law in full effect.

How are these adventures supposed to play out? Does the Great Intelligence arrive at all points in the Doctor's timeline inserting himself into all of his adventures at some point forcing them to go wrong, helping the Drahvins to invade the Rill's ship, manufacturing more evidence of the Doctor's guilt in Cranleigh Halt and buying Chloe Webber a Costco sized batch of crayons before one of Drahvins suddenly realises she doesn't need to take orders and sabotages their ship, one of the flappers in the hall happens to witness the Doctor edging out of the hidden passages or as a teacher buys out all of Costco's crayons for her school's Olympic art competition?

Are we supposed to now watch Doctor Who on the assumption that every coincidental piece of luck and continuity error might not just be due to the Time War, the Faction Paradox or the cracks in time, but on a more human level, one of Clara's aspects keeping an eye on the Time Lord? If that's the case, no wonder the TARDIS took a dislike to her. While she's taking the Doctor where he needs to go, Clara's already there to help out, unseen in the background. She's a benevolent version of Mila from the dying embers of the Sixth Doctor and Charley Pollard audios, at which point I refer to the comments I made some paragraphs ago.

Except there's an inconsistency. When Clara appears in all of these eras, "Doctor?" she asks. "Doctor?" Except as per her three appearances in the series, these fragments, recreations, whatever, don't know who he is initially, he has to explain to them anew each time. They don't have his name. Yet here they are peering at him in his literal cliffhanger from Dragonfire entirely recognising who he is despite his predicament and it has to be the same set of events because this is an ontological paradox. Clara wouldn't be there if the Doctor hadn't found her intriguing enough in her other versions to have her as his companion/assistant until he worked out who she is/was/will be.

The rendering of Claras appearances through time should be squee inducing but there's no way of getting past how these don't quite work. For one thing, the merging of Jenna with the old footage simply doesn't match in most shots, often cutting between 80s video and 10s HD, or between actual footage and stand-ins running at a different pace. Much of it looks like a poor cousin of similar YouTube experiments and indeed many people on Twitter noted afterwards that they should have asked "the Babelcolour guy" Stuart Humphreys to have done the colourisations, especially since he's apparently achieved magic on The Mind of Evil restoration.

The lack of accomplishment in these scenes was illuminated still further last night during the Eurovision Song Contest, when presenter Petra Mede was also merged seamlessly into a similar variety of footage in various states of restoration from the history of that franchise, with the ABBA footage a particular success thanks to the engineer noticing the halo effects on the tape and replicating that in Mede's appearance. Perhaps if the Gallifrey footage had appeared in black and white retaining the mis-en-scene of the era we might not have been pulled out of it quite so much. Perhaps if Jenna had been acting opposite David Bradley instead.

Which is a shame because Clara's costumes are well chosen to evoke their given era, especially in the case of the Seventh Doctor era in which they recreated almost companion Ray from Delta and the Bannermen's threads to the nearest stud. Some doubling up across Doctors, and what looks like Emma's jumper from Hide. Incidentally I'm not sure where all this leaves the Doctor's remark about Clara's dress being a little bit "too" tight from last week. I generally didn't notice it but friends have thought it a bit creepy. I'm still not sure especially having watched how the Doctor talks to Liz in Spearhead from Space earlier which is very in period, my dear, my girl. Such a man's man.

The use of stand-ins works much better later in the episode, running through the Doctor's essence in their various costumes, the First Doctor version looking not unlike Richard Hurndall version anyway. The Eighth Doctor is here too briefly, twice, with his velvet jacket. Say what you like about the JNT costumes, at least they're immediately recognisable. Notice how the Tenth Doctor isn't much here, saving his cameo presumably for the 50th. Will he be the Time Lord? Will he be the human version from the alternative universe (my hunch?). Still plenty of time to go until we find out.

Woody Allen says, though I'm paraphrasing, that he has a perfect version of each of his films in his head beforehand and what we receive his failed attempt at recreating that. All of my writing is like that and this review in particular, due to my cold, so thanks for keeping with it. Sometimes these things need to be written simply so that they're not in my head and the idea of waiting another few days until my head cleared was unbearable. Who knows what last night's version would have been like. If I wasn't perpetually knackered and coughing. If Eurovision hadn't been on. If this hadn't been the season finale but just episode eight.

Glancing back across these thirteen odd episodes, has the whole thing been the creative failure some have suggested? Well, no, at least not more or less than most previous seasons in the show's history. Always remember: between The Sensorites came between The Aztecs and The Reign of Terror. The Twin Dilemma happened after The Caves of Androzani. The Curse of the Black Spot segwayed into The Doctor's Wife. Even The Name of the Doctor brings some sense to a couple of its weaker instalments, metaphysically recreating the leaf from Akhaten and repairing a reset button, making it clear the Doctor remembered the Journey all along.

It's still never less than watchable. Mostly. It's still Doctor Who. The Snowmen's still a triumph, closely followed by Hide and The Crimson Horror. Asylum of the Daleks could have been a classic if we'd been able to see more of the older models instead of having to squint (notice the parallel with The Name of the Doctor which brought us some their foes older models at the other end of the season). The Power of Three is excellent up until the final moments when Berkoff's boredom unbalances everything. The Angels Take Manhattan falls apart under the weight of its own existence. Nightmare in Silver is the catastophic failure of the year. Oh well.

For one final time, cue speculation, or rather repeated speculation. John Hurt's Doctor. As I said earlier he can't be the older Eighth Doctor because the stand in version dashed past the prone Clara or some older Ninth Doctor for the same reason which ruins my old theory, so he has to be some interstitial incarnation, the one who destroyed Gallifrey and ended the Time War, the one who had "the moment" in The End of Time, which is both very exciting indeed and disappointing because it presumably removes the Eighth Doctor's notional cameo from the same story. Let's hope he's back for the 50th to make up for it. Paul's apparently just gone and got a new sonic screwdriver from Weta ...
---
May 19, 2013
Minor hiccup | by Charlie Stross | 19 May 2013, 10:19 PM
I've been arm-wrestling with a story again, and it's running away from me; hence the lack of updates.
But as the story in question is set early-ish in the Laundry Files continuity (between "The Jennifer Morgue" and "The Fuller Memorandum"), I think it will make perfect sense if I blog about the gestation and germination of "The Atrocity Archive(s)" next. So that's on my to-do list — just as soon as I finish this novella (hopefully by the end of the week).
(If you have any questions about TAA, feel free to ask them here.)
---
Notes from JWR: | by Survival Blog | 19 May 2013, 10:09 PM
Today is the birthday of Carlos Hathcock (Born 1942, died February 23, 1999.) He was a United States Marine Corps Gunnery Sergeant sniper with a service record of 93 confirmed kills.
This is also the birthday of my lifelong friend, Brad C. I miss seeing you, pal.
---
Letter Re: Late Corn Planting in the American Midwest Does Not Bode Well | by Survival Blog | 19 May 2013, 10:03 PM
Sir:
As a retired corn farmer, I find it quite interesting that the Fed's USDA is still keeping to it's hard-and-fast immutable "projections" of 97.3 million acres of corn being planted this year. Just like building a house, call the Fed's number the "planned" or projected blueprint idea.
But now let's look at the "as built" story. Here, where the "rubber meets the road," or I should say "where the planter tucks in the actual corn seed,' the "actual" or real situation is quite another story due to very late corn plantings, if at all. The surprise is that the market has not yet reacted much.
Last Monday USDA reported that only 12% of the nation's corn crop was in as of Sunday night (12 May 2013.) This should have shocked the markets--but didn't. As of today, US corn planting is up to 28%, but a far cry from the "fast planting" of last year which stood at 85% [on the same date] one year ago.
Western states show significant delayed corn planting because of wet soils.
With long corn crop maturation days here in Ohio's Corn Belt, common wisdom is that if you don't have your seed in by May 10th, you may as well forget it (or switch to planting soybean.) Here we are almost the middle of May and very little corn is planted and the media and markets seem to say: "Ho-hum...nothing to see here, move along folks." This is not good; we are not being told or shown the truth that a nation can rely and act upon.
Maybe this all just doesn't matter; maybe all the corn will eventually get in, maybe we'll have excellent weather and no drought or natural disasters, maybe insects and diseases won't affect the corn, maybe the price at harvest will be just ducky. "Maybe" is the operative word here and that word ain't even good a notion as "close enough" like when you play horseshoes or toss hand grenades.
My thanks to Marlin Clark, commodity trader at "Market Monitor" on pages A6-A7 in Ohio's "Farm and Dairy" newspaper, issue of 16 May 2013, for is alert on this same subject..
Thoughtfully submitted, - Woody in Ohio
JWR Replies: Thanks for that early news tip. SurvivalBlog readers should consider themselves forewarned. This would be a good juncture to buy few more super pails of whole corn and cornmeal. Be sure to buy them before prices jump!
---
Letter Re: The Many Uses of Vacuum-Sealed Bags | by Survival Blog | 19 May 2013, 10:00 PM
Hi Jim,
The reader who contributed the food saver storage bag post gave a lot of great ideas. I would like to add my experience with Food Saver and how I solved some serious problems with the vacuum system itself. Nine years ago I started a serious food storage program. Life is full of trials and errors, and lots of lessons learned from other's trials and errors. I made the move into dehydrating foods, primarily beef and vegetables for long term storage.

I bought Cabela's large dehydrator after researching everything out there that I could afford. It has performed marvelously after I made a couple modifications to it and fixed the problems that others complained about. I also bought the Game Saver Food Saver, which of it self is an okay machine. The glaring flaw is the food saver bag itself. First they are way too thin at around 2 mills and very expensive, plus they are not mylar, which is needed to prevent oxygen penetration. Any thing that I stored in them that had sharp points vis-a-vis jerky strips, dehydrated peppers etc. would perforate the bag and lose the seal. I also had many other items lose the seal-----frozen meat that touched some sharp point in the freezer like another bag's pointed corner would make a pin hole and fill up with air.

Vacuum sealing is a must for preppers, So this had to be remedied. The answer came from Sorbent Systems in Los Angeles. They sell a large selection of heavy duty 6 mil mylar bags and a very cheap vacuum machine that uses a snorkel to suck out the air. You cannot use this vacuum on wet foods without putting a piece of paper towel along the inside of the edge to be sealed to absorb any liquid. They periodically have specials. They will once in a while discount overrun items that were special ordered by a large customer. 6 years ago a bought a bunch of military green gun-sized bags that must have been run for the government. They actually called to confirm my order and asked what I was going to do with the green bags. My pat answer for questions like this is: "You never know."

Another source for the commercial grade bags and oxygen absorbers is USA Emergency Supply. They have great prices and a flat $4.99 shipping fee no matter how big the order is. I have bought over 3,000 bags from these two companies. I don't use the fill up the bucket method. I store everything in the vacuumed bags with oxygen absorbers and then put the bags in the buckets. I store multiple bags per bucket. So you don't get as much weight per bucket but as you use your food you are opening smaller packs and can also use them to trade or charitably help others without having to pass on a whole bucket. I hope this helps others skip the mistakes I learned the hard way. Keep the info flowing. Regards, - Jim W.
---
Recipe of the Week: | by Survival Blog | 19 May 2013, 09:59 PM
Chris M.'s Vegetarian Tuscan Kale and White Bean Soup
I think that my Mom originally got this recipe from a Pat Robertson/CBN publication. I ate a lot of it without upsetting my blood sugar.
And there was enough methane to run a small motorbike.
She hit the nail on the head when she said that no matter what you do with these ingredients or similar ones, you won't go wrong.
---
Vegetarian Tuscan Kale and White Bean Soup
3 tbsp. olive oil
1 cup diced onion
4 large cloves of garlic, roughly chopped
4 cups vegetable broth
4 cup packed chopped kale
1 14 oz can of Italian –style diced tomatoes
1 14 oz. can of cannellini beans, drained and rinsed
1 14 oz. can of sliced carrots, drained
In a large saucepan, heat olive oil over medium heat. Add onion and
cook 3 minutes. Add garlic and cook 2 minutes. Add broth, kale and
tomatoes and cover and cook 5 minutes or until kale is tender. Add
beans and carrots and heat thoroughly.
Serve hot. Top with crunchy croutons and grated Pecorino Romano Cheese.
Chef's Notes:
These are my Mom's comments on her variations:
I have copied the recipe just as it appeared in the newspaper. Of course I did it my way. I used a large can of tomatoes (28oz. or so) and I don't think they were the Italian style. I used either peeled or
chunks or whatever was on the shelf. I used chicken broth and probably 2 cups instead of four because I used the large can of tomatoes. Also I used fresh carrots and sautéed them with the onion. You would need to cook a little longer. Whatever you do I don't think you could go wrong.
In doing the kale don't forget to cut off the large stems of the kale.
Useful Recipe and Cooking Links:

Kale Recipes
Do you have a favorite recipe that would be of interest to SurvivalBlog readers? Please send it via e-mail. Thanks!
---
Economics and Investing: | by Survival Blog | 19 May 2013, 09:58 PM
Deepcaster: Biggest Bubble About to Burst
Sending up the test balloon: The Cashless Society Arrives in Africa. The "Multipurpose" Biometric National Identity Smart Card

Doug Casey on Conspiracies, Gold and the Continuing 'Greater Depression' of the World's Economies
Items from The Economatrix:
Fed's Plosser: We've Dug Ourselves A Very Large Hole
World Bank Insider: Western Power Structure Collapses
Stanley Druckenmiller: Bernanke Running The Most Inappropriate Monetary Policy In History. The Commodity Situation Is Deadly, And The Aussie Dollar Will Come Down Hard. I See Storm Coming, Bigger Than 2008
---
Odds 'n Sods: | by Survival Blog | 19 May 2013, 09:56 PM
There are several captivating new property listings at our SurvivalRealty.com spin-off site There is even an off-grid house in Chile's Atacama desert. You will note that many of the former listings have been removed in the past month because of recent sales. SurvivalRealty has now had four years of proven success in bringing many retreat buyers and sellers together. The ads cost just $30 per month, and there are no sales commissions charged!
o o o
Ready Made Resources has announced that anyone who buys an AN/PVS-14 night vision scope from them will not only receive the free weapons mount and shuttered eye relief, ($190 value) but we will also include a free box of infrared chemical light sticks. (A $30 value.)
o o o
F.G. suggested a piece over at the Weapons Man blog: A Formation of Liberators. OBTW, I began drafting the fourth sequel to my novel Patriots and titled it Liberators, about a year ago. I first announced the book's title in my blog almost a year ago. I'm suspect that the naming of the new 3D printed pistol was purely coincidental. But now that the 21st Century Liberator pistol has been designed and proven, I can't resist depicting the tactical employment of one or more of them in the storyline of the novel (a la 20th Century Liberator pistols, just 'cause... Vive la Maquisards!
o o o
Freeze Dry Guy has announced a special sale on Mountain House Freeze Dried Eggs with a 25 to 30 year shelf life. This is a densely-packed product that normally retails for $359 a case. The Egg Mix with Butter Flavor--228 1⁄2 Cup Servings--is priced at $249, with free shipping to CONUS. This sale ends May 31st, so order soon. Phone: (866) 404-3663.
o o o
Consider the ramifications: 54 Colorado County Sheriffs Sue Over State's New Gun Control Measures and the New York State Sheriffs Association protests many SAFE Act provisions. And at least one sheriff has pledged to not enforce it. (Then came the predictable whining statist response: "You can't pick and choose what laws you will enforce..." I'm sure that the German Polizeipräsidenten were told the same thing, back around 1938.)
---
Jim's Quote of the Day: | by Survival Blog | 19 May 2013, 09:53 PM
"I've previously pointed out that there is no longer 'law' as such, in the United States any more. Everything about the 'nation', which is no longer, properly speaking, even a nation anymore, is fraudulent, from its 'money' to its system of 'justice'. Even something as simple and basic as openly fighting a 'war' is now beyond its bloated, cancerous make-believe structure.
I wouldn't call the present system a dictatorship myself. Dictatorships are more open and direct. It is better described as a simulatorship, which is to say, rule by pretense. It is reminiscent of the latter days of the Soviet empire, when the Russian people pretended to work and the Soviet government pretended to pay them. In the latter days of the US empire, the federal government pretends its actions are within the limits set by the U.S. Constitution and the American people pretend to believe them.
If a corporate entity is too big to fail or too big to jail, then logic dictates it must be cut down to a size that permits both. Remember, corporations are not capitalism, they are creations of government and if they can't reasonably be imprisoned, they can certainly be 'executed.' And if real American people can be 'legally' executed at the order of the president, then can there really be any doubt that artificial American people are also liable to termination on command as well?" - Vox Day
---
How to nip German house price rises in the bud | by Michael Edwards | 19 May 2013, 09:36 PM
This is part of a Twitter exchange (reproduced below) with @Frances_Coppola and econgirl (@raluca3000) My comment that the beginnings of housing price escalation in some German cities should be 'nipped in the bud' met the response "how?"
I can't reply in 140 characters so here is a longer one:
Surely a combination of some or all of the following should do it:
Strong government statements that dwelling prices will remain stable, at least in real terms, in the short and long run, with government doing all it can to ensure this.  (Better still if ECB would sign up too.)
Avoiding very easy credit for house purchase (either for occupation or for letting). If there is any case for easy credit it is for new construction and repair (which improve the size or quality of the stock).
Avoiding priviledges for housing in capital gains tax, inheritance tax, income tax
Some version of an annual tax on market value
Protecting the appeal of renting for households – protecting security of tenure, rent control, enforcing maintenance and safety standards
Stop privatising social housing stocks
Try to maintain the distinctive polycentric structure of Germany (its many strong cities) and take measures to stop Berlin getting out of hand (becoming a bit of a London)
Pay attention to the pension system, to ensure that people don't pile their savings into housing as a way of making good perceived failings of their pensions.
Build more homes where they are needed.
There is nothing specific to Germany about this list, apart from the penultimate (correction) polycentricity/London point, and I'm not a special expert on Germany. These are suggestions deriving from theoretical reflection and common sense.  I would propose the same for the UK and Netherlands but it would be more of a U-turn in our cases.
This last tweet from econgirl:  I don't understand it.  Who is "we"? I personally am asking Germany (and everyone else in Europe) to increase spending (on consumption and especially investment). I'd also like to see wages go up in all these countries including Germany. What is a good place to do what?
---
Clinical trial supports use of Kava to treat anxiety | by Three Quarks Daily | 19 May 2013, 09:32 PM
---
Crossrail2 (aka Chelsea-Hackney line) | by Michael Edwards | 19 May 2013, 09:32 PM
Consultations have been opened by TfL on the next massive British tunnelling project – another radial railway line for London.  The Assembly asked for experts to give evidence and this is my initial effort. Their agenda and papers for Tuesday 21st meeting are at http://www.london.gov.uk/moderngov/ieListDocuments.aspx?CId=173&MId=4954&Ver=4
Dear Jo Sloman
Apologies for such a delayed reply: I had been canvassing colleagues but find that (like me) they are swamped in the peak of the exam-board season and not free to attend on Tuesday.
I am glad to see that at least UCL is represented by Prof Metz.
Had I been able to come I would have wanted to prepare a short statement on the following points:
1. The issues surrounding "regeneration benefits" are very opaque.  There is strong evidence that what we call "regeneration" increasingly benefits land and property owners and richer sections of the community at the expense of the low- and middle-income Londoners in whose name Regeneration is justified. Evidence presented by Just Space and others to the EiP on the 2009 draft replacement London Plan (now adopted as the 2011 London Plan) made this point very forcefully and carried great weight with the Panel – see their report §2.94-2.103. A subsequent Research Report by the GLA (WP 48 by Ennis and Douglass) also concluded that we lack the evidence to conclude that "regeneration" does benefit deprived populations.
The Committee should thus discount claims made for "regeneration benefits":  there may be benefits for property development and for property owners but the effects on the general population through rising rents and prices consequent on accessibility improvements will probably be negative because of the displacement and income effects.
3. Thirdly I would strongly support the "Rod Eddington" position, that smaller-scale transport investments (of which TfL has many in its bottom drawer) are likely to yield much greater net benefits than massive tunnelling projects. Furthermore suburban orbital bus and cycling investments are likely to be highly beneficial to London residents and businesses and to have the best environmental payoffs too. Yet more radial lines would serve further to centralise London's employment and property values.
If you or the committee would like us to expand on these points please let me know.
Michael Edwards, Senior Lecturer in the Economics of Planning, Bartlett School, UCL (and Just Space network)
---
SNL's Ben Affleck Episode: 5 Best Scenes | by Three Quarks Daily | 19 May 2013, 09:22 PM
---
Compare hospital charges, http://www.opscost.com/ | by Marginal Revolution (Tyler Cowen) | 19 May 2013, 08:11 PM
The web site reads:
On May 8th, 2013, the federal government released data on list prices and medicare reimbursements for the 100 most common procedures at over 3,300 hospitals.

This tool allows users to easily search and compare hospital charges.
---
No Women In Pubs In Andhra After 10 PM | by Global Voices (India) | 19 May 2013, 06:46 PM
Does the absence of women in public spaces makes these spaces safer for women?
The above comment is made by the blogger at The Life and Times of an Indian Homemaker, who is outraged by the decision of the government of the Indian state of Andhra Pradesh, to ban women from pubs after 10 pm claiming that it would keep them safe.
---
Three years of electronic books | by Ian Hopkinson | 19 May 2013, 06:38 PM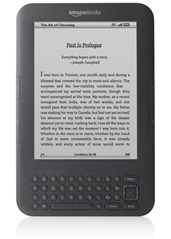 It is customary to write reviews of things when they are fresh and new. This blog post is a little different in the sense that it is a review of 3 years of electronic book usage.
My entry to e-books was with the Kindle: a beautiful, crisp display, fantastic battery life but with a user interface which lagged behind smartphones of the time. More recently I have bought a Nexus 7 tablet on which I use the Kindle app, and very occasionally use my phone to read.
Primarily my reading on the Kindle has been fiction with a little modern politics, and the odd book on technology. I have tried non-fiction a couple of times but have been disappointed (the illustrations come out poorly). Fiction works well because there are just words, you start reading at the beginning of the book and carry on to the end in a linear fashion. The only real issue I've had is that sometimes, with multiple devices and careless clicking it's possible to lose your place; I found this more of a problem than with a physical book. My physical books I bookmark with railtickets, very occasionally they fall out but then I have a rough memory of where they were in the book via the depth axis, and flicking rapidly through a book is easy (i.e. pages per second) – the glimpse of chapter start, the layout of paragraphs is enough to let you know where you are.
There are other times when the lack of a physical presence is galling: my house is full of books, many have migrated to the loft on the arrival of Thomas, my now-toddling son. But many still remain, visible to visitors. Slightly shamefaced I admit to a certain pretention in my retention policy: Ulysses found shelf space for many years whilst science fiction and fantasy made a rapid exit. Nonfiction is generally kept. Books tell you of a persons interests, and form an ad hoc lending library. In the same way as there beaver's dam is part of its extended phenotype, my books are part of mine. With ebooks we largely lose this display function, I can publish my reading on services like Shelfari but this is not the same a books on shelves. The same applies for train reading, with a physical book readers can see what each other is reading.
Another missing aspect of physicality, I've read Reamde by Neal Stephenson a book of a thousand pages, and JavaScript: the Good Parts by Douglas Crockford, only a hundred and fifty or so. The Kindle was the same size for both books! Really it needs some sort of inflatable bladder which inflates to match the number of pages in the book, perhaps deflating as you made your way through the book.
Regular readers of this blog will know I blog what I read, at least for non-fiction. My scheme for this is to read, taking notes in Evernote. This doesn't work so well on  either the Kindle or Kindle app, too much switching between apps. But the Kindle has a notes and highlighting! I hear you say. Yes, it does but it would appear digital rights management (DRM) has reduced its functionality – I can't share my notes easily and, if your book is stored as a personal document because it didn't come from the Kindle store then you can't even share notes across devices. This is a DRM issue because I suspect functionality is limited because without limits you could simply highlight a whole book, or perhaps copy and paste it. And obviously I can't lend my ebook in the same way as I lend my physical books, or even donate them to charity when I'm finished with them.
This isn't to say ebooks aren't really useful – I can take plenty of books on holiday to read without filling my luggage, and I can get them at the last minute. I have a morbid fear of Running Out of Things To Read, which is assuaged by my ebook. In my experience, technology books at the cheaper / lower volume end of the market are also better electronically (and actually the ones I've read are relatively unencumbered by DRM), i.e. they come in colour whilst their physical counterparts do not.
Overall verdict: you can pack a lot of fiction onto an ebook but I've been using physical books for 40 years and humans have been using them for thousands of years and it shows!
---
Silent Sunday 19 May 2013 | by Jax (from Kentwell) | 19 May 2013, 06:01 PM
---
On the proper interpretation of "The Great Stagnation" | by Marginal Revolution (Tyler Cowen) | 19 May 2013, 05:58 PM
Will Hutton writes:
At least Summers sees some underlying economic dynamism. For techno-pessimists such as economist Professor Tyler Cowen the future is even darker. It is not only that automation and robotisation are coming, but that there are no new worthwhile transformational technologies for them to automate. All the obvious human needs – to move, to have power, to communicate – have been solved through cars, planes, mobile phones and computers. According to Cowen, we have come to the end of the great "general purpose technologies" (technologies that transform an entire economy, such as the steam engine, electricity, the car and so on) that changed the world. There are no new transformative technologies to carry us forward, while the old activities are being robotised and automated. This is the "Great Stagnation".
Such views make for a convenient target, but that is not close to what I wrote in The Great Stagnation.  For instance on p.83 you will find me proclaiming, after several pages of details, "For these reasons, I am optimistic about getting some future low-hanging fruit."  Those are not Straussian passages hidden like the extra Nirvana audio track at the end of Nevermind.  The very subtitle of the book announces "How America…(Eventually) Will Feel Better Again."
I also argue in the book that the internet is the next transformational technology, and that it is already here, though it needs some time to mature and pay off.  I devoted an entire separate book to this theme, namely The Age of the Infovore, which suggests that for autistics and other infovores massive progress already has arrived.
It is also odd that Hutton mentions robots and automation.  My next book considers those factors in great detail, but you won't find either term or variants thereof in the index of The Great Stagnation.  Nor do I have the dual worry that both everything will be automated and there is nothing left to automate, as stated by Hutton.
The lesson perhaps is that if a book has a pessimistic-sounding title, mentions of optimism will go unheeded, even if they are in the subtitle.  Might that be an example of the fallacy of mood affiliation?
---
Subscriptions
---
Updated using Planet on 21 May 2013, 06:20 AM
---
Francis's page