This combines together some blogs which I like to read. It's updated once a week.
August 27, 2016
Bottom line: Weakening sentiment towards Postal Bank's IPO reflects concerns about China's economic slowdown, while Lufax's choice of Hong Kong for its IPO should help to attract more international investors.
Lufax IPO bound for HK
What's likely to be this year's biggest IPO by Postal Savings Bank of China is limping ahead, with word the ultra-conservative lender is set to sign up $6 billion in commitments for its Hong Kong offering. But western investors are reportedly staying away from the deal, worried over high valuations and China's sputtering economy.
Meantime, another financial IPO by leading P2P  lender Lufax is back in the headlines, with word the listing probably won't happen until next year and will occur in Hong Kong. That news marks a flip-flop from reports earlier this week, when media cited Lufax's largest backer saying plans were still on track for an IPO this year, with Shanghai as the preferred listing location.
Both headlines have a common theme, namely that nearly everyone remains skittish about China's economy. That skittishness is prompting China's securities regulator to remain cautious about approving new IPOs, worried that too many new offerings could pressure a delicate market. At the same time, serious western investors are avoiding the Postal Bank IPO and are possibly are lukewarm on Lufax due to concerns that a sharply slowing economy could be put a crimp on both companies' business.
Let's begin our IPO round-up with Postal Savings Bank, one of China's most conservative lenders and the last major national bank to go public. Postal Bank has been working on this offering for quite a while, with reports that the IPO was preparing to launch as early as late last year.
But things haven't proceeded smoothly. First the deal was delayed by a sharp sell-off on China's domestic markets at the start of the year, and now foreign investors who were previously bullish on the company are growing more conservative. As a result, the listing's current size is pegged at about $8 billion, down from as high as $20 billion when news of the deal first surfaced last year.
Now the latest reports are saying Postal Bank is near a deal that would see a group of mostly domestic cornerstone investors purchase up to $6 billion worth of its IPO shares, or about three-quarters of the total. (English article) A source working on the deal said the figures aren't final yet, but that cornerstone investors are likely to ultimately buy 60-80 percent of the IPO shares.
Made in China
Most of those cornerstone investors are Chinese companies like China State Shipbuilding Corp, which has pledged to buy $2 billion worth of shares. Foreign investors had earlier expressed bigger interest in the bank, whose conservative lending position means it's likely to feel less impact from China's ballooning bad debt crisis that more traditional lenders. But the foreign buyers are becoming more worried as China's economic outlook gets cloudier, with the result that their interest is fading in this deal.
Next there's Lufax, China's largest P2P lender, whose top shareholder said earlier this week that the company was on track for previously announced plans for an IPO by the end of this year. (previous post) Now it seems that assessment from financial services giant Ping An was overly optimistic, with Lufax's CFO now saying the company expects to make its trading debut in Hong Kong by the end of next year.
CFO Zheng Xigui didn't rule out an IPO this year, but media are interpreting his latest comments as indicating an offering is most likely next year. Zheng also explained the decision to go to Hong Kong was prompted by China's recent decision to delay or even scrap a new board in Shanghai for companies from strategic emerging industries. Lufax and others like Ant Financial were originally hoping to list on that board.
At the end of the day, this kind of delay isn't too uncommon for such a large IPO, which is likely to raise more than $1 billion. The choice of Hong Kong over Shanghai also shouldn't be a major handicap, since it will boost participation by foreign investors for an offering that could do relatively well due to its status as the first by a P2P Chinese lender.
Related posts:
The post IPOs: Investors Cool on Postal Bank, Lufax Delays Listing appeared first on Business China : news for investors in China.
---
Bottom line: Xiaomi could launch in the US within the next 12 months and benefit from its recent tie-up with Microsoft, but it will face a big uphill battle due to stiff competition, lack of name recognition and unexciting models.
Xiaomi eyes US — again
Following several recent false starts, fading Chinese smartphone sensation Xiaomi is saying it's aiming to enter the tough US market soon. We've heard similar talk before, and at one time such a move would have been quite exciting and controversial when some were comparing Xiaomi to a China's homegrown answer to Apple (Nasadq: AAPL). But Xiaomi's star has faded considerably over the last year, partly due to intense competition in China but just as much due to a reputation for shoddy quality and unexciting phones.
The latest word of a new play for the US comes from Xiaomi's global sales chief Hugo Barra, whose defection from Google (Nasdaq: GOOG) made global headlines 3 years ago when the Chinese smartphone maker was on a rapid rise. Since then Xiaomi has emitted periodic signals that it was preparing to enter the US smartphone market, and it already sells some accessories there like earbuds.
But previous reports have also indicated that Xiaomi was quite worried about potential patent lawsuits in the US, which prompted it to delay any entry to the market. Now Barra is saying that the US is a market his company can no longer afford to ignore, and Xiaomi will enter the market "in the near future". (English article)
He didn't give any timetable, but said Xiaomi will use similar marketing tactics that once made it one of China's hottest tech companies and even prompted comparisons between charismatic CEO Lei Jun and Apple's Steve Jobs. Those tactics relied on generating buzz through formation of online fan clubs, and also using an online-only sales model that helped to control costs while also adding to the cool and trendy image.
But Xiaomi always suffered from one major problem, namely that its products couldn't live up to the huge hype it created. Many of my friends have owned Xiaomi phones at one point or another over the last few years, and nearly all say they are prone to break down and don't have any distinguishing features from many other brands in the crowded space.
Tumbling Sales
Xiaomi's sales in China have tumbled as the company lost its luster, and fell 38 percent to just 10.5 million units in this year's second quarter, according to data tracking firm IDC. Barra said those numbers weren't accurate,  noting that Xiaomi shipped just under 7 million smartphones in June alone. But that number appears to be a global figure rather than for China only, and he didn't provide any figures for specific markets.
A move into the US would mark the latest extension of Xiaomi's globalization drive begun 2 years ago, as it looked outside its home market to continue its breakneck growth. The company began its global march in Southeast Asia and India, and has done relatively well in the latter. But it fared far worse with another move into Brazil, where it reportedly withdrew from the market in May due to poor results. (previous post)
Barra has been exploring a potential US deal for a while, and met with a major regional distributor as early as 2013. Later reports early this year said that mid-sized US carrier US Mobile was offering Xiaomi phones under some of its plans, hinting that maybe the company had entered the market in uncharacteristically low-key fashion. But Xiaomi quickly responded that US Mobile was not an authorized seller of its phones, and it had no plans to enter the market. (previous post)
The latest reports point out that Xiaomi may feel bolder now following a recent tie-up that saw it acquire nearly 1,500 technology patents from Microsoft (Nasdaq: MSFT), as the software giant abandoned its smartphone business. (previous post) That move led me to speculate that perhaps Microsoft was giving the patents to Xiaomi for little or no cost, and in return was possibly receiving Xiaomi equity that would make the pair strategic partners.
Such a partnership would indeed work to Xiaomi's favor for a play into the US, since Microsoft would be an invaluable ally in such a move. It's also possible Xiaomi is developing some newer, more unique models after receiving the Microsoft patent portfolio. We'll have to see some of those new models before saying how well a US bid would ultimately fare. But even if it comes out with better models, Xiaomi will still face a huge uphill road in the US due to fierce competition and lack of name recognition.
Related posts:
(NOT FOR REPUBLICATION)
The post SMARTPHONES: Xiaomi Eyes US, Following Microsoft Alliance appeared first on Business China : news for investors in China.
---
The following press releases and news reports about China companies were carried on August 26. To view a full article or story, click on the link next to the headline.
══════════════════════════════════════════════
The post China News Digest: August 26, 2016 appeared first on Business China : news for investors in China.
---
Bottom line: McDonald's is likely to choose a buyer for its China stores in the next 2 months, while China Foods' decision to sell its stakes in several Coca-Cola bottling plants is probably a simple business decision that reflects changing priorities.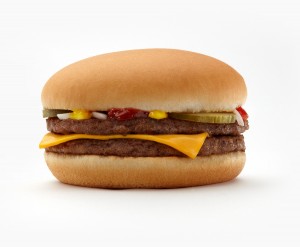 McDonald's near a sale of China stores
Two western consumer giants are in the headlines of China's rapidly shifting corporate landscape, led by word that the list of bidders vying to buy McDonald's (NYSE: MCD) 1,650 China restaurants has been narrowed to 2. The other headline has one of Coca-Cola's (NYSE: KO) top China business partners, China Foods (HKEx: 506), announcing its intent to dump its stake in several local bottling joint ventures.
Each of these stories illustrates the vital role that local partners play in the operations of foreign companies doing business in China. McDonald's has largely owned and operated its thousands of China stores independently since entering the market in the early 1990s. But it wants to find one or more local partners to take over those operations as it moves to a more franchise-style model. Coca-Cola also uses a franchise model for the companies that bottle its trademark drinks that include Coke, as well as Sprite and many others.
The McDonald's news has been in the headlines for much of this year, and is part of the fast food chain's plans to make its operations in China, Hong Kong and South Korea more resemble its franchise business model in the US. That model allows McDonald's to focus on marketing and new product development, while leaving the day-to-day operation of actual stores to local businessmen.
Earlier reports had indicated a wide range of companies were showing interest in the stores, ranging from conglomerate China Resources to the big state-owned China National Chemical Corp and the quirkier Sanpower, owner of some faded western retailers. Many of the big global private equity firms were also reportedly interested, including KKR, Bain, TPG, MBK and Carlyle.
After months of talks and bid submissions, the latest media reports indicate that Carlyle is one of just two companies still left in the bidding process. (English article; Chinese article) The other is an unspecified multinational group, with a final deal price likely of around $2 billion.
Unlikely Source
In an interesting twist, this report is coming from the New York Post, a gossipy newspaper that isn't usually known for breaking big business stories. That means the source of the news is quite likely coming from Carlyle insiders in New York, and that bidding is winding down. Accordingly, we could finally see a deal announced sometime in the next 2 months, though it doesn't look like any major Chinese firms will be among the winners.
Next there's the Coke deal, which has China Foods reportedly exploring a sale of its stake in 10 bottling ventures throughout China through a tender offer. (English article) China Foods is a unit of Cofco, China's largest grains company, which is itself in the process of a major restructuring. So perhaps the sale of the Coke bottling ventures is designed to raise some cash for Cofco's own overhaul.
China Foods said it will sell stakes of anywhere from 7.15 percent to 100 percent in the various bottling plants, some of which are jointly owned with Hong Kong's Swire Pacific (HKEx: 19). China Foods operates Coca-Cola bottling businesses in 15 provinces, most of them in North China. By comparison, Swire is more active in Southern China, leading some to say it might be a logical buyer for the China Foods assets now being sold.
This kind of sale is relatively common in China, where local business partners of big multinationals are constantly reevaluating their positions in the changing economic landscape. We saw Walmart (NYSE: WMT) get similarly dumped by one of its China partners, China Resources, about a year ago (previous post), and this latest sale is probably a similar business decision caused by changing priorities at China Foods and Cofco.
Related posts:
(NOT FOR REPUBLICATION)
The post RETAIL: McDonald's, Coke Seek New China Partners in Changing Market appeared first on Business China : news for investors in China.
---
Uber learns lessons from Didi
By Kitty Fok                                                               Managing Director, IDC China
Much of the conventional wisdom and press commentary about Uber's recent decision to sell its China business to Chinese rival Didi portrayed the move not just as a defeat for Uber, but a broader setback for all American tech companies in China.
The New York Times described the development as "a stark signal of how difficult it is for American technology companies to thrive in China," while the Financial Times wrote that Uber had become "the latest in a succession of US Internet companies that have tried to conquer the China market, and walked away with much less than they had hoped for."
But the argument that the Uber-Didi deal simply shows that the China market is stacked against Western tech companies misses a broader point.
Beyond alarming headlines like "How Uber Crashed," a rather different reality emerges. Didi offered more and much better features based on their deeper knowledge of the Chinese market compared to Uber, who despite spending over $1 billion to prop up its position in the country, was left far behind.
Uber simply could not compete with a better product for Chinese customers, as any close comparison of the services between the two companies makes clear. In China, 3 kinds of Uber cars were available – cheap, medium, and expensive. That was it.
Didi provided the same thing, but it also offered a host of other features like taxi-hailing. Didi also offered bus-hailing, and a carpool service — something of increasing value in China's traffic-congested urban areas. It was also possible to use the Didi app to arrange for someone to drive ones' own car home after an evening of drinking — in effect, hiring a designated driver. These additional services were much more attuned to the dynamics of Chinese society and the needs of Chinese consumers.
Left Behind
Uber reportedly spent over $1 billion to counter Didi, offering substantial subsidies to drivers and cash rebates to consumers. But Uber remained far behind its rival. When the deal was announced, it was operating in just 60 Chinese cities, while Didi had 80 percent market share while operating in over 400 cities.
It must have become clear to Uber's top management that overtaking Didi in China was a losing cause. Indeed, there were reports that key Uber investors were pushing the company to cut its China losses, which were seen as an obstacle to plans for an IPO. So, on the principle that "if you can't beat them, join them," Uber simply sold its China business to Didi.
The upshot is that Uber now has a $7 billion dollar stake share in a dynamically growing business. That's actually not a bad result for the estimated $2 billion Uber spent in China.
The moral of this story is not, as some headlines screamed, "Uber Forced Out of China," but rather that everything in China is more complicated and less 'black and white' as it often appears to be the case. One can argue that under the circumstances, Uber's decision to sell is better understood not as a defeat but a strategic retreat.
What international companies doing business in the PRC should take away from the Uber-Didi deal is not a sense of despair or hopelessness, but rather an appreciation of the need to better understand and adapt to a rapidly changing and increasingly sophisticated market where strategies that may have worked in other settings do not necessarily apply.
In particular, it should prompt a re-examination of how to think about localization, a central ingredient in many corporate strategies in China. Usually, the discussion centers on using the local language and making products cheaper and more affordable for Chinese consumers. But the definition is changing, and will increasingly require creating more localized features that reflect the scope, complexity, and sophistication of the market.
To reach their goals to create a more digital society, the Chinese are still going to want and need the involvement of international tech companies. Western firms who understand this, and can tailor their activities to take account of local conditions, will find there are still major opportunities in China.
Kitty Fok is managing director for IDC China. You can follow her on LinkedIn at https://www.linkedin.com/in/kittyfok, and on Twitter at @kittyfok. To read the original commentary, click here.
The post GUEST POST: Uber's U-turn in China: The Real Lesson appeared first on Business China : news for investors in China.
---
The following press releases and news reports about China companies were carried on August 25. To view a full article or story, click on the link next to the headline.
══════════════════════════════════════════════
The post China News Digest: August 25, 2016 appeared first on Business China : news for investors in China.
---
Bottom line: Wanda Group is making an aggressive bid to be selected for a $1 billion strategic investment in Paramount, but the bid is likely to fail due to objections by the studio's controlling shareholder.
Wanda's Paramount bid likely to fail
New comments from China's richest man indicate he is aggressively bidding for a stake in leading US film studio Paramount, which was put up for sale earlier this year as its parent sought to find a strategic investor. But separate reports last week show that such a deal could face difficulty due to objections by Sumner Redstone, who controls Paramount parent Viacom (Nasdaq: VIAB).
Redstone and Viacom's current CEO Philippe Dauman have been locked in a battle for control of the company, but a resolution of that feud now appears to be close. Unfortunately for Wanda, that resolution would see a departure from Viacom by Dauman, the main proponent of the Paramount stake sale plan. That would leave Redstone, who was cool on such a plan, with the final rights to approve or veto a stake sale.
We'll return to the internal fighting at Viacom shortly, but first let's look at the latest comments from Wanda chief Wang Jianlin that hint at a bid for the strategic stake in one of Hollywood's leading studios. In an interview, Wang says that his company is aiming to seal two separate $1 billion deals in the entertainment sector as part of his drive to diversify his company beyond its traditional real estate roots. (English article)
One of those deals probably refers to Wanda's ongoing bid for US cinema operator Carmike (Nasdaq: CKEC), which was launched earlier this year but has run into resistance from shareholders who say the offer price is too low. (previous post) The other would be for Paramount, and previous media reports have indicated Wanda is pursuing such a deal.
Wang says in the latest interview he would be interested in Paramount, but was quick to add that he would also be interested in any of Hollywood's other major studios. None of those besides Paramount has been publicly announced as being up for sale, which makes Paramount look like the most likely candidate.
Viacom CEO Dauman said back in February he would like to sell a strategic stake in Paramount, prompting many to speculate that a Chinese buyer would be the most logical choice due to the nation's booming box office. (previous post) Analysts said at the time that Paramount was probably worth about $10 billion, meaning a strategic 5-10 percent stake in the studio would probably cost around $1 billion.
Thus at least one of the $1 billion deals that Wang has mentioned looks almost certain to be aimed at a Paramount bid. He's likely to face competition from e-commerce giant Alibaba (NYSE: BABA), which is also aggressively moving into Hollywood and film production through its Alibaba Pictures (NYSE: 1060) unit.
Internal Bickering
But anyone hoping to buy into Paramount may soon face some headwinds due to the separate battle for control of Viacom, which appears to be close to resolution. According to reports last week, the 2 feuding sides were close to a deal that would see Dauman leave Viacom and be replaced by the company's current COO. (English article) As part of the deal, Dauman would still be able to choose a potential strategic investor for Paramount, and then present such a plan to the company's management.
But the same report points out that Redstone was opposed to the plan to sell a stake in Paramount from the start, meaning he could very well veto any proposal made by Dauman. Of course it's always possible that others at Viacom could convince Redstone of the logic of selling such a stake, since Wanda or Alibaba would both be potent partners in helping Paramount tap the Chinese film market.
At the end of the day, I would give Wanda the best chance of being selected by Dauman as the preferred potential investor. But I would add that such a deal would only stand a 20 percent chance of getting completed due to Redstone's objections.
Related posts:
The post MEDIA: Wanda Eyes Hollywood Mega-Deals, Paramount in Sight? appeared first on Business China : news for investors in China.
---
Shanghai steps up security for G20 Summit
Beijing may have APEC Blue, but Shanghai is quickly developing its own brand of welcome for the upcoming G20 Summit set to take place next month in nearby Hangzhou. But in this case, it's an obsession with security that seems to be riveting our city, though perhaps we'll also see some pollution and traffic-easing measures as the event approaches.
For anyone new to China, the term APEC Blue came into fashion 2 years ago when Beijing hosted the Asia-Pacific Economic Cooperation summit, a meeting of major world leaders that briefly put the city in the global spotlight. A similar light will shine on Hangzhou next month when leaders of the world's largest economies gather in there for a similar meeting. Many visitors may arrive via Shanghai, which has much more international connections and therefore could also be on prominent display.
More broadly speaking, first Beijing and now Shanghai's obsession with things like the color of the sky and security seem to stem from a more deeply ingrained insecurity that somehow the world might come away with a bad impression of the country.
The phenomenon also seems to have its roots in modern China's fascination with big events, which is probably a subset of what I call the "famous brand syndrome" or mingpai. Such a fascination often sees people put form ahead of substance due to an excessive fascination with appearances. I see the phenomenon quite regularly at my university, where I'm constantly reminding my journalism students that they should focus on the content of what was said at such major meetings rather than simply the fact that a meeting took place.
But that said, the fact does remain that conferences like the G20 Summit are major global events, and Shanghai has already begun taking the matter very seriously. One of the first measures announced earlier this week was higher airport security, even though it seems to me that security at Pudong and Hongqiao airports is already quite tight.
As part of the new measures, all people are now being screened as soon as they enter the airport rather than only before they get ready to board a plane. Pudong has added 27 new inspection stations under that effort, while Hongqiao has added 14, and both airports are issuing the usual calls for passengers to arrive early to avoid missing their flights.
More Police on Patrol
But visitors to the city will discover that airports are just the first place they will see the extra security. In addition, Shanghai will sharply increase the number of officers patrolling our streets as the event nears. That will include putting up to 90 percent of our police officers on patrol, up from the usual 60-70 percent, and having officers conduct more ID checks. I got to witness the increased security the other day inside my local subway station, which suddenly became packed with police and bomb-sniffing dogs one afternoon just before rush hour.
We still have yet to hear of any measures similar to the APEC Blue campaign, which saw most major factories in Beijing and surrounding Heibei province ordered to temporarily suspend operations in the weeks before the summit to clean up the air. Cars on the street are also typically restricted during such periods to lighten traffic and ease pollution, and many companies give their workers time off to also ease congestion.
While such measures may be welcome by some, businesses don't quite see things that way. A recent survey I helped to conduct showed that foreign businesses were worried about disruptions due to closures of roads, infrastructure and also many of their suppliers and local business partners before and during the G20, which will be held on September 4-5.
It's unclear if Shanghai will resort to such measures, partly because the summit itself won't happen here. What's more, the brutally hot weather of the last month has brought the small consolation of relatively good air quality, meaning we can know that we won't get respiratory diseases as we bake in the sun. But that could change as the summit gets closer, and I wouldn't be surprised to see Shanghai roll out similar measures to restrict factory operations and even possibly easy road congestion as the summit nears.
At the end of the day, the heightened security does seem like a good idea since so many world leaders and other high-ranking officials and businessmen will be in the area. Perhaps the security screeners in our subways will even start doing their jobs more seriously.
As host cities, Hangzhou and nearby Shanghai do have a responsibility to put on their best faces and provide a safe environment for such a big show. But I also hope they exercise a little restraint in their actions, acknowledging that our cities aren't just showcases for this big event but are actually home to millions of people who simply want to go about their daily lives with minimal inconvenience.
The post Shanghai Street View: Cleanup Compulsion appeared first on Business China : news for investors in China.
---
The following press releases and news reports about China companies were carried on August 24. To view a full article or story, click on the link next to the headline.
══════════════════════════════════════════════
The post China News Digest: August 24, 2016 appeared first on Business China : news for investors in China.
---
Bottom line: Meitu's Hong Kong IPO plan is likely to get a positive reception due to strong sentiment for Chinese tech companies, while a plan to list US-focused Media.net in China via a backdoor IPO is likely to fail  due to numerous obstacles.
Meitu eyes HK listing by year end
A couple of IPO stories are in the headlines, including what could become the largest listing for a Chinese tech firm this year by Meitu, operator of an app that helps users make self-enhanced selfies. The other deal looks quite unusual, and has a Chinese investor group buying US advertising services startup Media.net, with plans to list the company in China through a backdoor-style process. In all my years covering China this is the first time I've seen this kind of deal, which looks both interesting but also quite speculative.
Each of these deals is quite different, and both have one or two notable points. Meitu looks most notable not only for its size, which could be up to $1 billion, but also for its location. IPOs for this kind of high-tech company have traditionally come in New York, and more recently on China's Nasdaq-style ChiNext board, but are seldom seen in Hong Kong. 
Meantime, reports on the Media.com plan are drawing attention to the uniqueness of the backdoor listing plan, which is occurring in a two-step process using an existing listed Chinese firm. We've seen a number of similar backdoor listings in the last year, mostly the result of a conservative regulator that has sharply slowed approval of conventional new offerings. But most of those listings have been engineered by managers of companies making the listings.
By comparison, this particular deal appears to be orchestrated by a third-party group of investors looking mostly to make some money. That has some predicting that this kind of IPO could become a future template for Chinese middlemen looking to make some money by buying foreign assets and then listing them in China at higher valuations.
We'll begin with a closer look at Meitu, which is reportedly looking to list in Hong Kong around the fourth quarter. (English article; Chinese article) The company was previously valued at $3.8 billion during a funding round earlier this year, and is hoping to boost that to around $5 billion through the IPO, according to unnamed sources who disclosed the plan.
I'm not a user of Meitu, but have read about it and know some younger folks who are quite big fans, similar to apps in the US like Instagram and Snapchat. Given the generally positive climate for China tech stocks these days, I would expect this particular offering could do quite well, especially since this would be one of the first major new Chinese social media stocks to list in a while.
Two-Step Back Door
Next there's Media.net, a provider of technology that helps advertisers better target prospective customers and is a partner of Yahoo and Microsoft's (Nasdaq: MSFT) Bing search engine. The company, which is based in New York and Dubai but does most of its business in the US, has announced it will sell itself to a Chinese consortium for a hefty $900 million. (English article)
But that purchase is just an intermediate step. After that deal closes, the group would then sell the company to an obscure China-listed telecommunications company called Beijing Miteno Communication Technology Co. The finances involved look rather complex, since Miteno only has about $23 million in cash. But I suspect the bottom line is that the investors buying Media.net would ultimately hope to get a much higher valuation once the company is listed than the $900 million they are paying. Then they could sell some or all of their shares in the company to make a profit.
As I said at the outset, this particular plan looks rather unique and will probably face numerous challenges. One of those will be raising the money to do the deal, and then moving all that cash offshore to complete the purchase. China's securities regulator may also not look favorably on such a plan and create obstacles or simply withhold its approval of any asset swaps. Accordingly, I would give this plan very little chance of ultimately getting done, with the chances of success at 20 percent or less.
Related posts:
The post IPOs: Meitu Eyes HK, US Ad Firm Media.net Goes to China appeared first on Business China : news for investors in China.
---
Bottom line: Beijing and local governments need to let struggling companies fail and stop ordering banks to continue lending to them, or risk exacerbating the country's growing bad debt crisis.
Banks ordered to lend to sinking companies
A couple of news stories last week cast a spotlight on how local governments are preventing banks from effectively managing their growing volume of bad loans, creating obstacles that could cause the problem to worsen and even spiral out of control. Neither story was actual "news", but instead detailed practices increasingly used by local officials to support struggling state-owned companies, often to the detriment of local banks.
In one case officials ordered banks to lend to a failing local ship builder, even though the company was almost certain to default. The other case detailed how local officials had compiled lists of struggling companies for their own records, but then withheld the information from banks due to worries that disclosure might cause those companies to lose access to new loans.
Both cases reflect the cozy relationship that existed between banks and local governments in the pre-reform era, when the former were largely policy tools of the latter rather than true commercial lenders. But such relationships are increasingly dangerous in the current era of market economics, and threaten to spread the woes gripping certain bloated and poorly managed sectors in China throughout the entire financial system.
To minimize that risk, banks need to distance themselves from local government officials and learn to say "no" to requests that don't make commercial sense. At the same time, government officials need to be more forthcoming in providing market information that can help banks make better lending decisions to avoid seeing their current bad loan problems deepen.
China's banks are already coming under huge pressure due to ballooning bad loans, many of them made for questionable projects during Beijing's 4 trillion yuan economic stimulus package during the global financial crisis. Non-performing loans (NPLs) for China's banking sector exceeded a staggering 2 trillion yuan ($300 billion) at the end of May, accounting for 2.15 percent of total loans.
Many suspect the real level of NPLs may be even higher, as banks take steps to disguise loans that are likely to default but are still listed on their books as healthy. And yet despite a problem that is widely known at all levels, local governments frequently continue to call on banks in their regions to lend to struggling enterprises that are quite likely to default on any new loans.
Sinking Shipyard
A recent media report detailed one such instance with the case of Rongsheng Heavy Industries, once China's largest shipyard, which was hit hard in a downturn plaguing the global shipping industry. (English article) The company began running into financial difficulties in 2014, but local government officials dismissed the problems and ordered local lenders, including Bank of China (HKEx: 3988; Shanghai: 601398), to continue providing money.
As the company continued to falter, the government engineered a debt-for-equity swap as a substitute for loan repayments. Shares issued under that swap plummeted after commencing trading and could easily become worthless, wiping out 17 billion yuan in debt that was owed to 22 banks and 1,000 unpaid suppliers that were forced to participate in the scheme. Rongsheng itself suspended operations earlier this year, weighed down by 22.6 billion yuan in debt.
The other case in the news last week detailed a recent practice that has seen local officials begin comping lists of financially troubled state-run companies as China's economy slows. But those same officials refuse to provide these so-called "zombie lists" to local banks for fear that doing so would cause the banks to stop lending to the problematic companies. (English article)
As a result, banks are often unaware of the dire state of finances at some companies and continue to lending to them, even though such loans have a high likelihood of never getting repaid.
China is already suffering the effects of massive state-directed build-ups of certain industries like steel and coal mining, which have created massive overcapacity that is now weighing on the economy. Through actions like ordering banks to lend to financially troubled companies and refusing to disclose the names of those companies to lenders, local governments are laying the groundwork to spread the woes plaguing those sectors throughout the entire financial system.
That kind of scenario looks strikingly similar to what happened during the global financial crisis, which saw US subprime mortgages spread throughout the global financial system through a securitization process similar to the one used in the Rongsheng case. To prevent a similar contagion from happening in China, Beijing and local governments need to encourage and help banks to make loans based on commercial factors, rather than using them as a tool to support struggling companies.
Related posts:
(NOT FOR REPUBLICATION)
The post BANKING: Local Govt Meddling Worsens Chinese Bad Debt Crisis appeared first on Business China : news for investors in China.
---
As regular readers of this blog know, both Trump and Clinton have chosen fear as their persuasion tool. Trump wants you to fear terrorists and criminals because he thinks he can make a persuasive case that he's the solution to those fears. Clinton asks us to fear Trump himself, offering herself as the solution to that fear.
So which fear is stronger, persuasion-wise?
Trump makes us fear dangers that are unlikely to have a personal impact on most of us. It is deeply unlikely that any one specific person in America will die in a terror attack. And if we stay away from high-crime areas, the odds of getting murdered are low too. So Trump's fears have an abstract quality about them.
Clinton cleverly makes the public fear Trump having access to the nuclear codes. That's a danger that could – in Clinton's telling of it – kill us all. By that point of view, if you buy what Clinton is selling, Trump is a danger to you personally. 
On top of that, the risks that Trump discusses have no human faces. We don't know what the leader of ISIS looks like. We don't know the specific person who might someday shoot us in Detroit. We don't know the face of the terrorist who might blow up a building we are in. Trump's danger is faceless and nameless, at least in our minds.
Clinton, on the other hand, cleverly defined Trump as the biggest risk to the survival of the country. Not only does Trump have a face, but we see that face multiple times a day to remind us. That's an enormous persuasion advantage for Clinton. She is selling a fear that has a face, and it's a fear she says could kill you personally, as opposed to killing strangers.
Trump is selling a faceless, abstract flavor of fear. That has far less potency than Clinton's approach because humans are wired to give extra emotional weight to human faces. 
Fear is the most  powerful persuasion tool, and Clinton has the stronger position there. I still predict Trump will win in a landslide, but he needs to solve for this first.
—
You might like my book because it is shaped like a trapezoid.
---
Here in the USA, we've narrowed our search for a new leader to two lying, 70-year old racists. (You should see how bad the other 320 million of us are.)

I'm exaggerating, obviously. There are big differences in the candidates. For example, Clinton has allegedly killed lots of people in the past, whereas Trump will allegedly kill lots of people in the future. That's very different, timing-wise.
But you probably came to this blog today to find out what I think of Clinton's "Alt-Right" speech compared to Trump's "bigot" speech. I will not disappoint you.
Clinton's speech was a persuasion success. I give it A+ for doing its job of painting Trump as a racist. This successful persuasion approach is probably the work of a Master Persuader on Clinton's team. The one I call Godzilla.
As Trump supporters already know, all of Clinton's accusations about Trump being a racist are taken out of context. If you look at any of those situations in proper context, they don't indicate racism. I detailed that point in this post. I won't reiterate because at this point in the election cycle both candidates are lying about everything they say. If I have to explain why one of them is lying about something in particular, you haven't been paying attention.
They are both lying. All the time. About everything.
If that isn't obvious to you at this point, you are hypnotized. Literally.
But the truth has little or no value when it comes to persuasion. What matters is the pairing of thoughts, and the frequency of the pairings. Clinton makes good use of that phenomena by producing a laundry list of alleged racist acts in Trump's life and in his words. What matters to persuasion is the volume of the accusations, not the veracity of any of them. Our brains are primed to believe that where there's smoke, there's fire. 
As an aside, that is why this defense of the Clinton Foundation was one of the biggest persuasion fails of this election:
For Clinton to succeed in painting Trump as a racist, all she needed was a long list of accusations. She can count on none of the accusations being fact-checked by the media because fact-checkers don't deal with one candidate's speculation about what is happening in another person's brain. Clinton is offering an interpretation of Trump's words and actions. Fact-checkers don't deal with interpretations. 
Clinton also associated Trump with various unpopular groups, such as white supremacists, based on the fact that many support him. Obviously there are lots of terrible people supporting every candidate for president, but they don't all have a label. The existence of the Alt-Right movement allowed Clinton to slap a label on Trump's supporters to invite what I call word-thinking.
Word-thinking is a popular alternative to reason. A word-thinker ignores facts and logic, and tries to jam all observations into existing labels. For a word-thinker, everyone in the world is either a racist or a good person. The reality is that human brains operate on pattern recognition, which pretty much guarantees that all of us are sexists and racists to some degree. But word-thinkers only see two categories. 
This same type of word-thinking was seen in the GOP primaries. Much of the discussion was about whether or not Trump was a conservative. People believed, quite irrationally, that if Trump didn't fit into that label with precision, he was not worthy to be president. Word-thinkers are not confined to one side of the political world. It is a universal mental phenomenon. 
Word-thinking is important to persuasion because if you can convince someone to accept a label on an opponent, it turns off their critical thought and turns on their confirmation bias. Nuance is lost. Context is lost. All that matters once the label is accepted is whatever qualities the label already contained.
So Clinton succeeded in associating the Alt-Right label with Trump, even though he isn't one of them. That was good persuasion technique. By my scorecard, Clinton won that news cycle.
Now we get to the interesting part. Clinton has successfully persuaded over half of the country that Trump is a racist. And you've never seen anyone escape from that sort of trap. It's a death trap.
Well, actually, it's a death trap for all two-dimensional thinkers who believe facts and logic have any role in politics. But Trump is not burdened by such illusions. He knows reality is subjective. And he knows he can mold it. 
So how does Trump respond?
For starters, Trump is calling Clinton a "bigot" because African-Americans have not made gains under Obama's administration. But he failed to make the sale. It was too much of a stretch. Word-thinkers had already decided Clinton is one of the good people, not a bigot. No persuasion is likely to change that.
But Trump is always A-B testing. He rarely tries one approach in isolation. He tosses out a lot of ideas and sees which ones work with the public and the media. And he had two other responses to Clinton that have potential, in my view. 
1. Trump is saying Clinton's accusations of racism are "All they have left." I like that framing because it makes you think of throwing your gun at the monster after you emptied the magazine. It speaks of a desperate last act, which also makes you think past the sale. And it minimizes the accusations as being desperation politics. 
2. Trump reframed Clinton's critique of the Alt-Right as an accusation that Trump supporters in general are racist. You probably don't know why that is so powerful. I'll explain.
Trump has built his brand around the idea that he will protect legal American citizens of all types – who he loves – against bad people in other countries. Trump is saying he's on Team America. Period.
But Clinton just insulted 40% of American voters by calling them racists. Clinton literally – and publicly – turned on her own citizens.
Trump, by contrast, has attacked only professionals who are in the cage fight against him, including politicians on both sides, and the media. Judge Curiel is a professional (in a legal battle context). The reporter with the bad arm is a professional. Mr. Khan was acting as a professional because he entered the cage, armed. If you're a professional – and can defend yourself – Trump doesn't mind coming after you with a flamethrower.
But Clinton's Alt-Right speech did not target professionals. Clinton attacked American citizens. Lots of them.
I'm also a professional in this context because I'm writing about politics. If Clinton criticizes me, that's fair game. I knew what I was getting into. But if she goes after ordinary voters, that's crossing a line. It is divisive to the point of treason. She crossed that line with the Alt-Right speech. If Trump lets that slide, it's a mistake. I don't think he will.
—
If you like books, you might like the one I wrote because it is a book.
---
Correct me if I'm wrong, but six months ago Donald Trump was nothing but a talking suit full of money and insults. Hillary Clinton, on the other hand, was an experienced politician full of policy substance.
Then they switched places.
The media tells us that today we will hear Clinton attack Trump with a lot of name-calling. She will also associate Trump with his fringe supporters, especially the racists. Clinton might mention something about policies, but none of that will make news. Now it's all about the insults and the persuasion. Watch for lots of lip-quivering and dramatic acting around the idea of being disgusted by Trump's ways. Disgusted!
Trump, meanwhile, is going through The Softening. He's planning policy speeches on immigration, the economy, and more. Trump is modifying his more extreme policy ideas and becoming more presidential.
The brand reversal isn't totally clean. Clinton will still say stuff about policies, and Trump will still do plenty of insulting. But overall, Clinton has embraced the full-Godzilla approach in which persuasion matters more than truth. Trump is doing something more like the opposite, including prepping for upcoming debates (even if he says he is not), and talking more about policy. He needs to do those things to prop up his brand to "presidential" level.
I heard Clinton call in to CNN last night and preview her new Trump-is-racist persuasion, and I have to say it was strong. Strong enough to win, unless Trump finds a way to counter it.
The Clinton persuasion method will involve dramatic and repeated shouting of racist claims against Trump. Examples:
1. THE THING HE GOT SUED FOR 40 YEARS AGO!
2. THE THING HE SAID ABOUT THE JUDGE THAT WE MISINTERPRETED!
3. THE DEPORTATION HE NEVER REALLY MEANT!
Trump supporters will try to explain-away each bit of "evidence," but will fail because of the sheer volume of them, and the limits on TV time. The facts will not matter. What matters is how often voters hear Trump's name associated with one terrible accusation after another. That's Godzilla's persuasion advice, I assume.
Clinton will be using the phenomenon of confirmation bias to sell her persuasion. Once she primes people to see Trump as a racist, any "evidence" they see will fit that world view. You witnessed this week that Trump offered to help the African-American community, but confirmation bias contorted that into some sort of secret racist dog whistle in the minds of his opponents. That is their truth now.
Normally, the best defense against an opponent's accusations is a persuasion move similar to how Trump expressed "regrets" about sometimes using the "wrong words." When you accept an accusation, and show regret, it takes the power out of it. Clinton did the same move last night on CNN, telling Anderson Cooper she made a mistake with the email server and regrets it. That was a strong play.
But Trump can't accept charges of racism and then express regret. Racism doesn't wash off the way an email security mistake might. Trump can't embrace the accusations and amplify them, nor can he accept the charges and apology.
So what the heck does he do now?
There is only one high-ground maneuver left for Trump. It's a risky one, but perhaps the only path available. It involves moving the frame – from whether or not Trump did the things he is accused of doing – to a new frame in which all humans are flawed, but we are trying to improve. Maybe something like this:
"We were all worse people 40 years ago. The goal of life is to improve. I think I have improved, and I want to help America do the same. Let's improve together."
People can relate to a sinner who has improved. We all hope to be that person.
At least we should.
—
If you think monkeys are funny, you might like my book. But that would be more coincidence than anything else because the book is not about monkeys.
---
It is easy to find ugliness in this election cycle, but I thought I would take a moment to point out two remarkable happenings that you might have missed.
Clinton and Trump are the most disliked candidates for president that this country has ever seen. And yet, see what they have accomplished without even getting elected…
Hillary Clinton has already broken the ultimate glass ceiling. I see no discussion – in private or in public – about the role of her gender. Clinton did that for you and your daughters. She took gender off the table for the most important job in the land. It doesn't matter who gets elected now. Clinton already made the gender sale. In 2016, nearly all American citizens believe a woman can, and will, be president. Because of Hillary Clinton. That's a big deal.
I know that some of you think Clinton "cheated" because she used the advantage of her husband's presidency to seek her own destiny. But keep in mind that ALL successful people exploit their unique advantages. Clinton just did it better. She isn't here by accident.
Meanwhile, Donald Trump turned the GOP into a pro-LGBTQ organization. No one saw that coming. And I think it is sticking. That's a big deal.
So, while we were watching the two most odious personalities on the planet hurl lies and insults at each other, those two odious personalities were bringing civilization toward the light. And succeeding.
Don't lose that.
—
You might love my book because I wrote it like a book.
---
Heads are exploding at CNN as pundits try to define Trump's repeated offers to help African-Americans as typical Hitler behavior. As my regular readers know, what we have here is a perfect trap for cognitive dissonance. The anti-Trumpers have created an identify for themselves – and in the media – as opposing Trump because he's a racist. Then Trump goes and ruins their mental models by acting all non-racist.
This creates a situation in which the pundits either have to change their self-images and admit they were wrong about Trump all along, or they have to reinterpret Trump's clearly non-racist actions as racist actions in disguise. Cognitive dissonance happens when people are unwilling or unable to modify their self-image to match the observed facts. In this case, to protect their self-images as wise pundits, they are forced to default to pretzel-like explanations of their reality.
For example…
Some pundits are pushing the interpretation that Trump doesn't care about the African-American community, and that he's just trying to be a safer choice for white people who don't want to support a racist. That's what a cognitive dissonance argument sounds like. It makes sense, sort of, but not in a persuasive way. It has a delicious pretzel quality to it. That's the tell.
Yesterday, Trump doubled-down on "The Softening" as I will start to call it. He hinted at a willingness to NOT deport all 11 million illegal immigrants living in this country. Once again, this directly contradicts the Trump-is-Hitler notion and sent pundits into an even faster spin cycle. I thought Paul Begala was going to have a stroke explaining that Trump's apparent turnaround on deportation is proof he is a "con man."
Now things get interesting, because…
The anti-Trumpers have two conflicting mental models of Trump now. Is he a racist or a con man?
If Trump is a racist, then his opponents have to explain why being kind to immigrants in this country (his new softened stance), along with his outreach to African-Americans, fits the racist model. If they try to make the new facts fit the old model, they look ridiculous. And that's what several of the pundits did. They went straight to ridiculous and discredited themselves.
The alternative to maintaining the view that Trump is a racist is the idea that he has been conning the public since the start. Under that mental model, Trump has never been a racist, but he played one on TV to win votes in the GOP primaries. Now his true character is coming out.
But wait…that's a problem. 
If he's really just a con man after all – and not a racist – the left loses its best scare-persuasion. Racists are scary, but con men are not. We're all conning each other all the time – also known as branding, selling, and negotiating – so conning doesn't sound so scary. It sounds somewhat normal, especially for a politician.
You say Trump lied to get some votes in the primaries? Snore. They all lied. He just did it better.
Trump has created a perfect trap for Clinton's accomplices. If they interpret Trump's "softening" as genuine, they lose their most persuasive argument that he is a scary racist. And if they argue that his non-racist actions are further proof he is a racist, they look ridiculous and lose all credibility.
Your move, Godzilla.
For additional entertainment today, watch Trump's supporters try to explain how his "softening" is actually no change at all. None. Totally the same as before, except for the fact it is totally different. Nothing happening here, folks. Just move along.
—
If you like puppies and sunlight, you might like my book. Because it's just like that.
---
Watch the first minute of this clip to see Hillary Clinton use the "liar's dodge" to avoid Jimmy Kimmel's direct question "Are you in good health?"
When you ask an honest, healthy person if they are in good health, they say, "Yes." They might also ask why you are inquiring. They might add some details. But they usually answer the question.
Clinton never answered the question about her health. All she did was mock the Trump supporters who keep bringing it up. Clinton intentionally avoided the question while skillfully making you think she addressed it.
This is similar to Donald Trump's technique in the first debate, when Megyn Kelly asked him about his sexist comments of the past. To avoid answering the question, Trump cleverly mentioned Rosie O'Donnell and used that witticism to run out the clock and avoid the question entirely.
Clinton used a similar maneuver to avoid answering the question of her wellness. She turned the question into a bigger question about the crazy people who keep questioning her health, and she ran out the clock. Kimmel never got back to his question.
If I hadn't pointed out that Clinton avoided answering the question, you would misremember that she had answered it. That's good persuasion. In television shows of this type, the producers always tell the guest in advance what the questions will be. Someone with weapons-grade persuasion skills coached Clinton how to dodge the question while making you think she answered it.
Someone like…Godzilla?
—
If you like to read, you might like reading my book. It has words on almost every page.
---
Is it my imagination, or would a Trump presidency allow for more citizen participation than a Clinton presidency?
In a Clinton administration, citizens might expect that any good ideas bubbling up from voters would be squashed by the special interests. The lobbyists and industry insiders promote legislation for their own benefit, not for the public.
But Trump promises to ignore the moneyed interests. And he's an entrepreneur at heart. In a Trump presidency, it is easy to imagine good ideas coming from the public and making it all the way to implementation. So in that spirit, I give you my idea for making Mexico pay for the wall.
We have around 11 million citizens of Mexico living in the United States illegally. Suppose we make them the following offer:
1. Register at the nearest Post Office. Just fill out some forms. For fun, we can pass a law to make every Post Office a temporary Mexican embassy, so any Mexican national who enters from American soil is literally self-deporting. Embassies are considered sovereign territory, so it all makes sense.
2. Tax illegal immigrants $100 per year for ten years. This is their penalty for breaking American law, and it gives them the right to stay and try for citizenship after ten years.
That's a billion dollars per year in tax revenue, coming from Mexican citizens. If we use that money to help pay for the wall, that's a lot like "making Mexico pay for the wall."
Secondly, we could work with Mexico to declare the zone around the wall – on both sides – special economic zones that are free from some (but not all) onerous government regulations and taxes (for a few years). Then turn the wall project into a jobs program, and eventually into an enormous tourist destination. If any unemployed young people want to work on the wall, we'll ship them there, put them up in employee dorms, teach them Spanish, teach them a construction trade, and more.
I wrote about this part of the idea in November. You can see more here.
I can also imagine testing ideas for building inexpensive, planned communities around the wall, initially for the workers, then for other citizens as the workers move on. Somehow the country needs to figure out how to lower the cost of living a quality life. Finding ways to reduce housing costs is a big part of it. This would be a good test bed.
I could also imagine testing out some form of free college or trade school at these worker communities around the wall. The classes would be online, and free. All the government would be doing is making sure the classes were publicized and accredited.
I explained to some folks this morning my idea of taxing illegal immigrants to pay for the wall. I learned that some people really, really want illegal immigrants punished for breaking the law. But it won't be hard to talk Americans into letting illegal immigrants pay for border security and stay. It's hard to hate someone who is helping you pay your bills.
That's my idea for turning the wall into a profit opportunity. If you like it, share it on social media. Add your own twists too.
—
If you like walls, you might like my book. I'm not sure why.
---
To many people – if not most – Donald Trump looks like the type of candidate who would become a "strongman" president, ignoring the advice of experts and the opinion of the people. That's the persuasion framework that Clinton has created in your mind, probably with the help of the Master Persuader I call Godzilla.
But does the evidence support that view? I see the opposite.
Months ago, when Trump stumbled on his answer about criminal penalties for women who seek illegal abortions, the public went nuts, and Trump immediately corrected his position. That's direct democracy. Trump heard the opinion of the majority and instantly adopted it.
Consider Trump's proposal to ban all Muslim immigration. The public felt his position was too extreme, and let him know. Eventually, Trump softened his stance to talk about countries of origin, not religion. The public still wasn't pleased, so Trump softened again to his current position of "extreme vetting." That evolution in policy looks like direct democracy to me. The public told Trump what it wanted, and Trump evolved to it.
Likewise, we found out this week that Trump's plan to deport 11 million Mexicans living in the United States illegally has some wiggle room. Maybe there won't be so much deporting after all. Because the public doesn't want it.
Consider also Trump's public persona. We witness that he is using the teleprompter (as advised) and crafting a friendlier version of himself, which is exactly what the public asked of him.
Recently we've seen the question of Clinton's health and stamina become a big topic on the Internet. Most of the "evidence" is confirmation bias, but the question is probably big enough now that the media has to ask the candidates some questions about their health or they won't be doing their jobs. The public wants it, the media will comply, and the candidates will be held to their answers. That feels like direct democracy.
If you fear direct democracy, I just gave you several reasons to feel comfortable with it. In olden times, direct democracy could lead to an uninformed mob with pitchforks. When you add ignorance to direct democracy, things won't go well. But in the age of the Internet, direct democracy forces people to virtue-signal, and we see in my examples above that the crowd moves toward kindness as a group. The crowd rejected penalties for women getting ILLEGAL abortions. It rejected deportation of 11 million ILLEGAL Mexican residents. And so far, the public prefers to accept some terrorist risk in the homeland in order to show kindness to Muslim immigrants who need help.
Do you remember how the Republican Party used to have a lot more conflict with the LGBTQ community? Trump is trying to change that – and succeeding – because the public backs him. 
Direct democracy in pre-Internet days was a bad idea because it gave power to ignorance. But direct democracy in 2016 is more about the public squeezing the evil out of its own leaders. Evil doesn't like sunlight. It doesn't like Trump's unkind immigration plans and it doesn't like the Clinton Foundation – which just announced it would stop taking foreign donation if Clinton is elected. The public gets what the public demands.
In my opinion, social media has effectively replaced the American system of government that was designed as a republic. In horse-and-buggy times, we elected smart people to go to Washington and make smart decisions on our behalf. The public would learn about the decisions later. But in 2016, the public makes the decisions and the politicians follow along. Social media makes that possible.
Quickly, name a policy idea from a major candidate that is both deeply unpopular with the public and also likely to become a law. I can't think of one. That isn't even a thing anymore. If the public doesn't like it, the leaders can't do it. Period.
To be fair, some unpopular laws might slip through the system in the short run. But the public will be brutal in those cases, and even the exceptions are likely to be trivial and temporary. 
In my opinion, Trump is likely to be the first direct-democracy president. He'll do what the public wants and avoid doing what they dislike. The public expects its leaders to try and change their minds about things, but in the end the public will decide and the leaders will follow.
Clinton's team – presumably with the help of Godzilla – might have persuaded you to fear a Trump presidency. The reality is that the public already controls Trump, and the public's instinct is toward kindness, and even self-sacrifice, when everyone is watching. 
Social media ensures that everyone is watching.
If you think Clinton would do a better job than Trump as president, you can make a convincing argument for that, given her experience and whatnot. But a Clinton presidency would still have the vestiges of a republic, with decisions being made by special interest groups, and sold to the public with a web of confusion. (Let's call it a confusopoly system for government.)
A Trump presidency is likely to be the first direct-democracy presidency. If you think a Trump presidency – guided by the kindness of the public – would be extra-dangerous, you have been hypnotized. The evidence strongly suggests the opposite. Our direct democracy has already demonstrated that it prefers kindness to evil.
For the first time in human history, love is in a winning position compared to evil. Take a moment to thank Facebook and Twitter for that. It's a big deal.
—
Can't get enough of my Trump opinions?
See my interview with James Taranto of the Wall Street Journa here.
Hear/watch my extended conversation with Stefan Molyneux here.
—
If you like to love, you might love to like my book. But it would be more coincidence than causation.
---
Since the operation of Britain's railways was privatized in 1995 they have ended up costing the taxpayer twice as much to run, in real terms. Fare increases have ended up costing commuters on average 23% more, again in real terms. But the real issue, the real issue, is: did Jeremy Corbyn get a seat that one time?
Of course that isn't the real issue. But Richard Branson has potentially broken the law to try and make everyone think it is.
To recap in brief: Corbyn released a video of himself sat on the floor of a packed Virgin train on August 11th saying "this is a problem many commuters face". On August 23rd, Virgin Trains put out a statement saying that Corbyn was wrong and there were plenty of seats, implying that he was politically posturing. So then Corbyn's team put out a statement saying he only got a seat after people were moved around in the train. Branson then tweeted a link to somewhat vague CCTV footage and said Corbyn "walked past empty unreserved seats then filmed claim train was 'ram-packed'", which is now being wrangled over by journalists and roving bands of Twitter warriors whose interpretation of the footage is based entirely on whether or not they like Jeremy Corbyn.
Britain's post-Thatcher entrepreneur worship runs deep
The vapid priorities of a boring and unhelpful national media mean that journalists are happy to indulge in a loud and energetic quest to get to the bottom of this tedious sideshow and discover the truth of the mysterious train footage, and in doing so set aside or drown out actual investigative work on the impact of privatization. Whether or not it turns out Corbyn is telling the truth, Branson wins anyway because he has transformed minor public scrutiny of his own interests into massive public scrutiny of someone who is a threat to those interests. Corbyn's best hope now is to come out of it without being branded a liar; meanwhile his original intent – to turn public pressure on our ridiculously inefficient privatized rail network – has already flopped out.
It's obvious that the Labour leader was politically posturing (which, to be fair, is his job), and the unclean nature of the facts means that a media already hostile to him is going to come down on him like a ton of bricks. While everyone focuses on demolishing Corbyn's priestly persona thanks to his inability to resist feeding the media easy ammunition, Richard Branson slinks away relatively unscathed, coming out as the more trustworthy combatant despite his release of the CCTV footage being potentially illegal. Britain's post-Thatcher entrepreneur worship runs deep.
As a result, in an hours-long gap where nobody has been able to figure out what the footage actually depicts, the BBC and Channel 4 are now throwing out headlines on how Corbyn found their #traingate questions at a press conference about the NHS annoying.
Branson not only siphons profit from a taxpayer-funded healthcare system, he may also be avoiding tax on that profit
The NHS is a salient topic here because Sir Richard doesn't just profit from our railways, he also makes a tidy killing from our taxpayer-funded healthcare system. Virgin Care runs NHS contracts worth over £500 million, and their corporate structure has been found to include the use of tax havens. This means that Richard Branson not only siphons profit from a taxpayer-funded system that used to not bleed money out to the private sector, he may also be avoiding tax on that profit. Which wouldn't exist without taxpayers stumping up for it in the first place.
The National Health Service has been undergoing a process of piecemeal privatisation since 2010, during which time a growing staff shortage crisis has created concerns that patients' lives are being put at risk. This makes Branson's claim that his 7-year tax exile in the British Virgin Islands (no really) is to "look after my health" seem more than a little out of touch with the patients he's happily ripping off.
Regarding Virgin's railway ventures, meanwhile, Guardian journalist Aditya Chakrabortty pointed out earlier this year that Branson "like[s] to move into industries sheltered from too much competition, pull subsidies out of taxpayers and then cash out." Virgin is the third largest recipient of a £1.5 billion cut in track operating fees that, Chakrabortty observes, is "an indirect subsidy given by the public to the train operators."
Virgin's charity heroics don't seem particularly interested in helping African nations take control of their tariffs
The billionaire's supporters often point to his vast charity wing, Virgin Unite, as evidence that Branson does actually care about helping people after all. The non-profit foundation to which Sir Richard sends a significant parcel of his personal fortune every year provides start-up funding to a wide range of entrepreneurs across the African continent, forming companies that often create infrastructure on a for-profit basis. This may well be helpful for Virgin: since the Great Recession in 2008, Branson has celebrated how the global recovery has led to particular hotspots of profit for Virgin Group's interests in Africa. Virgin Unite also supports several charity initiatives that cover healthcare, where once again their heroics don't seem particularly interested in helping nations pried open by Wall Street and the IMF to take enough control of their tariffs that they can build their own state healthcare systems.
This model of strutting philanthropy alongside a haughty disdain for taxpayer sovereignty also emerges in Branson's attitude to climate change. The self-described "tie-loathing adventurer" sponsors environmental conservation charities, recognizes the impact of human activity on climate change, and last year tweeted that "it's time for bold leadership and conservation in the #Arctic".
So of course it wasn't long before the comedian Frankie Boyle pointed out the irony to him on Twitter: "you own an airline, you mad cunt", he wrote, to public guffaws. Aviation produces about 2% of the world's man made CO2 emissions, and climate change already has a disproportionately harsh impact on developing countries in the southern hemisphere. Sir Richard waited a day before making a limp retort that "we all use airlines. Even comedians. Shouldn't stop any of us trying to address climate change."
The billionaire has a clear track record of using a liberal persona to protect an otherwise conservative list of interests
This is the core of the creed that our silly entrepreneur cult reads out to us: make every problem about the individual and never the system. Blame the consumer to spare the vendor. And above all, respect the entrepreneur, who knows what's best for you. Trust him over the conniving politician, even if his leaking of CCTV footage to the public is probably outside the law. And don't question his business interests as long as his rhetoric is vaguely liberatory. "I'm lucky enough to work on an island," Sir Richard said to an audience in Chicago this week, "and one day you can all do that too." Presumably he wasn't speaking to the railway workers he tried to fire to save money after claiming he'd overbid on a train franchise – they don't own businesses, they only work for one, so not for them an island paradise to reward the spirit of enterprise.
Corbyn's role in #traingate was clearly a poorly planned media stunt, and thanks partly to his PR ineptitude and partly to the press's hostility towards him, it backfired the moment Richard Branson wanted it to. What matters, what should matter at least, is that Branson wanted it to. Given the billionaire's clear track record of using a liberal persona to protect an otherwise conservative list of interests, it is not hard to see why this diversion was created.
---
Image: William Murphy
The post Richard Branson: Screwing for Virginity appeared first on The Leveller.
---
I spent the last three days at the washout known as the British Open Series 3 where one day out of five was flyable. This was yesterday from a hill called Camlo which is a "little flown hill, especially for hang gliders, as there is not a suitable bottom landing field"
Numpty here took off first with everyone watching and waiting because there were no clouds, and I got thrown about a bit. Luckily there were no other gliders in the air to dodge.

Then I came in and landed when things got full up like a zoo (orange glider on the 39th second of the vid).
Then I un-redeemed myself by sitting on takeoff for most of the next video until the launch window was about to close.

Most of the big boys got away during that time until I was one of just two gliders left in the air. I went in and landed just as the other one got away to a big cloud. Grumble.
Once you've tasted XC flying, nothing is ever good enough again.
---
Here is my talk from the wonderful GEL conference earlier this year covering some of the ideas from my draft book World After Capital
---
I love programming. I also encourage people to learn some programming because (a) it is a useful way of thinking and (b) much of the world will be programmable. Here is a quick example that I just encountered when I prepared yesterday's Tech Tuesday Index. I had a document with links to every post looking like this:
But what I really wanted were the post titles as the text for each link. Now I could have manually gone and followed each link, copied the post title and then replaced the text. Tedious. Instead I wrote the following bit of code in Google Apps Script:
This lets you select a link and automatically replaces the link text with the post title (I did it one link at a time so I could manually fix small errors, but would be easy to add a loop to do all links in the document).
Despite my enthusiasm, I want to caution against the idea that programming is not itself subject to "software eating the world." I have been around software for 35 years and in the last decade engineering productivity is sky rocketing, enabled by open source libraries and by the availability of APIs. Need communications? Twilio. Need payments? Dwolla. Need machine vision? Clarifai. And so on (example all from USV portfolio). Much of what remains to be done is to write glue code between libraries and APIs.
But isn't writing glue code or scripting code (as in the example above) still going to be hard and hence require a lot of programmers? On Twitter I recently found myself in a discussion of the progress that can be made here. Jonathan said about programming without "programmers"
I've been hearing that for around 25 years.  remember Hypercard?

And Naval argued that 
Any program that can write interesting code on command is basically a General AI.

This captures two commonly held views on why programming will always remain a high skill activity: It hasn't happened yet (despite past promises) and it can't/won't happen (for a long time / ever) because of fundamental reasons.

I believe both of these objections will turn out to be wrong. I am not expecting an imminent solution but there is nothing foundational that stands in the way of significant progress. The following hypothetical interaction seems achievable:
Human: Computer, record a new task
Computer: Recording
Human: Find the next link in this document
Computer: <highlights link>Here it is
Human: Open the page
Computer: <opens new web page>
Human: Select the headline
Computer: <takes best guess at headline and highlights>Do you mean this one?
Human: Yes.
Human: Copy the headline
Computer: I have it
Human: Go back to the document
Computer: Do you want me to leave the new page open?
Human: Close it
Computer: <closes page and goes back to document>
Human:  Replace the link text with the headline.
Computer: Done
Human: Thanks. That's it.
Computer: Finished recording task.
Human: Use this task on all the remaining links in the document.
It is a voice example of what some systems call "recording a macro" (I like the word "task" much better). Building a generic task recorder will likely be extremely difficult for a long time to come. But for most purposes what is needed is a domain specific one. The domain of document processing is quite limited. I see no reason why a machine couldn't learn or be taught the relevant steps at a fairly high level of abstraction, meaning including such a command as "Select the headline."

Programming will be where the current work on voice and bot interfaces will likely have the biggest impact. We all know how to tell another person how to do something. Soon we will be able to tell machines. The classic example of "people don't know how to program the clock on their VCR" (yes I am dating myself) is a good illustration. Leaving aside that modern devices will mostly have clocks that are internet connected and show the right time to begin with, anyone could say "vcr, set the time to 11:19 am."
So yes, I fully expect programming to become easier and easier from here on out for the vast majority of tasks. In fact, if this is something you are working on I would love to hear from you.
---
I am about to start a new series (on uncertainty) and so I decided it would be fun to go back and index all the old Tech Tuesday posts. Here is is (also available as a Google Document):
Components of Computing
Computing's Building Blocks (Overview)
Of Bits and Bytes (Binary Number System)
A First Look at the Central Processing Unit (CPU)
Main Memory (Dumb, Lazy and Slow)
Storage (Oh My, How It Has Grown)
Networking (No Computer is an Island)
Input/Output (Interrupts and Queues)
Operating Systems (Making It All Work)


How the Web Works
Programming
Literals, Constants and Variables
Functions (Part 3 - Argument Passing)
Data Structures (Records and Structs)
Data Structures (Maps and Hashes and Dictionaries, oh my!)
Data Structures (Lists, Trees, Graphs)
Concurrency (Locks, Mutexes, Semaphores, Oh My)
Theory of Computation
Finite State Machines (Introduction)
Finite State Machines (Continued)
Turing Machines (Introduction)
The Halting Problem (Introduction)
Halting Problem (Implications)
Computational Complexity (Introduction)
Computational Complexity (Intro Cont'd)
Growth Behavior (Big O Notation)
Startups and Technology
Choosing Your Technologies When You Start
Choosing Your Technologies (Continued)
Evolving Your Technology As You Grow
Growing Your Engineering Organization
More Best Practices for Growth (Engineering)
Multiple Programming Languages?
Prioritization and Competition
---
We have a couple of split air conditioners. One of them is reasonably old (1987 model) and when we bought the place it came without a remote. We will eventually have to redo the roof and will replace all ACs with more modern and hopefully higher efficiency models. Until then, however, I was hoping to build a remote for this unit – and yes, we have tried just about every existing universal remote model, which turn out not to be so "universal."
This is the outside of the unit
And here is the part of the control panel that's exposed (we have been using the manual on-off switch but it provides zero additional control)
Any suggestions for how to get started on this would be much appreciated. There are quite a few tutorials online for building a remote but most of them assume you are trying to control something modern (and/or start with reverse engineering the existing remote, which, well if we had that …).
---
I don't think we computer geeks appreciate how profoundly the rise of the smartphone, and Facebook, has changed the Internet audience. It's something that really only happened in the last five years, as smartphones and data plans dropped radically in price and became accessible – and addictive – to huge segments of the population.
People may have regularly used computers in 2007, sure, but that is a very different thing than having your computer in your pocket, 24/7, with you every step of every day, fully integrated into your life. As Jerry Seinfeld noted in 2014:
But I know you got your phone. Everybody here's got their phone. There's not one person here who doesn't have it. You better have it … you gotta have it. Because there is no safety, there is no comfort, there is no security for you in this life any more … unless when you're walking down the street you can feel a hard rectangle in your pants.
It's an addiction that is new to millions – but eerily familiar to us.
From "only nerds will use the Internet" to "everyone stares at their smartphones all day long!" in 20 years. Not bad, team :-).

— Marc Andreessen (@pmarca) January 16, 2015
The good news is that, at this moment, every human being is far more connected to their fellow humans than any human has ever been in the entirety of recorded history.
Spoiler alert: that's also the bad news.
Nextdoor is a Facebook-alike focused on specific neighborhoods. The idea is that you and everyone else on your block would join, and you can privately discuss local events, block parties, and generally hang out like neighbors do. It's a good idea, and my wife started using it a fair amount in the last few years. We feel more connected to our neighbors through the service. But one unfortunate thing you'll find out when using Nextdoor is that your neighbors are probably a little bit racist.
I don't use Nextdoor myself, but I remember Betsy specifically complaining about the casual racism she saw there, and I've also seen it mentioned several times on Twitter by people I follow. They're not the only ones. It became so epidemic that Nextdoor got a reputation for being a racial profiling hub. Which is obviously not good.
Social networking historically trends young, with the early adopters. Facebook launched as a site for college students. But as those networks grow, they inevitably age. They begin to include older people. And those older people will, statistically speaking, be more racist. I apologize if this sounds ageist, but let me ask you something: do you consider your parents a little racist? I will personally admit that one of my parents is definitely someone I would label a little bit racist. It's … not awesome.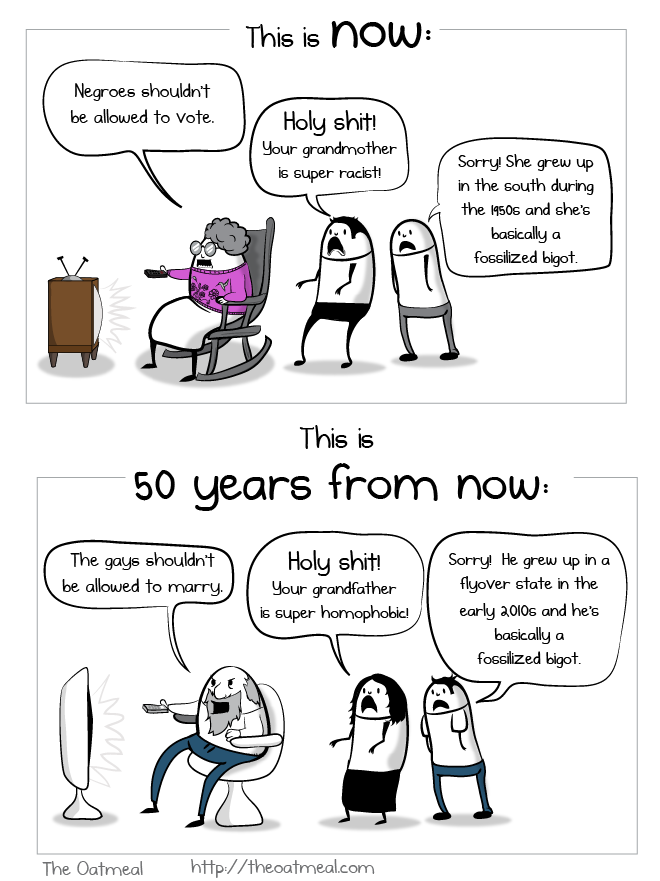 The older the person, the more likely they are to have these "old fashioned" notions that the mere presence of differently-colored people on your block is inherently suspicious, and marriage should probably be defined as between a man and a woman.
In one meta-analysis by Jeffrey Lax and Justin Phillips of Columbia University, a majority of 18–29 year old Americans in 38 states support same sex marriage while in only 6 states do less than 45% of 18–29 year olds support same-sex marriage. At the same time not a single state shows support for same-sex marriage greater than 35% amongst those 64 and older
The idea that regressive social opinions correlate with age isn't an opinion; it's a statistical fact.
Support for same-sex marriage in the U.S.

18 - 29 years old    65%
30 - 49 years old    54%
50 - 64 years old    45%
65+ years old        39%

Are there progressive septuagenarians? Sure there are. But not many.
To me, failure to support same-sex marriage is as inconceivable as failing to support interracial marriage. Which was not that long ago, to the tune of the late 60s and early 70s. If you want some truly hair-raising reading, try Loving v. Virginia on for size. Because Virginia is for lovers. Just not those kind of lovers, 49 years ago. In the interests of full disclosure, I am 45 years old, and I graduated from the University of Virginia.
With Nextdoor, you're more connected with your neighbors than ever before. But through that connection you may also find out some regressive things about your neighbors that you'd never have discovered in years of the traditional daily routine of polite waves, hellos from the driveway, and casual sidewalk conversations.
To their immense credit, rather than accepting this status quo, Nextdoor did what any self-respecting computer geek would do: they changed their software. Now, when you attempt to post about a crime or suspicious activity …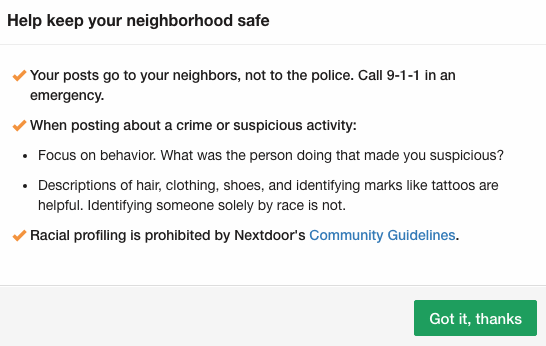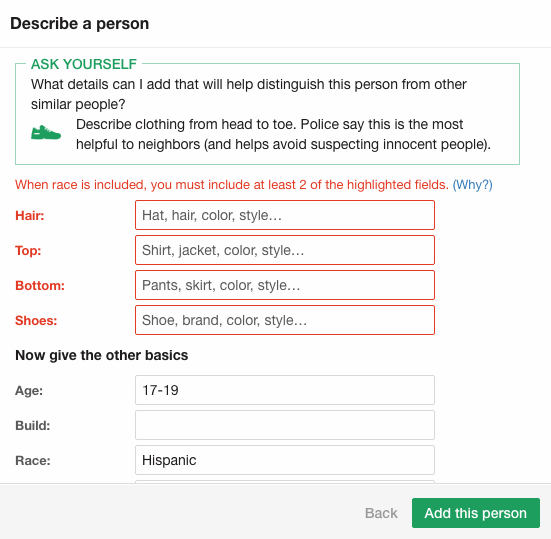 … you get smart, just in time nudges to think less about race, and more about behavior.
The results were striking:
Nextdoor claims this new multi-step system has, so far, reduced instances of racial profiling by 75%. It's also decreased considerably the number of notes about crime and safety. During testing, the number of crime and safety issue reports abandoned before being published rose by 50%. "It's a fairly significant dropoff," said Tolia, "but we believe that, for Nextdoor, quality is more important than quantity."
I'm a huge fan of designing software to help nudge people, at exactly the right time, to be their better selves. And this is a textbook example of doing it right.
Would using Nextdoor and encountering these dialogs make my aforementioned parent a little bit less racist? Probably not. But I like to think they would stop for at least a moment and consider the importance of focusing on the behavior that is problematic, rather than the individual person. This is a philosophy I promoted on Stack Overflow, I continue to promote with Discourse, and I reinforce daily with our three kids. You never, ever judge someone by what they look like. Look at what they do instead.
If you were getting excited about the prospect of validating Betteridge's Law yet again, I'm sorry to disappoint you. I truly do believe software, properly designed software, can not only help us be more civil to each other, but can also help people – maybe even people you love – behave a bit less like racists online.
[advertisement] At Stack Overflow, we help developers learn, share, and grow. Whether you're looking for your next dream job or looking to build out your team, we've got your back.
---
What began as a tantalizing rumor has just become an astonishing fact. Today a group of thirty-one scientists announced the discovery of a terrestrial exoplanet orbiting Proxima Centauri. The discovery of this planet, Proxima Centauri b, is a huge breakthrough not just for astronomers but for all of us. Here's why.
---
Whenever I share images from Curiosity, among the most common questions I'm asked is "what is the scale of this image?" With help from imaging enthusiast Seán Doran, I can answer that question for some of the Murray buttes.
---
Since a few days after entering orbit, JunoCam has been taking photos of Jupiter every fifteen minutes, accumulating a trove of data that can be assembled into a movie of the planet.
---
Our Horizon Goal series on NASA's human spaceflight program continues with part 3, in which newly elected President Barack Obama and his transition team search for a NASA administrator, commission a review of the Constellation program and decide whether to extend the life of the ISS.
---
August 25, 2016


Dinner. £2.75. The Egg Cafe, Top Floor, 16-18 Newington, Liverpool L1 4ED. Phone: 0151 707 2755. Website.
---
Chapter 6
I often talk about that wise SVP that I met in the Arts hotel of Barcelona. I'll jump ahead of the story and let you into a little secret. He didn't have a clue either. However, I didn't find this out until 2011. I had always assumed that there was some secret tome but it turns out that much of industry is fighting battles with a poor understanding of landscape. It's like generals fighting without maps. It boils everything down to luck and individual heroism. When I discovered this, I started to question the trove of business strategy books in my small library. I had an onerous task of going through it all and categorising individual pieces as doctrine, climatic pattern, context specific or just plain luck.
These days, when someone tells me they know strategy then I ask them for a map of their business. If they can't show me it, then regardless of their claims I take a skeptical position. They probably don't know as much as they hope they do. They might even be more dangerous than this as it's rarely the unknown that gets you but what we think we know but don't. This doesn't mean I think people are daft but instead that understanding your landscape, the context that you're competing in and having a modicum of situational awareness is not a luxury for strategy, it is at the very core of it. Inspiring vision statements, well trained forces, a strong culture and good technology will not save if you fail to understand the landscape, the position of forces and their size and capabilities. Colonel Custer is a worthy lesson here and even he had maps which were better than most corporates today. I've seen billions wasted by companies that have charged into battles that they have no hope of winning. I've seen endless SWOT diagrams, stories and other magic thinking used to justify such actions. I've also seen others tear apart industries with ease.
Unfortunately, for those who lack some form of military background then situational awareness is rarely a topic of discussion. It's often a struggle to make executives appreciate that it might matter, that you have to apply thought to the process and that the secrets of success might not work everywhere. In more recent years, I started to recommend that executives spend a month or two in some form of coaching that involves playing a massive multiplayer online role playing game (MMORPG) such as World of Warcraft (WoW). You might think that this sounds like goofing off from the real work of business but for those who are uninitiated then there are some basic practices that an MMORPG will teach you. These include: -
So, how does an MMORPG compare to business? In general, we don't have maps. Most companies suffer from poor situational awareness being caught out by predictable changes. The most telling factor here is that business strategy is normally a tyranny of action - how, what and when - as opposed to awareness - where and why. On the whole, we do a bit better at recognising that multiple aptitudes are needed. However, we often fall down by not considering attitude, the context and isolation (operation in silos). We certainly try when it comes to team play, often having team building exercises which can be a bit hit or miss.
Tips for mapping
There are a couple of general tips, common terms and diagrammatic forms that I apply to mapping itself. My tips include: -
Mapping is not the answer, it's simply a guide. Hence don't try to create the perfect map, the key is to produce good enough and this requires you to share and open yourself up to challenge. Also, you'll likely to use other tools alongside mapping when scenario planning and examining the viability of different points of attack. This can include financial models to my current favourite of business model canvas.
When thinking about strategy, the first thing you need to do is identify where you can attack before why here over there. It' all about position (y-axis) and movement (x-axis).
The entire strategy cycle is iterative and you're going to have to follow the same path. Which means mapping is not going to be a one off exercise but something that happens all the time. Again the temptation is to map the entire landscape in some sort of "deathstar" – large scale, all encompassing, doomed to fail – effort in order to create that perfect answer. Instead you have to embrace the uncertainty, think small and start somewhere. If you're using mapping, it's taking a long time and doesn't seem to help answer any questions, then stop. Don't be afraid to find a better way of doing this.
If you are responsible for strategy, then you need to learn to play the game yourself. I often give strategy consultants a hard time but this doesn't mean they don't have a use. Don't however rely on third parties to give you an answer, instead use them to help you challenge your strategy and to learn new forms of gameplay.
There are numerous terms associated with mapping. I'm often guilty of using them without clearly explaining to others, so in order to rectify this I've provided the most common in figure 52.
Maps are obviously visual and whilst they are far from the ordinance survey maps of geography, it's useful to have a common lexicon of symbols. In figure 53, I've provided the ones I most commonly use.
Mapping itself has evolved over time hence the terms I used in the past are slightly different to the terms I use today. These cosmetic changes are purely to help refine the craft, the underlying meaning has remained constant. However, for clarification, these changes include: -
The original terms were Innovation, Bespoke, Product (+rental) and Commodity (+utility). The problem with this was confusion over the term innovation. An innovation is simply the first(ish) attempt to put an idea into practice but this can mean the genesis of a new thing or a feature differentiation of a product or a shift in business model from product to utility. To clarify I used the term genesis instead as in the first attempt to create an act, a practice, a set of data or a type of knowledge.
The original terms were chaotic and linear. However, this created some confusion with mathematical terms and wasn't very descriptive. Hence I replaced it with uncharted and industrialised.
The original terms were development, framework and systems which became pioneer, coloniser and town planner as the business was folded into the structure. However, coloniser never really stuck and it morphed into settler over time.

Implementing mapping
Most organisations have structures in place that can be used to embed mapping whether it's an architectural group or an office of the CEO or a business relationship function or some other home. Typically, in a distributed organisation then you normally have the business units that are responsible for delivery, some form of executive function that covers policy, approval and accountability and a common or shared services supply group that provides some element of commonality as per figure 54.
However, the common components provided are often a bit hit or miss. Without a form of mapping then it's difficult to find what is duplicated and how it should be provided. It will often degenerate into plucking things from the air. There also tends to be an element of political conflict between the business units and the shared services and in the worst cases the shared services function can be viewed as a hindrance.
To resolve this, we need to separate out the delivery of shared services from the identification of what is common. I've found the best way to achieve this is not to remove budget from the business units (often a political bone of contention) but instead to introduce a co-ordination function. The role of the co-ordination function is to encourage compliance to policy (doctrine) often via a spend control mechanism and to enable sharing between the business units through the use of maps. This doesn't require some big bang overhaul but usually the formalisation of an existing structure e.g. Office of an executive function or an architectural board into this role. When spend control is used then a policy limit (e.g. £500K) should be set above which any project must be mapped and the map sent to the co-ordination function. The function can then analyse the map, make recommendations and introduce elements of transparency and challenge within the organisation. As more maps are gathered then the function can also identify patterns for common services. This should become a relatively quick process lasting a few hours from initiation to recommendation.
To the question, shouldn't the co-ordination function be part of the executive function then I'd answer yes. In my company, the co-ordination function was the executive team. In a larger company you might want to start with a separate topographical intelligence function. Remember, you are unlikely to have any maps of your landscape and your SVPs / VPs won't be able to magic them out of hand. They'll need support and help.

Continuous learning
This entire book is a process of continuous learning, however it's more important for me to demonstrate how to achieve this (the strategy cycle) rather than the specifics of particular patterns. Once you have the basics, you will learn the patterns for yourself. However, it's also worth me recapping as we go along this journey. In figure 56, I provided the basic patterns so far examined.
Anti-patterns
I'm a great believer in using anti-patterns to examine the effect of not doing something. In this case, what are the anti-patterns for not mapping? In general, they will be the reverse of the doctrine that is developed from mapping along with a failure to cope with climatic patterns and incorrect use of context specific play. We can use this to describe what an organisation that doesn't understand its landscape looks like. I often use this as a way of analyzing competitors but be careful, there's a whole topic of misdirection that we haven't touched upon yet. The anti-pattern organisation will look something like this.
Has an inability to describe its user needs and often confuses its own needs – profitability, revenue, data acquisition – with those of its user.
Uses multiple different ways of describing the same problem space e.g. box and wire diagrams, business process diagrams and stories. Often suffers from confusion and misalignment.
Action is often taken based upon memes or Hippo (highest paid person's opinion). Often parts of the organisation will admit to building things they know won't work.
The scale of duplication is excessive and exceeds in practice what people expect. Any investigation will discover groups custom building what exists at a commodity in the outside world, their very own Thomas Thwaite toaster. Often resistance is given to changing this because it is somehow unique despite any inability of the group to explain user needs.
Tends toward big scale efforts (e.g. Death Star projects) and big departments. This can include major platform re-engineering efforts or major re-organisations.
Tends to bolt on new organisational structures as new memes appear. A cloud department, a digital department, a big data group etc.
There is often confusion within the organisation over its purpose combined with feelings of lacking control and ability to influence.
Often conducts efficiency or innovation programmes without realising the connection between the two. Assumes it has choice on change (e.g. cloud) where none exists. Fails to recognise and cope with its own inertia caused by past success.
Has no existing language that enables it to understand context specific play. Often uses terms as memes e.g. open source, ecosystem, innovation but with no clear understanding of when they are appropriate.
Tends to not fully grasp the components and complexity within its own organisation. Often cannot describe its own basic capabilities.
Tends to be dominated by statements that strategy is all about the why but cannot distinguish between the why of purpose and the why of movement. Has little discussion on position and movement combined with an inability to describe where it should attack or even the importance of understanding where before why. Often strategy is little more than a tyranny of action statements based upon meme copying and external advice.
Books to read
There aren't any books that deal with topographical intelligence in business that I'm aware of which is why after almost eight years of badgering I'm finally getting around to writing one. I'm a very reluctant writer and this is not a comfortable activity for me. However, there's lots of other books that I'd recommend reading because of general concepts they provide. I don't necessarily agree with everything that is said but these are definitely worth exploring especially because of later chapters in this book. I find that all of them are worth spending time with.
---
Film Here's a rare thing. In this week's Random Roles at The AV Club, Clea Duvall talks about her guest appearance on Buffy: The Vampire Slayer:

"It was pretty early in my career. I'm almost positive we shot it before it had aired. Or maybe I just didn't know they were doing that show, and when my agent told me I had an audition for it, I was like, "They're making a TV show of Buffy The Vampire Slayer? That's insane." Then I went on to also become obsessed with the show, because it's so good. But I was pretty new, and I was really young. I think I was maybe 18 or 19 when we shot it. I was nervous and very shy, but really related to that character so much because I am a shy person. I am an introvert. I was so taken with the sensitivity and the emotion in that role. When I first heard the idea they were making a show about Buffy The Vampire Slayer, I thought it was insane and then read that script and was impressed, and it's something I'm happy I was a part of."
The whole of the first season of Buffy was indeed filmed before it aired, the studio and channel were that confident about its success. The full story is in the utterly brilliant in place (illegibly wonkish in others)
Season Finale: The Unexpected Rise and Fall of the WB and UPN
which
I reviewed here
[
via
].
---
August 24, 2016
TV The Art of the Title finally reaches the credit sequence for My So-Called Life, of the best uses of montage in titles and theme song. They interview director Scott Winant and title designer Kathie Broyles and reveal a titbit about what Claire Danes was like as an actress at this point:

There is also a good deal of movement, lots of swirling of cameras and characters. Was that to represent her metamorphosis?

Scott: When Claire was cast, she wasn't an experienced actress, so she didn't know how to hit her mark or stand still while we were shooting. They wanted me to stop her from doing that and I said, "No, I actually want to embrace this." So we worked around Claire.

If you look at that image of her silhouetted in the street with Brian Krakow, under the trees, I waited to get to that moment because I knew Claire would spin on her toes and spin her purse behind her and it would make a great silhouette. Television allows us to adapt not only to the story but the actors themselves.
After watching the credit sequence again, I want to watch the whole series again. Oh to have the time to have a time.
---
August 23, 2016


Lunch. £3.60. The British Library Restaurant and Terrace, 96 Euston Rd, London NW1 2DB. Phone: 0330 333 1144. Website.
---
August 22, 2016
Music In the middle of everything else, the astonishing musician Laura Marling has begun a podcast in which she interviews women working in the music industry. Here's the first episode:

"In our first Reversal of the Muse podcast, Laura speaks to female sound engineer Vanessa Parr. Vanessa was the in-house engineer at the renowned Village Studios in LA, and has worked with some of the greats: Elton John, B.B. King, Coldplay and John Mayer amongst others.

"In her chat with Laura, Vanessa recalls how she broke into a male dominated field, where female engineers are few and far between. Together, they share their insights on both the benefits and challenges faced through being the only women in the studio."
Worth noting that Marling is more professional and engaging than half the people who work in professional radio. Oh wow,
just noticed the second installment is with Haim
.
---
August 21, 2016
Chapter 5
In chapters one to four I've covered the basics of mapping, common economic patterns and doctrine. However, these Wardley maps of business don't tell you what to do any more than a geographical map tells an Admiral. The maps are simply a guide and you have to decide what move you're going to make, where you're going to attack and how you navigate your ship through the choppy waters of commercial competition. In other words, you have to apply thought, decide to act and then act. In this chapter we're going to cover my journey through this part of the strategy cycle – see figure 42.
Identifying opportunity
The dangers of past success
The problems around making a choice usually stem from past success and the comfort it brings. We had an existing photo service along with other lines of business which generated a decent revenue. Would it not be better for me to just continue doing what we were doing? I'd be taking a risk changing the course we were on. However, I had recently watched another company fail to manage change and was acutely aware of the dangers of not taking a risk. That company was Kodak.
Being an online photo service, I had a ringside seat to the fundamental shift happening in the image market between 2000 to 2005. The photo had been seen as something with value to customers due to its costs in terms of time and money to produce - the visit to the photo lab, the cost of processing and the wait for it to be delivered via the post. Film was at the centre of this and the only thing more annoying than waiting for it to be processed was not having enough film to take that next shot on holiday. Many times in the past, I had to make choices over which picture I took due to a limited number of shots left. However, the image and the film were really just components to delivering my overall need which was sharing my experiences. The image was also evolving from analog film to a new digital world in which I could take pictures and delete the ones I didn't like. I might have a limit in terms of memory card but I could always download to a computer and share with others. There was no film processing required.
In any choice I was going to make, I had to be careful of inertia and past success. Simply standing where we were might be the comfortable option but it didn't mean we would have a rosy future. Our fraught issues around our parent's photo service could grow if we embraced a camera phone future as this would put us in direct conflict with its core DSC business. However Kodak was a clear example of what could go wrong if you didn't move fast enough into the future, allowed inertia to slow you down or compromised by placing the bets in the wrong place. But maybe there was another future we could find but how far into the future should we peek?
The near, the far and the crazy
Back in the late 90s, I had taken a deep interest in 3D printing. It was the main reason why I had originally joined the near bankrupt online photo service because I envisaged a future where images of physical things would be shared. I wanted to learn about the space of sharing images. When we were acquired by one of the world's largest printer manufacturers, I was overjoyed. I assumed that they too would share my passion. I gave numerous presentations on the topic both externally and internally within the parent company on this subject and to my disappointment it was always the external crowd that got more excited. In 2004, I gave a presentation at Euro Foo on the future of 3D printers. The subject was a pretty hot topic at the time and one of the audience that I was fortunate enough to meet was Bre Pettis who was demonstrating his felt-tip pen printer, the DrawBot. Why fortunate? Bre founded MakerBot and subsequently rocked the world of 3D printing.
Whilst 3D printing was a passion, I had also an interest in printed electronics especially the work of Sirringhaus and Kate Stone. I started to use these concepts to describe a future world of how manufacturing would change. The basics are provided in figure 46 but we will go through each step of this map.
However, I had previously raised these discussions within the parent company and had become aware that whilst we might be able to make far future anticipations of change, they were increasingly built on layers of uncertainty and were increasingly unfamiliar and uncomfortable to others. The further we went, the crazier the ideas sounded and the more concerned people became. This itself creates a problem if you intend to motivate a team towards a goal. Hence, if I was going to choose a course of action, it needed to push the boundary but not too far so that it seemed like science fiction.
I was starting to feel uncomfortable with: -
The question now became, given our choices could we influence the market in any way to benefit us? Could that help us decide why here over there?
Learning context specific gameplay
Context specific play: Accelerates, decelerators and constraints
I understood that everything evolved due to competition and had plenty of evidence to show past examples from electricity to nuts and bolts. The question was could I somehow influence this? By coincidence, from the very early days of 2001 we had not only been users of open source but also contributors to it. We supported the Perl language and many other open source projects. I had purposefully used these as fertile hunting grounds to recruit my amazing team during 2002-2005. But I had also observed how open source efforts through collaboration with others had produced stunning technology that out surpassed proprietary efforts in many fields. In many cases, open source technology was becoming the de facto standard and even the commodity in a field. It seemed that the very act of open sourcing, if a strong enough community could be created would drive a once magical wonder to becoming a commodity. Open source seemed to accelerate competition for whatever activity it was applied to.
I had also witnessed how counter forces existed such as fear, uncertainty and doubt. This was often applied by vendors to open source projects to dissuade others by reinforcing any inertia they had to change. Open source projects were invariably accused of being not secure, open to hackers (as though that's some form of insult), of dubious pedigree and of being a risk. However, to us, and the millions of users who consumed our services then they were an essential piece of the jigsaw puzzle. By chance, the various battles around open source had increased my awareness of intellectual property. I became more acutely conscience of how patents were regularly used for ring-fencing to prevent a competitor developing a product. This was the antithesis of competition and it was stifling. I started to form an opinion that certain actions would accelerate competition and drive a component towards a commodity whilst others could be used to slow its evolution. The landscape could be manipulated.
At the same, I had noticed that as certain activities became more industrialised and therefore more widespread then it often became difficult to find people with the right skills or there were shortages of underlying components. The evolution of a component could therefore be constrained by a component it depended upon. I've summarised these points in figure 47 by applying them to our first map.
I started to explore the map further, looking for other ways we could exploit.

Context specific play: Innovate, Leverage and Commoditise
I have frequently been told that it is better to be a fast follower than a first mover. But is that true? Using the map told me a slightly more complex story. Certainly when exploring an uncharted space, there was lots of uncertainty and huge costs of R&D. It certainly seemed better to let others incur that risk and then somehow acquire that capability. But researchers and companies were constantly creating new things and so there was also a cost of discovering that new successful thing in all the noise. We wouldn't be the only company trying to play that game and any acquisition cost would reflect this. If we wanted to play that game, then somehow we need to be able to identify future success more effectively than others.
However, what If our pioneers weren't us but instead other companies? Could our settlers discover successful patterns in all that noise? The problem of course was where would we look? Like any product vendor we could perform some marketing survey to find out how people were using our components but this seemed slow and cumbersome. Fortunately, our online photo service gave us the answer.
There is some subtle beauty in the ILC model. If we take our ecosystem to be the companies building on top of our discrete component services, then the larger the ecosystem is: -
Being constantly the first mover to industrialise a component provides a huge benefit in enabling us to effectively be a fast follower to future success and wealth generation. The larger the ecosystem we build, the more powerful the benefits become. This model stood in stark contrast to what I had been told – that you should be a fast follower and that you could be one of highly innovate, efficient or customer focused. Looking at the map, I knew that with a bit of sleight of hand then I could build the impression that I was achieving all three by being a first mover to industrialise and a fast follower to the uncharted. I normally represent this particular form of ecosystem model (there are many different forms) with a set of concentric circles that describe the process – see figure 49.
Using context specific gameplay: the play
It was at this point, with some context specific gameplay in hand that I started to run through a few scenarios with James, my XO and my Chief Scientist in our boardroom. Our plan started to coalesce and was enhanced by various experiments that the company had conducted. Not least of which was the head of my frameworks team walking in to tell me that they had just demonstrated we could develop entire applications (front end and back end) in Javascript.
At the same time as refining our play, I had encouraged the group to develop component services under the moniker of LibApi as in liberation API i.e. our freedom from endlessly repeated tasks and our existing business model. To say I was rapturous by this experiment would be to underestimate my pure delight. This fortuitous event helped cement the plan which is summarised in figure 50. I'll break it down and go through each point in detail.
The option looked good based upon our capabilities. It was within the realm of possibilities and mindful of the constraints we had. This seemed to provide the best path forward. It would mean refocusing the company, removing services like our online photo site and putting other revenue services into some form of minimal state until the platform business grew enough that we could dispose of them. I was ready to pull the trigger but there was one last thing I needed.
Impacts on purpose
What happened next?
We built it. On the 18th Feb 2006 we had the platform, core API services, the billing system, the portal and three basic applications for others to copy. We launched in March 2006, a full two years before Google appeared on the scene with AppEngine. By the 18th April 2006, we had 30 customers, 7 applications and a monthly rate of 600K API calls. By the 19th June 2006, we had 150 customers, 10 applications and a run rate of 2.8M API calls. We were growing!
On August 25, 2006 it wasn't Google but Amazon that launched with EC2. I was rapturous once again. Amazon was a big player and we immediately set about moving our platform onto EC2. Every time we presented at events our booths tended to be flooded with interest. The company had embraced the new direction (there were still a few stragglers) but there was a growing buzz. We still had a mountain to climb but we had announced the open sourcing, secured a top billing at OSCON in 2007 and the pumps were primed. But Houston, we had a problem.
What went wrong?
---


Film As anyone who's read my Love Actually evisceration will know, my dissertation, completed nearly ten years ago this month, was about hyperlink cinema, films with lots of characters, storylines and locales so called because of their similarity to how the web is structured. The question I asked myself was whether this constituted a genre or narrative form. I concluded then that I didn't know. Now I'm sure it's both. The second chapter which considered their narrative properties began by summarising their antecedents, the key influences and it's in this area as I was writing somewhere in mid-July that I realised that I'd made the error of selecting a PHd topic for my MA dissertation and that there was clearly thousands of words which could be written about this. So I wrote thousands of words, many of which then had to be trimmed before the handing in date leaving that second chapter as a summary of what I would have written, lots of phrases like "space does not allow for the presentation of a detailed analysis of literary history" that sort of thing. Since my favourite film of 1932, Grand Hotel, would also spark the cycle of that sort of film and was arguably the key influence on what went later, I thought I'd offer a mild rewrite of that portion of my dissertation.

After some preamble explaining the point, I went straight into literature and the shop floor with Shakespeare, who, despite having been influenced by earlier sources, was arguably the key ancestor of the cross cutting storyline structure (not counting the Bible). Both A Midsummer Night's Dream and Measure for Measure, for example, share similarities particularly in relation to the depiction of different classes and geographic locations and with storylines that are only connected during the main body of each play by a single character – Puck in the former, Lucio in the latter with all of the characters and some of the stories dovetailing together in Act Five (Shakespeare, 1964; Shakespeare, 1979). Tolstoy's War & Peace (1865-9) relates the stories of a variety of families over an eight year period reacting to the Napoleonic invasion of Russia, introduced together in the reception given by Anna Pavlovna Scherer at the opening of the novel (Various, 2006). The novels of Charles Dickens are famous for their digressive narratives, with Bleak House (1852-3) in particular featuring storylines that are only connect through chance (despite the utilisation in places of the orphan, Esther as a first person narrator) (Allan, 2004: 101). In Our Mutual Friend (1864-5) too, the storylines of Boffin and Wrayburn are only connected through the waterside murders (Hayward, 1997: 41).

Some works also feature a map of the location to help orientate the reader, in the following cases a township and train carriages. Sherwood Anderson's Winesburg, Ohio (1919) is a novelistic anthology with a narrative that flits back and forth amongst townspeople each with their own stories connected through George Willard the author's autobiographical presence within the town. As Malcom Cowley indicates the author 'would have liked to tell the stories of all the faces he had ever seen' (Anderson, 1967: 5) and all of these short tales contributes narrative details to the others (Anderson, 1967: 13). Geoff Ryman's 253: The Print Remix (1998), covers a seven and a half minute commuter journey between two London underground tube stations which ends with a crash, the reader being presented with descriptions of travellers and how their actions, however small, effect one another. Ryman's book, which began as a website, is somewhat interactive in that the reader can 'visit' each of the characters in any order – however if read from cover to cover in the traditional way, like Anderson's book, the effect is cumulative, some details only becoming illuminated as the reader's knowledge of events increases (Ryman, 1998: 2).

Intolerance appears to be the first film that consciously exploits a multi-strand narrative structure, intercutting between four very distinct storylines (the fall of Babylon, the crucifixion, the Edict of Toleration which led to the St. Bartholomew's Day massacre and a contemporary story about a young Irish Catholic boy), although as David Bordwell notes the film eschews 'causal connections' (Bordwell, 2006: 93), with instead the thematic link of social injustice. The process of watching the film is still very similar to that of hyperlink cinema since it requires the spectator to absorb a group of parallel storylines refocusing their attention with each shift in timeframe. The next film that visibly demonstrates the structure of 'a cross-section of life, taking it and leaving it where you found it – a story without a beginning and with no ending' (Anonymous, 1982: 156) was Grand Hotel (1932) which also contained four or five distinct stories none of which have primacy and the inferred main protagonist, The Baron certainly does not receive narrative closure; the critic of Grand Hotel quoted above hints at a weakness of the format that will be considered later: 'a more careful scrutiny might reveal that the interwoven plots seem to fall somewhat short of building suspensefully to clearly defined climaxes' (Ibid., 1982: 156).

The film would spark a production cycle of works that featured a large cast of stars in cross-connected storylines, although the majority would be far less experimental in their plotting; with the exception of Dinner At Eight (1933) all deferred to a 'one locale' setting -- 'Columbia's American Madness (1932), which is set in a bank, Warner's Employee's Entrance (1933), which is set in a department store, and Paramount's The Big Broadcast (1932), which is set in a radio station' (Balio, 1995: 101). The reticence towards using a spread of locations, with the need for a more complicated shooting and editing style may have been a production decision, but it could also be proposed that more locales would lead to even greater amount of the exposition that was presumed needed at the time to keep the narratives coherent. It could also be inferred that these films would notionally influence the development of television soap operas, which also have surface similarities to hyperlink cinema. As Nick Lacey suggests, these 'do not centre their narratives on one, or two, main characters; instead they follow the lives of several characters in a particular setting with a multi-stranded narrative structure' (Lacey, 2000: 38). It could also be argued that soap operas as well as television drama series such as The West Wing (1999-2006), Desperate Housewives (2004-) and The Sopranos (1999-) are even more complex because they require the viewer to follow these causal narratives from week to week over many years, with the expectation that the audience will retain enough character information to sustain the resonance of the drama.

The Grand Hotel cycle might equally be considered the first in a group of what are described as 'ensemble films', which according to Linda Cowgill are 'essentially subplots which have to be connected without the benefit of a main plot to hold them together' (Cowgill, 2005). Understandably hyperlink cinema is usually assumed to be part of this group and indeed when a survey of recommendations was published in the Summer 2006 issue of DVD Review magazine, Magnolia (1999) and Short Cuts (1993) featured alongside The Big Chill (1983) and Hannah and Her Sisters (1986) (Bainbridge, 2006: 34). Cowgill suggests films as diverse as The Great Escape (1963), Independence Day (1996), Twenty Bucks (1993), The Right Stuff (1983) and Diner (1982) (Cowgill, 2005). Many ensemble films link their characters together by having them meeting periodically – in Late Night Shopping (2001), four twentysomethings share insights on their own stories at an all-night café during their break from work. Mallrats (1995) continues the MGM tradition by setting its stories largely inside a giant shopping centre. Others utilise what Cowgill describes as a 'story frame' – a main narrative that either sparks or binds all of the storylines together (Cowgill, 2005). In A Bridge Too Far (1977), although there are many separate plotlines featuring both officers and civilians, they are all a reaction to the war and in particular Operation Market Garden the failed Allied attempt to bring a decisive victory against Germany in World War II. The Lord of the Rings: The Two Towers (2002) despite having qualities similar to hyperlink cinema, a story frame is created by the war of Middle Earth, the ring quest and the two films that book end this central film of a trilogy. But a story frame can be much simpler than that – stories detailing the final night of a school year (American Graffiti (1973), Dazed and Confused (1993)) or a wedding (Diner (1982), A Wedding (1978)).

Bibliography

Allen, Janice. 2004. A Routledge Literary Sourcebook on Charles Dickens' Bleak House. Routledge, London.

Anderson, Sherwood. 1967. Winseberg, Ohio. Introduction by Malcolm Cowley. Jonathan Cape, London.

Anonymous. 1982. Grand Hotel. In. From Quasimodo to Scarlett O'Hara: A National Board of Review Anthology: 1920-1940. Edited by Stanley Hockman. Frederick Unger Publishing Co., New York.

Aronson, Linda. 2000. Screenwriting Updated: New (and Conventional) Ways of Writing for the Screen. Silman-James Press, Los Angeles.

Balio, Tino. 1995. History of the American Cinema: 5: Grand Design: Hollywood as a Modern Business Enterprise: 1930-1939. University of California Press, Berkley.

Bainbridge, Gavin. 2006. Shelf Space: Ensemble Films. In. DVD Review. 92.

Bordwell, David. 1985. Narration in the Fiction Film. Methuen & Co. Ltd., London.

Bordwell, David. 2006. The Way Hollywood Tells It: Story and Style in Modern Movies. University of California Press, Berkeley.

Bordwell, David & Kristin Thompson. 2004. Film Art: An Introduction: Seventh Edition. McGraw Hill, New York.

Cook, Pam. 1985. The Cinema Book. British Film Institute, London.

Cowgill, Linda. 2005. Writing the Ensemble Film: Part One: The Gang's All Here. In. Creative Screenwriting. Available at: http://www.creativescreenwriting.com/csdaily/craft/04_08_05.html. Accessed: 13th June 2006.

Hayward, Jennifer Poole. 1997. Consuming Pleasures. University Press of Kentucky, Kentucky.

Jameson, Frederic. 1985. Postmodernism and Consumer Society. In. Postmodern Culture. Edited and Introduced by Hal Foster. Pluto Press, London.

Johnson, Steven. 2006. Everything Bad Is Good For You: How Popular Culture Is Making Us Smarter. Penguin Books, London.

Jung, Carl. 1972. Synchronicity: An Acausal Connecting Principle. Translated from the German by R.F.C. Hull. Routledge, London.

Lacey, Nick. 2000. Narrative and Genre: Key Concepts in Media Studies. Palgrave, Hampshire.

Marks, Greg. 2005. Filmmaker Commentary with Director Greg Marks. In. 11:14 DVD. New Line Home Entertainment Inc., Los Angeles.

Műnsterberg, Hugo. 1999. The Means of the Photoplay. In. Film Theory and Criticism: Introductory Readings: Fifth Edition. Edited by Leo Braudy and Marshall Cohen. Oxford University Press, Oxford.

Propp,Vladimir. 1958. Morphology of the Folktale: Edited with an Introduction by Svatava Pirkova-Jakobson: Translated by Laurence Scott. Indiana University Research Center In Anthropology Folklore and Linguistics, Indiana.

Ryman, Geoff. 1998. 253: The Print Remix. Flamingo, London.

Shakespeare, William. 1964. Measure for Measure. Edited by S. Nagarajan. Signet Classic, New York.

Shakespeare, William. 1979. A Midsummer Night's Dream: The Arden Shakespeare. Edited by Harold F. Brooks. Routledge, London.

Sobchack, Vivian. 2004. Carnal Thoughts: Embodiment and Moving Image Culture. University of California Press, California.

Todorov, Tzvetan. 1975. The Fantastic: A Structural Approach to a Literary Genre. Cornell Paperbacks, New York.

Various. 2006. War and Peace. In. Wikipedia: The Free Encyclopedia. Available at: http://en.wikipedia.org/wiki/War_and_Peace. Accessed: 8th August 2006.

Wood, Jason and Eileen Anipar. 2005. An Introduction to 'Me And You And Everyone We Know' by Miranda July. In. Me And You And Everyone We Know DVD. Optimum Home Entertainment, London.
---
August 20, 2016
Travel Overnight travel has begun on the London Underground and as well as passengers, the lines seem to have been filled with journalists (or at least two) trying to discover the kinds of people who're using the service. Here's Martin Belam in The Guardian:

"Friday's service started with little fanfare at Walthamstow Central, as the 00.10 departure, newly classified on the timetable as a night tube, left with only a few people on board. Naso Koutzoukis was one of them. Originally from Athens, and having lived in London for five years, he'd travelled on the train specifically to head in to town to "see the drunken crowds. It should be fun."
The Buzzfeed takes a more listicle approach. Chris Bethell
:
"Nandi and Adam, 2:53am, Chancery Lane

Nandi and Adam had been at a "great house party" in Peckham. Nandi said the night tube gave them more freedom and flexibility: "So we were like 'should we go home? Yeah'." Adam added: "Or we would have had to stay til 5am. We didn't want to do that but we might have had to otherwise."
Both stories contain some wonderful photography capturing humanity and it's most tender or real trying to get home. I wonder if Chris and Martin bumped into each other or passed by as strangers unaware that they were on the same story.
---
Some people on the internet are getting very excited at the (unconfirmed) reports of an "Earth-like" exoplanet orbiting Proxima Centauri, a mere 4.25 light-years away from Earth. If correct, the planet is orbiting in the liquid water zone around our nearest stellar neighbour and is of the same order of mass as the Earth. (Note that this could mean anything from Mercury to Neptune in scale: it's very approximate at this stage. Earth-like in exoplanetography does not mean it's a habitable new eden suitable for colonization, it just means "not a gas giant like Jupiter or a tiny dwarf like Pluto".)
So here's a reality check.
The report allegedly comes, not from the Kepler planet-finder space telescope, but the La Silla Observatory. It hasn't been confirmed yet and ESO aren't commenting. If confirmed it'll be big news for exoplanetography, but there's a huge caveat attached to it which you can bet your bottom dollar the regular news media will miss completely in the aforementioned excitement:
4.25 light years is roughly 40 trillion kilometers (or 25 trillion miles, if you're American).
I don't want to minimize the significance of the discovery; it's certainly a good addition to the list of potentially habitable exoplanets here, but you will note that 4.25 light years isn't an order-of-magnitude improvement over the previous winners for Earthlike proximity, such as Wolf 1061c (13.8 light years away) or Kapteyn B* (12.76 light years away). We're talking about the difference between 40 arbitrarily-huge-units and 100 arbitrarily-huge-units. So how should we contextualize these arbitrarily-huge-units?
Currently, the most distant visited body in the solar system is Pluto, at 7.5 billion kilometers. The New Horizons probe flew past Pluto on July 14, 2015. It was launched on January 19th 2006 by a booster and upper stage combination that blasted it straight up to solar escape velocity, with a speed of 16.26 km/sec (58,536 km/h), making it the fastest human-made vehicle ever: it then executed a Jupiter gravity-assist flyby to slingshot it out past Pluto, where it arrived nine and a half years after departure.
This veritable speed racer of an interplanetary probe would thus require a mere 31,600 years to reach Proxima Centauri (if indeed it was pointed in the right direction, which it isn't).
Yes, but what if we sent a probe using (wave hands) some vastly better propulsion system that exists only as a series of paper studies, you may ask? For example, use an M2P2 plasma sail to hitch a ride on the solar wind? Well, that might reach the dizzy speed of 500km/s, in which case it might actually get to Proxima Centauri in less than a thousand years (just). This seems, from my reading, to be the best we can hope for in the near future—nuclear-thermal rockets don't offer anything like as much of a performance boost over chemical rockets as one might naively think, and it's kind of dumb to postulate a spacegoing fusion reactor until we can get one to work on Earth (and figure out what to do with the gigawatts of waste heat it'd be spewing out when mounted on a spacecraft in vacuum, which as you know is a rather good insulator).
What if we leave the engine back home? Put an M2P2 sail on a probe, but instead of relying on the solar wind, point a plasma beam at it in order to maintain thrust throughout the voyage (this is called a MagBeam propulsion system)? Now we're talking ... but such a beam generator is going to have to be constructed and operated in space (down here there's too much atmosphere in the way), and it's going to take a lot of power to generate significant thrust, much less to ensure enough of the plasma beam reaches the probe to continue generating thrust once the probe is significantly far away from home. NB: when I say lots of power, I'm talking of the same ball-park as the entire electricity production of the USA to keep pushing a probe of the same sort of size as New Horizons for a few years.
We might get a small probe up to arbitrarily high velocities if we cheat by using an engine that stays back home where we can keep it running, but then we run into other problems. Space is not empty and vacuum is not perfect. There are gas molecules (mostly neutral hydrogen) sitting around in deep space; on the order of 102 to 106 atoms per cm3. This is vastly more tenuous than the best vacuum we can produce on Earth, but it's still going to be intensely damaging to any spacecraft we can design that would have to traverse it at speed. Roughly 1% of the ISM consists of helium atoms, and we have a technical term for an ionized helium nucleus travelling at roughly 2% of the speed of light—6000km/sec—we call it an alpha particle. At a notional 6000km/sec interstellar cruise speed (2% of lightspeed), a space probe is going to encounter up to 10,000 alpha particles per centimeter of distance travelled, or 6 trillion alpha particles per square meter of frontal area per second. That's 6 TBq of radiation; or in old money, 160-odd Curies. To get a feel for what this means, note that the Fukushima Daiichi reactor meltdowns released about 100 million Curies, so the front of our one-meter-square-frontal-area probe would receive that amount of irradiation every eight days from alpha particles alone (the situation is undoubtedly worse when you factor in proton and gamma radiation bombardment). It might be better by 2-3 orders of magnitude if I've over-estimated the density of helium atoms in the stellar vicinity ... but then you can simply change the bottom line from 3 nuclear reactor meltdowns per week per square meter to 3 nuclear reactor meltdowns per year per square meter.
It still doesn't make much difference: at 2% of lightspeed, Proxima Centauri is 212 years away.
Anyway, the point I'd like you to take away from this is that while it's really hard to say "sending an interstellar probe is absolutely impossible", the smart money says that it's extremely difficult to do it using any technology currently existing or in development. We'd need a whole raft of breathroughs, including radiation shielding techniques to kick the interstellar medium out of the way of the probe as well as some sort of beam propulsion system and then some way of getting data back home across interstellar distances ... and that's for a flyby mission like New Horizons that would take not significantly less than a human lifetime to get there.
---
Subscriptions
---
Updated using Planet on 27 August 2016, 04:48 AM