This combines together some blogs which I like to read. It's updated once a week.
May 30, 2016
Campaigners have cast a harsh spotlight on the United Nations' peacekeeping mission in the Central African Republic (CAR), in which soldiers are accused of hundreds of sexual assaults on children and young women.  Extremely disturbing revelations about the widespread abuse, and how it was enabled, implicate peacekeepers from over ten countries involved in the mission, named MINUSCA. The problem is wider than CAR however. A report released last June said at least 480 allegations of sexual exploitation and abuse had been made between 2008 and 2013, with one third involving children.
Read part 1: The UN and its Whistleblowers – how did officials let it reach this point?
On Thursday 17th December, 2015 the External Independent Review Panel (the 'CAR Panel' for short) submitted its highly-anticipated report titled Taking Action on Sexual Exploitation and Abuse by Peacekeepers: Report of an Independent Review on Sexual Exploitation and Abuse by International Peacekeeping Forces in the Central African Republic.
Alongside distressing details of the ordeal victims were put through at the hands of peacekeeper forces, the panel criticized systemic failures by UN personnel, pointing to a culture of impunity, flawed mechanisms to investigate reports and inadequate victim support structures, which worsened their marginalization. They provided 12 recommendations to tackle the issue moving forward, and said in no unclear terms: "the fact that the problem persists despite several expert reports commissioned by the UN over the last ten years only serves to exacerbate the perception that the UN is more concerned with rhetoric than action."
"We want to ensure that what is being promoted in the media by the UN is actually more than PR exercises"
The growing conversation in the mainstream media, both print and television, as well as on social media is in part due to the work of Samantha Asumadu, Guilaine Kinouani and supporters of Media Diversified.
Driven by inaction over the CAR Panel's 12 recommendations, the #PredatoryPeacekeepers campaign began a petition in April, which has gained 8,000 signatures so far. It demanded:
That the 12 recommendations of the Independent Panel be recognized and implemented
That the French government withdraw all its troops from CAR and investigate and prosecute the perpetrators of the horrific abuses of children
Action to ensure victims receive proper care and support in rebuilding their future and prevent further abuse
The Leveller spoke to Guilaine Kinouani, one of the organizers of the campaign, about what drove her:
"The first thing was the invisibility of the victims and the alleged victims. Taking an intersectional look at their plight, considering that they were mainly children, black, African, poor and from the 'Third World' – all those axes of identity and oppression I felt meant their suffering was receiving very little attention. I think that perhaps the general public in Western countries have become quite desensitized to the suffering of African people. I do to some degree blame the kind of construction of black people generally and the images of African children in the media specifically. Also I am a black woman. I am a black woman of African descent, and I am a black woman of Congolese descent. So Congo, Brazzaville is also a country that has had its fair share of conflict and war so I felt that the issue, from a personal perspective, had a lot of resonance. I also want to say that as a black woman who is French, I also understand what it is like to be invisible. All those factors taken together made me want to do something and make some noise about the suffering of those children and vulnerable women."
Media Diversified has been covering the story of sexual abuse by peacekeeper forces for some time. Kinouani pointed out that since the campaign was building, figures within the UN had engaged, both via Twitter and mainstream media such as in a BBC interview, with Media Diversified founder Samantha Asumadu and UN Deputy Special Representative in CAR, Diane Corner. This year also saw the passing of a resolution by the UN Security Council aimed at tackling allegations of abuse and repatriating military or police units "where there is credible evidence of widespread or systemic sexual exploitation or abuse." France in particular has begun the process of moving its troops out of CAR, despite the deadline previously being set for the end of the year.
"People think this is something that can never change, that we will always be treated in this manner. That's something that needs to be named and addressed"
A more subtle impact that Asumadu and Kinouani have noted is a shift in language. The same term they have used – 'predator' or 'predatory' – is now being adopted elsewhere. In the wake of increased pressure from the campaign and a wide number of articles covering the topic, stretching from the Guardian to the Canary, from Al Jazeera to the Mail Online, senior-level UN figures are making more promises of action.  Kinouani felt that things are moving in the right direction but noted:
"It's still very, very woolly… We've had over 8 thousand signatures in about six, seven weeks or so which is not insignificant and putting that in the context of what those eight thousand signatures have achieved I think we need to recognize that there has been some success, but it's just the beginning and it's a very fragile game. We want to ensure that what is being promoted in the media by the UN is actually more than PR exercises. Given the history of peacekeeper abuse, rape and even allegations of murder dating back to at least the 1990s if not earlier, I think it's simply not good enough for the UN to be saying that they are handling the issue and working towards accountability and structural change and just providing very vague media/PR informed accounts or giving very, very broad responses."
Discussions about the UN's mismanagement of allegations continue, but behind these are the victims themselves. Moving forward, Kinouani stressed the importance of providing adequate support that is culturally appropriate and addresses the wider context:
"It's very, very likely that most of the children and young women affected will suffer long-term negative consequences to their emotional well-being and psychological functioning if they do not get the support. We need to also bear in mind that a large proportion of those who have been abused have faced marginalization, many have been disowned by their families. So not only have they lost their dignity and their physical integrity, they are also at risk of living a life of marginalization and psychological distress if they are not provided with the support they need. We want to understand what is being given specifically – Who is providing the support, what does the support look like?"
Despite the campaigns achievements in widening the conversation and putting more pressure on the UN to act, there is a vital part of the debate surrounding the campaign among its drivers and supporters that has raised wider questions: over the position of black women within feminism; the challenges of campaigning on so-called African issues, where the lead is often taken by seemingly benevolent white faces; and the hierarchy of support, which can see the most vulnerable silenced at the bottom.  Kinouani reflected on how these issues have affected the campaign:
"I kind of got into the campaign expecting that, perhaps naively, that we'd get a lot more support than we have had. I think I have to own up to that. There has been some disengagement from white feminists and also some undermining, publicly and privately as well which I think bring to the fore issues of racism and anti-blackness within feminism. I think there is an expectation that black women and marginalized groups generally need the "guiding hand" [not Guilaine's own term] of white people to do anything productive. I think there's been the implicit notion that we were not capable, that we were not professional or that we were not efficient enough to lead this campaign, which I think has been quite problematic."

"Some campaigns that have been related to African issues have been led by white women and have had a lot of support. To some degree when white people are in the driving seat and when the face of the campaign is a white woman then it's almost as if people find it easier to relate to the issue or feel that the campaign is being led adequately. The notion of black incompetence, the very subtle notion of black incompetence, I think, has played out in the issue."
She gave a road-map of the dos and don'ts of solidarity, arguing that if concerns around the campaign are coming from a good place then what a person can do is quite simple:
"…you gather what expertise you think you have for the benefit of the campaign, for the benefit of the cause. If you think 'you know what, I think I've got this asset, I think I've got this contact, I think I have this experience to push the issue forward' then what you do is you make contact with people leading the campaign and say 'I want to come on board, I want to do this, I want to do that, have you considered this or that?' What you don't do is undermine without actually adding anything productive. This takes me back to well, what is your motivation? Some of the issues its quite clear predate the campaign, I think there's been old acrimonies that have been dumped on the campaign and people have used this opportunity essentially to attack Media Diversified and attack Sam. If the criticisms were about the campaign rather than individuals, everybody would be equally targeted."
The issue of wider support has not solely been in the case of white feminists and mainstream media figures. The campaign had expected more momentum to come from people of the African diaspora but this turned out to be less than anticipated. Speaking on this issue, Kinouani said:
"We need also to ask ourselves some questions about respectability, about wanting to distance ourselves from the people who are at the bottom of the hierarchy of blackness and of humanity. I think generally there is something of an air of hopelessness or helplessness or powerlessness, even – where people think this is something that can never change, that we will always be treated in this manner. That's something that needs to be named and addressed."

"To me it's quite saddening really to see that [the victims'] ordeal in terms of invisibility has almost been reproduced by the response we have obtained throughout the campaign. So in the same way that the victims in CAR have been completely disregarded, silenced because they were inconveniencing the UN, political arrangements or diplomatic processes, what we have seen in the response by white feminists and others is the issue is quite inconveniencing even when we spoke about it from afar, from the UK. That is quite saddening."
The struggle is far from over. Senior UN figures are making more public promises to act, so now the campaign is pushing for much greater transparency, with specific information about the changes that are implemented, progress in relation to the CAR Panel's 12 recommendations, and an action plan so victims and the public know where they stand.
"I think it's quite important that the UN realize that to restore trust and faith in the UN and certainly peacekeeping there needs to be a thorough process whereby allegations, and investigations, are made available to the public and the actions that are taken as a result of the allegations are made transparent. The UN has pledged to do so but so far the information provided on their website has been again, quite vague with very few specific details on progress in relation to the implementing the CAR Panel's recommendations or of prosecutions, so the public is largely in the dark. Ideally we would want this information regularly updated on the website. Ideally."
The campaign's success in increasing public pressure on the UN to act showed most recently in protesting the International Day of United Nations Peacekeepers 14th Annual Conference in London. The gains so far have been made possible through the work of a relatively small group, but pushing the UN to prosecute those who are guilty and beginning the process of assisting victims in repairing their lives will need continued pressure from as many people as they can reach.
Sign and share the petition: https://community.avaaz.org/petitions/we-will-not-stand-by-when-un-soldiers-abuse-rape-and-murder?source=twitter-share-button
More information: http://predatorypeacekeepers.tumblr.com/
---
Image: MONUSCO Photos
The post The Women Hunting Down #PredatoryPeacekeepers appeared first on The Leveller.
---
Germany is one of the best-functioning bureaucracies in the world, but it is without a doubt a bureaucracy, innately dependent on confusing paperwork at even the most basic levels. How much paperwork could it possibly take to rent an apartment for instance? Well, in addition to proof of income and bank account and proof of your right to reside in Germany, you may also need a credit check, proof of liability insurance and a letter from your last landlord that says you don't owe them any money. Once you've got all this and whatever other miscellanea your landlord requires, you mustn't forget to register your new residence with the police or city hall. Now file all those papers away in a memorable, accessible place in case an authority requests to see them, and repeat some variation of that process for your insurance, language school, for the unemployment agency or an employer, possibly even for your children's Kindergarten and school.
The Bureaucracy of Hope is supported by a broad parallel state of NGOs and private citizens
Imagine coming in to a foreign country 2500 miles from your home, with no money, no assets, no grasp of the local language or even the alphabet. Imagine coming from a town with no bureaucratic infrastructure to speak of, never having seen a rental agreement or an insurance contract or a pre-school enrollment form. Imagine being handed a new piece of paper which you cannot lose for each new bureaucratic facet of your life in a language which you cannot read. This bureaucracy is a terrifying, stultifying burden on Germany's newcomers.
On the bright side, the papers that refugees are receiving contain broadly positive messages, providing funds and assistance to people coming from desperate, hopeless situations. Germany gave them hope and this bureaucracy is by and large a Bureaucracy of Hope. And while this Bureaucracy of Hope is being overwhelmed by the sheer quantity of refugees, it is supported by a very strong community of volunteer translators and assistants, known by the general term ehrenamtlich (honorary/volunteer) – a broad parallel state of NGOs and private citizens.
Insurance companies have been among the most prominent villains
There are many organizations that give open, cost-free seminars to the ehrenamtlich refugee assistants of Germany. Religious and ethnic organizations as well as international NGOs all bring in experts on specific facets of refugee law and care, providing this parallel state with the skills necessary to be as effective as the bureaucracy itself.
At one such seminar given by Diakonie, the major German Protestant charity, one has the chance to learn of local laws confusing and confounding refugees. Insurance companies have been among the most prominent villains, raising insurance rates across Germany on landlords who house refugees, purportedly because of the increased risk of attacks on properties by right-wing extremists, despite those risks being minor and for the most part geographically identifiable.
At other seminars, one can learn about the fate of hundreds of African refugees who Italian police had given 500€ and put on a bus to Germany where they end up homeless and unaccounted for, or about the strange personal liability insurance laws that keep well-minded Germans, even ehrenamtlich helpers, from giving refugees rides in their cars.
Imagine that in the year you've been in this strange country the laws regarding your existence have changed twice already
At one such seminar on refugee law on April 26th at the Kurdish Community Association in Siegburg, Martina Lörsch, a lawyer from Bonn, explained the three massively different refugee laws that have been passed, implemented and then discarded since June 2015. She explained the EASY system and the "Königsteiner Schlüssel", the BÜMA process, as well as all the different Dublin Regulations.
Imagine yourself once more in the position of a hopeful but confused refugee, where you don't know the language of those way-too-many documents but everyone's trying to help you. Now imagine that in the year you've been in this strange country, the laws regarding your existence have changed twice already and you're told they're changing again, but nobody can properly explain how. They're still being nice about it, you've still got hope, but it starts to get more than confusing, all the way to frightening, doesn't it?
Refugees deal with much hardship but also receive many rights
Coming back into the reality of the ehrenamtlich helpers, the key component of what Ms. Lörsch explained was the difference between the three classifications of asylum seekers in Germany:
At the top of the refugee chain is the classification Asyl. This is a rare classification, an individual who is personally threatened in their homeland and living in exile in Germany. This can be due to actions as a whistleblower or a journalist or a political dissident, or it could be far more personal, as with many Albanian asylum-seekers fleeing a Blutrache (literally "blood revenge", a really metal word for vendetta).
Nearly everyone fleeing an active war zone, specifically Syria, is classified in the second group Flüchtling, or Refugee. Refugees deal with much hardship but also receive many rights. They are entitled to look for work or apply for unemployment and receive support for housing and childcare. They are required to attend language courses and integration courses. They also have the right to Familiennachzug, to bring their direct family members (spouses and under-18 children) into Germany from wherever they may be currently held.
Then there's the third classification, subsidiär Schutzberechtigter (entitled to subsidiary protection). These people have most of the same rights as refugees, except they have no right to Familiennachzug and they are far easier to send back to their country of origin as soon as the German state has classified that land as safe.
Upon viewing the document Ms. Lörsch's immediate reaction was to blurt out "Skurril!" (ludicrous!)
These classifications are necessary within the Bureaucracy of Hope in order to keep it moving smoothly. For the most part it works. But what happens when you take hope away?
At this same meeting in Siegburg, Ms. Lörsch was presented a document that shocked both her lawyerly and human sensibilities. Some state-level administrations (UPDATE: The Leveller's sources submitted one such letter from Schleswig-Holstein, Germany's northernmost state, on the Danish border. However, at the same time the Leveller was publishing this article, major German news sources reported that this is not simply a disorganized trick from local offices but an organized policy coming from the highest levels) were sending out letters to new Syrian refugees declaring that of the three options, they had been labeled subsidiär Schutzberechtigter and the decision was unanfechtbar, unappealable. The director of the lecture series at the Kurdish Community Association, Dr. Ibrahim Mahmood, had brought one such letter received by a new Kurdish refugee to get Ms. Lörsch's professional opinion.
Upon viewing this document Ms. Lörsch's immediate reaction was to blurt out "Skurril!" (ludicrous!). An appeal implies that there was a court decision, which this was not. This was a local administrative decision, meaning an appeal would be neither necessary nor valid. This document was in no way legally binding and should be legally challenged, but a new refugee would not know this, they'd treat it as law as they are likely to do with all documents coming from official German institutions. An ehrenamtlich assistant wouldn't know this either unless they'd had real legal training, which most have not.
"It frightens them, that they will be sent back"
This document was "a trick", as Ms. Lörsch pointed out, to reduce the workload of the bureaucrats at the local migration office. There's very little work necessary for cases classified subsidiär Schutzberechtigter whereas actual refugee cases have to be processed within 3 months (they rarely are these days, but legally they are supposed to be).
In an interview with the Leveller, Dr. Mahmood, the man who had presented the document to Ms. Lörsch, explained the deeper problem of the document, beyond the illegality and immorality:
"It frightens them, that they will be sent back. If the situation in Syria is said to be better in 6 months, regardless of reality, the EU and Germany would have the right to send them back. And they're scared."
This is not just theoretical, and it's not just activists presenting this scenario. Marie-Sophie Guntram is a secondary school teacher with the organization Teach First Deutschland. In her classes she teaches, among others, the children of refugee families. Speaking to the Leveller, she describes the new life refugee children are being granted in Germany:
"At the fragile age of 10, they look back on shattered hometowns and childhood dreams … For them, coming to school every morning means much more than learning German and biology and English; it means that they get to be children again, without fears. School life gives them rules, routines and reliable relationships. Most importantly, they get to do what all children do: they make friends. So while schools cannot offer adequate therapy services, this we can offer, and this we are determined to give to them while they are here. Only this way, they can nourish their damaged emotional capacities and find ways to trust again – in other people, life, and in themselves."
Imagine that you're told you could be sent back, even if the people who burned your town to ashes are the ones in power
On the other hand, Ms. Guntram describes her students from what Germany calls sichere Herkunfststaaten, safe countries of origin, such as Serbia and Albania:
"[These] families who came to Germany … with the hope of starting over to get a shot at a decent life here, these families fear – on a monthly basis – that the letter arrives which states that since their home countries are safe countries of origin, they have one week to pack their bags and take the train to the nearest airport. If this happens, they will return to a life they gave up completely, meaning they will be homeless and without any realistic prospects whatsoever. How are they supposed to plan on attending the next field trip, the next big school event, the next grade?"
An integrated immigrant is regarded almost unanimously as a boon for a country, for the economy, for the culture. These people can be the most engaged residents in a community. Imagine yourself back in those refugee shoes, the frightened but hopeful ones, one last time. Now imagine that you're told that your family can never join you, and that you could be sent back tomorrow if the situation is stable, even if the people who burned your town to ashes are the ones in power. Would you feel grateful? Would you feel like integrating into society, learning the language and the laws and the norms? Or would you feel frightened and insecure, would you feel cheated, would you feel stunted and resentful?
Lying to refugees, taking away their rights, just to make the jobs of some justifiably overworked bureaucrats easier, this is more than illegal, more than immoral, and more than simply unkind to refugees. It reduces the incentive to integrate and creates a culture of fear and insecurity, posing a danger to the whole of German, and European, society.
The article was updated on 5/26/16 to include reports from German news sources of federal implementation of this tactic, not simply local
---
Image: Joel Bombardier
The post Dirty Tricks Endanger Germany's Refugee Integration Process appeared first on The Leveller.
---
Allegations of sexual abuse and exploitation at the hands of UN peacekeeper forces involve incidents across country borders, spanning years. A report released last June said at least 480 allegations of sexual exploitation and abuse had been made between 2008 and 2013, with one-third involving children, while there are a number of allegations before and after that period.
With Secretary-General Ban Ki-moon in his last few months in the position (interviews are already underway for his replacement), there has been increased pressure from a campaign led by members of Media Diversified for his legacy to be one of tackling the #PredatoryPeacekeepers scandal once and for all.
Reports from the Central African Republic include crimes from 2013 to 2015
In the wake of this pressure, on March 29th all senior-level actors including Under-Secretaries-General Anthony Lake, Executive Director of UNICEF; Jane Holl Lute, Special Coordinator on Improving the United Nations Response to Sexual Exploitation and Abuse; and Miguel de Serpa Soares, Legal Affairs and Legal Counsel, were called by Ban Ki-moon's Chef de Cabinet, Edmond Mulet, to an urgent crisis meeting on the recently disclosed reports from the Central African Republic (CAR). These include crimes from 2013, 2014 and 2015 that may have been perpetrated by a combination of non-UN and UN peacekeeping personnel.
AIDS-Free World's Code Blue campaign cited the decisions reportedly made at the meeting in a recent press release. They included:
Allocating approximately 10 per cent of UNICEF's remaining annual budget to augment response capacity in CAR.
The UN mission in CAR, MINUSCA will provide funding to be used for victim assistance – including transportation, medical support and emergency psycho-social care.
A victims' assistance trust fund administered in New York will seek contributions from Member States
"Integrated/multidisciplinary assessment teams" including staff from the Office of Internal Oversight Services, MINUSCA's Human Rights Office, UNICEF and the UN Population Fund will be sent to investigate in remote areas of CAR alongside additional members being dispatched to support urgent investigations in the coming days.
It's been a long time coming that senior-level officials in the UN begin to make more public calls that action be taken (however imperfect). An explanation for the delay may be found in looking back at how internal allegations have been handled in the past.
Kompass' whistleblowing led to his emails being seized, his subsequent suspension and months of uncertainty over his career
Anders Kompass, the human rights official turned whistleblower
In April 2015, Anders Kompass was suspended from his post as director of field operations in the Central African Republic (CAR), accused of leaking a confidential UN report and thereby breaching protocols. The report, entitled "Sexual Abuse on Children by International Armed Forces" and stamped confidential on every page, contained harrowing details of the rape and sodomy of starving and homeless children between December 2013 and June 2014.
The incidents took place at a centre for internally displaced people at M'Poko airport in Bangui, capital of the Central African Republic. The report was passed to officials in summer 2014 but Kompass later became frustrated by the lack of action and sent the report to French authorities to push for investigations. It was this move that sparked an internal investigation into Kompass' actions, which involved his emails being seized, his subsequent suspension and months of uncertainty over his career. AIDS-Free World's Code Blue campaign has said:
"Leaked emails relating to Mr. Anders Kompass made it clear that… [senior figures] went to great lengths to try and have Mr. Kompass fired for daring to report crimes to the French government responsible for investigating. Those officials showed no such energy to ensure that perpetrators were being held responsible."
Kompass has since been cleared of all charges by the investigation run by the Office of Internal Oversight (OIOS).
Speaking to the Guardian he said: "It is important for other staff to see that I was vindicated… because otherwise the message was: 'If you try to do something similar to what Anders has done these will be the consequences.'"
Bolkovac uncovered a murky network of relationships between local police, bar owners and UN staff
Kathryn Bolkovac, the former Nebraskan police officer who exposed UN employees' role in human trafficking and prostitution
Bolkovac's story may have reached a wider audience through the 2010 biographical film The Whistleblower, with the UN itself even staging a special screening. In the late 1990s, Bolkovac was recruited to work in Bosnia and Herzegovina for Dyncorp, to which UN peacekeeping police work had been outsourced.
Through her work with cases of domestic violence she was later appointed head of the department of gender affairs, coming into contact with the leading UN officer for gender issues, Madeleine Rees. Bolkovac's work involved large numbers of women and girls who had been the victims of rape during the war. During her post she uncovered a murky network of relationships between local police, bar owners who forged passports attempting to hide trafficked girls as employees, and UN staff. Speaking to the Observer, she said:
"The thing that stood out about these cases… [is] that police and humanitarian workers were frequently involved in not only the facilitation of forced sexual abuse, and the use of children and young women in brothels, but in many instances became involved in the trade by racketeering, bribery and outright falsifying of documents as part of a broader criminal syndicate."
"Over and over and over again, the UN goes into denial, into dismissal and into coverup"
After getting girls' testimonies on record and taking her concerns up the chain of command, she subsequently found herself blocked, stonewalled, threatened, demoted and later sacked for allegedly falsifying a timesheet – having her ID removed, banning her from UN buildings. With the aid of Madeleine Rees and internal-affairs specialist Peter Ward, Bolkovac was able to get documents of her investigation out of the country. With the help of lawyer Karen Bailey, she used the fact her contract was governed under English law to challenge her dismissal in an employment tribunal, which subsequently ordered Dyncorp to pay her £110,221. The trial helped open up a wider conversation about her experiences.
Whistleblower protections in the future?
These two stories provide a brief snapshot of the challenges that have been faced by those seeking to call out wrongdoing and heinous acts. James Wasserstrom, former top anti-corruption official and veteran US diplomat has said in the past that Kompass' case offers further evidence of the UN's "reckless disregard for very serious allegations of wrongdoing in order to go after the whistleblower… [O]ver and over and over again, the UN goes into denial, into dismissal and into coverup, and then tries to retaliate against the whistleblower."
Wasserstrom co-signed a letter, alongside nine former whistleblowers, addressed to the UN Secretary-General and UN Executive Heads. In it they argued:
"Without proper whistleblower protection, wrongdoing at the United Nations, be it sexual exploitation, abuse of power, fraud or corruption, will not be reported and will continue to go unchecked. There will be no accountability. This can only damage the UN's moral standing and ultimately its legitimacy."
There are signs of potential progress. In October last year, the Whistleblowing International Network described whistleblower protection as having its day at the UN with the Special Rapporteur on freedom of opinion and expression, David Kaye, delivering his report before the UN's Third Committee, concerned with social, humanitarian and cultural affairs. The hope is that these conversations can push more robust protections for internal reporting that will reduce the prolonged process of exposing and tackling wrongdoing.
---
Image: Sanjit Bakshi
The post The UN and its Whistleblowers appeared first on The Leveller.
---

EvalC3: a tool to help investigate causes of success and failure in development aid projects.
---
The datalogger is fitted to the right hand upright of the control frame. According to my shoddy measurements the upright is 176cm long and the basbar is 138cm long. There are two wires from the corners of the control frame to a point on the keel 151cm forward, each of length 206cm. And there are another two wires to a point on the keel 80cm backward, each of length 205cm.
This seems to add up to a vector of (69.0, 42.06344442205491, -156.2492943010685) from the top of the control frame to one corner of the base bar, which is the alignment of the datalogger and its BNO055 orientation sensor strapped to the upright.
I definitely don't have time for a complete blog record of this, and a lot of it isn't working, even though I've spent no end of time hacking on things, but if I plot the logger vectors that go backwards and perpendicular to the upright on the gps track, I get this picture:
For scale, the red lines are 11m long and the plot rate is 3x on the 100Hz samples, so there are 33 of those lines per 1second of motion.
It's reasonably smooth and consistent, unlike the accelerometer values, which I think represent a lot of vibrations in the system, if the creaking wicker chair-like noise on the gopro soundtrack is anything to go by. It's about right, if you think of the airspeed being in line with the keel of the glider (which it is probably not, because of the yawing and side-slipping in turns).
I nearly bought a sonic anemometer second hand off ebay last week, but missed it. I've got an alert watch on a new one and have designs on fitting one to the top of the kingpost where it is out of the way and least likely to get damaged by flying into a hedge or the ground.
Regarding the kinematics of the system, every part of the flight is the same as everything else, so I can strip out the simpler bits to see if there is a relationship. In particular, this is a plot that claims to be 10 second long sections of the flight where the bank angle is less than 3degrees.
This doesn't fit too well, and I can explain it that the calibration value on the device was at 1 out of 3 for most of the flight, in spite of starting off on the ground at 3/3, so it's telling me it got it wrong.
Anyway, it's straight enough to move on to this complex plot of some of those flight sections:
Time goes from left to right of about 10 to 20 seconds. The following traces have been displaced close to the zero horizontal white line so you can see their correlations, if any. Green is pitch angle, Yellow is smoothed acceleration in forward direction (approx because it's not aligned with gravity yet), Red is airspeed, and White is differentiation of windspeed.
What I would hope for is a delayed correlation between pitch (green) and airspeed (red). If you push the nose up and hold it there, the glider will slow down, and then fly at a slower speed. If you pull the bar in and hold it there, the glider will speed up and then fly at a constant higher speed. But of course you're moving the bar all the time. But you can almost convince yourself of the response; the green line goes down, and the windspeed then starts to rise, and vice versa.
This should be built this into a kinematic model of control and response. It would actually also align with the barometric reading, where the sink rate goes up with a higher speed, so it's quite 2 dimensional in the vertical plane, with energy equations.
The other correlation should be between the forward acceleration and the derivative of the airspeed. Both the airspeed signals and the acceleration signals are quite full of noise, so they needed to be smoothed (I think I've done this incompetently here, but that's for another fortnight of coding).
Here you would expect a direct correlation in still air, because if the accelerometer says I am accelerating at 1metre per second per second, then over the course of 2 seconds my absolute velocity will increase by 2 metres per second. And, if the air is still, then my measured air speed should also increase by 2 metres per second.
So these two ought to be scaled the same. Except the smoothing flattens out all the humps and troughs, so you really can't tell what the absolute value of anything is from this anymore.
Some of the bumps seem to line up, but this is not adequate for a kinematic model.
The numbers get hairier and hairier as I try to approach something useful. And that useful thing would be to separate the absolute motion into that which is due to my control and the flight characteristics of the glider, and that which is due to the underlying wind speed and direction.
Accordingly, I should be doing lots of boring flights in completely still air at the start of the day with a working logger where everything is calibrated, rather than having lots of fun in thermic air. This is a job to do in Austria where the hills are high and I should have hours and hours in the campsite not coding on other things.
This work just takes so much time and has hit so many technical failures already that I doubt it could be done by someone who is answerable to a boss.
---
You know those clamps for the vice I was so pleased about fitting?
Well, they slipped out while milling metal due to all the vibrations during helixing.

This just after I'd spent all afternoon compensating for the rotational position of the vice to withing 0.04mm across 50mm of its width by probing a piece of metal in the jaws wrapped in a piece of wax paper to electrically isolate it from the vice.
Bog! That's ruined my day.
And the weekend is going to be rubbish, waiting in a tiny cold tent in Yorkshire for the fog to clear.
---
This was Sunday (yesterday) on Tailbridge Hill while Becka and friends were attempting some 80 mile massive cycle ride including a race up Great Dun Fell (844m), somewhere square in the middle of that dark grey wall of rain and hail to the north of me.
They didn't make it. I suspected that something bad could happen in that area on an otherwise sunny day because of the RASP forecasts:


They were to the NE of Kirkby Stephen in the blue, and I was to the SW in the place with the nice thermal updrafts. I already knew no one was interested in my weather observations if it could lead to a change of plans, because they'd all been on a futile journey walking up a hill to a flood-prone cave on Saturday when I knew two strong cold fronts were predicted to pass overhead and make everything miserable.
I got into my own spot of hail up at the clouds at 1300m over Mallerstang Edge late in the day, and it was nice witnessing this three-dimensional field of white pixels streaming past.

I don't have time to edit any video, so here is a video with a bit of hail in a flight last month from Builth Wells.

I had to do a better landing yesterday, because in Yorkshire the field boundaries are made of rocks.
---
Nearly three years ago, we started a crowdfunding campaign to finance the creation of our first-ever phone. We had a modest goal of selling 5,000… and they flew off the virtual shelves much faster than anticipated.

So we got bolder and aimed higher. We continued to finance phone production with pre-orders, and sold out of all 60,000 Fairphone 1's. And then we decided to design the Fairphone 2 – a modular, repairable phone that could take our ambitions even further. Last week, we finished delivering every single one of the 40,000 Fairphone 2 pre-orders and have reached another milestone: 100,000 Fairphone owners. We're so grateful to each and every one of you for helping us get this far.
2 phones + 100,000 owners = A growing movement for fair electronics
Sometimes, as an individual, it can be hard to see the results of your actions. But the more individuals you have working together, the easier it becomes to influence real change. At Fairphone, even when our entire team was only four people, we dreamed of building a movement. And now, with 50 employees, 100,000 Fairphone owners, a huge online community (nearly 150,000 fans and followers on Facebook, Twitter, Instagram, our forum and more), plus our growing network of partners and suppliers, we think it's safe to say that this dream is becoming a reality.
And thanks to your amazing support, we're making real progress. With the Fairphone 1, we sourced conflict-free tin and tantalum from the DRC, established worker representation at our top-tier manufacturer and a worker-controlled welfare fund, and collected literally tons of scrap phones in Ghana for safe recycling.
With the Fairphone 2, we've continued with these projects, plus achieved the first Fairtrade gold supply chain in the electronics industry, released an open source version of our software and we're nearly ready to integrate conflict-free tungsten into our supply chain.
With the Fairphone 2, we've achieved the first Fairtrade gold supply chain in the electronics industry, released an open source version of our software and we're nearly ready to integrate conflict-free tungsten into our supply chain.
The Fairphone 2 is now in stock
Besides helping us to contribute to a more socially and environmentally responsible value chain, our growing community of Fairphone owners has also given us the financial space to achieve another major first: The Fairphone 2 is now in stock! From now on, orders placed in our online shop will be delivered typically within one week (depending on your location and choice of shipping provider). If you can't wait that long, it might be possible to get your new Fairphone even faster through one of our reseller partners.
Having stock means that we can now spread our message of fair electronics even further.
Up, up and away! On to the next 100K…
So we've reached 100,000 owners… what's next? We want to keep growing our movement, of course! The more people we reach, the more we can achieve in our quest to expand the market for fair electronics. And despite everything you've done for us so far, we're not too proud to ask for more help.
What can you do to help us find the next 100,000 Fairphone owners? Spread the Fairphone story – in person, online or wherever you may be. Tell your parents, talk to your friends, chat up that random stranger on the bus. Not sure what to say? Here are a few challenges especially for Fairphone owners:
Take it all off: Remove your back cover and show your naked Fairphone to someone
Share the love: Forward the Fairphone newsletter (or the link to subscribe) to a friend
Bin it: Collect old phones from your friends and drop them off at local recycling point
Show what you know: Head over to the community forum and share your knowledge with other Fairphone owners
No more wait: Tell everyone who admires your Fairphone that it's now in stock! (Delivery in one week in most parts of Europe)
Try just one or try them all! We've still got a long list of ambitions, but we're amazed by how far we've already come with your support. Thank you for proving we can change how products are made.
---
We first invested in Skillshare almost five years ago. At the time the company was focused on in person classes. While many of those were as engaging as I had hoped, it was difficult to grow. Coming to an in person class is a big commitment, teachers didn't have an audience and many had a hard time finding a place to teach and the model only has local network effects. Michael decided that starting with online classes was a better way to go and we supported that change. The first foray into online classes was payment a la carte. That too was challenging. Students had to determine upfront whether a class would be worth taking. And with classes that's not just a function of how good the teacher is but also if you wind up enjoying the material (which is often impossible to tell upfront). So Skillshare switched to a subscription model.
As it turns out the combination of an open contribution platform where anyone can teach with a subscription model works exceptionally well. Students can feel safe trying out any of the classes – no need to worry about paying and then not liking it. That in turn lets many more people come in and try to teach. Some of the most popular classes on Skillshare include first time teachers. This has allowed Skillshare to grow organically on both the teacher and student side. And with growth has come the possibility to bring back some of the original ideas behind in person classes.
I am therefore excited that Skillshare has just closed its Series B round with Amasia and Omidyar Network as new investors. Welcome! The company will use the funds to continue investing in the teaching and learning experience on the web and on mobile and in building out more community features. To that end Skillshare is hiring.
---
I am bummed to be missing Twilio's annual Signal Conference this year. Not just because Jeff does a fantastic keynote, but because Twilio always announces a truckload of amazing new goodness. Here are just two great things from yesterday: first, a marketplace for add-ons which lets third parties connect with Twilio's 1 million developers (a milestone also announced yesterday) and second, programmable Twilio-powered SIM cards for IoT applications (in conjunction with T-Mobile).
While the announcements themselves are exciting, what's really impressive is what makes them possible: a deep commitment to innovation. This has been part of Twilio's culture from early on. The company was founded in June 2008 and launched its voice service in November of that year. By February 2010 they launched their second product, the now widely used SMS Service. I can't recall a time since the, when the Twilio team wasn't hard at work on many new products. Twilio powers communication; Twilio is powered by innovation.
Now this seems to be going against the grain of much startup advice which is to focus, focus, and focus. Isn't a second product (and the many others launched since) a distraction? Aren't you spreading yourself too thin? Shouldn't you focus on making your initial product the best that it can be and see how much you can grow that?
I think Twilio's example shows quite clearly that if you want to build a big business then the answer to these questions is no. You can only build a company of Twilio's scale if you invest heavily in innovation and you need to make that part of the company's culture from early on. And that's not just true for a company such as Twilio. Think about Amazon (launched in 1995) going past books in 1998. Or Facebook (launched in 2004) adding the news feed in 2006.
So congratulations to the team at Twilio on another year of innovation and the resulting advances for all of Twilio's current and future customers! 
---
I can still remember the first time that I experienced the web, which was on a workstation in a lab at MIT in late 1993 (Mosaic had come out in January of that year). The experience of easily accessing remote content and navigating from one site to another simply by clicking on a link was transformative. I remember how for several years after that there was a stark difference in attitude about the potential of the web between people who had experienced it and those who had only read about it in an article.
Something similar is likely the case today for Virtual and Augmented Reality. Experiencing it firsthand will change your view of the technology's potential. I am fortunate to be able to afford the currently still expensive setups and have ordered a bunch of them to play around with at home. The first that we set up is the HTC Vive. Here is a short video of our son Michael experiencing the initial demo:
I have more videos from the same day of others with similar reactions. There is no doubt in my mind that it is a transformative experience.
That doesn't mean though that VR/AR will have a massive impact over night. Instead, we are in the early days and much like the early web the hype is well ahead of the reality. Several hurdles will need to be overcome, including the high price of devices, the wonkiness of setup, the dearth of native content. On the high price of devices it is not just the Head Mounted Displays and Hand Controllers, it is also the hardware driving those. Michael had a 3 year old mid tier gaming PC and it was not up to the task without a fairly substantial upgrade.
I should also add that it is quite unclear what the startup and investment opportunities will be. The hardware side seems well taken care of by large incumbents. VR games will likely be expensive to produce, although there could be cheap breakouts along the lines of a Minecraft. On the tooling side Unity seems formidable but there could be opportunities for environments aimed at VR and AR applications other than games.
For instance, as a longtime scifi fan, the thing I am excited about the possibility of multiplayer worlds. The effort to check out here is High Fidelity, Philip Rosedale's new startup. What is particularly exciting is that they have chosen a route in which different worlds can be hosted on different servers and have made the software open source. Getting High Fidelity to run on our home setup will be one of my next experiments.
But if you have a chance to try it, either as someone fortunate enough to be an early adopter, or by trying in a store or visiting a friend, I highly recommend it. I will post more updates on the Vive and also on other devices (I am waiting for an Oculus Rift and a Samsung Gear VR to arrive). I am also hopefully in line for  Microsoft Hololens and will see if I can get myself to Florida for a Magic Leap demo.
---
BEAM is expanded and pressurized! The International Space Station's newest module, which will serve as a technology demonstrator for in-space expandable habitats, was fully filled with air this afternoon.
---
SpaceX continued its impressive string of first stage recoveries today, sticking a Falcon 9 drone ship landing during the successful launch of THAICOM 8, a communications satellite.
---
NASA will try again tomorrow to expand BEAM, the Bigelow Expandable Activity Module. During a press teleconference this afternoon, officials said they were confident the module was going to expand—it's just a question of when.
---
Phil Stooke describes a research trip to the Regional Planetary Image Facility at the USGS in Flagstaff, where he discovered Jack Schmitt's proposed plans for a farside landing site for Apollo 17.
---
It's a great time to go outdoors and look at planets. I have three glorious planetary portraits to share today, sent to me by amateur astronomer Jean-Luc Dauvergne.
---
NASA and Bigelow Aerospace weren't able to get the space station's newest module up and running this morning. Another attempt could come as early as Friday.
---
The Voyager data set is a gift to Earth that keeps on giving. This week, I've seen three great new images processed from this old data set.
---
NASA is set to fill a new space station module called BEAM with air Thursday morning. But does BEAM inflate, or expand?
---
Commerce, Justice, and Science—the House of Representatives' subcommittee that oversees NASA spending—just released details on how they would fund the space agency in 2017. Overall, the news for the space program is very good.
---
The Planetary Society's LightSail 2 spacecraft breezed through a major systems test today, demonstrating the CubeSat can successfully deploy its antenna and solar panels, communicate with the ground, and unfurl its 32-square-meter solar sails in space.
---
May 27, 2016
Audio Really good fun and best experienced without foreknowledge so stop reading now if you haven't heard it. Released as a Big Finish subscriber special, this is an interesting take on the multi-Doctor story, as a wayward Dalek collaborator, Colonel Ulrik, finds himself buffeted through time meeting the Doctor's Fifth, Sixth, Seventh and Eighth incarnations. The narrative partly feels like a way of promoting some of Big Finish's best work, the celebrity historical as Seventh meets Faraday, the war zone tragedy with the Sixth Doctor and a Fifth Doctor comedy of manners. The Eighth Doctor acts as a kind of temporal shepherd, utilising his memories of all these incidents to help shift Ulrik from one end of his time loop the next. Mainly a prose writer on Who, notably as co-writer of The Ancestor Cell, Peter Anghelides hasn't written many audios for Big Finish, but this sounds like the work of a veteran who has a real understanding of their potential with nested flashbacks, recreation of events through alternative points of view and understanding of the various incarnations, especially Eighth who immediately sounds in-character. Timeline talk: Released in December 2010 slap bang in the middle of the With Lucie era, Eighth nevertheless sounds much younger than even the Charley years, so I'm putting it after Shada but before Benny's Story here.
---
May 26, 2016
Book your tour online now and enjoy the unique experience of a visit to the childhood homes of John Lennon and Sir Paul McCartney. This is your only opportunity to see inside the places where the Beatles met, composed and rehearsed many of their earliest songs.

"Imagine walking through the back door into the kitchen where John's Aunt Mimi would have cooked him his tea, or standing in the spot where Lennon and McCartney composed 'I Saw Her Standing There'.

"Join our custodians on a fascinating trip down memory lane, and take a moment to reflect on these incredible individuals. Visiting the Beatles' childhood homes in Liverpool is an absolute must for fans of any ages. The tours provide a real insight into Lennon and McCartney's humble beginnings.
Music
Hello John. Hello Paul. As we've already discussed on many an occasions, if you're from Liverpool, you're either a born fan, become a fan, or have fandom thrust upon you and I'm in the far latter group. Very far. Rather like football, the local music scene is just the sort of thing I rejected from a young age, or at least the rock and roll end, committed as I've been for all these years in not being stereotyped. The football was purposeful. The Beatles was not. It's just that having discovered girly pop and film soundtracks, guitar bands fell down the priority list. Availability was an issue too. When in possession of my own disposable income at just the moment when I was presumably supposed to be listening to the music of head bobbers and foot tappers, I'd be in Penny Lane Records buying the new Wilson Phillips album.
Which is why it's taken all these years to finally visit
the childhood homes of Lennon and McCartney
. It's also true that because they lived in my patch, the curiosity value is rather less than it might be at a medieval castle or Tudor home. My parents and I all went to the same school as Paul and I'd get the bus home from there opposite where George used to live. Perhaps the people of Stratford have a similar attitude to Shakespeare's birthplace. It's just sort of their and although it's not in their living memory in the same way, the whole notion of spending too much time their beyond school visits entirely ludicrous. But I understand the impulse to see where genius flourished. I wonder if they have the same feeling I did, that in the end it's just a house and that it's the experience a person has there, impossible to recreate in a heritage sense which made the person.
The National Trust tour begins at Jury's Inn which is the giant hotel next door to the Echo Arena and not as I initially thought on Castle Street necessitating a panicky walk up the Dock Road. You're picked up by the above minibus outside and the whole tour lasts about two and half hours. The member price is £10.50, nine-fifty plus booking fee (£24.00 to non-members). This is doubtless to cover the cost of transportation which in and of itself was quite the surprise. I'd expected some kind of generic vehicle but here it is advertising the tour in the Trust font should anyone notice it passing by. There were around fifteen people in the group, the capacity of the bus, including some Canadians, Mexicans and one bloke whose house actually backs on to Mendips. His house has an identical interior. He still has the same bath.
When Yoko bought Mendips in 2002 and donated it to the Trust, it was on the understanding that it would not be used as a Beatles tourist attraction per se, but to give visitors an idea of what it was like inside John's home in the 1950s. As the present custodian explained, a kind of pre-Beatles tour. So although there is some description of how John became a musician and met Paul, it's all through the prism of Aunt Mimi's pride in the house and keeping the house together through Lennon's teenage years. As portrayed in the film Nowhere Boy, she had a love/hate relationship with his musical interest, unable to ban him from pursuing his guitar playing but desperate for him to get an education. Luckily for the two of them, even though he failed his O-Levels a grade below requirement across the board, the School of Art saw that he had some talent which gave him a springboard.
She was well-to-do. Groups enter through the back door into the kitchen because Mimi kept the front door for special visitors, holy men and the like, mostly to keep the carpet from becoming worn. There's an odd moment in the tour when he implies that the way that she with her Woolton house looked down on Paul and George from the estate was a thing of the fifties when my school experience, where I was the only child from Speke at school full of people from the area around Mather Avenue was not dissimilar. In order to keep the house, she eventually turned it into a hostel for students, converting the upstairs rooms into bedrooms, the back dining room into a study. But it worked and she stayed there, despite some hardship, right up until John became famous and bought her a new place for her to live in Surrey.
Most of the tour is conducted in the kitchen and living room, with the custodian explaining all of this history, with the group then given ten or fifteen minutes the wander through the rest. It's more than enough. As with the Hardman House, much of my visit both here and at Forthlin Road, was spent noticing which items myself or a family member owned as a child and in some cases still do. I'd entirely forgotten about the wooden clothes maiden which dangled from the ceiling at my Grans house which features in both kitchens. A wooden board with grooves which used to have a planter on in our back garden I now realise was originally a draining board. The Canadians and Mexicans will have found this much more fascinating thanks to cultural disparities. You can imagine the blank faces when the guide tried to explain the concept of the eleven-plus to them.
The Beatles history end of the tour is held over to 20 Forthlin Road where Paul flourished. The house is filled with photographs donated by his brother Michael which shows them and their family growing up in the property, even obliquely indicating historical inaccuracies in relation to decor and wallpaper some of which was unique enough to be impossible to recreate now. It's in this house that Lennon & McCartney really forged their friendship, where they practiced the majority of their music and where they wrote some of the songs on their first album including Please, Please, Me. Although Paul hasn't visited since 1964, he's recorded a message welcoming visitors which is rather lovely. It feels more like a home than Mendips with visitors even allowed to sit on the furniture. Until recently a custodian actually lived in the house. He was always out whenever Paul happened by.
But what I wanted more on both tours was the sense, much clearer at other properties, of talking about them in terms of what they were architecturally within and out, how they fitted into that piece of social history. Although there's some talk of why post-war council estates exist and the class system, there's little about the design features of the property, why they should differ. But I acknowledge that's more to do with my personal taste and that the bulk of visitors will be more interested in the Beatles connection and so that's what's being emphasised in the limited time allotted. Whereas in other Trust properties it is the architectural features which are of most importance, although both of these houses are now Grade II* listed, it's The Beatles connection which makes them remarkable. Perhaps it's my own fault for not asking.
Nevertheless I'm pleased to have finally taken the trip. As we left the house, a group on the Magical Mystery Tour were receiving their version of the history which must have included the same explanation
I received back in 2004 when I originally took that tour
(coincidentally the same week I visited Carnforth Station -
see Sunday!
) as to why we'd been allowed inside but they were stuck outside in the cold. The irony that this fairweather fan had bought an opportunity which they were still waiting for wasn't lost on me. Perhaps I should take that tour again to see what's changed. Not much probably. As I write I'm listening to their music on Spotify and just as in 2004, I'm listening to it with new ears. Please Please Me sounds as fresh now as it must have done in 1963. It hasn't dated. Like Shakespeare, it's timeless.
---
May 25, 2016
Shakespeare With the welcome news that Stonyhurst College's First Folio is going on display in Blackburn with Robert Edward Hart's 2nd, 3rd and 4th Folios, I've decided to begin keeping a list of the various copies of the editions which I've seen. Of course, the greater adventure would be an attempt to see all of them, but since visiting the Folger Library isn't on the cards yet (assuming they'd let me see them all), it'll still be fun to see how many I can take a gander at.

Anyway, here's the list. I'll keep this updated with new additions. I'll put location and date when I saw them in brackets afterwards.

The Ashburnham
(Shakespeare Birthplace Trust, June 2009)

University of Manchester
(John Rylands Library, April 2016)

I didn't say it was a long list, so far. I'm sure I've forgotten one. I'll probably edit this text out when it gets a bit longer.
---
May 24, 2016
Audio Huh. Doom Coalition 2's a strange listen. For all the introduction of the newer much greater adversary, the return of the Eleven and River Song, it feels inessential, a group of episodes which exists because it's time for some more Eighth Doctor adventures, rather than because there are any especially interesting stories to tell. They're fine, none of them are utterly horrible, but in places the narrative is either a bit manic and incoherent and in others stretched out. The treatment of the companions doesn't help; for the first time in ages neither seems to have a connection to the wider arc, Liv somewhat in the Fitz Kreiner mode of being around because she is and Helen being rather too generic to be dynamic, both of their back stories having been fully explored in previous adventures (though both actresses are entirely listenable and funny). Certainly there's nothing here which captures the heights of the glory days, the Charley years or the Lucie stories. This month's DWM is more positive, especially about the earlier episodes, but even their writer spends a lot of time talking about the calibre of the cast. Perhaps once Doom Coalition 3's released we'll have a clearer idea of how these fit into the wider tale.


Beachhead

During his interview on the making of documentary, writer Nick Briggs struggles to explain what's so great about the Voord, using the words "classic monsters" because in fact there's nothing great about the Voord. Admittedly the BDSM update on the cd cover gives cosplayers new lines of enquiry, but even in The Keys of Marinus they're just sort of there, a placeholder for the humanoid soldier type antagonist hole which would later be filled with the Cybermen (literally in fact depending on which comic strip you've been reading). Which means their resurrection doesn't have quite the same delight cache as perhaps the Nimon or the Macra, at least for me, so when their plans unfold, especially on audio, what you're left with is having to listen to half the cast sounding as though they have a bucket on their head whilst outlining their nefarious plans. Beachhead otherwise is fine. It doesn't have the opening bang of some of these boxed sets, but if you decide it's more like episode five in a much longer series akin to an early With Lucie story, then you become more sympathetic. Hopefully they'll return to the idea of one of the Third Doctor's non-adventures when there's more duration to do it justice.


Scenes From Her Life

Something which I've often pondered is the extent to which the TARDIS or at least the Doctor's TARDIS stops being a magical vehicle when we know that there are hundreds if not thousands of similar vehicles in existence. As well as the various models which have appeared on television owned by various other Time Lords, in the spin-offs we've seen Battle TARDIS some the size of freighters on the outside, sentient humanoid TARDISes (Compassion notably) and now we have one which is bigger on the outside, the sections usually hidden behind the gateway spread across the time vortex like the intestines of a Tyburn victim after a good quartering. My guess is that it depends how it's treated in the narrative. Have Jenna Coleman's giant watery eyes gazing at the interior and Murray Gold giving twangly voice to Clara's theme and it's something pretty bloody special. Make it effectively an intergalactic taxi cab as it so often became in the classic series, not so much. That said, the TARDIS city encountered here is wonderful and would certainly be less so if the television series had attempted something similar in CGI. Once again audio provides us with some something indescribable and leaves us to conjure the images.


The Gift

"Zagreus sits inside your head, / Zagreus lives among the dead, / Zagreus sees you in your bed, / And eats you when you're sleeping." It's inherent in Doctor Who that it tends to reconsider old ideas and here we have the Doctor possessed once again by a "gift" which makes voice go funny, makes him all powerful and a danger to his friends. Thankfully the solution on this occasion is easier than in the last decade when it became the precursor to one of the oddest sets of stories in the franchise's history, instead favouring some TARDIS-ex-machine, which may become important in Doom Coalition 3 (or as I suspect explains what happens to Rose in The Parting of the Ways). McGann's in his element in this whole story, running the spectrum from mad Doctor to clever Doctor to nefarious Doctor to finally the adventurer again. Nevertheless, as with the rest of the stories in this box, there's a sense of the character being in a slight holding pattern, being dragged along by events, never quite the protagonist of his own adventures. The events of the previous stories should weigh heavier on him but he sounds rather blase about the whole thing.


The Sonomancer

Big Finish's nuWho license apparently stretches up to and include Eleventh's regeneration in Time of the Doctor and yet here we have another River Song story clearly set, at least for her, between The Husbands of River Song and Silence in the Library. When she refers to the "magician, the spiv and the geography teacher" she can only be referring to 12th, 11th and 10th. The whole thing's pleasingly naughty, like the old Gallifrey spin-off stories when they obliquely referenced the Time War or the BBC Books novels which reference Ninth before he was properly introduced on-screen. Otherwise, well, yes, I'm disappointed. Pre-release this seemed like it was going to be a proper meeting between Eighth and River but once again Big Finish are adhering to continuity and not having them meet with one of his companions forced to keep her confidence on the matter. Admittedly, it'd be cheap to repeat something akin to the memory wipe forced on the Sixth Doctor so that he could forget Charley's existence, but there has to be some way of getting around this narratively speaking which doesn't break Tenth's first encounter. Otherwise every one of these River Song and classic Doctor stories is going be a cheat.
---
May 23, 2016
I know you're voting for Hillary Clinton in the general election in November. Hillary may be supported by the banks, the Iraq War hawks, the Koch Brothers, Henry Kissinger – all those problematic elements that you'd regularly stand against – but it's way too dangerous for you to risk letting Donald Trump appoint the next three Supreme Court Justices, I know. What you're doing is, to an extent, honorable: voting against your own principles and letting in the Lesser Evil to prevent the coming to power of a sexist, racist demagogue.
I get it. We all get it, maybe even the #BernieOrBust-ers. You don't have to keep explaining it. In fact, you need to stop explaining it. Every time you explain it, you help Goldman-Sachs, George Bush, Henry Kissinger and the rest (yes, even when Noam Chomsky says it). What you're doing when you say "of course I'll vote for Hillary against Donald Trump, no matter what!" is removing your own power to influence the debate. You're writing yourself out of the conversation.
The advice I'm about to give will help destabilize the right-wing elements among Hillary's policy team
10 years ago Hillary Clinton's campaign manager Robbie Mook was my boss. He was one of the best bosses I've ever had. Robbie was always kind, honest and transparent with his staff. I worked two steps under Robbie as Deputy Field Director reporting directly to, among others, Marlon Marshall, who currently serves the Clinton campaign as Director of Political Engagement, and who was formerly the Obama administration's Principal Deputy Director of Public Engagement. Marlon was every bit as inspiring and inspired as Robbie. They both made us believe in what we were doing through and through, even when it wasn't fully moral or ethical.
A lot of Clinton establishment insiders hate Mook, the young upstart who unseated them in her power circles. And they should: instead of being basic establishment hacks, Robbie and Marlon are solid progressives who want the best for the American public. I don't want to blow up their spot, I have endless respect and appreciation for them, and in the end I don't think the advice I'm about to give you is going to step on their game. More than anything, I think it will help them by destabilizing the right-wing elements among Hillary's policy team.
They know if you said something nasty to a campaign volunteer who called your house at dinner
Working for the "Mook Mafia", I learned everything one could hope to know about voter data, political targeting and public opinion manipulation. A lot of lower-level members of the team envisioned themselves the "Democrat Karl Rove", hoping to mix advanced voter contact technologies developed by Democrat firms with Rove's ruthless data-mining "microtargeting" and turn the tables against the Republicans. In short, it is this microtargeting strategy that has me begging you to lie to the campaign, lie to your friends, lie about your vote.
Your name is in the voter file. If you've answered a poll on the subject of Hillary's candidacy for any Democrat campaign at any point in the last decade and a half, your answer is likely in there, too. They know how often you vote or don't vote, they know if you've changed your voter registration at some time. They know if you've ever donated to or volunteered for Democrat or Republican causes. They know if one time you said something nasty to a campaign volunteer who called your house at dinner. In all likelihood they know your religion, race, ethnic identification, and even if you haven't given that information freely, they've got algorithms to guess it. If you've been loudly espousing a pro- or anti-Hillary position on social media (especially with hashtags), I promise you it's in there.
A strong NO or a strong YES have zero power over the debate
This is total Big Brother stuff[1]. I know because it used to be my job to organize which voters to contact with which message, using all that data to figure out which script to have our volunteers use when they called you. And it has only gotten more advanced in the intervening years. So let's talk classifications. It's a really simple system, just a 1 through 5 categorization:
A "5" is a strong "NO". This is a person who will under no circumstances be voting for Hillary. Either they've told a campaign volunteer over the phone or at the door that they'll be voting for Trump or they've used a hashtag like #Benghazi or #Lewinski on social media. This person will be left alone or perhaps targeted with a weak, inexpensive communication reminding them to vote but telling them the wrong date for the election (yes, that happens).
On the other end we have a "1", a strong "YES" supporter. The opposite of the 5, the campaign feels no need to lobby this voter since they're already a sure thing. This includes those who have tweeted #ImWithHer or any pro-Hillary propaganda. If you hold either of these classifications, you have zero power over the debate, you're already categorized and now you're stored away until the last week of the campaign when they decide how to energize or disenfranchise you.
If you want to control the debate, you can't back down
2s, 3s and 4s are where the magic happens. A "2" is leaning towards voting for Hillary but still not fully committed. Those are the people who will be getting compromises for their commitment. A "3" is a total undecided, and this person will be pandered to hard. A "4" is likely to vote against Hillary but again not fully convinced. The hope here is that a "4" becomes a "3" and is then susceptible to the pandering strategy.
This middle section is where the power lies. "I'll think of voting for her if she endorses and embraces the #BlackLivesMatter platform throughout the general campaign" or "There's no way I can vote for Clinton unless she promises an end to our perpetual global surveillance and military presence". Say this to a campaign staffer or volunteer and they'll be trained to respond by saying "Well, you know she can't say it in the general election because she's trying to win the swing voters in [X State], but I know she truly believes in [your cause] and as President will work to [do whatever you just said]". Reasonable argument, right? But if you want to control the debate, you can't back down. "I'm sorry," you'll say, "but if she can't come out and publicly say it, I can't vote for her, even if it means President Trump."
Swing voters have six months to decide what Hillary's mandate looks like
If enough of her volunteers come back and say they've had this conversation over and over again with voters and that people won't back her until she stands for real progressive values, the campaign will make sure to address it and Hillary Clinton will be elected on a mandate to address progressive issues. Lie to Facebook, lie to Twitter, lie to all her campaign volunteers and staffers, skew that data and you skew the debate.
Even if in your heart you've already accepted a little compromise – for instance, you've seen Trump's list of Supreme Court picks – stop announcing it. You have six months to establish yourself as a swing voter. That's where your power to control the national debate lies: in lying about how committed you are against her ideals (whatever those may be today), just like Secretary Clinton will lie to you about how committed she is to yours.
In half a year, President-elect Clinton will be thanking her policy advisers either for moving her toward #BlackLivesMatter and Occupy and universal health care and Vice President choices like Jill Stein, Elizabeth Warren or Elijah Cummings, or for moving her even further toward Wall Street and fracking and repealing the Affordable Care Act and Vice Presidents Colin Powell or Jim Webb. Swing voters have six months to decide what her mandate looks like.
If you're not a swing voter, no one is pandering to you and you're already written out of the debate. Threaten to vote Green or go #BernieOrBust, even if you're planning to vote Clinton, and keep your power.
---
[1] A sidenote for our European readers: this data collection and storage is illegal in the EU under the "Right To Be Forgotten". However, there are many US election firms who have gotten footholds in Europe (all major UK parties employ them, as did Nicolas Sarkozy in France and the Conservatives in Germany, just to name a few, and many of these firms employ or are run by my old "Democrat Karl Rove" colleagues) and these firms are lobbying their clients to loosen up the law so that they can electioneer in Europe like they do in America. If this Big Brother concept disgusts you, stay vigilant in fighting to protect your right to be forgotten or you could soon end up like the US.
The post The Strategic Value of Lying About Your Vote appeared first on The Leveller.
---
The UK government has adopted the schema.org jobPosting standard as the format that it will use to publish job vacancies on the web.
Better job adverts are important for a lot of reasons, as pointed out by Citizens Advice. In response to a tweet from Phil Rumens, below is a list of possible ways to get wider use of the standard beyond government.
Make it easier
Write and opensource low-level libraries that make it easy to manipulate / generate jobPosting data structures.

Fork or contribute to opensource software for publishing jobs, such as Simple Job Board for WordPress, so that it meets the jobPosting standard.

Lobby the providers of back office HR systems to adopt the standard.

Lobby the big job boards to adopt the standard.
Change the law
Government mandate that all job adverts published online conform with jobPosting, probably with exceptions for small companies.

Government mandates that all jobs resulting from a government contract over a certain amount are advertised on websites that use jobPosting (think Crossrail), probably with an exception for contracts under a certain size. Local authorities could adopt this unilaterally.

Government creates an API end-point that conforms with jobPosting and mandates that, regardless of where else companies advertise jobs, they must also post data to that end-point so that the data can be used as part of the Universal Credit service. The API could also be run voluntarily under the 'make it easier' approach.
Make it desirable
Make the publishing of quality job adverts an issue of corporate social responsibility. Encourage big employers like Tesco, who publish their own jobs, to adopt the standard for the wider economic health of the country.

Create a 'better jobs kite-mark' that publishers who adopt the standard can use.

Create a website that celebrates publishers who use the standard and invites people to ask others publically to adopt it, much as Two Factor Auth List does for 2fa.

Create a validator that gives job adverts a rating for jobPosting and possibly other useful checks like the use of potentially discriminatory language. Francis Irving built a version of this at a recent Cabinet Office hackday
Intervene in the market
Government adopts jobPosting as the standard to exchange information about apprenticeship vacancies.

Government creates an incentive for publishers to use the standard by disproportionately recommending jobs that meet the standard to jobseekers.

Government publishes NHS and Civil Service jobs using the jobPosting standard, entrenching the standard in the market.

Educate jobseekers to favour websites that clearly publish wages, locations etc.
---
I met my first Leave Europe supporter yesterday, but didn't have enough time to quiz them. But they referred me to Boris Johnson's speech in Manchester as an explanation.
I listened to it all.
Boris banged on about those nasty EU regulations infiltrating every part of the nation:
"They can't tell us what sort of trains we can run, can they?

"Oh yes they can!

"Oh yes they can!

"The EU Commission told us that by 10 Nov 2018 we must create a rail freight corridor to Glasgow and Felixstowe, which means that Network Rail can be legally obliged to accept rail freight trains in place of passenger trains.

"Of course our excellent transport minister spotted this insanity, with the west coast main line full to capacity. If we had more freight trains, fewer passenger trains, there would me more overcrowding and higher fares. So he wrote a fierce letter to the Commission complaining that they were circumventing requirements, bending the rules, and of competence creep aka sticking their nose into something that wasn't their business. But the Commission told him to 'go and jump in a lake.'

"So we took them to the European Court of Justice, and what did the Court of Justice say? They told us 'allez vous plonger dans un lac.' They ruled on that occasion as they have done in 80 per cent of the cases in which Britain has been involved – they rules against us."
Now these are the days when the world is interconnected, and we have a Channel Tunnel, and roads that are utterly chockablock with a hundred thousand fat diesel trucks that can freely drive onto the motorways in enormous numbers.
In the meantime it's practically impossible to arrange for a zero-carbon electric train to haul heavy steel products direct from the steel mills on the Clyde to the construction sites in Barcelona because of the amazing national railway bureaucracies along the way.
It takes years of painstaking systematic work to identify and address these problems, like those articulated in a Select Committee report from 2005:
Many of our witnesses told us that getting rail freight through France was very difficult. The significance of this problem is greater because France's geographical position means that international rail freight to and from Great Britain and the Iberian Peninsula travels through France. We were therefore encouraged by Mr Hilbrecht's confirmation that Europorte 2, a subsidiary of Eurotunnel, had received a licence and a safety certificate to operate in France…

The French two-part tariff system was also said to be a particular barrier to open access and fair competition within France. Mr Hilbrecht was happy "to say that we have achieved agreement with France . . . . They agree that it (the two-part tariff system) should be changed". Unfortunately the French government claim that because of the public service contracts with regions they cannot do so before 1 January 2006. This two-part tariff system needs to be abolished. We hope that the Commission will ensure that the French government abolish it as soon as possible.

The last problem that we identified is the least tangible, but is nevertheless an important challenge facing the rail freight industry. The evidence we received led us to believe that the rail industry in general, and in particular the rail infrastructure managers, have inadequate incentives to win new traffic. We recognise that, for political reasons, rail passengers are given priority over the movement of rail freight. This appears to have resulted in an institutional framework within the rail industry in which there is little incentive to increase and improve rail freight.

Whatever the cause of this lack of commercialism and competitive performance, it has to be overcome if the rail freight industry is to revive and achieve its potential.
But Boris doesn't give a toss about this if he can make people laugh at his stupid jokes.
He'll say all EU directives and ECJ rulings are about Brussels bureaucrats meddling in everything with their crappy regulations, when these ones are about unpicking the thicket of stultifying regulations and prohibitive monopoly rules that make it impossible run trains across national borders.
You have to pass laws to repeal laws, and fight hard to get rid of bureaucracy.
Anti-democratic? Never mind that each one of these directives is examined, amended and passed by a European Parliament that gets elected every five years where every vote counts equally, so that when the Green Party gets 6.7% of the votes, it gets 6.7% of the seats — unlike in the utterly screwed up system in the UK that gives disproportionate representative power to tosswits like Boris to tell us like it isn't.
Yes, I mentioned that steel industry, the jewel in the crown of Britain's awe-inspiring industrial revolution of the 19th century. You remember how a private corporation in one of our former British empire colonies bought it in its entirety for small change ten years ago and then shut the whole thing down last week? How humiliating is that?
So much for the Commonwealth Dream, eh? I don't see Britain owning any comparable assets in foreign lands, other than a few seedy tax havens.
This should have been a seminal moment in our nation's self-image.
But it isn't because our political feelings have become pathologically detached from reality.
Apparently the EU tried to save the steel industry by putting tariffs on Chinese impots, but this effort was blocked by the UK government because our policy is to toady up to everything the Chinese want no matter what the cost.
That's because the country that built the first commercial nuclear power station in the world in 1956 needs that Chinese finance to pay French engineers to consider building a new one — at a cost not quite as high as the International Space Station.
It's not going to fly. And it doesn't include the cost of taking it down, let alone in time for the sea levels to rise and wash the resulting radioactive sludge inland to Bristol and all along the North Devon coast with the tides.
Isn't it curious the highest profile proponents of the Britain to Leave Europe are also climate change denialists? Once you have one delusion of supremacy, it's easy to get more.
As Professor Danny Dorling pointed out:
The UK is not a typical country in Europe. If we were more typical I would have more patience with those who suggest that we could leave and our lives would improve. But in many ways we're a poorly performing affluent country. This poor performance has little to do with the EU, and a lot to do with us, and our legacy of having had an Empire. From the Suez crisis right through to the Panama papers, there's a series of embarrassments that have occurred and, in a way, this referendum is just another one of those embarrassments.

Some people have a fantasy (enjoyed by the majority of the Brexit group, particularly the Cabinet ministers) that if we were to leave we would become 'Great' again. We could become the richest country in the world again, and our EU membership is why we are not 'Great'.
And, so, because a lot of sensible people are sick and tired of arguing with these total idiots, we feel like letting them have what they desire, and getting us out of Europe. And then the Europeans are not going to help us with driving our trains, cars, people, money, goods or anything else across our the borders and into their lands. Things will pretty quickly stop working and go south.
And these politicians who sold us this knackered bill of goods will absolutely own it. We're going to have to finally learn the hard way how Not-Great we are. It'll be good in the long run — if there was a long run — for us to have a more realistic perspective about who we are. After all, losing their big wars seems to have done a power of good to the standard of living of the people in Germany and Japan.
In the end none of this matters one little bit. We are arguing about these petty matters when we should be freaked out by the fact that the near-term human extinction has become inevitable.
At some point everyone will learn that we are nothing more than ten billion monkeys farting around on one lonely planet with made-up borders. We've used our big brains just enough to fuck things up royally, but we just cannot be arsed to turn it up another notch to avert disaster, can we?
---
Network effects are central to our investment thesis at USV. We believe that they provide one of the few (the only?) source of sustainable competitive advantage. We have also been outspoken about wanting to limit the power that these network effects provide to winning companies. One proposal that I have made is to shift more power to the edge of the network by giving humans the right to be represented by a software bot.
It is useful to think about how contestable a market with network effects is. The concept of contestable markets was first developed by Baumol. The idea is that even a market with relatively few companies (including possibly a single dominant company) could be quite competitive *if* there is a credible threat of new entrants. The three characteristics of perfectly contestable markets are
No entry or exit barriers
No sunk costs
No technology advantage for incumbent
It turns out that this increasingly describes many digital markets.
Consider messengers as an example. Even though messengers have a strong network effect, with cloud computing and rented hardware there are very few entry or exit barriers, sunk cost or technology advantages for incumbents. As a result it has been difficult to monetize messengers (with the proviso that if they achieve deep integrations such as WeChat, then there are barriers to entry).
Messengers have an extra challenge in that they (largely) deal with ephemeral content. Between having the graph in the phone book, no investment in past content and minimal learning curve, endusers are free to explore new services. Incidentally this could also turn out to be a challenge for Snapchat as there is no archival content (yet).
On demand car services, such as Uber, Lyft, etc. may turn out to be locally contestable. It is unclear how much of a cross city network effect exists (despite what we as frequent travelers might think – and even among frequent travelers many go to only a few cities, so can easily have a few apps installed). There are local players competing already and new entrants being started including Juno in New York city and the Waze Rider in Tel Aviv.
Protocols, such as say SMTP for email, make markets extremely contestable. Despite the dominance of a few email providers the services are free and even advertising monetization is minimal. This means that other existing network effects are susceptible to increased contestability should standards emerge. That's why work on standards for messaging, transportation, payments, etc. is so important and new blockchain based protocols are worth exploring.
---
My book World After Capital argues that we are living in a dangerous time of transition: industrial capitalism is breaking down and we don't yet have a viable alternative. Incumbent politicians are still clinging to fixing the existing system while insurgent populists are arguing for big changes. This to a large degree explains the scary rise of populism we are seeing around the world and in the United States.
Populist leaders have come to power around the world in recent years, such as Putin in Russia, Erdogan in Turkey and most recently Duterte in the Philippines. Many of them share the same backwards fundamental characteristics such as re-emphasizing the nation state, being anti-globalization and anti-science, cracking down on minorities, usurping personal power and rolling back democratic institutions.
Here in the United States, Donald Trump has been tapping into the frustrations and anxieties of those who feel left behind by the economic and social changes that are resulting from the breakdown of industrial capitalism. He is providing a resonant message with "Make America Great Again" and his proclamations are similar to populists around the world (nationalist, anti-science, anti-minority, pro personal power).
What continues to be missing is an alternative narrative. Hillary Clinton is uninspiring as a candidate because she stands squarely for the idea that small tweaks to the existing system of industrial capitalism are all that is needed. Many people clearly see it differently, which also accounts for the popularity of Bernie Sanders. Unfortunately Sanders too is in his own way a populist who wants to go back to the past, in his case the socialist models of Europe (just as those are breaking down).
We in technology mostly live in a bubble where everything is getting better (and faster and cheaper). We see the breakthroughs in technology from machine learning to CRISPR and ignore the extraordinary powder keg of frustration that is building up around us (or worse: claim that there is no reason for anyone to be frustrated).
This is why I have been writing World After Capital. My goal is to provide an alternative narrative. One that doesn't revert to easy and dangerous populism (whether right or left) but points a way forward into a knowledge society.
---
When we invested in Onename in 2014 it was with the conviction that decentralized applications will require human readable identity systems for some applications. Take the DAO for example. As of writing this post it has raised nearly $110 million dollars including some from me. The allocation of this capital will be decided through voting. Now imagine the difference between voting on a proposal made by 0x8f585e5578a9695151fe51ac92f560c8a9cc9a14 (my DAO address) versus one made by albertwenger (a human readable name registered using Onename). It will be interesting to see to what extent the DAO can succeed using only or primarily machine readable addresses.
In order to build a decentralized infrastructure for naming the Onename team wound up building a fair bit of technology which has become known as the Blockstack. It allows the creation of namespaces on top of the bitcoin blockchain and supports naming, identity, storage and authentication services. A great community has sprung up around Blockstack with many active contributors. There are many applications for using Blockstack and Onename turns out to be only one of them as the following picture illustrates.
To avoid confusion, the team has decided to change the name of the company to Blockstack Labs. Blockstack Labs will continue to drive forward the development of the Blockstack platform.
---
I've been happy with my 2016 HTPC, but the situation has changed, largely because of something I mentioned in passing back in November:
The Xbox One and PS4 are effectively plain old PCs, built on:

Intel Atom class (aka slow) AMD 8-core x86 CPU
8 GB RAM
AMD Radeon 77xx / 78xx GPUs
cheap commodity 512GB or 1TB hard drives (not SSDs)

The golden age of x86 gaming is well upon us. That's why the future of PC gaming is looking brighter every day. We can see it coming true in the solid GPU and idle power improvements in Skylake, riding the inevitable wave of x86 becoming the dominant kind of (non mobile, anyway) gaming for the forseeable future.
And then, the bombshell. It is all but announced that Sony will be upgrading the PS4 this year, no more than three years after it was first introduced … just like you would upgrade a PC.
Sony may be tight-lipped for now, but it's looking increasingly likely that the company will release an updated version of the PlayStation 4 later this year. So far, the rumoured console has gone under the moniker PS4K or PS4.5, but a new report from gaming site GiantBomb suggests that the codename for the console is "NEO," and it even provides hardware specs for the PlayStation 4's improved CPU, GPU, and higher bandwidth memory.

CPU: 1.6 → 2.1 Ghz CPU
GPU: 18 CUs @ 800Mhz → 36 CUs @ 911Mhz
RAM: 8GB DDR5 176 GB/s → 218 GB/s
In PC enthusiast parlance, you might say Sony just slotted in a new video card, a faster CPU, and slightly higher speed RAM.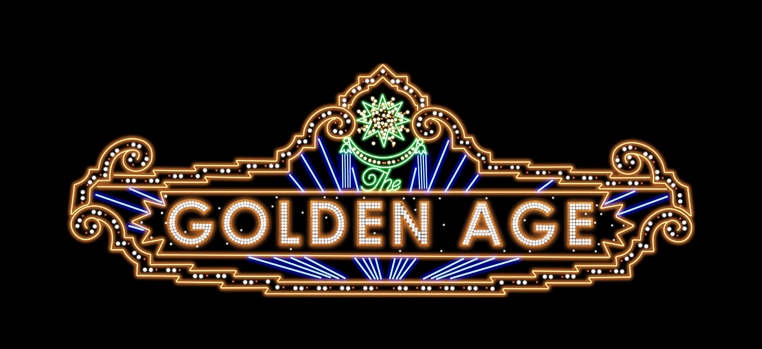 This is old hat for PCs, but to release a new, faster model that is perfectly backwards compatible is almost unprecedented in the console world. I have to wonder if this is partially due to the intense performance pressure of VR, but whatever the reason, I applaud Sony for taking this step. It's a giant leap towards consoles being more like PCs, and another sign that the golden age of x86 is really and truly here.
I hate to break this to PS4 enthusiasts, but as big of an upgrade as that is – and it really is – it's still nowhere near enough power to drive modern games at 4k. Nvidia's latest and greatest 1080 GTX can only sometimes manage 30fps at 4k. The increase in required GPU power when going from 1080p to 4k is so vast that even the PC "cost is no object" folks who will happily pay $600 for a video card and $1000 for the rest of their box have some difficulty getting there today. Stuffing all that into a $299 box for the masses is going to take quite a few more years.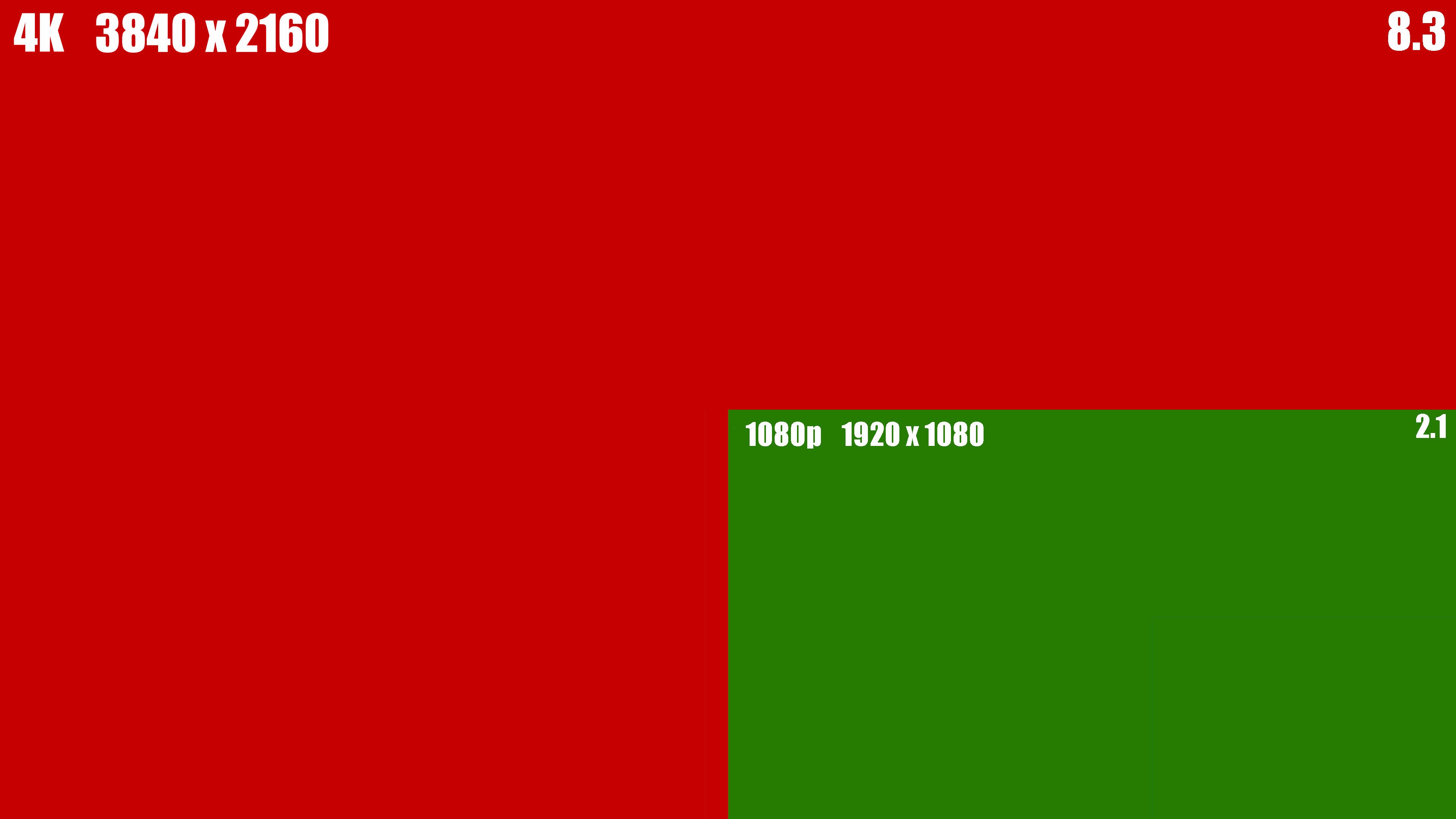 Still, I like the idea of the PS4 Neo so much that I'm considering buying it myself. I strongly support this sea change in console upgradeability, even though I swore I'd stick with the Xbox One this generation. To be honest, my Xbox One has been a disappointment to me. I bought the "Elite" edition because it had a hybrid 1TB drive, and then added a 512GB USB 3.0 SSD to the thing and painstakingly moved all my games over to that, and it is still appallingly slow to boot, to log in, to page through the UI, to load games. It's also noisy under load and sounds like a broken down air conditioner even when in low power, background mode. The Xbox One experience is way too often drudgery and random errors instead of the gaming fun it's supposed to be. Although I do unabashedly love the new controller, I feel like the Xbox One is, overall, a worse gaming experience than the Xbox 360 was. And that's sad.
Or maybe I'm just spoiled by PC performance, and the relatively crippled flavor of PC you get in these $399 console boxes. If all evidence points to the golden age of x86 being upon us, why not double down on x86 in the living room? Heck, while I'm at it … why not triple down?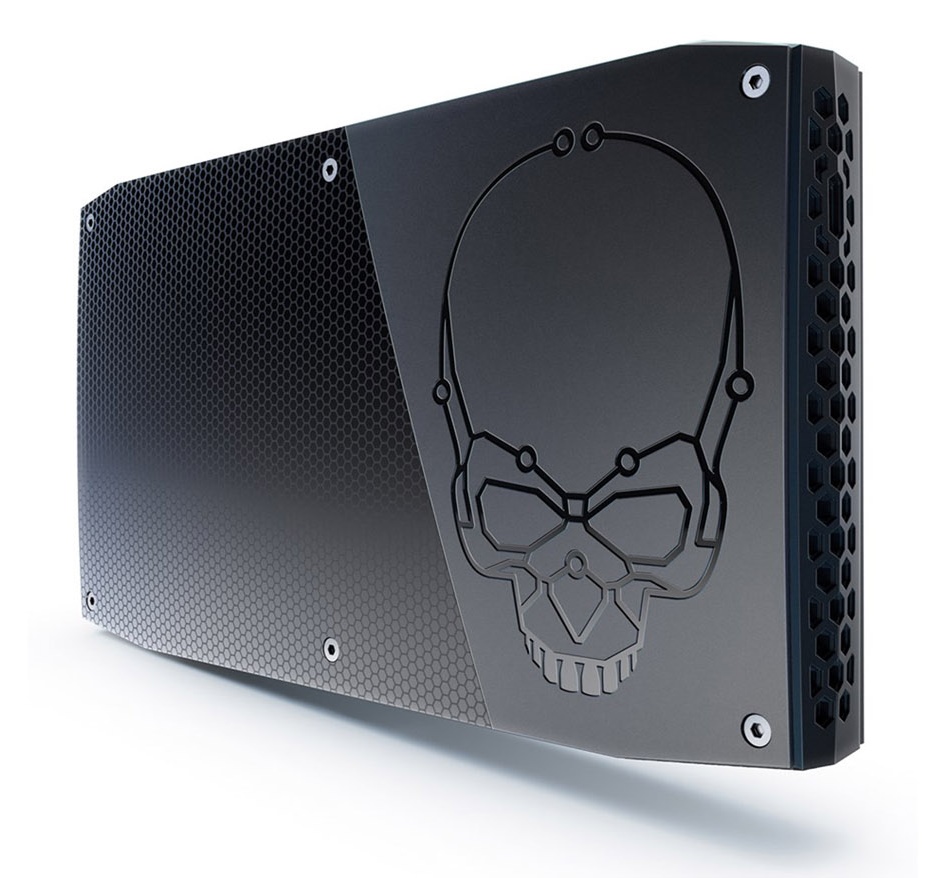 This, my friends, is what tripling down on x86 in the living room looks like.
It's Intel's latest Skull Canyon NUC. What does that acronym stand for? Too embarrassing to explain. Let's just pretend it means "tiny awesome x86 PC". What's significant about this box is it contains the first on-die GPU Intel has ever shipped that can legitimately be considered console class.

It's not cheap at $699, but this tiny box bristles with cutting edge x86 tech:
Quad-core i7-6770HQ CPU (2.6 Ghz / 3.5 Ghz)
Iris Pro Graphics 580 GPU with 128MB eDRAM
Up to 32GB DDR4-2666 RAM
Dual M.2 PCI x4 SSD slots
802.11ac WiFi / Bluetooth / Gigabit Ethernet
Thunderbolt 3 / USB 3.1 gen 2 Type-C port
Four USB 3.0 ports
HDMI 2.0, mini-DP 1.2 video out
SDXC (UHS-I) card reader
Infrared sensor
3.5mm combo digital / optical out port
3.5mm headphone jack
All impressive, but the most remarkable items are the GPU and the Thunderbolt 3 port. Putting together a HTPC that can kick an Xbox One's butt as a gaming box is now as simple as adding these three items together:
16GB DDR4-2400 $64
Ok, fine, it's a cool $1,080 plus tax compared to $399 for one of those console x86 boxes. But did I mention it has skulls on it? Skulls!
The CPU and disk performance on offer here are hilariously far beyond what's available on current consoles:
Disk performance of the two internal PCIe 3.0 4x M.2 slots, assuming you choose a proper NVMe drive as you should, is measured in not megabytes per second but gigabytes per second. Meanwhile consoles lumber on with, at best, hybrid drives.

The Jaguar class AMD x86 cores in the Xbox One and PS4 are about the same as the AMD A4-5000 reviewed here; those benchmarks indicate a modern Core i7 will be about four times faster.
But most importantly, its GPU performance is on par with current consoles. NUC blog measured 41fps average in Battlefield 4 at 1080p and medium settings. Digging through old benchmarks I find plenty of pages where a Radeon 78xx or 77xx series video card, the closest analog to what's in the XBox One and PS4, achieves a similar result in Battlefield 4: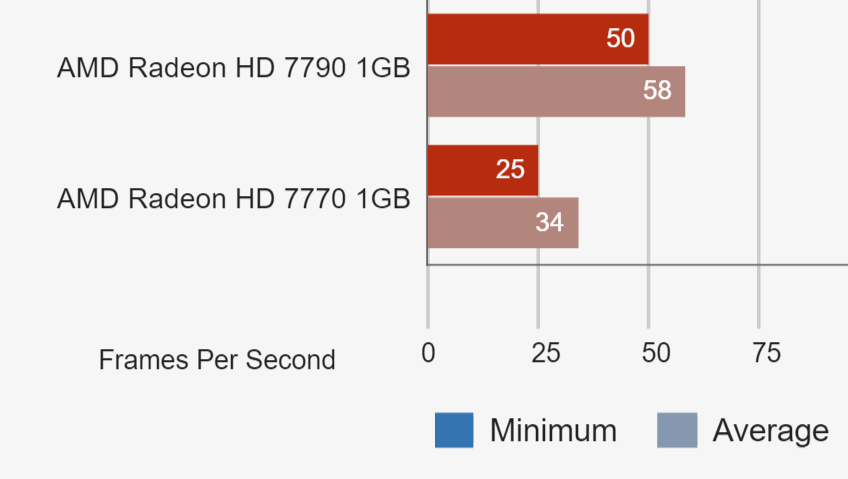 I personally benchmarked GRID 2 at 720p (high detail) on all three of the last HTPC models I owned:
| | | | |
| --- | --- | --- | --- |
| | Max | Min | Avg |
| i3-4130T, HD 4400 | 32 | 21 | 27 |
| i3-6100T, HD 530 | 50 | 32 | 39 |
| i7-6770HQ, Iris Pro 580 | 96 | 59 | 78 |
When I up the resolution to 1080p, I get 59fps average, 38 min, 71 max. Checking with Notebookcheck's exhaustive benchmark database, that is closest to the AMD R7 250, a rebranded Radeon 7770.
What we have here is legitimately the first on-die GPU that can compete with a low-end discrete video card from AMD or Nvidia. Granted, an older one, one you could buy for about $80 today, but one that is certainly equivalent to what's in the Xbox One and PS4 right now. This is a real first for Intel, and it probably won't be the last time, considering that on-die GPU performance increases have massively outpaced CPU performance increases for the last 5 years.
As for power usage, I was pleasantly surprised to measure that this box idles at 15w at the Windows Desktop doing nothing, and drops to 13w when the display sleeps. Considering the best idle numbers I've measured are from the Scooter Computer at 7w and my previous HTPC build at 10w, that's not bad at all! Under full game load, it's more like 70 to 80 watts, and in typical light use, 20 to 30 watts. It's the idle number that matters the most, as that represents the typical state of the box. And compared to the 75 watts a console uses even when idling at the dashboard, it's no contest.
Of course, 4k video playback is no problem, though 10-bit 4K video may be a stretch. If that's not enough — if you dream bigger than medium detail 1080p gameplay — the presence of a Thunderbolt 3 port on this little box means you can, at considerable expense, use any external GPU of your choice.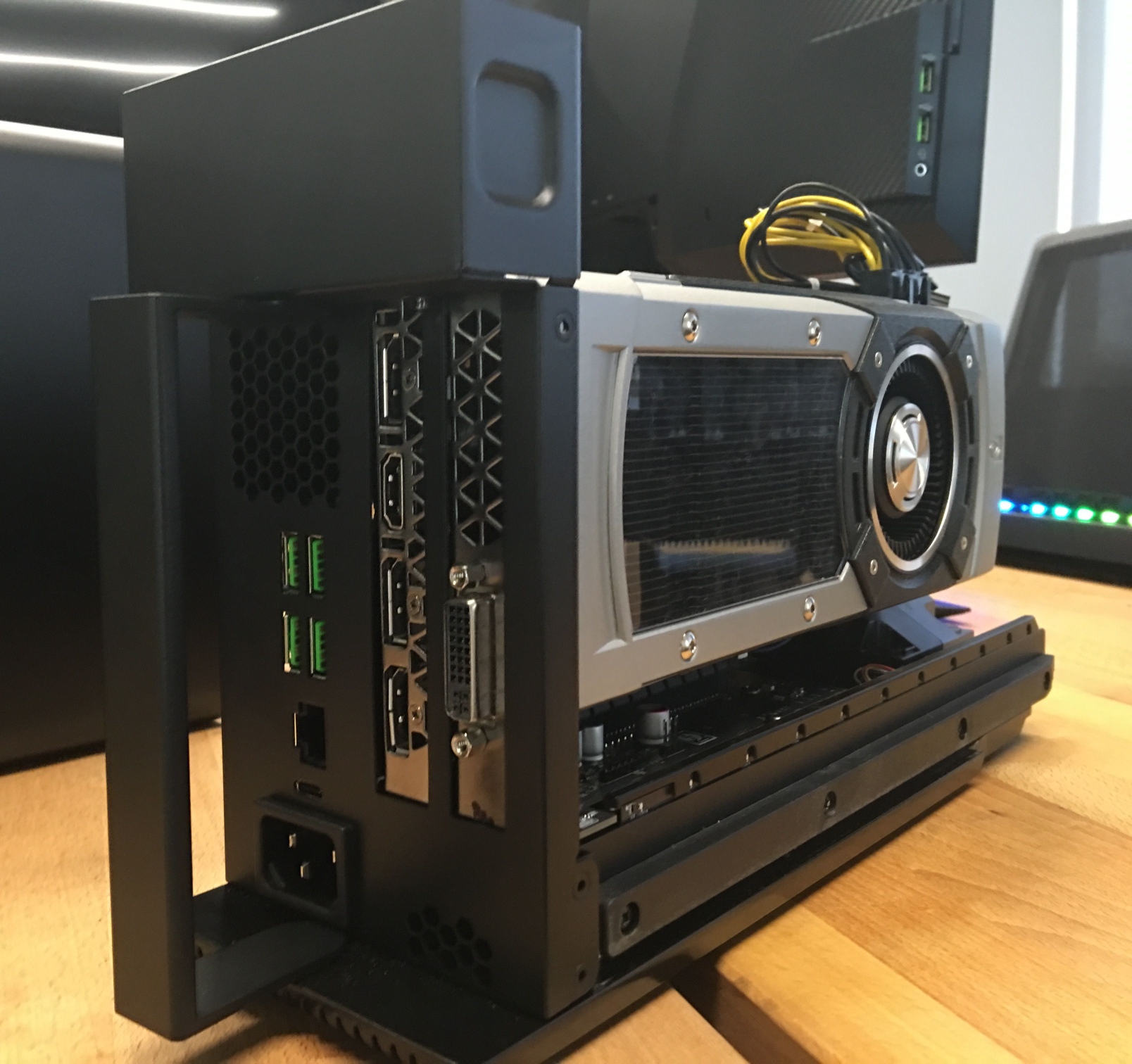 That's the Razer Core external graphics dock, and it's $499 all by itself, but it opens up an entire world of upgrading your GPU to whatever the heck you want, as long as your x86 computer has a Thunderbolt 3 port. And it really works! In fact, here's a video of it working live with this exact configuration:
Zero games are meaningfully CPU limited today; the disk and CPU performance of this Skull Canyon NUC is already so vastly far ahead of current x86 consoles, even the PS4 Neo that's about to be introduced. So being able to replace the one piece that needs to be the most replaceable is huge. Down the road you can add the latest, greatest GPU model whenever you want, just by plugging it in!
The only downside of using such a small box as my HTPC is that my two 2.5" 2TB media drives become external USB 3.0 enclosures, and I am limited by the 4 USB ports. So it's a little … cable-y in there. But I've come to terms with that, and its tiny size is an acceptable tradeoff for all the cable and dongle overhead.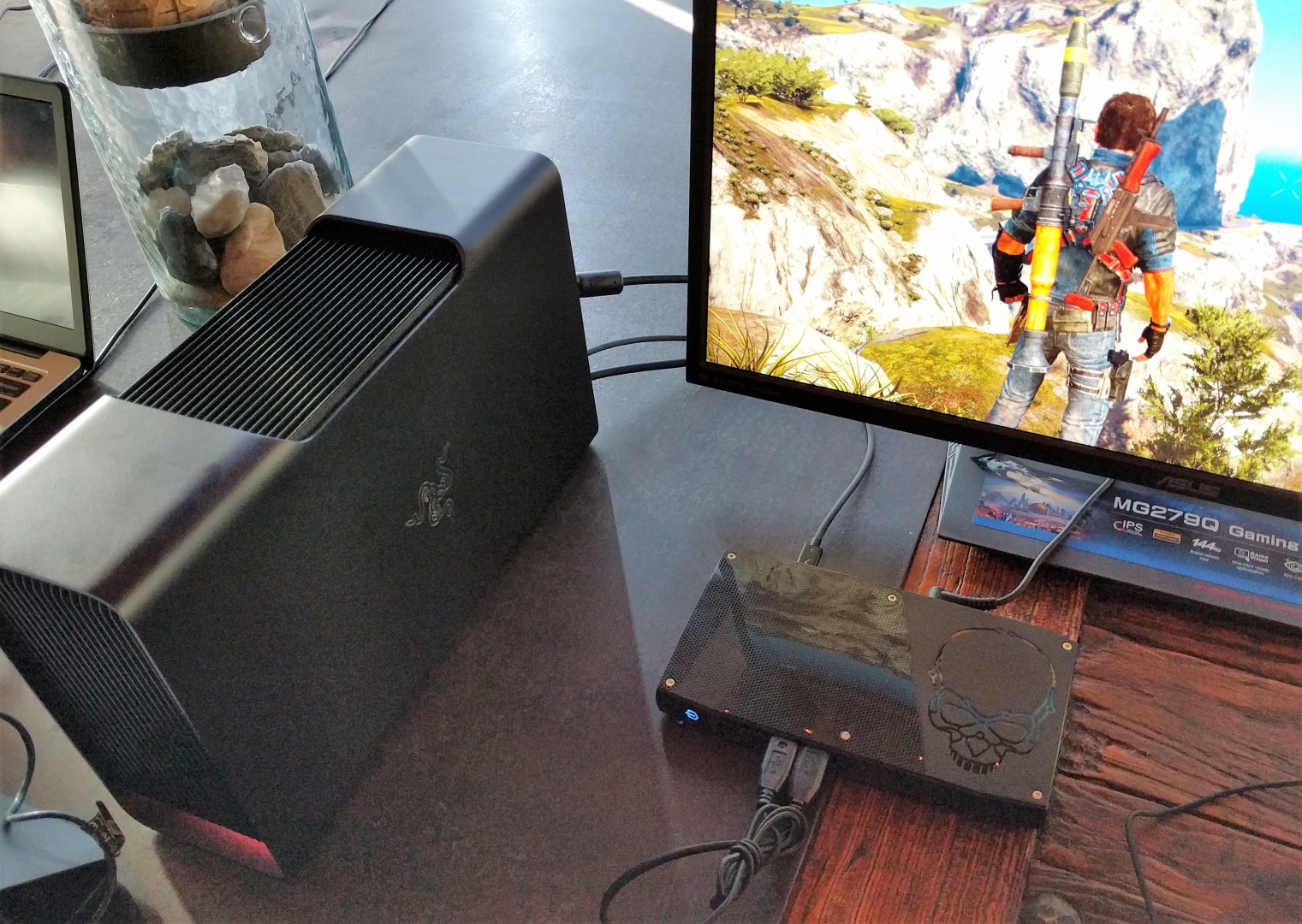 I still remember how shocked I was when Apple switched to x86 back in 2005. I was also surprised to discover just how thoroughly both the PS4 and Xbox One embraced x86 in 2013. Add in the current furor over VR, plus the PS4 Neo opening new console upgrade paths, and the future of x86 as a gaming platform is rapidly approaching supernova.
If you want to experience what console gaming will be like in 10 years, invest in a Skull Canyon NUC and an external Thunderbolt 3 graphics dock today. If we are in a golden age of x86 gaming, this configuration is its logical endpoint.
---
After a 41-day journey marked by stormy seas, a trip through the Panama Canal and a rescue off the Baja California coast, the last unflown space shuttle external fuel tank has arrived at its new home here in Los Angeles.
---
One year ago today, LightSail 1 rode an Atlas V rocket into space. Now, the program stands on the brink of another major milestone, as engineers prepare for a full systems test of LightSail 2, a successor CubeSat that will attempt the first controlled solar sail flight in low-Earth orbit.
---
Japan's Akatsuki Venus orbiter is well into its science mission, and has already produced surprising science results. The mission, originally planned to last two years, could last as many as five, monitoring Venus' atmosphere over the long term.
---
Lockheed Martin proposed a system to send humans to orbit Mars in the year 2028—a concept that shares many core values with The Planetary Society's report, Humans Orbiting Mars, we released last year.
---
Astrophotographer Adam Block shares his latest image, this time of a menacing spiral galaxy.
---
The European Space Agency and Roskosmos have admitted the inevitable—the launch of the joint ExoMars-2018 project will have to be postponed for two years to 2020.
---
Two-and-a-half days after a dramatic sea rescue, the tugboat crew hauling a space shuttle fuel tank to California bid farewell to some unexpected passengers last night in San Diego.
---
Subscriptions
---
Updated using Planet on 30 May 2016, 04:48 AM