This combines together some blogs which I like to read. It's updated once a week.
December 15, 2018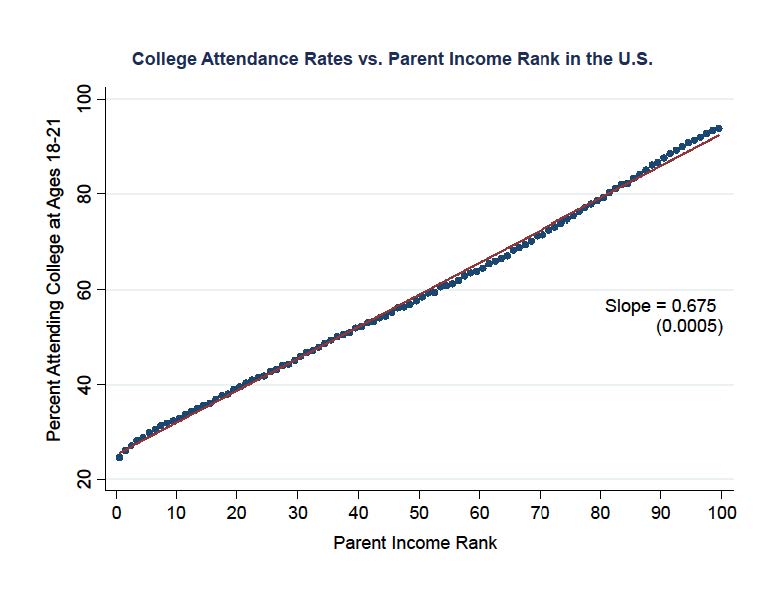 So, unless you think that genetic potential is that unequally distributed (and can explain eras where this chart did not apply, as in the post-WWII decades), you can pretty much forget "meritocracy."
Meritocracy is just a way of saying "we test for the things the middle and upper class has the resources to prepare for their children." And that's before we get to the extra opportunities having wealthier parents gives one simply from network effects.
Fairness and justice are obviously big issues, but just as bad is that many of these people might contribute in a huge way, and are never given the opportunity.
Stephen Jay Gould once said:
"I am, somehow, less interested in the weight and convolutions of Einstein's brain than in the near certainty that people of equal talent have lived and died in cotton fields and sweatshops."
These days, McDonalds, Walmarts and Amazon warehouses..
---
The results of the work I do, like this article, are free, but food isn't, so if you value my work, please DONATE or SUBSCRIBE.
---
Danny Sjursen makes the case at the American Conservative.
The piece as a whole is worth reading, but the bottom line is that the Afghan government's own military and police are hopeless: losing to the Taliban.  The US military, with current force levels, cannot hold most of the country. Unless the US is willing to surge again, it is losing the war.
And if it surges, that won't win the war, it will only delay the inevitable.
Before the Afghan war, I remember reading an interview with the Taliban ambassador to Pakistan, which I've been  unable to find since. He said, paraphrased, "you will invade. You will take the cities. We will retreat to the countryside. You will not be able to destroy us. You will eventually leave and we will win."
It struck me as prophetic at the time, and it has played out exactly as he expected.
The US is incapable of "nation building", serious insurgency warfare, and is bad at occupation. (This wasn't always the case, it is now.)
The strategy, if there was to be a war at all, should always have been to go in, accomplish limited goals and be out within 3 months. Six at the most.
(This is somewhat true of Iraq, where the US should have knocked over Saddam, had a proscription list, and picked its Colonel to lead the country, leaving within six months. The difference is that a Colonel might have stood a chance in Iraq, no one but the Taliban is going to rule Afghanistan without ongoing foreign support.)
America was always going "lose" in Afghanistan if it did not limit its goals sharply. The only question is how many people will die before America gets tired of the ulcer and leaves.
---
The results of the work I do, like this article, are free, but food isn't, so if you value my work, please DONATE or SUBSCRIBE.
---
Mars Reconnaissance Orbiter has finally spotted the InSight lander, its parachute, and its heat shield resting on the Martian surface. The images confirm the location of InSight's landing site, a little to the north and west of the center of the landing ellipse. The lander is located at 4.499897° N, 135.616000° E.
---
The Geminid meteor shower, which peaks tonight, is usually the best meteor shower of the year,
---
Following a 4.6-day cruise, on 12 December at 8:45 Beijing time (16:45 UTC), the spacecraft arrived in lunar orbit, preparing for a landing in early January.
---
After a more-than-four-year adventure, the flight Mars 2020 rover Mastcam-Z cameras have been fully assembled!
---
Just after a failed drill attempt at Inverness, Curiosity suffered a serious computer problem. The mission has now recovered by switching computers, and has successfully drilled at Highfield. One last drill site in "red Jura" rocks is planned before leaving Vera Rubin ridge behind.
---
OSIRIS-REx team members held a press briefing today at the 2018 American Geophysical Union meeting, and announced that the mission has already found water on asteroid Bennu.
---
Voyager 2 is now outside the reach of the solar wind, traveling in the interstellar medium. Unlike Voyager 1, Voyager 2 has a working plasma spectrometer so will be doing exciting new science. It is expected to last another 5 to 10 years, though not with all instruments operating.
---
December 14, 2018


The Hallmark Holiday Gazebo Is Dead, Long Live the Hallmark Holiday Gazebo:
"Even if you've never dabbled in the art of the squeaky-clean, delightfully soapy Hallmark Christmas movie, you've most likely still picked up on their distinguishing characteristics by Yuletide osmosis."

Gizmo Is Basically Jesus Christ, Right?: Revisiting Gremlins in Time for Christmas:
"You know the Gremlins rules right?"

21 Movies That Aren't Technically Christmas Movies But Are Totally Christmas Movies:
"Yes, Die Hard is on this list."

11 Christmas movies for people who hate Christmas movies:
"What makes a Christmas movie a Christmas movie? Is it the presence of Christmas trees? Or feel-good themes like "giving" and "believing"?"

This 'Broken Ornament' Led To Christmas Magic:
"Some of the best stories begin at home — and in fact, that's where Tony DiTerlizzi got the idea for his latest book. The Caldecott Award-winning author and illustrator, perhaps best known for The Spiderwick Chronicles, is taking a big leap into the unknown with his first Christmas book, The Broken Ornament."

New Yorkers Are Losing Their Minds Over The "HOLLAMD TONNEL" Christmas Decorations:
"The holidays are too stressful already and Port Authority makes us stare at this sheer stupidity every [day]."

Make These Sheet Pan Breakfast Sliders for Christmas Morning:
"You know what I like doing on Christmas? Eating. You know what I don't like doing on Christmas? Cleaning. You know what lets me do a lot of eating and very little cleaning? The pull-apart bacon, egg, and cheese sliders you see above, which are cooked entirely in one sheet pan."

'Someone called me the antichrist': behind the battles for Christmas No 1:
"Christmas No 1 was once a fiercely fought-over prize. From Rage Against the Machine v Joe McElderry, Slade v Wizzard and George Michael in Wham! v George Michael in Band Aid, winners and losers recall the great festive stand-offs."

BBC Christmas Food:
"BBC History Manager John Escolme takes a look at the more eccentric side of cookery on BBC TV at Christmas, and discovers that programme makers have always had an eye for something different at this time of year."

Why I'm ditching my Christmas cookie swap:
"Baking is how I relax, how I shut out the Twitter trolls and the negative nancies and — most of all — the soul-crushing barrage of the news. When I need to decompress, it's time to turn off the TV, turn up the music, put on my "Let's Get Baked" apron, and start sifting my way to nonpartisan nirvana."

Princess Charlotte Wears Prince George's Sweater in the Royal Christmas Card:
"Prince Louis wore a hand-me-down from their big brother, too."

First Minister reveals her Christmas card for 2018:
"THE First Minister has unveiled her 2018 Christmas card and announced the photograph will be auctioned for charity."

YouTube-obsessed eight-year-olds review this year's Christmas TV adverts:
"I think his name is Elton John Lewis"

The year's brightest comet streaks by Earth this weekend:
"The night sky will come alive this weekend when a green comet streaks by Earth on the heels of the Geminid meteor shower's display of green fireballs."

The Price of True Love:
"In a setback to true loves around the world, the cost of gifting the traditional gifts from "The Twelve Days of Christmas" carol has edged up slightly again this year."

Santa baby's billion-dollar Christmas:
"You've seen this one before, "The Twelve Days of Christmas" story that tallies up the cost of all the bizarre gifts offered in the song. It's a tale as old as time: Some guy gives his significant other a steady stream of trees, birds and leaping lords over nearly two weeks — an expensive proposition and almost certainly an unwelcome one. (That the gifts are so terrible and cumbersome makes us assume the giver is a man.)"
---
December 13, 2018


25 Horror Christmas Movies Ranked From Worst To Best According To Rotten Tomatoes:
"For anyone who's more into dreadful frights than silent nights."

Video shows SUV mowing down home's Christmas decorations, blindsiding 12-foot snowman:
"Police are searching for the driver of an SUV seen plowing through Christmas decorations in front of an Indiana home."

Flashback: Band Aid Raises Millions With 'Do They Know It's Christmas?':
"The single, released in the United Kingdom on December 3rd, 1984, was crafted to "touch people's heartstrings and to loosen the purse strings""

Shaun the Sheep Pullover:
"This jumper is worked in pieces with the image on the front worked from the chart using the intarsia method. Treat your little ones to a special treat this Christmas with this cosy jumper, knitted in real British wool."

Meet the godfathers of the Christmas carol:
"Everyone knows Silent Night, but contemporary carols are still being written. We meet two of the UK's most popular composers, John Rutter and Bob Chilcott."

South Western Railway strikes planned for Christmas week:
"Staff at South Western Railway (SWR) are to hold two more strikes in Christmas week on 27 and 31 December."

Foul-mouthed Santa horrifies parents:
"Organizers of a Christmas event have apologized to outraged parents after a fire alarm reportedly prompted Santa Claus to burst out of his grotto, rip off his beard and scream at children to "get the f**k out."
---
It's that time of year again, when some authors remind everyone that they're eligible for various awards for fiction published in 2018.
My total publications for 2018 consisted of: two novels and one novelette.
You probably haven't read the novelette because it's published in an anthology— Knaves over Queens, the first British-set collection in the Wild Cards series, a sequence of shared-universe stories edited by George R. R. Martin and Melinda Snodgrass. My story, "Police on my Back", is published in Knaves over Queens, which is currently only available in the UK (first US publication isn't until next year). (Amazon.co.uk link.)
As for the novels, these are Dark State (Tor, UK and USA: January 2018), the second Empire Games book (or eighth Merchant Princes novel, depending on how you count them), and "The Labyrinth Index" (US Amazon link, UK Amazon link), published by Tor.com Publishing (in the USA) and Orbit (in the UK). And that's the ninth book in the Laundry Files, or maybe the tenth (if you count "Equoid" as a really short novel rather than a novella) or eleventh (if you also factor in the really short short story collection Tor.com published as an ebook).
---
As for awards eligibility ...
I would like to note that in addition to the aforementioned stories, I'm eligible for the Hugo award for Best Series, both the Merchant Princes and the Laundry Files.
Now, I am not here to tout for your nominations.
However, if you are planning to nominate me for a best series Hugo award, please bear in mind the following...
* If you nominate more than one item in a category, the value of your nomination is reduced. (See the World Science Fiction Society Constitution, section 3.9.1, wherein the process for counting nominations is described.)
"Invisible Sun" (Merchant Princes #9/Empire Games #3) will be published in fall 2019. But there will almost certainly be no Laundry Files book in 2019.

It follows that both series are eligible for the 2019 Hugo award for best series, but the Merchant Princes will also be eligible in 2020, and the Laundry files will not be eligible in 2020. (See WSFS constitution 3.3.5.)
So: if you want to nominate both these series for a Hugo award for best series, go right ahead. rather than voting for them both in 2019, please consider nominating the Laundry Files in 2019 (i.e. for the Dublin worldcon), and the Merchant Princes in 2020.
---
Postscript: if you're a writer and you've published something in 2018 that is eligible for the Hugo, Nebula, BSFA, Clarke, or other awards in the SF/F field, and you want to get the word out, you're very welcome to post a comment here (preferably including links to the work in question).
Thanks!
---
Just popping in to note that, in the wake of the failed ERG leadership challenge against Theresa May, Brexit hysteria has escalated so far that mainstream political pundits in major newspapers are invoking Cthulhu in print. Words fail me. I really, truly, cannot cope with this shit: the Laundry Files are satire, dammit, not a political documentary!
(Normal blogging might resume whenever I manage to stop gibbering in a closet.)
You can use the comments here as a continuation of the last-but-one thread, now that one has burned past a thousand and is kinda slow to load.
---
December 12, 2018


The beauty of the Christmas Bird Count:
"The ash tree I'm anchored to is laced with poison ivy vines, one as thick as my arm. The childhood adage, don't be a dope, don't touch the rope, is loud in my mind because although I'm no "dope" I'm definitely touching the rope — the ash is the only thing keeping me from falling into the icy creek below."

'A beacon in the dark of winter': the Christmas songs that shaped us:
"From singing Mariah Carey with drag queens in the desert to being driven mad by the Asda playlist, Guardian writers share their most poignant festive music memories."

Mum spits in face of Christmas elf in Stockton shopping centre:
"The woman lost her temper when told she could not take her child into the grotto in Stockton-on-Tees because she did not have a booking, police said."

Meet the 'Yule Lads,' Troll Brothers Who Terrorize Icelandic Children for Christmas:
"Hey, your husbands went to Iceland!"

35 Awesome Toys Every '80s Girl Wanted For Christmas:
"Let's be honest, you still want that Glitter N' Gold Jem doll."
---
December 11, 2018


Rochdale bongs replace Big Ben on BBC Radio 4 at Christmas:
"The traditional Big Ben bongs on BBC Radio 4 will be replaced by bells from Rochdale town hall on Christmas Eve."

How one man's quest to spread Christmas cheer led to a miserable four-year war with his neighborhood:
"When Jeremy Morris smiles — or otherwise bares his teeth — you can see his braces: red on top, green on bottom, his pearly whites dressed in Christmas colours."

Why I'm not doing Elf on the Shelf - and you don't have to either:
"It's the one Christmas tradition I just can't embrace no matter how hard I try."

Darlene Love: My 5 Favorite Christmas Songs:
"The powerful voice behind "Christmas (Baby Please Come Home)" on the holiday classics she loves to sing most."

All I want for Christmas is a toy catalogue:
"I'm one of those nostalgic Gen-Xers who remembers lying on my stomach, legs crossed at the ankles, poring over the Sears Wish Book every Christmas. I'd circle the Lil' Lady Buggy, Barbie Dreamhouse, Sweet Tears baby doll, then present my list to the Santa at the local VFW."

'Hardest time of the year': the students who will spend Christmas alone:
"When university halls empty as students flock to their families, care leavers face a different festive season."

A world without 'All I Want for Christmas is You' is a world I don't want to live in:
"For anyone born after 1994, imagining a world without 'All I Want For Christmas is You' is a near impossible task – not least because its absence could potentially ruin one of the best festive films made since its release."

Your Worst Ever Christmas Party Stories: 'I Ended Up In A&E Wearing My Boss's Coat':
"Featuring booze, sex, tears and, well, more booze.🍾"

18 Christmas Facts That You Didn't Know You Wanted To Know:
"Santa was once as powerful as Thanos."

How to See This Year's 'Christmas Comet' and Geminid Meteor Shower:
"If you can brave the cold long enough to find a clear patch of night sky, you can watch two bright astronomical phenomena this December: the 46P/Wirtanen "Christmas comet" and the Geminid meteor shower."
---
December 10, 2018


Where to try out Christmas traditions from around the world in London:
"Christmas may be the most wonderful time of the year, but it can get a little repetitive."

Elegant Christmas Shopping in London 1989:
"A 1989 guide to Christmas shopping in London's finest department stores from Barbara McMahon of 'Head to Toe'."

There will be a heritage bus service in London on Christmas Day:
"On the day when tubes, trains, buses and even cable cars go to sleep, there will one bus company offering a very special Christmas Day service."

Bloxwich Christmas decorations woman stuck in ceiling:
"A woman was left feeling a bit Claus-trophobic when she fell through the ceiling while getting her Christmas decorations from the loft."

"Sand Nativity" and Christmas tree of St. Peter's Square unveiled:
"The Nativity scene in sand and the Christmas tree in the middle of St. Peter's Square in Rome were inaugurated during a ceremony in the evening of November 7."
---
December 09, 2018


TV During the revival we've become accustomed to big, brash season finales filled with massive cosmological shenanigans, giant emotional storylines, companion departures, deaths and resurrections and a sense of bowing up the season which has come before. In keeping with the rest of this series which has largely been about presenting redux of the original twenty-six years, it's fitting that The Battle of the Who In The What Now? is more subdued than we're used to, with armies living and dying off screen, a tiny guest cast with epic back stories, a resolution involving someone pressing a few buttons in the TARDIS, a shouty returning antagonist and a long introductory walk through a quarry.

Except of course, the New Year's Day episode is clearly going to be the more traditional finale and will seem as much after all this has been uploaded to Netflix for posterity (and presumably the shiny disc box set). Battles across time, explosions involving soldiers flying through the air and whoever the Doctor's referring to at the end of the trailer, who we're all assuming will be the Daleks but given the way this series is going, might as well be some new monster we haven't met before. Big Finish granted, I've always been drawn to the idea of being introduced to some fully formed arch nemesis for the Doctor who she's apparently fought against for centuries in the mode of a Terry Nation creation but we just haven't had an onscreen adventure with yet.

Setting the usual expectations aside, how'd it go? It was fine. As Liz Myles said on Twitter earlier, this has been a "very warm, comfortable, cosy series of Doctor Who" and this "finale" is the epitome of that. Perhaps in the edgier Moffat version, Graham would have shot Tim Shaw stone dead and caused a schism in the TARDIS team, but despite Bradley's understated anger that was never going to happen. This is an iteration of the show designed for Sunday nights with a more subversive rather than overt edginess, one closer to Tom Baker's description of his run: "The smallest child terrified behind a sofa or under a cushion, and the next one up laughing at him, and the elder one saying 'sh, I want to listen', and the parents saying 'isn't this enjoyable'."

Indeed Tom would certainly recognize a few elements from his era. The stealing and compacting of celestial bodies ala The Pirate Planet. A previous decision coming back to haunt the Doctor leading to the fostering of a false religion and untold horrors on complete strangers as per The Face of Evil. Ancient beings of immense power led astray from The Deadly Assassin (I appreciate that last one is a bit tenuous). Essentially its the resolution of a season long project to bring the show back into some kind of manageable state of lower expectations. A more expensive episode might have had cutaways to the planet as the pink ray enveloped it, but we've probably seen enough shots of bewildered people looking towards the sky already.

Instead, we have a Doctor who's compelling because of what she doesn't say. The BBC uploaded the "dome new man goes sauntering away.." cafe scene from The End of Time to YouTube recently, which is beautifully acted all round but you simply can't imagine Jodie playing through with Graham because she doesn't articulate in that way. Even on discovering the pain she's potentially caused in not ending Tim Shaw on Earth and sending him half way across the galaxy, it's underplayed and all in her eyes, rather than simply adding to some nihilistic angst as might have been the case with more recent incarnations. She's on a singular mission to help people, as best she can, her own emotions be damned.

But she's also not one for righteous fury. Again, her male counterparts might have treated Tim Shaw with greater contempt especially given that he's even more genocidal than Solomon from Chibbers's previous Dinosaurs on a Spaceship whom the Eleventh Doctor was quite happy to make explode (a move I was cross and curious about back in the day). But she's adamant that Graham doesn't kill his nemesis because of what it would do to him, which is also a contrast to his reaction to how Amy dealt with Madam Kovarian, albeit an alternative version. She trusts that he'll do the right thing, to such a degree that despite her storming confrontation with Tim, the Doctor's more interested in reversing the results of his experiments and happy to leave the boys to deal with the other problem.

She's also pretty sexless. Given the flirtatiousness of 10th, 11th and let's be honest 12th, 13th has barely looked sideways at another person, male or female. Yaz seems to have the most potential, but even then the only whiff we've had of that ship was her mother's confusion as to the nature of their friendship. Asking to remain with the Doctor during the danger tonight was more to do with the usual "I want to stay with you" than hanky-panky. Should this change? If more recent incarnations have been allowed to kiss seemingly anyone with less pulses than them, from royal mistresses to Hollywood actresses, why shouldn't this incarnation? Dunno.

Either way, we've finally reached the end (or middle) of the casting trailer with Phyllis Logan, Percelle Ascott and Mark Addy, both of whom, like the actor Kevin Eldon last week, feel like they should have been in Who before but a pleasure to finally have them here (although granted Eldon played Antimony in Death Comes To Time but does that count? Honestly?). Logan and Addy in particular demonstrated their depth of experience offering acres of lived history within the short screen time - we could absolutely believe the former could have lived thousands of years. Perhaps they'll bump into Captain Jack or Me as they visit the galaxy and swap immortality tales.

So that's everything over bar another hour on New Year's Day. It's been a season without any particularly rubbish episodes and only a couple of stone cold classics, probably Rosa and It Take You Away. The latter is probably my favourite thanks to its gonzo ending which revealed that the receiver of the Doctor's emotional farewell, so intriguing in the trailer, turned out to be a rubber frog. If I've a request for the future, now that we know that everyone's going to survive Resolution would be more Yaz. Mandip Gill's felt slightly under utilised and that's something which should be corrected. Oh and some returning monsters. I think we've earned a Cyberman stand off. Happy Christmas.
---
When I started my journey to FIRE (financially independent, retired early) in late 2007 there wasn't much on the topic in the public domain.  To my knowledge at that time the term FIRE hadn't even been coined and the US based Jacob at Early Retirement Extreme was just getting going with his blog. When I started this blog in late 2009, which was predominantly aimed at holding me accountable,
---


Customer 'disgusted' after Yodel delivery man was caught chucking a Christmas parcel down driveway:
"Our neighbour thought 'why doesn't he just knock on our door?!'"

6 Festive Melted Cheese Recipes For Christmas:
"Molten cheese makes for the ultimate Christmas comfort food, whether for a special Christmas Eve feast or on those lazy days between Boxing day and New Year."

Garden centre donates festive fir to light up Ottery this Christmas:
"Christmas spirit has already sprung in Ottery following the donation of a festive fir by Otter Garden Centre."

Scottish farmer sued for £2 million after he 'spoiled huge crop of Christmas trees':
"A Scots farmer is being sued for two million pounds damages over claims that he spoiled a huge crop of Christmas trees."

Woman has more than 400 Christmas trees set up in her house:
"Shelly Botcher has never found a Christmas tree she didn't like, and she has never thrown one away."

Restaurant Gift Cards Are the Best Christmas Present Ever.
"Here's Why I Think So."

Share This Beautiful Icelandic Tradition With Your Family This Christmas:
"Icelanders give books to each other on Christmas Eve, go to bed early and spend the night reading."

Man opens Christmas gift from high school sweetheart 48 years after breakup:
"A man in Canada is finally opening a gift he received from an ex-girlfriend 48 years ago."
---
December 08, 2018


Fake Elf News: The Goofy Game Everyone Thought Was Spyware:
"How Elf Bowling, the incredibly popular viral game from 1999, gained an unfounded, false reputation as a piece of malware and spyware."

'A Christmas Story': 35 reasons why we still love the holiday classic, 35 years later:
"Get out your ridiculous pink bunny onesies: Nov. 18 marks 35 years since "A Christmas Story" premiered in theaters. To help celebrate, we've done something that should earn a major award: We've rounded up 35 reasons why the holiday film about a boy who desperately wants a Red Ryder BB gun for Christmas is still worth watching."

14 Queer Christmas anthems to fill you with festive cheer:
"Christmas time is QUEER! Glitter, tinsels, fairies: could there BE a queerer time of the year?!"

Turkey reprieve: one in 12 dream of meat-free Christmas dinner:
"UK supermarkets expand their vegan and vegetarian ranges as flexitarian trend grows."

Moose Accidentally Rings Doorbell With Butt:
"Like me in an Anthropologie, not realizing the dimensions of my own posterior and therefore backing into a large display full of felt Christmas ornaments, a moose was recently caught on TV accidentally ringing a doorbell with his butt in Anchorage, Alaska."

'Anna And The Apocalypse': The Scottish Zombie Christmas High School Musical:
"Anna and the Apocalypse is a [checks notes] Scottish zombie Christmas high school musical."

Meghan Markle and Prince Harry's Final Kensington Palace Christmas Tree Has Been Unveiled:
"This is the last holiday season the royals will spend in Nottingham Cottage."

Hundreds of Santas descend on London for a good Claus:
"You wait all year for Santa, and then hundreds come all at once."
---
Subscriptions
---
Updated using Planet on 15 December 2018, 05:48 AM