This combines together some blogs which I like to read. It's updated once a week.
August 24, 2019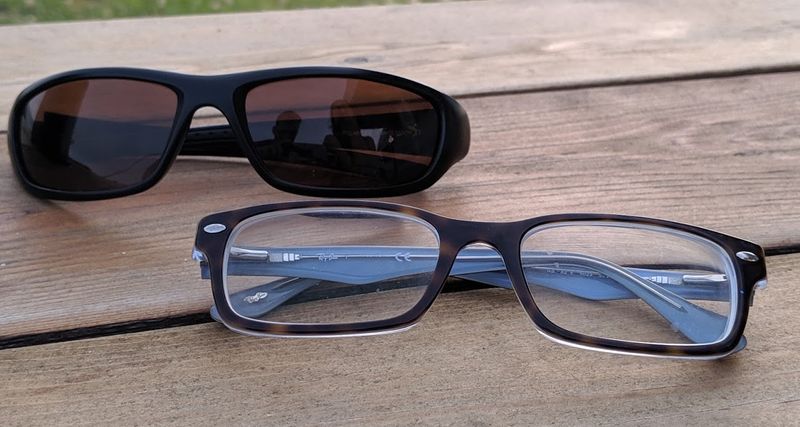 It's Back to School time here in Colorado, which means both my son and I will be hanging up the swim shorts and kayak paddles and getting back to more serious business for a while.
It has been a slow and endlessly sunny and leisurely summer, and a nice break for both of us, which has been very relaxing and a great time for bonding.
But relaxation has its limits. At some point all that Chilling Out fades its way into Complacency, and our natural Human nature starts to work against us, telling us to conserve energy and not really do much of anything. And laziness begets more laziness, and life actually becomes less fun.
You can see this effect in our activities. I've only completed two blog posts over the entire summer holidays, and together we have put out only two YouTube videos. Spending more time at home and less at the MMM Headquarters squat rack has caused me to lose at least five pounds of leg muscle that I had wanted to keep. Little MM has spent a lot less time practicing on the upright bass and putting out songs, and a lot more time playing video games and getting sucked into the "dank memes" and "Trove" channels on Reddit.
It has been a fun break, but as the freshly polished school buses awaken with the sunrise, it will be even more fun to get our own lives cranking into a higher gear as well. And if you're reading this, it means I am off to a great start!
Complacency Is Expensive
This laziness was affecting my financial life, and your financial life too. I had let thousands of dollars of uninvested cash build up in my checking account, where it was sitting around earning nothing. My credit card bills had come in, been automatically paid, and filed themselves away without me even reviewing them for fraudulent transactions or wussypants spending on my part. And I had a growing mini-mountain of things I need to do regarding insurance, accounting, and legal stuff in both my personal and business domains.
And yet once I got my act together last week, I cleaned up the whole mess and set things straight in less than an hour.
It's not Just Me, it's You
When I talk to friends and family, I notice a common theme: they tend to set up certain "hassle" things once, and then ignore them as long as possible unless some absolute crisis comes along and forces them to make a change.
"Oh, I just do all my insurance stuff with Jim Schmidt's Insurance office downtown, because my parents referred me to him when I first moved out for college.
Even better, his wife Jane runs a loan brokerage, so she handles all our family's mortgage needs!"
On this surface, this sounds fun and folksy and like a nice way to do business. And that is exactly the way I like to live: keeping my business relationships as casual and fun as I can. But when it comes to money, complacency can come at a price, so at the bare minimum we should find out exactly what price we are paying.
For example, just recently a coworking member came to me and asked for some financial help. And as always, I suggested we start by looking at big recurring expenses. So we dug into the details of her insurance and other major bills streaming in from ol' Jim and Jane, and found an interesting breakdown:
Required liability coverage on a 2010 Subaru Forester: $580 per year
Optional collision and comprehensive coverage ($500 deductible): $360 per year
Home insurance on a 2000 square foot house ($500 deductible): $1450 per year
Mortgage interest on a $300,000 loan at 4.85%:  $14,550 per year
Student Loan interest on an old $35,000 student loan at 5.5%: $1925 per year
Total: $18,865 per year.
---
It's no wonder my friend was having financial stress – she had interest and insurance costs that were soaking up half of a reasonable annual budget before she could even buy her first bit of groceries or clothing.
So, right there we did a quick round of phone calls and online quotes, and streamlined a bit of the insurance coverage by increasing the deductibles. Within 90 minutes (she did most of the work while I had a beer and swept the floors of the HQ), we had the following new set of options:
Subaru liability coverage: $380 per year ($200 savings) through Geico
Removal of collision and comprehensive (in the unlikely event of a crash, they could afford to replace the car with less than two months of income) ($360 savings)
Home insurance on a 2000 square foot house ($5000 deductible): $650 per year ($800 savings) through Safeco
Refinanced mortgage to 3.375% through Credible.com*: $10,125 per year ($4,425 savings)
Refinanced Student Loan (also Credible) to 3.85%: $1347 per year ($578 savings)
New total expenses: $12,502 ($6363 per year in savings!!)
---
It is hard to even express the importance of what just happened here.  My friend just did two hours of work in total while drinking a glass of wine,  and dropped her annual expenses by over $500 per month, or six thousand dollars per year. And she will of course invest these savings, which will then compound to about to about $86,000 every ten years. 
Even if she has to do this annual round of phone calls and websites once per year to maintain the best rates on everything, she will be earning about $3150 per hour for this work. Hence the bold title of this article, which you can now see is very conservative.
The Optimization Council
So you're convinced. $3150 is enough to get you to pick up the phone, but how do know who to call? Who is going to be your coach if you don't live near Longmont and thus can't just join the HQ and have Mr. Money Mustache tell you what to do?
The great news is that all of this knowledge already exists, right in your own circle of friends. To extract it, you just need to gather them together and get them to talk about it.
Earlier this month, I floated exactly this idea with the members of my coworking space, proposing that we form a group with the witty name "The Optimization Council."
The Council would meet every now and then to talk through life's biggest expenses and opportunities, and harvest the wisdom of the group so we can all benefit from the best ideas in each category.
The response to this idea was overwhelmingly positive. So we called a first "test" meeting earlier this month and a small group of us talked through the first few categories, sharing not just names like "I use Schmidt Insurance", but details like, "We have $250,000 coverage with a $1,000 deductible and our premium is $589 per year."
The meeting was so lively that we quickly ran out of time, but resolved to meet again soon to figure out more things together. I served as the scribe using a shared google doc – here's a snapshot of that to give you an idea of our topics: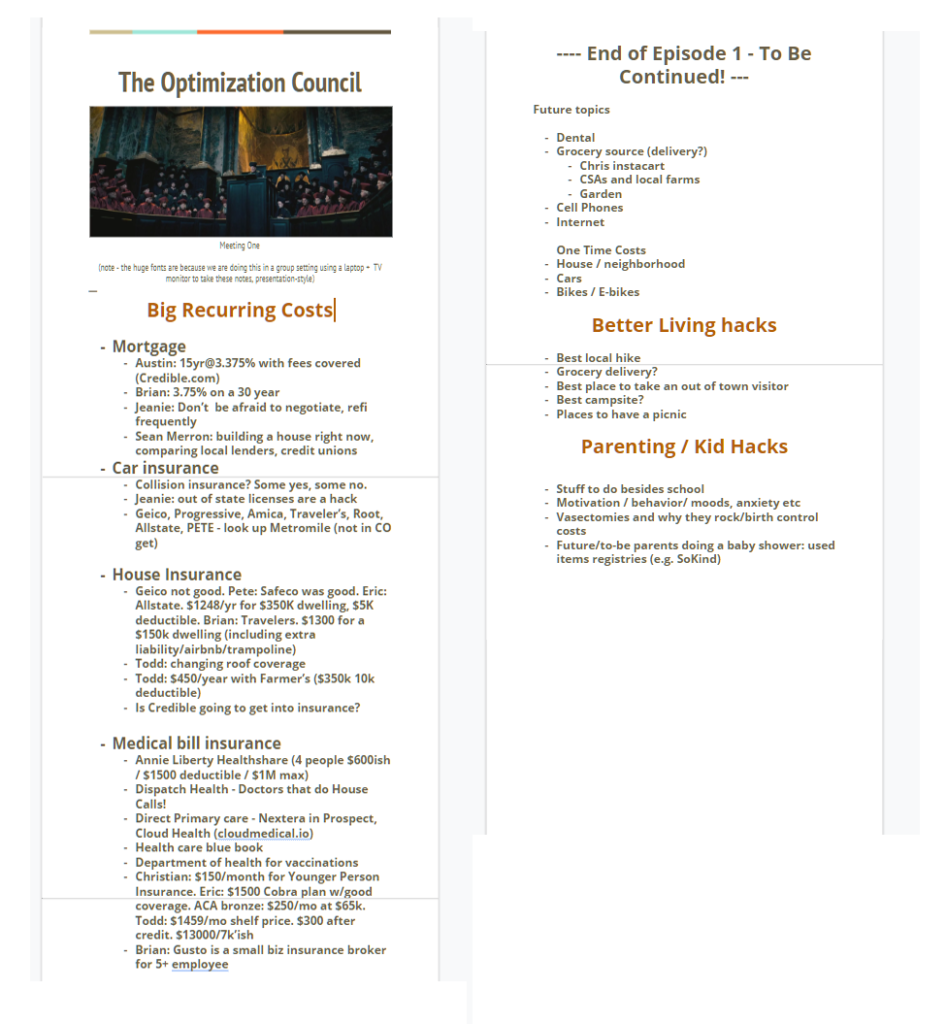 So Yes. There is some thinking and work involved. But there's also an opportunity to drastically improve your short term cashflow and long-term wealth, and break your friends out of their cautious shell to help them get the same benefits.
As we learned long ago in Protecting your Money Mustache from Spendy Friends, most people tend towards complacency, and following along with the group. Which leaves a big gaping void at the top of the pyramid where the leadership role waits unfilled.
If you are bold enough to climb into this spot (which really means just sending a few emails and Facebook messages, procuring a box or two of wine, and making a large tray of high-end nachos for your guests), you can all reap the rewards for decades to come.
And instead of avoiding this little chore like a hassle, dive into it like a gigantic shower of fun and wealth. After all, this is pretty much the core attitude of Mustachianism Itself.
---
In the comments: we can start our own Optimization Council right here. If you have found a good deal on any of the categories of life, feel free to share a quick summary of your location (state), and details of the company and product/service/price that you found is the best. To avoid spam filtering, please use names but not direct links.
---
A Note about Credible:
Watchful readers may have noticed I also mentioned this company on Twitter recently. After a few months of skepticism that the world needed yet another financial company, I was convinced by some conversations with the people running it and a Zoom video of the customer experience from a senior employee, with some very candid commentary on their design choices.
I like it because they import the lending models from their large supply of hooked-up finance companies, then run the rate comparisons on their own server rather than farming out your personal information to each separate lender. It saves you from filling out multiple applications when collecting rates, and also saves you from getting on everyone's spam list (they don't sell your contact information, which is a rare thing among loan search engines).
It was a hard model for them to get going, because the banks naturally want to have your information so they can spam you.  But now that they have a growing presence in the market, lenders are forced to come through Credible to get access to this pool of qualified people. After enough testing with people I knew, I found the experience is worth recommending.
So I also signed this blog up with their referral program  – please see my Affiliates philosophy if you are curious or skeptical about how any of that works!
With all that said, if you want to try it out, here are the links:
Student Loan Refis – $300 bonus with this link
---
I've never thought of myself as a "car person". The last new car I bought (and in fact, now that I think about it, the first new car I ever bought) was the quirky 1998 Ford Contour SVT. Since then we bought a VW station wagon in 2011 and a Honda minivan in 2012 for family transportation duties. That's it. Not exactly the stuff The Stig's dreams are made of.
The station wagon made sense for a family of three, but became something of a disappointment because it was purchased before — surprise! — we had twins. As Mark Twain once said:
Sufficient unto the day is one baby. As long as you are in your right mind don't you ever pray for twins. Twins amount to a permanent riot. And there ain't any real difference between triplets and an insurrection.
I'm here to tell you that a station wagon doesn't quite cut it as a permanent riot abatement tool. For that you need a full sized minivan.
I'm with Philip Greenspun. Like black socks and sandals, minivans are actually … kind of awesome? Don't believe all the SUV propaganda. Minivans are flat out superior vehicle command centers. Swagger wagons, really.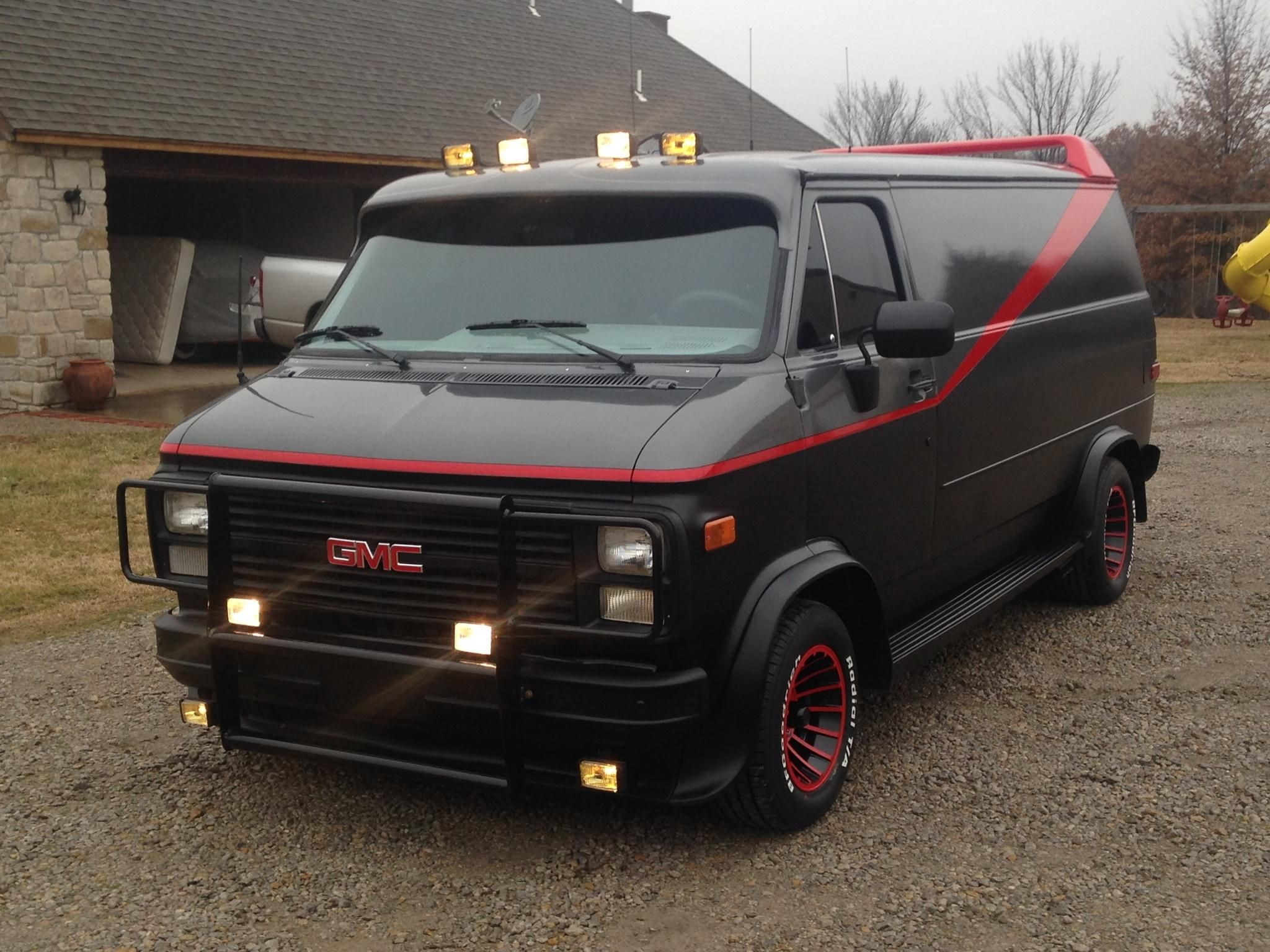 The A-Team drove a van, not a freakin' SUV. I rest my case.
After 7 years, the station wagon had to go. We initially looked at hybrids because, well, isn't that required in California at this point? But if you know me at all, you know I'm a boil the sea kinda guy at heart. I figure if you're going to flirt with partially electric cars, why not put aside these half measures and go all the way?
Do you remember that rapturous 2014 Oatmeal comic about the Tesla Model S? Even for a person who has basically zero interest in automobiles, it did sound really cool.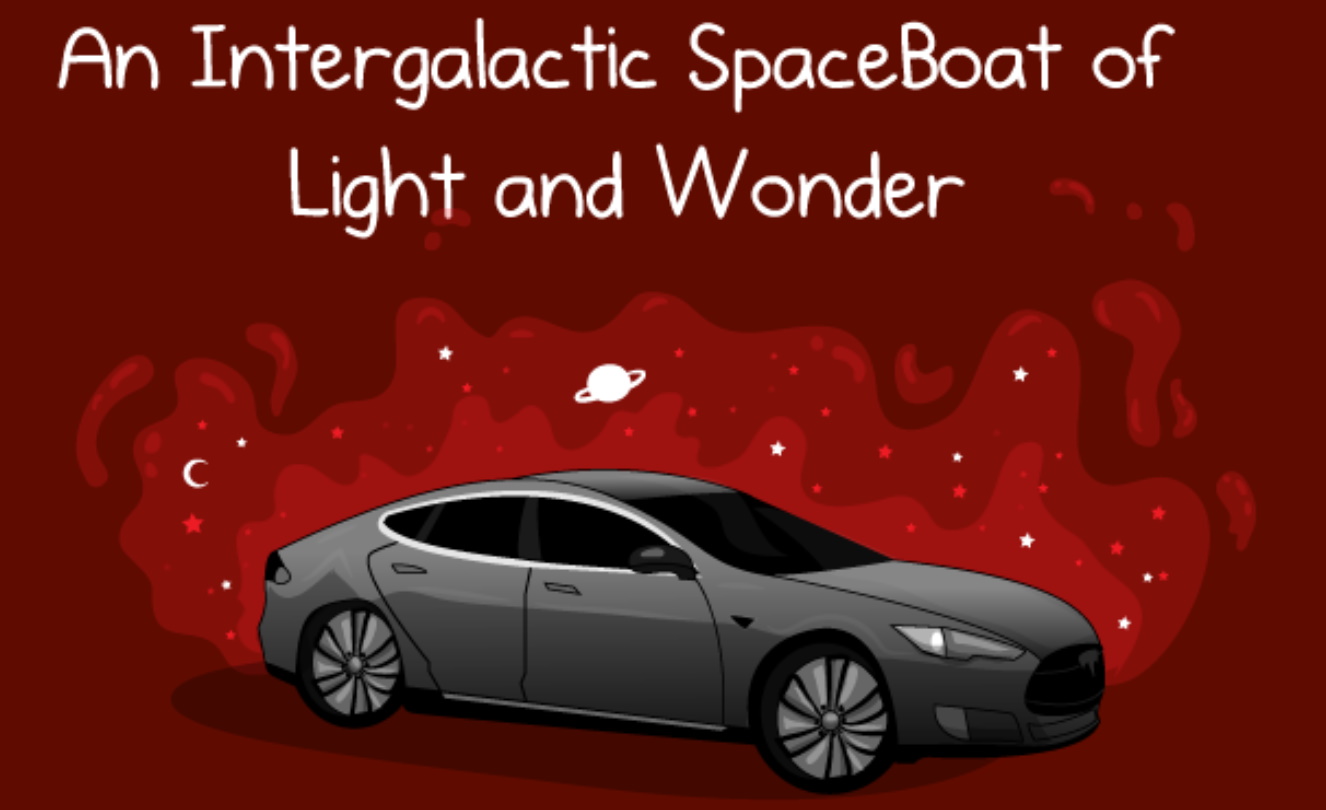 It's been 5 years, but from time to time I'd see some electric vehicle on the road and I'd think about that Intergalactic SpaceBoat of Light and Wonder. Maybe it's time for our family to jump on the electric car trend, too, and just late enough that we can avoid the bleeding edge and end up merely on the … leading edge?
That's why we're now the proud owners of a fully electric 2019 Kia Niro.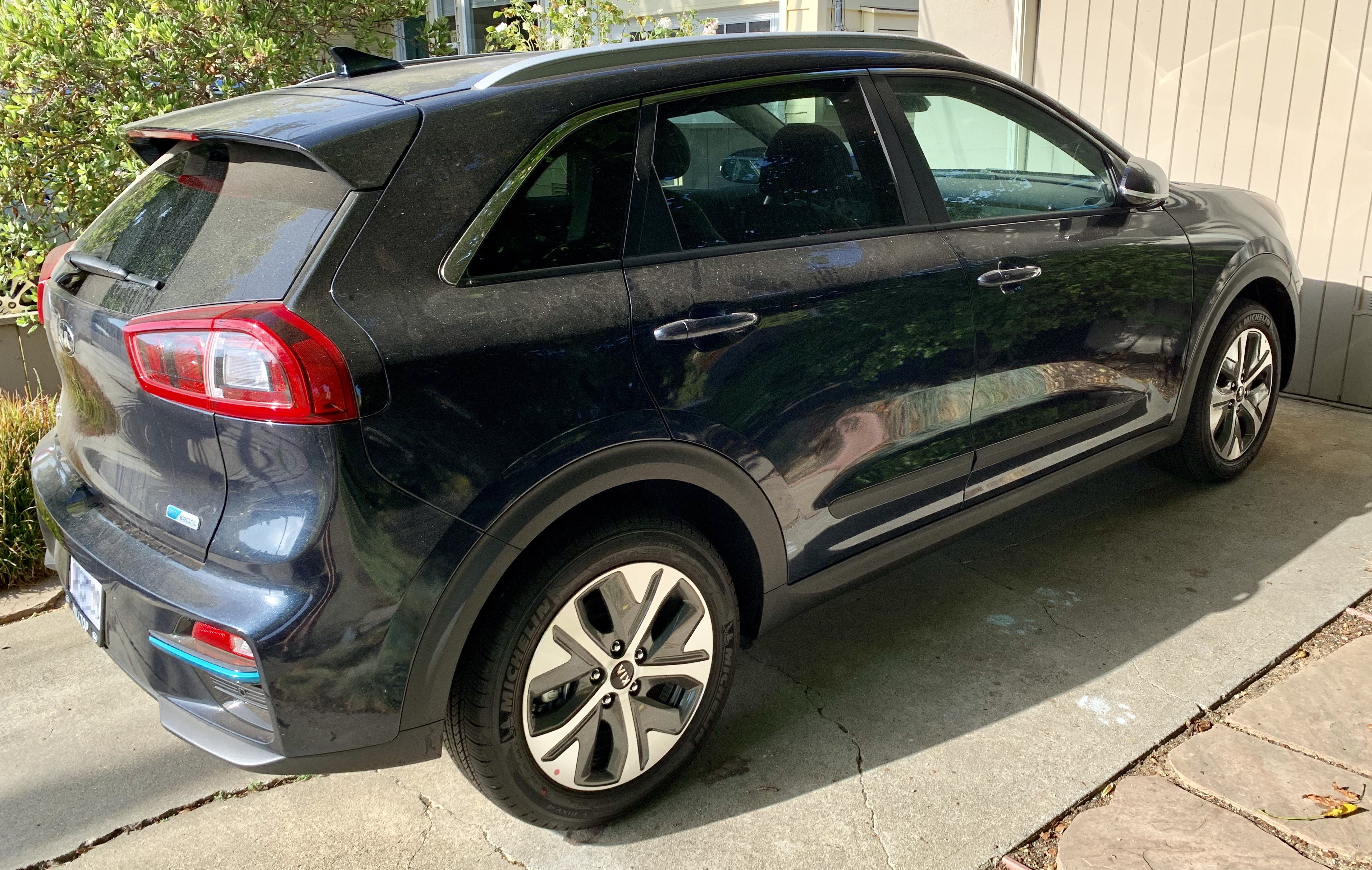 I've somehow gone from being a person who basically doesn't care about cars at all … to being one of those insufferable electric car people who won't shut up about them. I apologize in advance. If you suddenly feel an overwhelming urge to close this browser tab, I don't blame you.
I was expecting another car, like the three we bought before. What I got, instead, was a transformation:
Yes, yes, electric cars are clean, but it's a revelation how clean everything is in an electric. You take for granted how dirty and noisy gas based cars are in daily operation – the engine noise, the exhaust fumes, the brake dust on the rims, the oily residues and thin black film that descends on everything, the way you have to wash your hands every time you use the gas station pumps. You don't fully appreciate how oppressive those little dirty details were until they're gone.

Electric cars are (almost) completely silent. I guess technically in 2019 electric cars require artificial soundmakers at low speed for safety, and this car has one. But The Oatmeal was right. Electric cars feel like spacecraft because they move so effortlessly. There's virtually no delay from action to reaction, near immediate acceleration and deceleration … with almost no sound or vibration at all, like you're in freakin' space! It's so immensely satisfying!

Electric cars aren't just electric, they're utterly digital to their very core. Gas cars always felt like the classic 1950s Pixar Cars world of grease monkeys and machine shop guys, maybe with a few digital bobbins added here and there as an afterthought. This electric car, on the other hand, is squarely in the post-iPhone world of everyday digital gadgets. It feels more like a giant smartphone than a car. I am a programmer, I'm a digital guy, I love digital stuff. And electric cars are part of my world, rather than the other way around. It feels good.

Electric cars are mechanically much simpler than gasoline cars, which means they are inherently more reliable and cheaper to maintain. An internal combustion engine has hundreds of moving parts, many of which require regular maintenance, fluids, filters, and tune ups. It also has a complex transmission to translate the narrow power band of a gas powered engine. None of this is necessary on an electric vehicle, whose electric motor is basically one moving part with simple 100% direct drive from the motor to the wheels. This newfound simplicity is deeply appealing to a guy who always saw cars as incredibly complicated (but computers, not so much).

Being able to charge at home overnight is perhaps the most radical transformation of all. Your house is now a "gas station". Our Kia Niro has a range of about 250 miles on a full battery. With any modern electric car, provided you drive less than 200 miles a day round trip (who even drives this much?), it's very unlikely you'll ever need to "fill the tank" anywhere but at home. Ever. It's so strange to think that in 50 years, gas stations may eventually be as odd to see in public as telephone booths now are. Our charger is, conveniently enough, right next to the driveway since that's where the power breaker box was. With the level 2 charger installed, it literally looks like a gas pump on the side of the house, except this one "pumps" … electrons.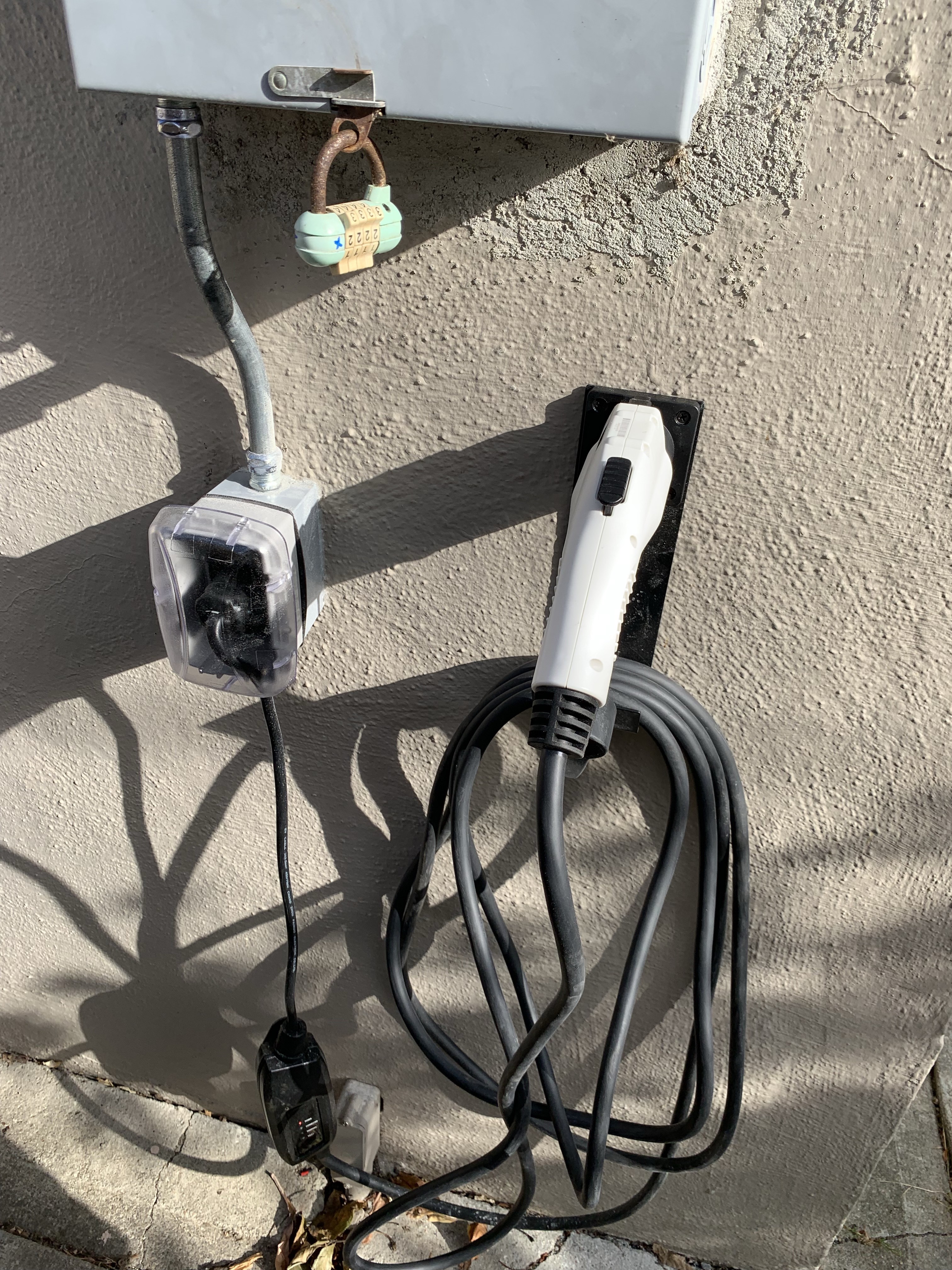 This electric car is such a great experience. It's so much better than our gas powered station wagon that I swear, if there was a fully electric minivan (there isn't) I would literally sell our Honda minivan tomorrow and switch over. Without question. And believe me, I had no plans to sell that vehicle two months ago. The electric car is that much better.
I was expecting "yet another car", but what I got instead was a new, radical worldview. Driving a car powered by barely controlled liquid fuel detonations used to be normal. But in an world of more and more viable electric vehicles this status quo increasingly starts to feel … deeply unnatural. Electric is so much better of an overall experience that you begin to wonder: why did we ever do it that way?
Gas cars seem, for lack of a better word, obsolete.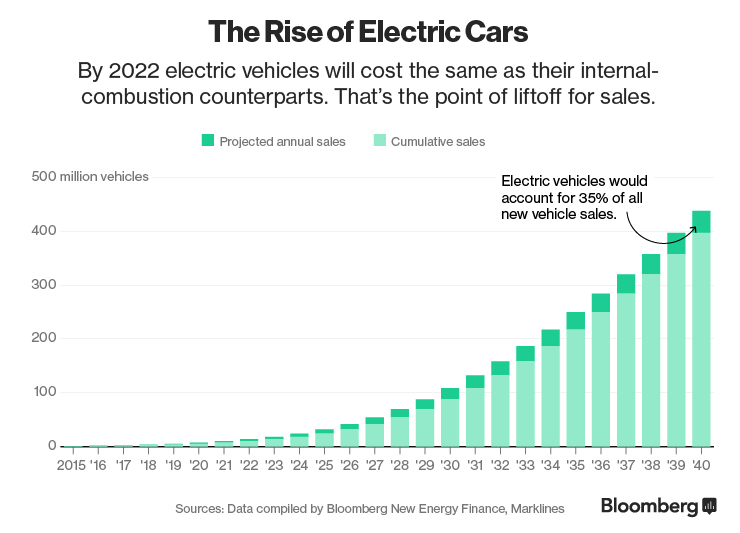 How did this transformation happen, from my perspective, so suddenly? When exactly did electric cars go from "expensive, experimental thing for crazy people" to "By God, I'll never buy another old fashioned gasoline based car if I can help it"?
I was vaguely aware of the early electric cars. I even remember one coworker circa 2001 who owned a bright neon green Honda Insight. I ignored it all because, like I said, I'm not a car guy. I needed to do the research to understand the history, and I started with the often recommended documentary Who Killed the Electric Car?
This is mostly about the original highly experimental General Motors EV1 from 1996 to 1999. It's so early the first models had lead-acid batteries! 😱 There's a number of conspiracy theories floated in the video, but I think the simple answer to the implied question in the title is straight up price. The battery tech was nowhere near ready, and per the Wikipedia article the estimated actual cost of the car was somewhere between $100,000 and $250,000 though I suspect it was much closer to the latter. It is interesting to note how much the owners (well, leasers) loved their EV1s. Having gone through that same conversion myself, I empathize!
I then watched the sequel, Revenge of the Electric Car. This one is essential, because it covers the dawn of the modern electric car we have today.
This chronicles the creation of three very influential early electric cars — the Nissan Leaf, the Chevy Volt, and of course the Tesla Roadster from 2005 - 2008. The precise moment that Lithium-Ion batteries were in play – that's when electric cars started to become viable. Every one of these three electric cars was well conceived and made it to market in volume, though not without significant challenges, both internal and external. None of them were perfect electric vehicles by any means: the Roadster was $100k, the Leaf had limited range, and the Volt was still technically a hybrid, albeit only using the gasoline engine to charge the battery.
Ten years later, Tesla has the model 3 at $38,000 and we bought our Kia Niro for about the same price. After national and state tax incentives and rebates, that puts the price at around $30,000. It's not as cheap as it needs to be … yet. But it's getting there. And it's already competitive with gasoline vehicles in 2019.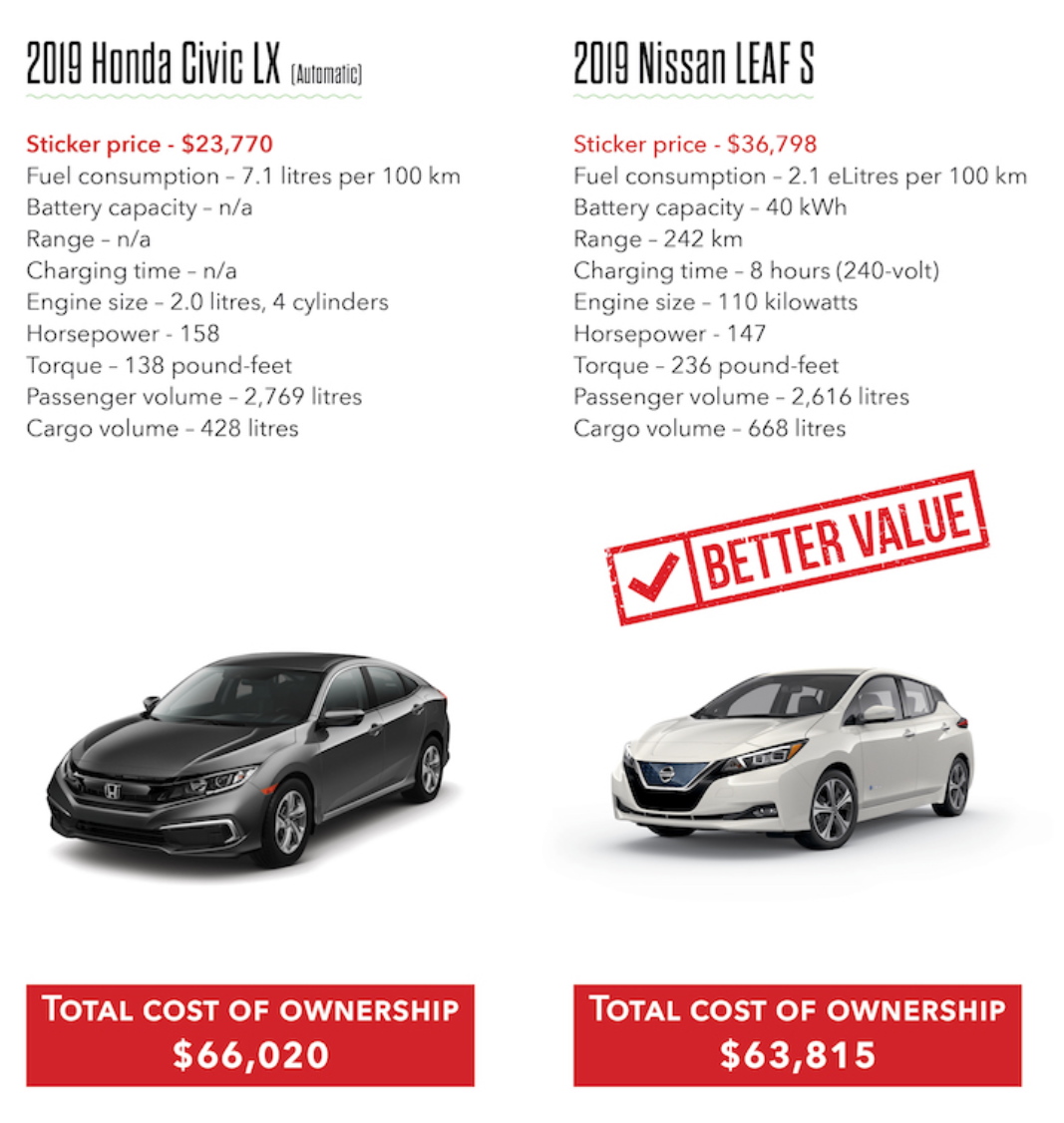 It's still early, but the trend lines are clear. And I'm here to tell you that right now, today, I'd buy any modern electric car over a gasoline powered car.
If you too are intrigued by the idea of owning an electric car, you should be. It's freaking awesome! Bring your skepticism, as always; I highly recommend the above Matt Ferrell explainer video on electric vehicle myths.
As for me, I have seen the future, and it is absolutely, inexorably, and unavoidably … electric. ⚡
---
LightSail 2's orbital high point around the Earth has raised by 7.2 kilometers, without any conventional fuel.
---
Though prize incentives can be useful for certain problems, huge cash payouts for human spaceflight are not good policy.
---
Last week, technicians installed the carousel that holds the tools and drill bits that will be used to collect samples for future return to Earth.
---
The combination lander, rover, and orbiter fired its main engine to enter orbit around the Moon at 09:02 IST (03:32 UTC) on 20 August.
---
August 21, 2019


TV Enjoy this old SNL Seinfeld parody from 1988 which turned up on their feed at the weekend back when Sarah Michelle Gellar hosted. The audience sound like they're in a coma, but it's pitch perfect. The vampire appliances look like they were created by the same team as Buffy and Angel.
---
August 20, 2019
Music The other night I discovered a new classic music station out of New York, WQXR. It's wall to wall music broken only by local news broadcasts on the hour, brief adverts for itself and sponsor notations read by the DJs.

There's also a connected live stream called New Sounds which seems like twenty-four hour Late Junction which I've been dipping in and out of although it requires a bit more concentration.
---
August 19, 2019
Life As I mentioned in passing in a Tate Liverpool exhibition review, some time in May the bowel on the left side of my crotch made a bid for freedom leading to another inguinal hernia matching the escape attempt on my right side in 2013. Fortunately the operation was scheduled more speedily than back then and so I returned to the Spire hospital just down the road from home about a week and a half ago for the second inguinal hernia repair of my life.

The process was much the same but faster due to newer techniques. The whole process only took about seven hours, the bulk of which was preparation and recovery; the operation itself lasted twenty minutes. The recuperation has been faster too due to the mesh they insert being lighter and less invasive. This time last week I could barely walk. Yesterday, I went out and bought a newspaper and a crumpet loaf albeit in a taxi there and back. With the driver opening the door for me.

Back in 2013, I spent the whole process watching Doctor Who, the day after surgery spent in the company of Survival, Seek Out Science, Dimensions in Time, the TV Movie and Rose. On this occasion I've felt less able to simply lie in bed for hours on end. But I've managed to polish off the perfectly fine third series of Stranger Things with the rest of the time in the company of franchises and their blu-ray special features, including Mission Impossible and The Hunger Games.

Last night, I embarked on Twiglet, some of the first film being incredibly poor, the romance scenes in the middle somehow even more goddawfully sickening than the many waterfalls of Attack of the Clones. The Cullen family feels like a far more intriguing set of characters than either Bella or Edward and the film only kicks into gear in the final half. If only the story had been told from their POV, their reaction to the notional son bringing a human girl home for "dinner".

Apparently it'll take up to a month for me to be completely mobile which is fine, although I'm also not supposed to sit or lie down in one place for too long, so that's a paradox. I'm wearing anti-thrombosis socks for the duration so thank goodness they weather's been cooler this past couple of days. Now if you'll excuse me, I have to go and stand up for a while, hopefully without the area around my particulars stinging too much.
---
Subscriptions
---
Updated using Planet on 24 August 2019, 04:48 AM