---
Ghana 2002
Arrival
---
In November 2002 I went to Ghana for two weeks with my friends Stuart and Graham, who are Christian. Stuart worked in Ghana in 1996. For nearly a year he helped codify the grammar of a previously unwritten language, the Paasaal dialect of the Sissala language. It is spoken by 30,000 people in a small region in the remote north-west of Ghana.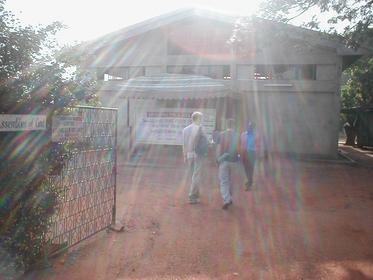 Stuart's work was part of the remarkable Wycliffe Bible translation program which began in 1942. There are 3000 languages remaining to create written languages for, and to translate the Bible into. At my most cynically anti-religious I would say this is a pointless exercise, or at worse destructive of existing cultures. However, on this trip I saw it more positively as opening up the remotest sections of the world, giving access to literacy, and hence ultimately to a way out of poverty.
This year the New Testament in Paasaal was completed. The core of our trip was to attend a dedication ceremony to celebrate this, in the largest Paasaal village called Funsi. But we had a lot of fun and learnt a lot on the journey there and back again.
---
If you are Christian, you will wonder how after seeing such work of the Lord I could not be saved.
If you are Muslim, you will enjoy the peace I felt in Wa mosque.
If you are Atheist then you will be astonished with me at Ghana's countrywide passion for religion.
If you are New Age you will appreciate the life mission that this is part of.
If you are Buddhist you will help me in my struggle for compassion.
My belief is that you are all wrong, and the truth is that we do not know what is behind this incredible world which we find ourselves in.
---