---
Ghana 2002
Slavery
---
Next we had two experiences relating to slavery, one ancient and one modern.
The oldest standing buildings in Ghana are the European forts on the coast. These were not part of colonisation - Ghana was only colonised after slavery ended. Instead they were built with the permission of the tribes in the area.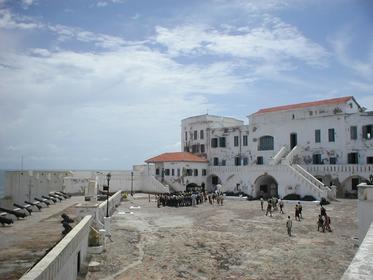 The Europeans sold or gave guns to the local people, who used them to raid villages and capture humans from other tribes inland. These were then sold back to the Europeans, imprisoned in the slave forts, and shipped across the sea.
This was a barbaric and meteoric extension to an existing local trade. Slaving in the area dates back at least two thousand years, black slaves were found in Europe in Roman times, traded overland across the Sahara.
We visited the forts at Elmina and Cape Coast. They were poignant places. It was encouraging to see descendents of everyone involved visiting to learn about this horrific period of history. Ghanaian school children, black Americans and us British travelling companions.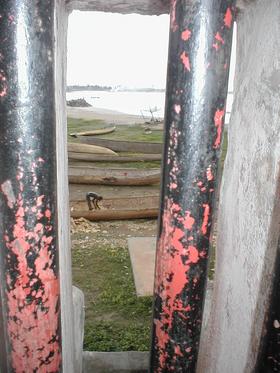 On the outskirts of Accra, we had our experience of modern slavery. I'd arranged to visit Children In Need Ghana (unrelated to the UK charity of a similar name) via a friend, but I didn't know much about it.
We were taken by Ken from CING into the hills just north of the capital, where there are stone quarries. Here rocks are dug and broken up for use in cement and road building. Many of the workers are children, here with no choice, working laboriously hitting rocks with hammers to break them up.
Partly because I couldn't do it justice in a small space, and partly because I didn't take any photographs, I'm not going to go into detail in this article. I've got a video I can show you if you're interested in more information.
Instead, I'm just going to say that we were shocked to find modern slavery when we hadn't expected it. It was necessary to walk in the quarry to really believe that it is happening.
However, we were also inspired. Inspired by Ken, who found this place while photographing the countryside on his motorbike, and has now set up a whole project to solve the problem.
Inspired by the imaginative solution to the underlying cause. The plan is to mechanise the mine, a US benefactor will pay for the mechanisation. No slaves will be needed any more; a mechanised mine uses only a handful of staff. Afterwards half the profits from the mine will go to the project to educate the children, and create alternative work for the adults.
This is a clever mix of charity and capitalism, and a win-win situation for everyone. Especially the children.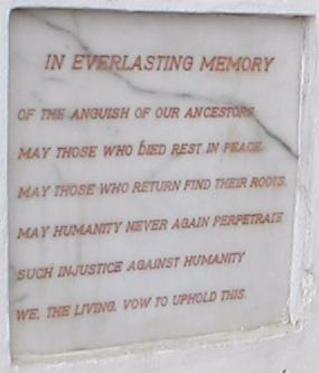 ---