Three weeks ago my friend and colleague Chris Lightfoot committed suicide. He'd been taking anti-depressants for a long time. My mind flips like a necker cube between loving anger and complete compassion. Anger with anyone for deliberately leaving the privilege of being in this beautiful world. Compassion for the extreme pain that he must have been in, and that I am lucky enough never to have known.
I met Chris originally because he was my new ISP, and because of our shared interest in politics and computers. Tom's written an excellent post summarising Chris's achievements in software, politics and policy. He was argumentative, cussed, and super bright. He was loving and affectionate, for the world and his friends.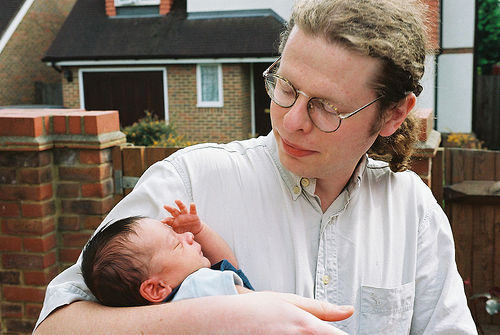 The picture is of Oggie (as many called him) with a friend's baby. He loved the natural world, walking, cats, animals of all kinds. He had a dagger-like, cheeky, loving smile, which is how I'm remembering him, right now.
(Thanks to jfairbairn for the picture, click on it for others taken at the same time, and for larger versions. The official announcement is on Chris's blog. You can find comments and links to other tributes there. And instead of flowers for the funeral, give money to no2id, a campaign close to Chris's heart.)