This is a recipe from Phil the Dhal, a friend who has been experimenting with pressure cooking Indian food. I'm posting it here so it doesn't get lost. Ask if you want this just to be the first of a series!
First pressure cook of split urad dhal was a success.
Needs some understanding and refinement of what you can put in with the dhal in the pressure cooker. i.e. salt and turmeric are uncontroversial, but stuff like chilli powder or garlic and ginger paste or chopped chillies I don't fully understand.
This is using a Duromatic Inox Frying Pan Pressure Cooker 24cm / 2.5L.
Part 1 – Pressure cooking
1. Wash the dhal about 3 times… no need to soak overnight. Fudco products always take less washing but are slight more expensive. 1 cup of dhal and 3.5 cups of water.
Put it in the pressure cooker.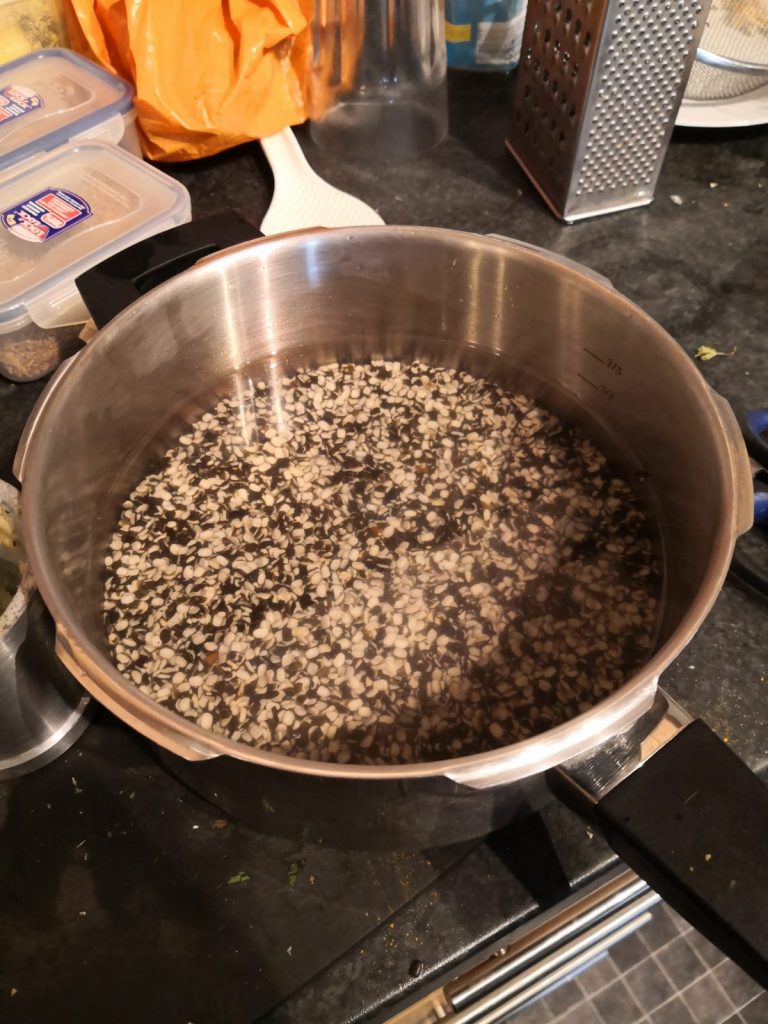 2. Make garlic and ginger paste. I've used a thumb of ginger and 4 plump garlic cloves.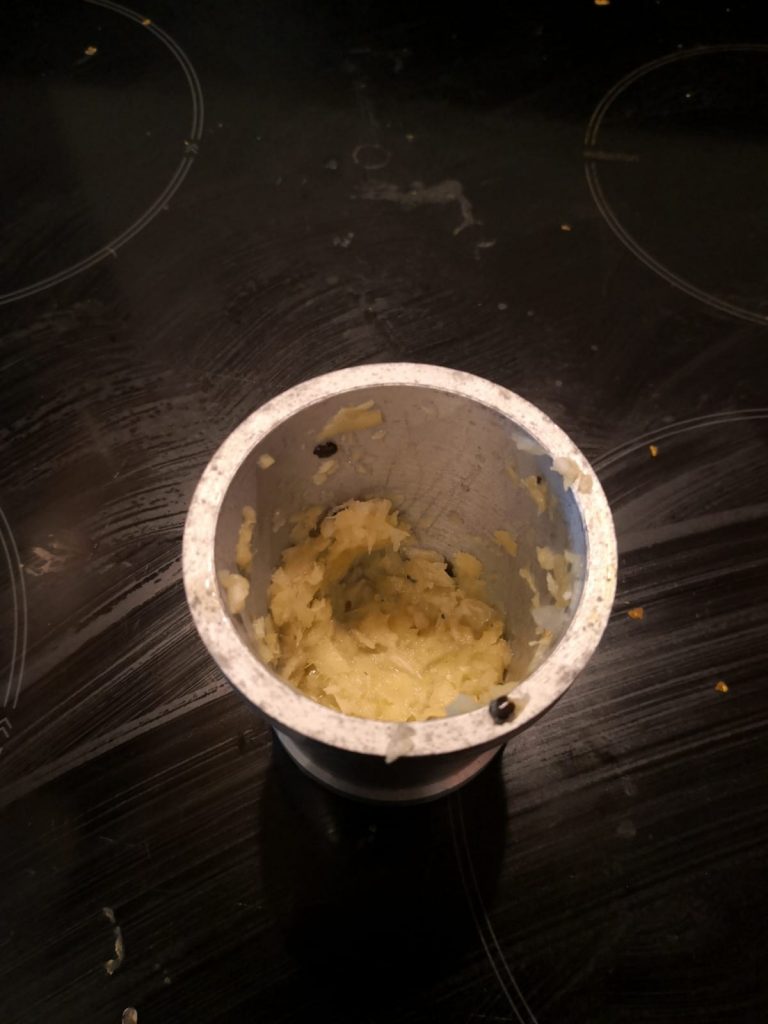 3. Add garlic and ginger paste, 1 tsp of haldi (turmeric) and 1 tsp of pink salt to the dhal.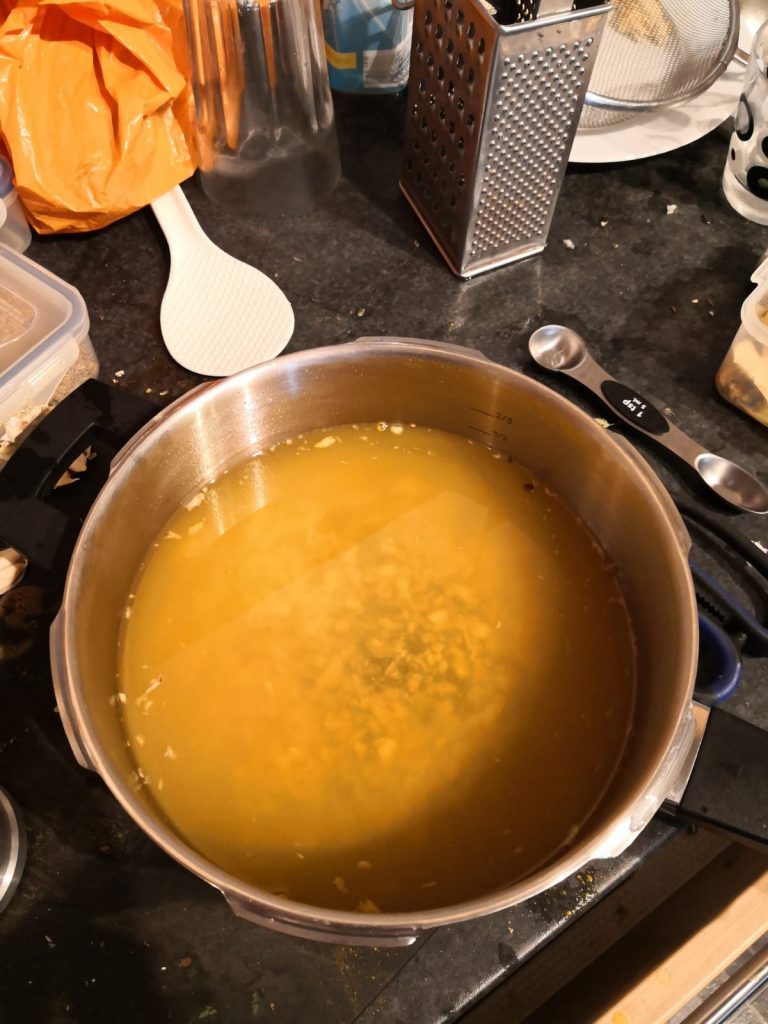 4. Put the lid on and turn heat to maximum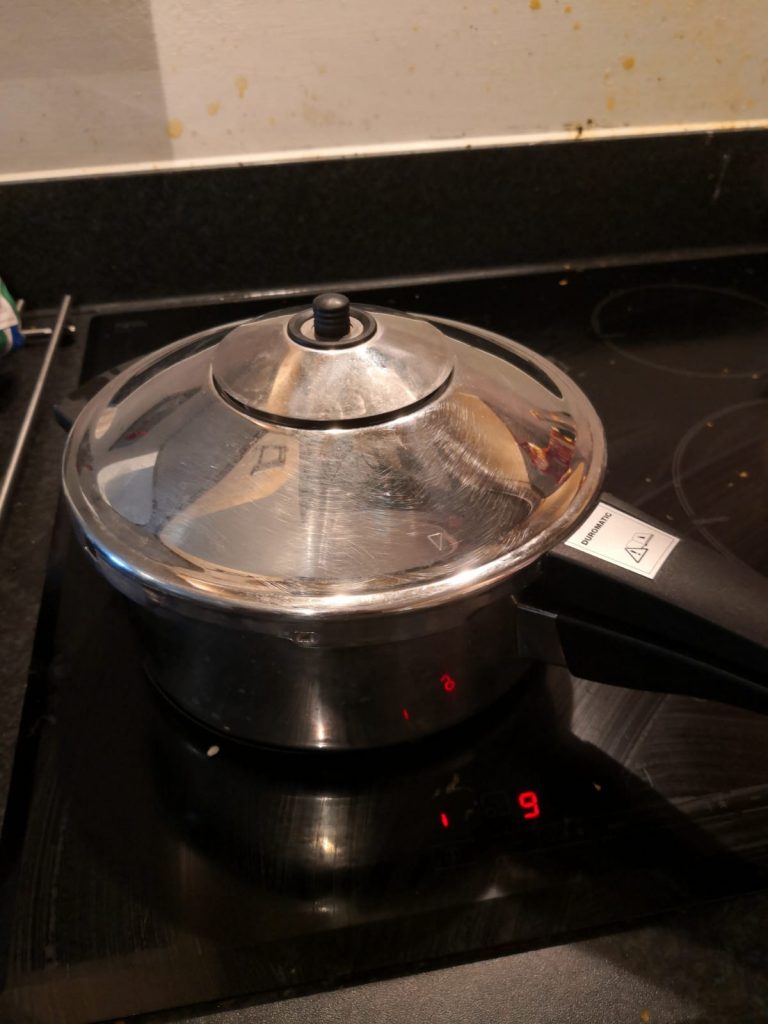 5. When you see the red line appear thus, turn down the heat to very low.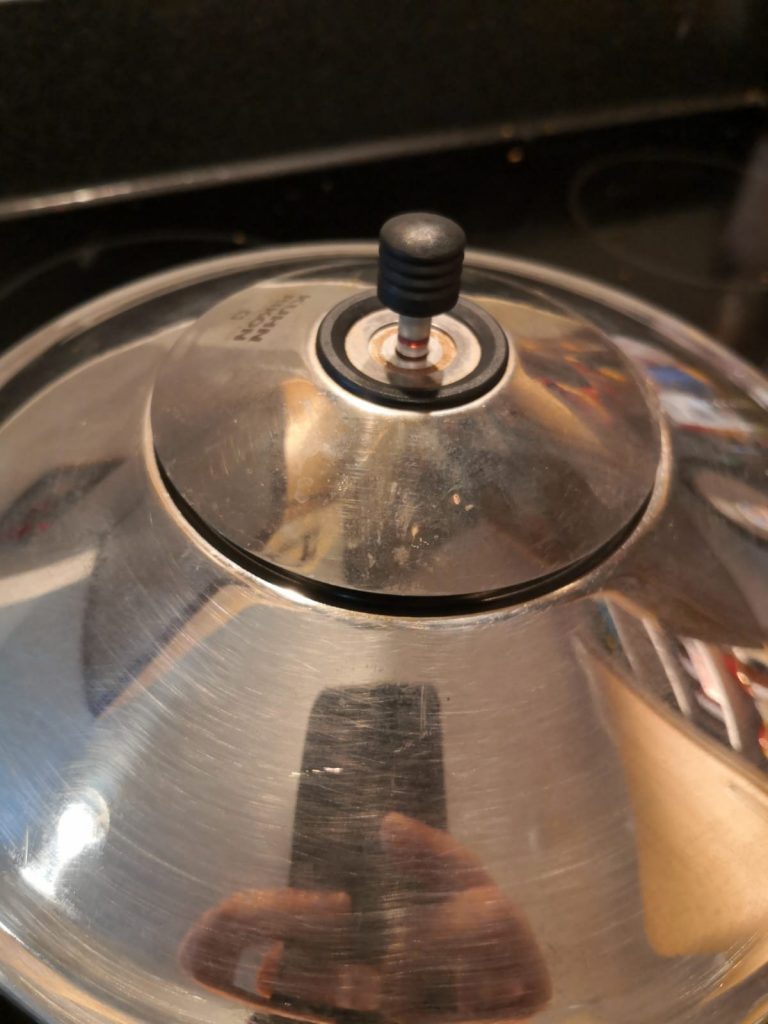 12 minutes and the pressure cooking part will be done. Turn off the heat.
Part 2 – The tarka
1. Pretty much anything goes here according to taste.
I'm going to use cumin seeds, mustard seeds, medium onion, some red chillies and a large pinch of asifoteda.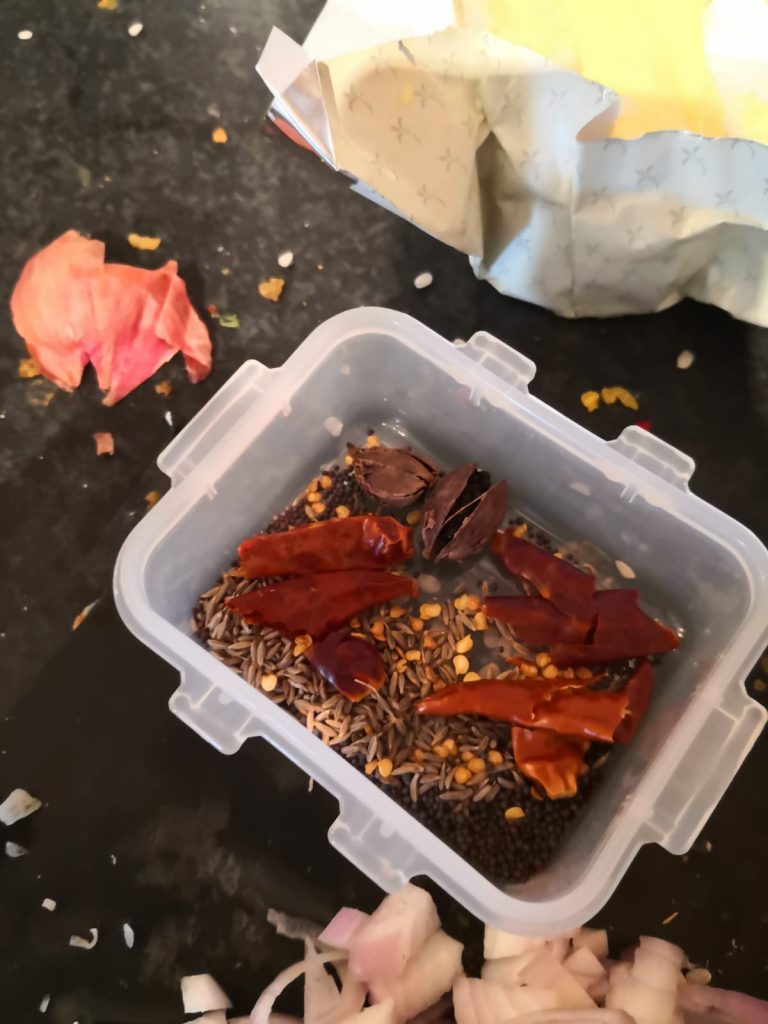 I've decided to chuck in a few black cardamom pods to help me understand them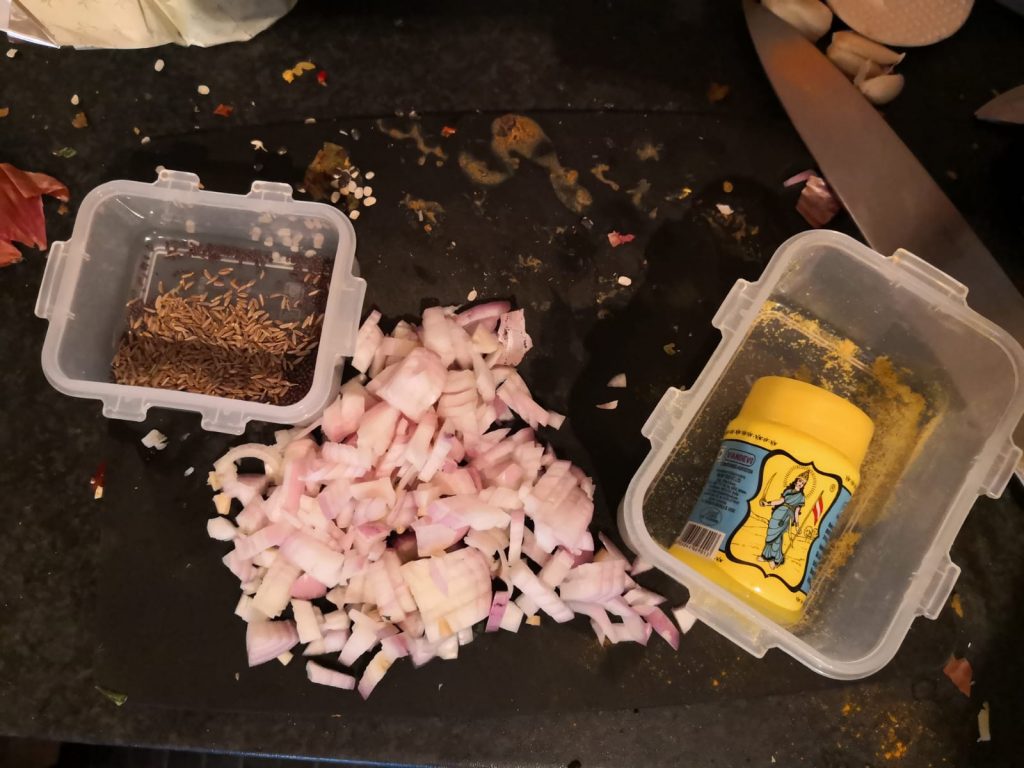 Make roasted curry powder as described in this Sri Lankan recipe – or you can substitute with twice as much garam masala.
So, that's my prep done.
2. I have to wait until the pressure drops naturally in the pressure cooker
Most recipes say to let the pressure drop naturally. No idea why, perhaps the steam is still useful for the cooking / sauce. You can press the valve and release the steam.
Pressure is fully released: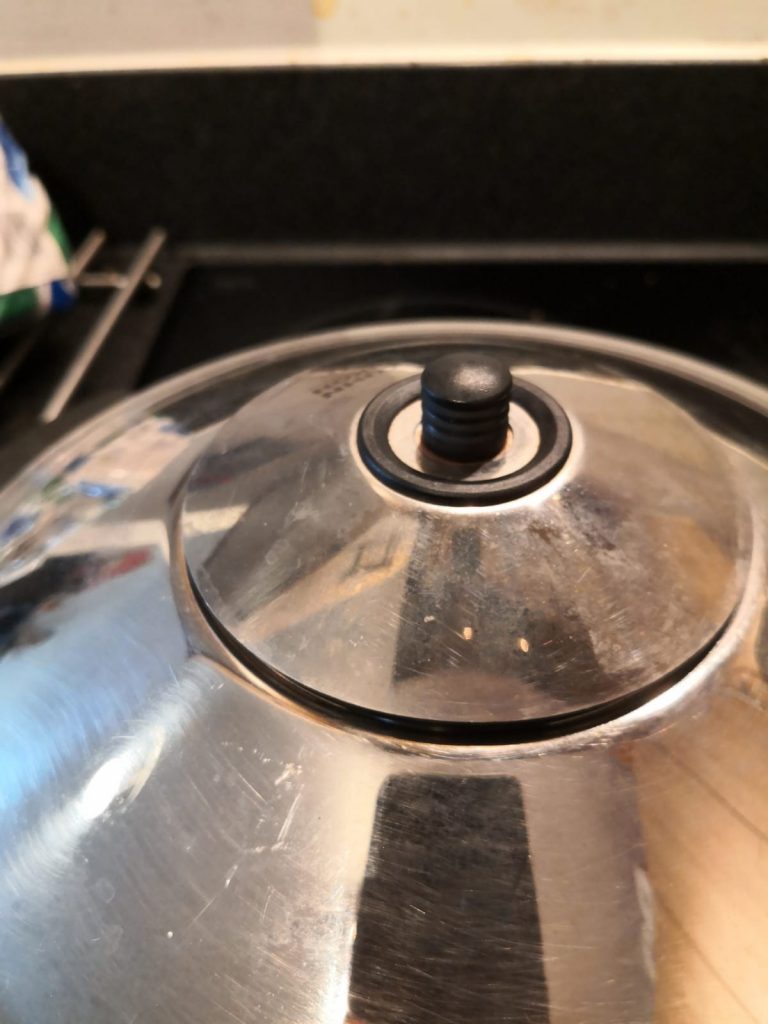 3. I added a bit of extra water and frozen peas. Put on a low heat and bring to a simmer.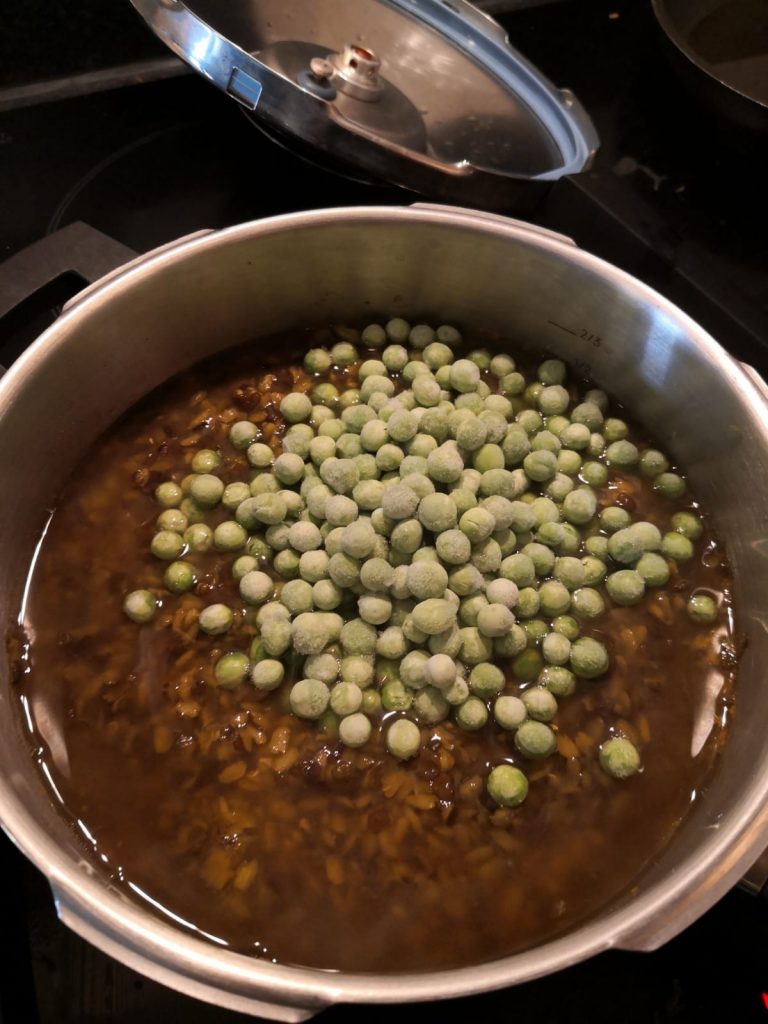 4. Cook the whole spices in hot oil until they pop and splutter.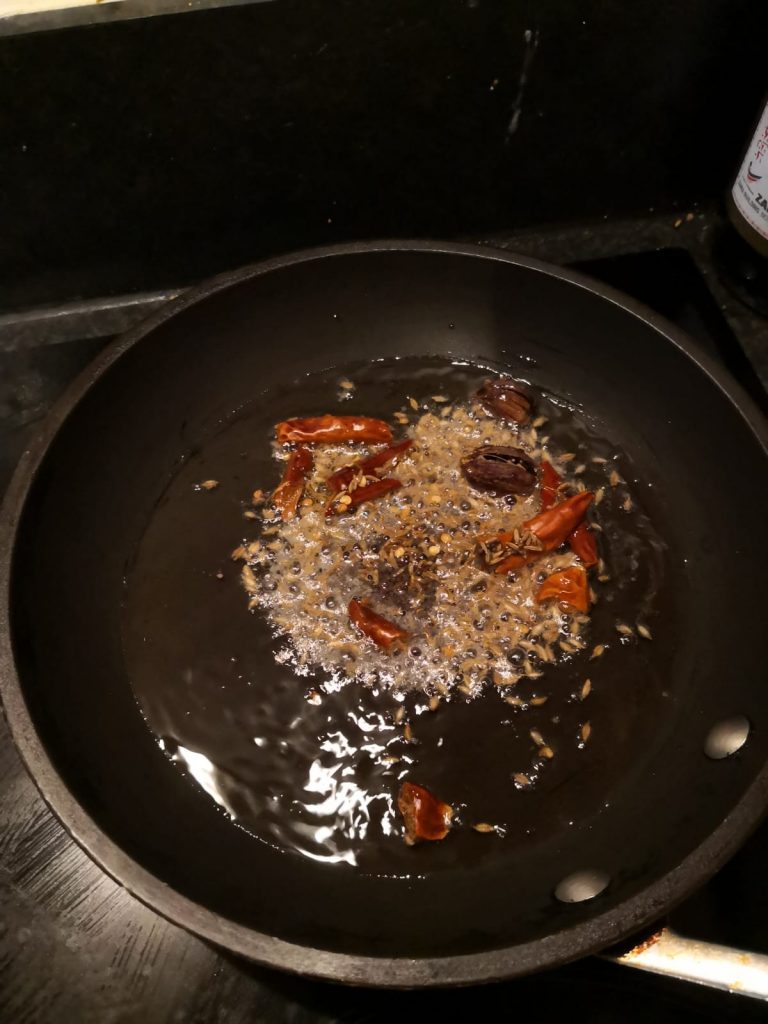 5. Then reduce heat and add the onions. Cook for about 10 mins.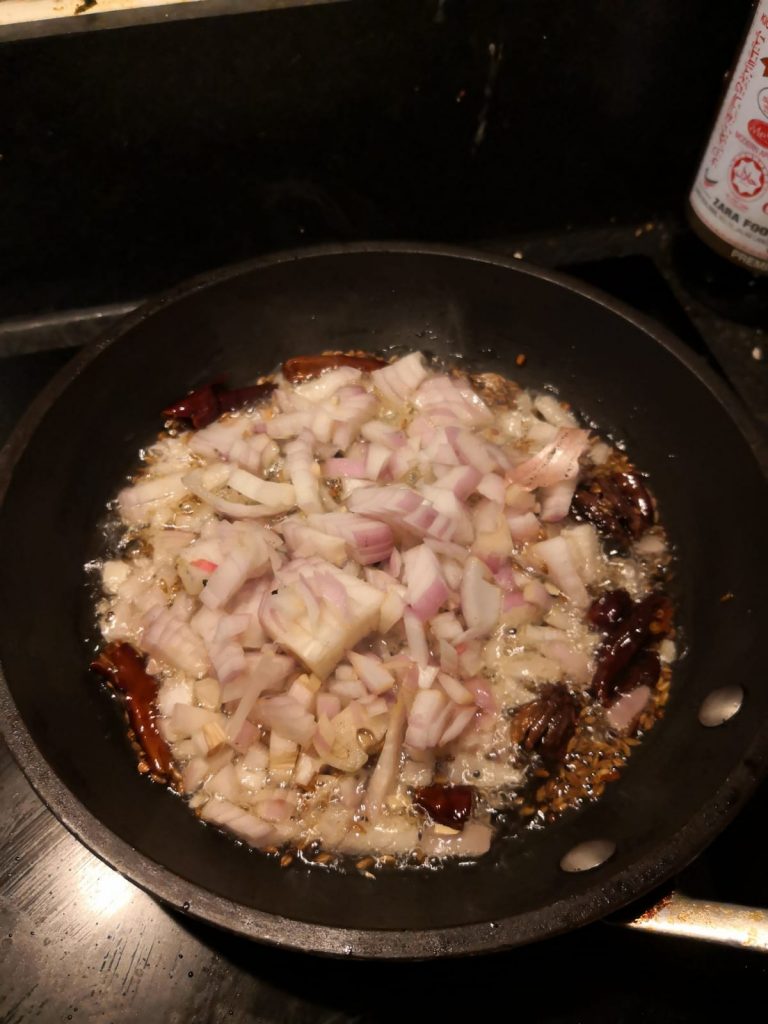 6. In with 1 tsp of roasted curry powder and asifoteda and cook for 3 mins or so.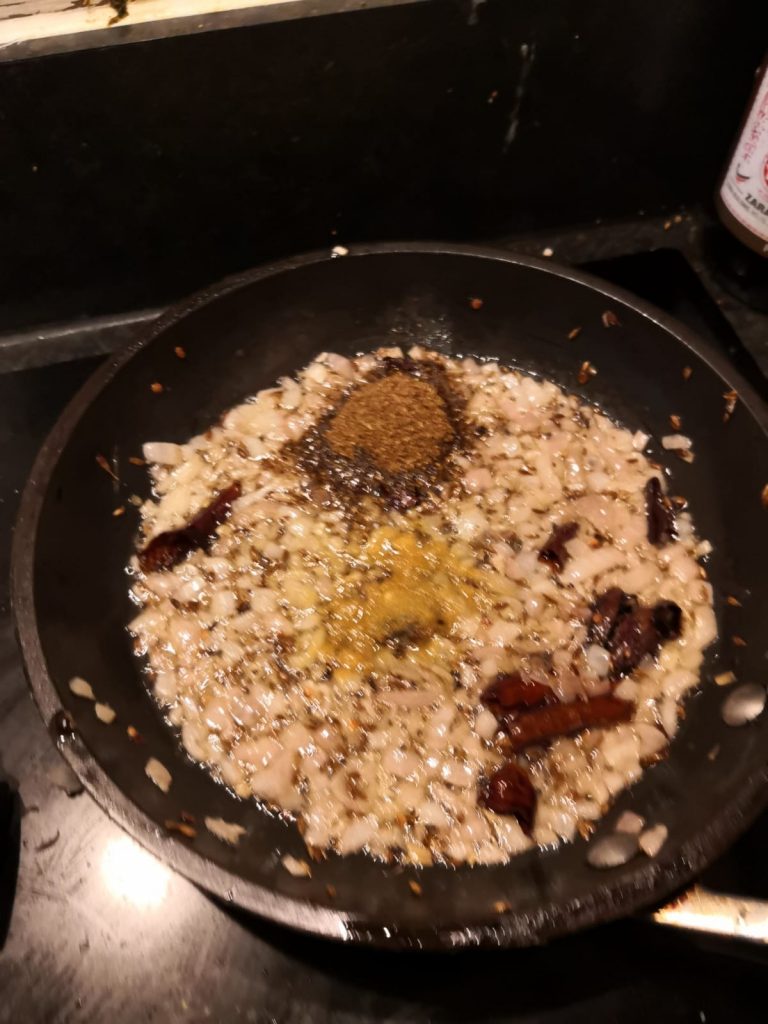 7. Add the spice mixture to the dhal and stir. Leave it for 15 mins stirring occasionally.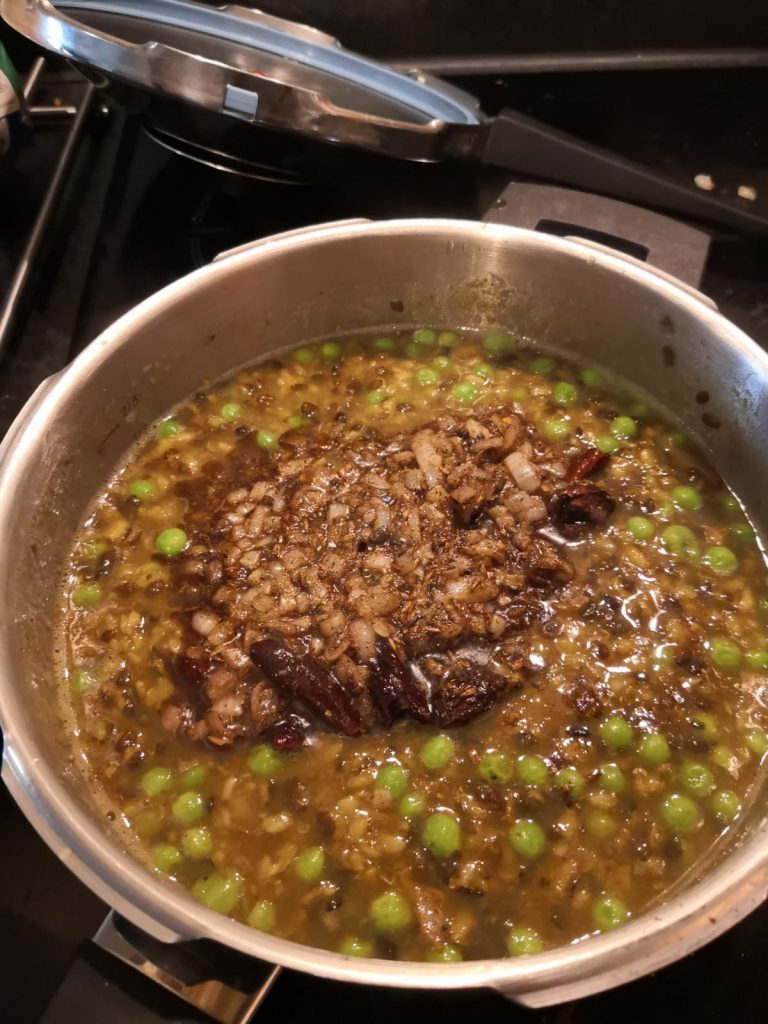 8. Grate in a bit of palm sugar. And stir.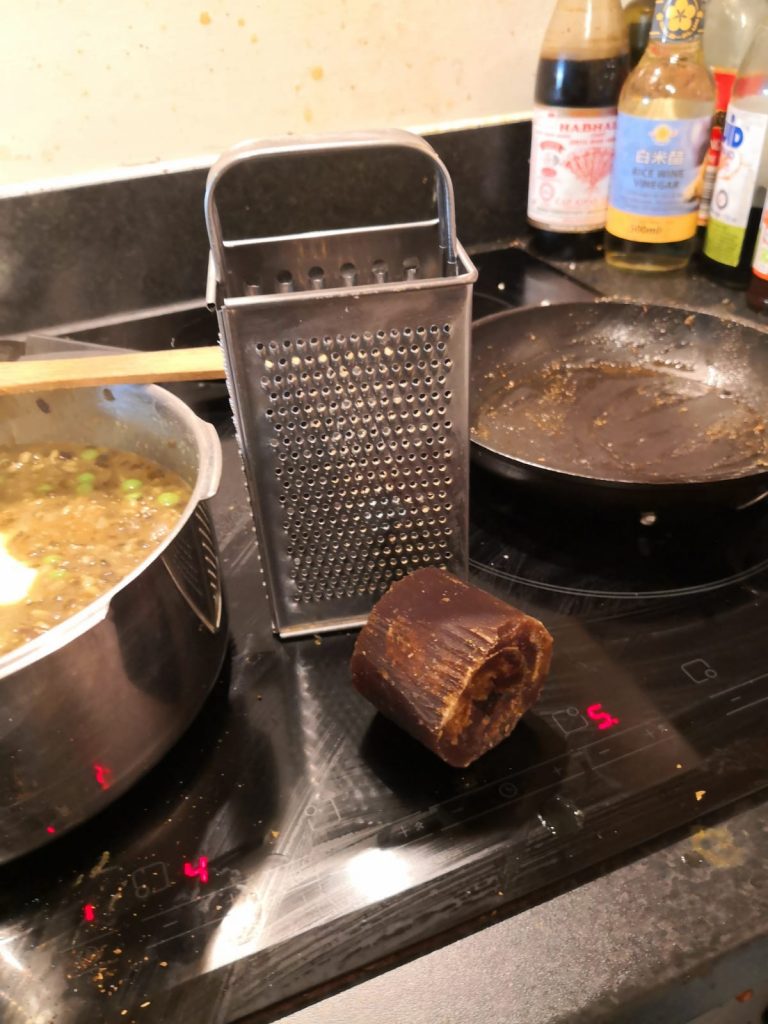 9. Add some fresh coriander (do use the stalks as they are tasty).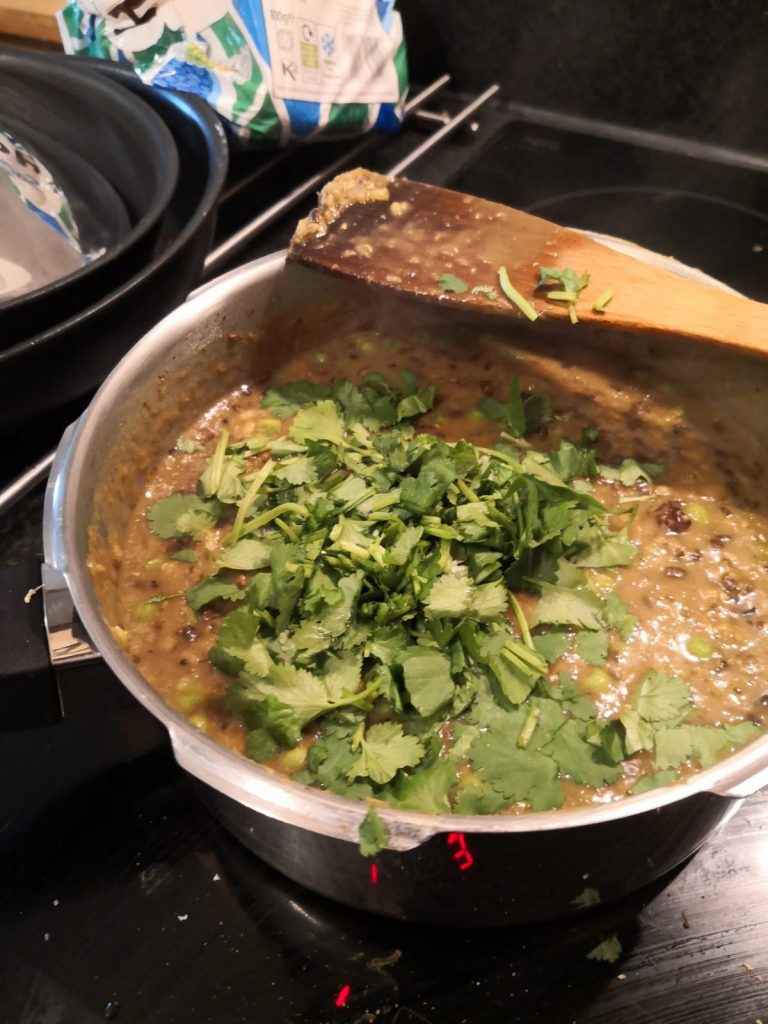 Squeeze in a bit of lime and stir again and you're done!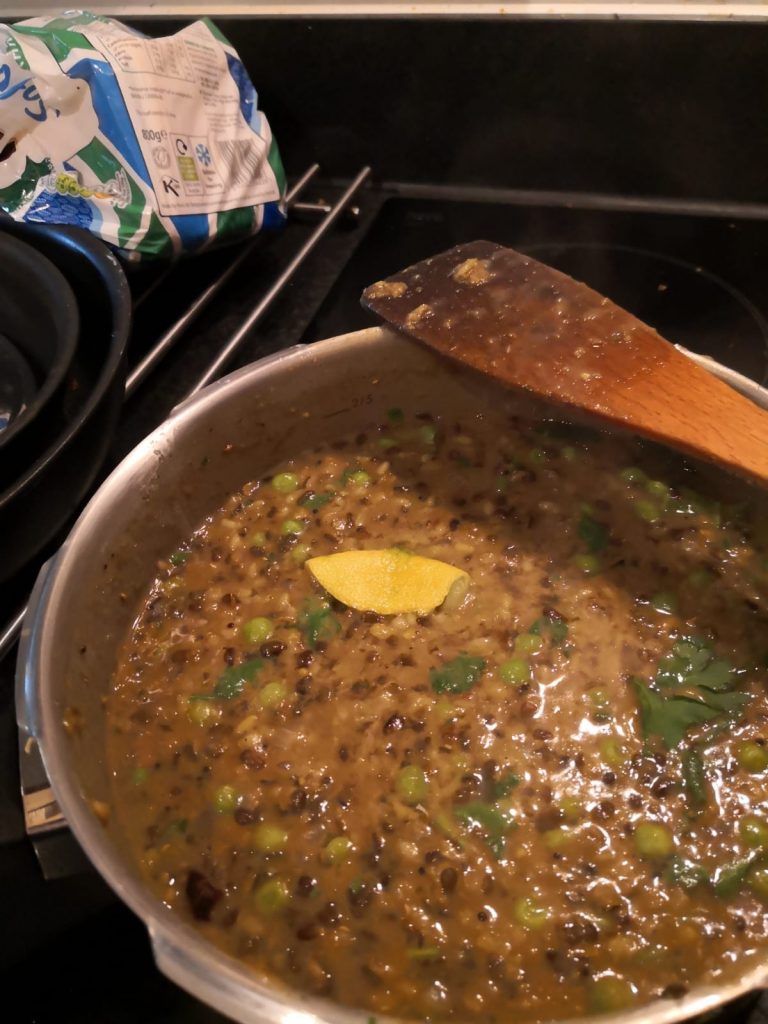 You could do the recipe very simply, just using cumin seeds, cumin and coriander powder, salt, turmeric, chilli garlic and ginger if you wanted
Urad dhal is very warming.
So, there you go… an easy dhal recipe for the autumn winter months!