---
Ghana 2002
Means of Transport
---
Transporting yourself round Ghana is very adhoc; every form of road transport is referred to as means. This could be anything from chartering an old taxi for the whole route, to sitting on top of the luggage on top of a bus. We didn't have to do either of those, but we had several interesting trips.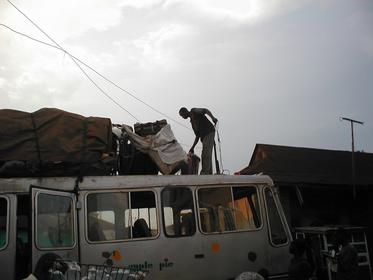 Our bus journey to Wa was the most extraordinary thing. Altogether it took 14 hours overnight, squashed precariously in this vehicle. There was no back on the bench by the rear door that I was sitting on, and I kept falling asleep on top of Stuart. Every ten minutes his saintly determination would give in, he would decide he was too squashed and push me forward.
I had the most beautiful meal in Ghana on that journey. We stopped at about two o'clock in the morning by the roadside. There were candles dotted along the road, people and children awake, living there, selling anything conceivable. It was like something out of Lord of the Rings. I sat down at a wooden shelf outside a hut, and had the most warm, delicious rice with sauce, and a freshly cooked omelette. I could see him cooking my egg in a frying pan on a fire. It all felt homely and real, actual people living there, making stuff. Little Chef a world away.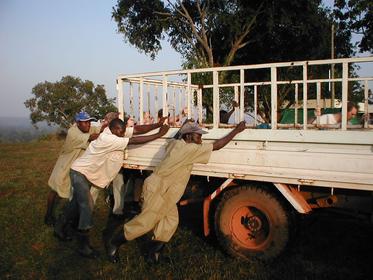 For a journey to be really deserving of being called means, it has to involve several different forms of transport, mainly unexpected. For example, to get from Mole National Park to Tamale we had to push start a truck and stand on top of it, to take us to the nearest town. Then we were all (just!) squashed onto a bus, standing up, on one foot, hanging over each other and out the door, to get to the next town. Then we finally got seats. Little did I expect, but these were much much worse than standing, because of the red dust.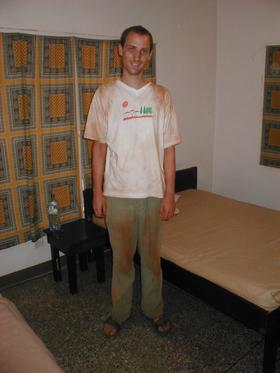 Road safety is a huge problem in Ghana. In one place we saw villagers who had unilaterally built speed bumps in the busy road through their community. There were also some strange holes with sticks poking out of them. This inspired community homebrew traffic calming is perhaps something that direct activists could take up in Europe.
On the other hand, when I got back to England, the coach journey from Heathrow to Cambridge felt like the safest thing in the whole world. Road safety campaigning in the UK, previously something of mild concern to me, seems quite precious now.
---