The population of all the other countries I've been in during the last three months (Myanmar, Thailand, Cambodia and Vietnam) is about 200 million. The population of China is about 1250 million. If I took the perhaps reasonable attitude of spending time in a country proportional to the number of people who live there, then I'd have to spend the next year and a half here.
When I got to the border town of Lao Cai, I had one day left on my visa so headed to Bac Ha to see some countryside Vietnam. This is the upcoming place (now Sapa is getting too self-contaminated by the tourists) to look at the beautiful mountain scenery and check out the ethnic minority hill tribes. Midweek, when I was there, it is completely empty, and I didn't see another white person for a whole day until I found two on the bus back to Lao Cai. At the weekend there are colourful markets to which people come down from the hills, and some tour groups arrive to photograph people in their traditional costumes.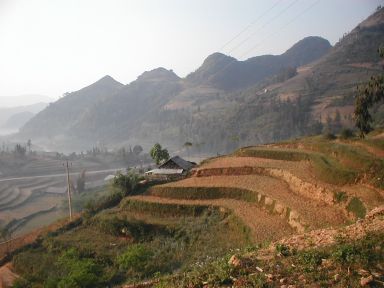 I only had one morning before having to go to the border, so I took the shortest walk up to a village called Bam Pho (I think) 5km from Bac Ha. The people were obviously used to seeing westerners, but not midweek, and were very friendly and kind. I ended up following two up past the village to some fields on the hills where they were going to work in the morning. Hill farmer commuting. They kept going up to the highest peak, but I didn't have time to follow. They were Flower Hmong, and the women wore bright colourful clothing. Compared to villages that I saw in Myanmar, this one was very well organised. The houses seemed better built, and the village was kept cleaner, with better managed paths and roads. I'd be interested to find out whether this was because of Communist rural influence (near Kengtung in Myanmar where I saw other villages has been largely untouched by any government, if anything actively harmed), larger quantities of proximate tourism over a longer time, or simply a better organised / technologically advanced ethnic minority.
The terraces they farm on are incredible. There was a man with an ox ploughing a hill. At first I couldn't quite believe what he was doing. He was standing on a very steep hill, it felt like 70 degrees, but of course it probably wasn't, standing on a wooden ploughing device yoked to the ox. Amazingly the ox managed to walk along the contour of the hill, and the man stay balanced on the plough to give it weight, churning the earth underneath. I'm not sure if he was making a terrace, or if there's a crop which can grow on the slope.
Land borders are fascinating places. Border towns have a unique character, quite different from either country. There's a strange feeling of freedom, as to enable trade people of both nationalities can cross quite freely. It's only foreigners who have to have the right visa, and wait for lots of stamps and paperwork. Lao Cai on the Vietnamese side had motorbike riders who wore helmets, and didn't speak any English at all. This is unprecedented – every other moto-taxi driver in Vietnam can say at least the word "motorbike", and they never wear helmets, it would be a terrible fashion faux-pas. The Chinese helmets are only half the size of motorbike helmets in the UK, so you get decent all round vision which would be essential in Vietnamese city traffic. It is actually illegal to not wear a helmet in Vietnam, just never enforced, it looks like it may be enforced in China. Many more people use cars, buses, and have access to decent trucks though, so it's hard to tell. And walk, people in China actually walk places – a very strange thing to do in Vietnam.
As I was waiting for my passport to be stamped, a passing classical looking Chinaman shook my hands to welcome me to his country. He had one of those fantastic oriental moustaches, and I felt like I'd had just the right welcome to the new. Hello, China!
The no-man's land between the two countries is a small bridge across the Red River (it really is red), with two grand arches demarking your exit from Vietnam and entrance to China at each end. These huge monoliths are a largely successful attempt to make a virtual border on a map a real one in the world, cartography escaping from paper. At the other side, just as I was taking in all the smart buildings and Chinese writing everywhere, I was met by a beamish English speaking man who called himself Mike.
Mike proudly described himself as a "playboy", seemingly thinking this would endear me to him. As if to prove it, he would sometimes rush up to young women in the street, entreaty them to spend the night with him (yes! I can understand Chinese without even knowing any!) and take their curt refusal buoyantly. He took me to his father's hotel just round the corner, which was a bright but basic place. Feeling a bit out of options, I negotiated for a long time (Mike insisted on this), and ended up paying 40 yuan to stay the night, and he would take me to the train station in the morning for free.
He was very clingy, and would have walked round town all evening with me to practice his English. Good though he was at speaking, he wasn't so good at understanding, and I felt tired and overwhelmed by things anyway. So I managed to get rid of him, and he said he'd meet me later at 8 o'clock (we both flunked the meeting, I fell asleep, he woke me up, only to say he had to go to do his other job at the bus station, getting tips from English speaking foreigners there). The town, by the way, was astonishing to me, with all its clean, crisp buildings, made by an engineer not an artist, but still strangely charming to me after the roughness and dirt of even Vietnam. I fell asleep properly, unhappy with the room (I couldn't find the bathroom, and it was noisy with a paper thin wall to the room next door; the hotel wasn't quite convincing), and ready to move on the next day.