Last weekend, Nat took us further along the coast to Cam Pha just east of Halong bay. The area is where they mine coal, and it adjoins the beautiful Bai Tu Long bay which is just as fantastic as Halong. I predict that within a few years Lonely Planet will tell everyone to go there for the authentic experience and skip Halong, then in another ten years it will be completely touristy. We went up to a cave where the guide kept pointing out dubious animal shapes in the rock which Nat had to translate from Vietnamese. Bizarrely, at the end of the cave there was a big open area with a huge atmospheric bar and no doubt karaoke if you come at the right time. On the Sunday we went to another island in mid-development off Halong bay and saw a dolphin show. I haven't seen dolphins before, and found them really amazing. I was surprised by their strength, and also impressed by the agility of sea lions.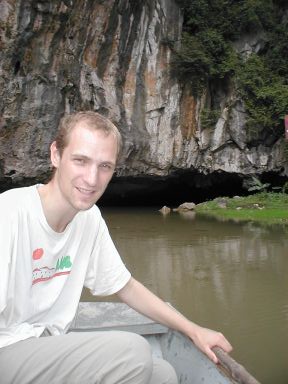 Since then Gavin and I have mainly hung out in Hanoi, going to museums. We took a day trip to Tam Coc, which has the same limestone rock outcrops as Halong only on land. There's a river for irrigation which has been made to flow between the outcrops, with paddy fields on every side. Being rowed along the river was also quite eerie, and just as impressive as Halong. Occasionally the river went through a cave underneath an outcrop, where the light shining in from each end produced a fantastic contrast of colours. (Picture is of me on the boat, with one of the caves behind).
Overall my impression of Vietnam has been that it is an interesting and rewarding place to travel. It seems to be developing economically. I've spent too much time in the cities though, and not enough getting out into the country. After he finishes his work, Nat (who speaks Vietnamese) is going to make a motorbike trip round the north-west, and I look forward to hearing more about how people there live.
People here work very hard, seemingly for every hour of the day. The staff in guesthouses and shops get up at dawn, open up, and close just before bed time. People have to live in large numbers in small houses – in hotels the staff usually sleep in the lobby. This is striking to me, how lucky I am to be able to do what I want and go where I want, when those around me work every hour of the day, and still can't save up enough for a foreign holiday.
Gavin left to the south of Vietnam two days ago, and we bid our farewells to Nat. Tomorrow I'm going to China, getting the train to the border at Lao Cai. The railway the other side is currently closed so I'll be travelling onwards by bus.
War looms.