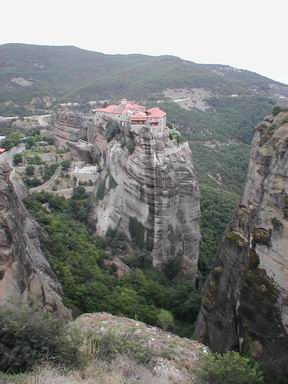 Just a quick post, as internet access is expensive here. Or at least it feels expensive as you have to put coins in a slot. I'm in Kalambaka towards the north of Greece. The attraction here are the impressive Meteora, huge pillars of rock topped by 14th century monastries.
The Byzantine empire was collapsing, and as the surrounding lands became more dangerous the monks fled further upwards. They used retractable ladders and windlasses to climb to their retreats; now you can go by bus on a tarmac road, and climb steps hewn into the rock. I took the much more enjoyable route on foot, which involved scaling winding paths through the trees between the rocks, suddenly to emerge next to huge greek coach parties and stalls selling refreshing water and slightly dodgy spinach pies.
The monastries are spectacular anyway, the more so for their location. Very impressive paintings, and in one an almost cathedral like vaulted ceiling. I sat watching the views across the plain below, suddenly realising just how big the European Union is. And that's before the new countries join next year. I can legally and with no visa application get a job here, and yet the landscape seems as vast and far away as China.