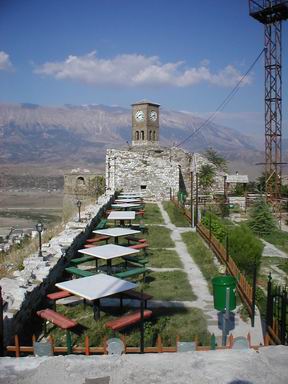 Land borders are always fascinating places, and the one between Greece and Albania was no exception. The bus services are awkward or non-existent to border posts in this part of the world, so you have to hire a taxi to drop you off there.
After crossing the Greek checkpoint on foot there was a long stretch of no-man's-road divided by a tall wire fence. Alone, I trudged my way up it towards the Albanian border post. Twenty or so Albanian men were hanging out there slouching by the road, shouting out names of places as I past. It was creepy. Usually borders are bustling places full of local trade, people too busy crossing over to do business for them to even notice me. I said I wanted a lift to Gjirokastra, and somebody called to his friend on the other side of the wire. He slipped through a small hole, and became my next driver. So much for the border controls – it would be easy to smuggle anything into Albania through that hole, and I don't have much faith that the guards were watching it.
Gjirokastra is a fascinating old town, tumbling down a mountain into its newer buildings by the main road below. At the top is an old castle commanding a view of the entire wide and sweeping Drino valley. Eagles circled, hanging in the thermals above the mountains. At least that's what my guide book said, but I'm damned if I could see them. Eagles or no, you really could imagine both the Italian and the German tank-armies respectively thundering along the valley into Greece during WWII.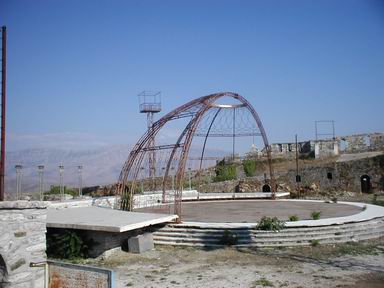 The castle has lots of curious history and uses, as you can see from these photos. The picnic tables are a derelict cafe, perhaps from when tourism was growing before the 1997 civil war. There are now again some day-trip tour buses from Greece. The strange dome is a theatre, used for the revived four-yearly Gjirokastra folk music festival. It was rusted and ruined. I had great fun poking round the deserted place. Examining the downed US fighter plane the communists proudly put up here in the 1950s. Trying to not be too scared of the gatekeeper's dog, who hid barking in the dark depths of the arches, which contained a WWII weapons exhibition. Creeped by the too-recent barbed wire and cell courtyard, where the dictator Hoxha kept, and miskept, political prisoners.
The town itself is eerily quiet. Shopkeepers are pleasant and friendly with their modest wares. I sat watching the sunset chatting to the lad who was running the guesthouse. He and his cousin pay 300 euro a month to the owner. My excellent quality room cost 10 euro for the night. In winter they have more trade for some reason, and this is profitable, in summer things didn't look so good.
Upstairs there was an eighty year old lady, who had hung numerous banners out of and around her window. They were all ragged and torn, made of old sheets with scrawled writing. Like something from the Collection d'Art Brute (a gallery of modern art made by insane people) in Lausanne, rather than for a clear and controlled purpose. The lad explained to me that she's mad, and said that the posters talked about Albanian justice. She's 80 years old. Anyone who's lived through the last 80 years of Albanian history, particularly in Gjirokastra, seems remarkably clear-headed to me for still hoping for Albanian justice.