The main disadvantage of renting property is that you can't control things if your landlord decides to sell it. In the long term, I feel like there should be something clever halfway between renting and leasehold which gives you more rights over the freeholder. But until somebody works out what that is, I suggest getting a landlord who lets you move with him!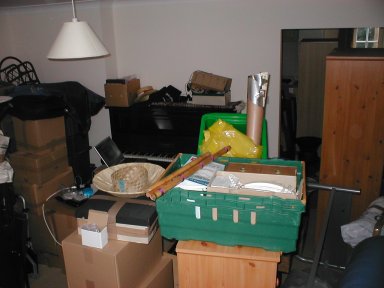 Today is completion day, although at what time it completes I'm not quite sure. House buying is much more ephemeral than I thought, with solicitors talking by telephone. I always imagined exchanging contracts would be round a table in a smoke-filled room. As you can see from the photo, I'm sitting on the floor of the large new living room, which is filled with all my and Mark's worldly possessions.
I've moved barely a mile, to in many ways an area even more central. It is less on the tourist track and the university; instead nearer the station, and nearer where most people that I know live. It's a characterful place known as the Kite. Built in the early C19, when it was mainly full of criminals and vagrants, half of it was controverisally knocked down to build a shopping centre in the 70s. Now, of course, it is incredibly gentrified, and still right next to Midsummer Common, my favourite meadow in the world.
I'm no longer sleeping in a basement which is lovely. Pop round for tea while you're shopping.
Good customer service story of the day: For the new flat, I ordered NTL broadband internet about 10 days ago. I was amazed this morning when not only did the NTL engineer arrive on the dot of 12 noon (when the time slot booked extended until 6pm), but he rang 15 minutes before hand to remind me. He didn't bat an eyelid that I use Linux, and everything was working perfectly within minutes. I'm going to have to set up ntl:heaven to tell people about it! It was extra amusing that when the engineer arrived and I booted up my laptop, it unintentionally connected to an open wireless access point nearby. Replete with internet.