(Actually, I wasn't thrown out, but that made the best title, read on)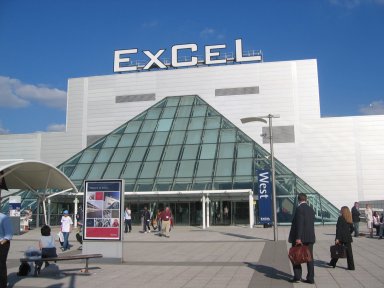 So, I'm alone at a book industry trade fair in the colossal ExCel centre in London's docklands, wearing a suit on top of a Campaign Against the Arms (CAAT) T-shirt, and carrying a bag of subversive anti-Reed Elsevier literature. (See previous post for why).
It's late in the afternoon, and everyone on the stands is much more chilled out than they were earlier. They have lots of little tables you can go and sit at, and chat casually about how many of next week's bestseller you want to order, or get quotes for printing your books in India. They don't have many customers now, the stall holders are mainly sitting and nattering to each other.
To each I go and sit down, say hello with a smile. They're always friendly. Then I say "Has anybody talked to you about the arms trade yet today?". They're always baffled, and I always furtively reach into my bag and give each person a copy of the CAAT leaflet. And explain that a few months ago in the same place, people were selling tanks, guns and torture equipment. Quite a few have heard of the campaign in the press. Some are nervous, and say they're not political and don't want to be involved. Most are cautiously sympathetic, a few outrightly so. All are dubious about quite what they can do – but so am I. But hey, it's time for tactics (getting rid of my leaflets) rather than strategy!
After doing about 20 stalls, I get a text message. Someone from CAAT who was thrown out earlier has got back into the fair, and is in the Freedom of Expression seminar. A bunch of right-on journalists, talking about the Mohammed cartoons row, and the Sikh play that had to be abandoned in Birmingham. I head on over there, it sounds too appropriate not to. I sit for an hour listening to their speeches, distracted, working out my question about how people were thrown out of the fair earlier for freeing their expression, and what does the panel think about corporate control of public space and censorship?
I've no idea who in the audience is the other person from CAAT. To my relief, he gets up quicker than me and asks the question, with more microphone and pizzazz than I would have done. The story is too complicated for the panel to get what is going on, although Jonathan Freedland (from the Guardian) says something tangential about the anti-protest zone round parliament, and terrorism law used against hecklers at the Labour party conference.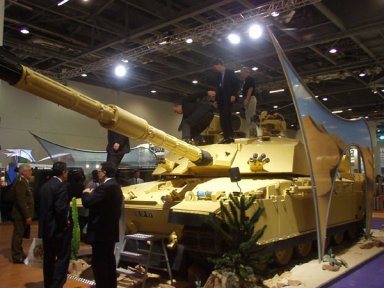 I stand up, and start handing out leaflets, to everyone as they leave. It's great, I get rid of them at the fastest rate I can imagine. Someone comes up and tells me how super CAAT is, and how he gives money to them. I feel odd getting this praise when this is the first thing I've ever done for them – but my corporate identity as part of the NGO is stuck.
Then, a security guard comes in, and asks me to stop handing out the leaflets. I'm quite shocked, angry, but I immediately and intuitively know that he can't stop me. It was like this with the infringement of parliamentary copyright required to make the first version of TheyWorkForYou (we now have a license). Sometimes you just know you are in the space where you have the power, the support of popular opinion. It's nothing to do with you being right, and much more to do with how the story would look in brief summary form in the headlines of a newspaper. "Parliament tries to stop people copying the speeches made by their own MPs" is never going to look good. Nor "Thrown out of Freedom of Expression seminar for handing out leaflets".
I raise my voice, and step towards the remenants of the panel chatting to people from the audience. "I'm in a Freedom of Expression seminar. You can't stop me handing out leaflets." I refuse to leave, he knows I could make more fuss than he could deal with in such a sympathetic crowd, and he leaves. The last leaflet goes to the last person and the job is done. Now I'm friends with Tim from CAAT, and we leave together.
There are at least eight security guards waiting for us, wanting to escort us out en masse. Tim knows this isn't on, and insists that only one go with us. He knows he could make enough trouble for this deal to be worth their while, and we leave quietly with one guard. Strange now, feeling rebellious, on a high, someone tried to throw me out of a freedom of expression seminar! And I'm suddenly bonded to this stranger, simply by cause and the moment. We go to the pub.
The feeling of corporate control of speech is quite scary. Living in this society, I naturally respect property rights. I wouldn't expect to be able to hand out leaflets in your house. But somehow a space as large as ExCel feels different. It's owned by a corporation, which may be "a person" in law, but doesn't feel like one to me. And even though the land is private, it is being used as a public space, the corporation is profiting from it having the qualities of a public space. So why should they be able to throw me out for the most minor piece of dissent? What do we do when all space is corporate (not such a hard thing to imagine on the Internet, where censorship by website owners can be perfect), there's no crack for change of any sort?