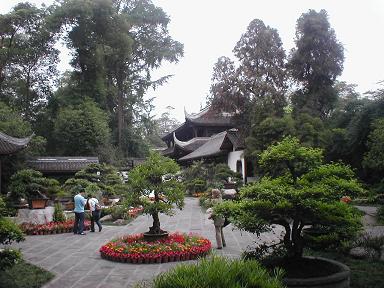 If you fall off the eastern edge of the Himalayan mountains, the first major city (population 4.1 million) that you come to is Chengdu, in China's Sichuan province. You've heard of it from the spicy Chinese food, called "Szechuan" in the west.
Rosemary and I spent 5 or 6 days based around there. A few of those were visiting a Buddhist holy mountain, and the largest Buddha in the world – I'll write about them in another post.
Chengdu itself was like every other large Chinese city – endless streets with few distinguishing features. My fault for hoping it might be a bit better than that. It has some super parks, but you have to deliberately go to them, you couldn't stumble upon them by accident.
We saw real Giant Pandas at the breeding centre outside town – they're super cute, mainly because they have a sixth thumb-like finger so they look like people as they eat bamboo. The Red Pandas are even better. I hope somebody domesticates some soon. They were running round playing, happy like dogs, but cute like cats.
The surprise attraction in Chengdu itself was Du Fu's "cottage". Really a whole complex of buildings and gardens (photo right), originally where an 8th century poet lived in a thatched house. There was lots of good bonsai trees, and also calligraphy of Du Fu's poems. Those are the two arts which I've seen that are both still practiced properly in China, and are uniquely Chinese.