(For background, read my posts Chinese family history and Child of the atom bomb first)
In Shanghai, Rosemary and I went to a few more places related to our family history. Shanghai has undergone massive development, knocking down of whole areas, building of new skyscrapers. Amazingly, everywhere we went was still there. A hundred year old colonial buildings, with quite different architectures to those surrounding them. And still used in modern China. It was also great that the guards and porters would let us in. When Rosemary went 20 years ago, all she managed to do was peer from a distance. China is opening up, and relaxing.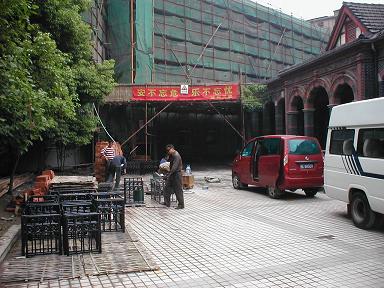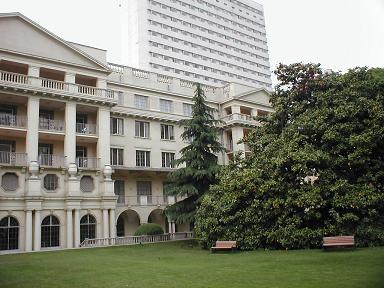 The red building on the right of the left photo is the school that my grandmother used to teach in. She was a Physical Education teacher, and it was a school for Eurasians, people with one Western parent and one Chinese parent. The date above the entrance says 1893/1894, and it is now the Shanghai Installation Engineering Co, Ltd. The men on the left were arc welding some metal railings together.
The photo on the right is of the back of the hospital where my mother was born. It's still a hospital. At first they wouldn't let us in, I think because I'd been taking photos too obviously. Rosemary insisted she wanted to go round the back, I wasn't sure why. Eventually a kind Doctor who spoke English was summoned, and escorted us round. The gardens were beautifully kept, and the rear of the hospital (photo) better architected. You can see the tall tower of the new wing rising up on the right behind the old building.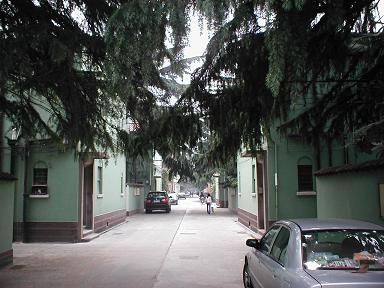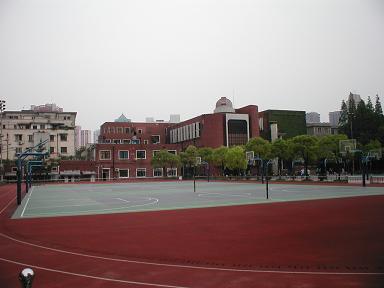 The bottom left photo is of the former Jubilee Court, where my grandparents, mother and aunt lived before they were interned by the Japanese. There was a sign on it saying "Monument under the Protection of Shanghai Municipality". It's still residential, we chatted to a woman whose mother lived in one of the other flats.
The right hand picture is of Yuyuen Rd camp. It's where they were first interned before being taken to the Yangtzepoo camp at the end of the war. The camp used to be a school, and now is again. It's called the Shi Xi High School, and had very well kept grounds. There were some kids playing basketball, even though it was the weekend.