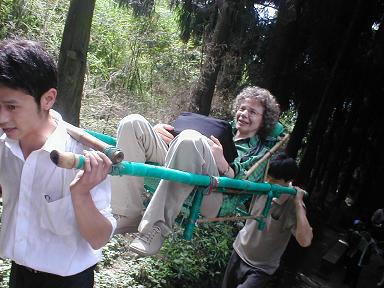 (Just to explain, I've been back from China for a couple of weeks now, but still have blog posts to make about it, which I'm gradually catching up on)
When we were in Chengdu we went on a trip a couple of hours south to Emei Shan. This is where the religious thread of the holiday met the family history one.
My grandmother went on a journey up the Yangtze river to Emei Shan in 1936, with her friend Gracie. She'd been in Shanghai for six years, and in her summer holidays had already visited Peking, the Philippines, Saigon, Angkor, Bangkok, Korea and Japan. So by 1936 there wasn't much left – they had to go to inland China. At the time, this was a very adventurous thing for two unaccompanied English ladies to do.
This verdant mountain is an ancient place of pilgrimage, both for pious Buddhists, and for seemingly millions of Chinese tourists. But as soon as you take a hard route away from the temples near the road, it becomes quiet and calm, you can watch the dragon flies, and be at peace.
We walked up the long route, but only went half way up. Even so it was very steep, so for some sections Rosemary got herself carried (photo). This was following her mother – who went up the mountain carried by 7 men! "3 to carry me – 2 Gracie and 2 baggage"
We stayed the night on the mountain in a Buddhist temple, in a surprisingly luxurious room. I'd hope for something a bit more down with the monks (I'd accidentally been to a service with some at the monastry in the town at the bottom of the mountain the night before), but Rosemary needed as much luxury as we could find. It was peaceful wondering round the glen in the twilight, with lakes and bridges. I went up onto the roof garden, watched and briefly played cards with a monk and some of the lay workers.
On the way back down (via foot, cable car and bus) in the morning we saw two donkeys struggling their way up the steps from the valley below. They were both loaded with panniers containing fine rocks for building. Panting all the time, they would sometimes stumble. Their two minders had spades, which I saw one beat his donkey with when it had fallen down once too often.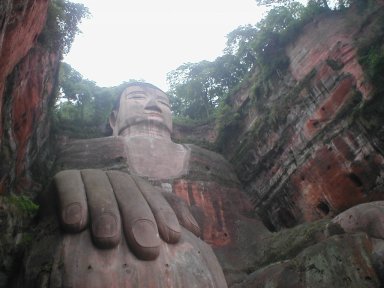 That afternoon we went to see the largest Buddha in the world as Leshan, carved in a rockface by the river. I climbed down the steps to his feet, and looked up in awe (photo). The Chinese tourists hardly looked, as ever busy snapping souvenir photos of themselves in front of him. I put my camera away. I thought about impermanence. He looked down at me and told me that life is change, and that I would never see him again. In the end, that's the way it is with everything in this fragile world.
And my grandmother? She stayed five days at the top of the mountain, sleeping in a temple on their own camp beds, and eating tinned beans and pork they'd brought with them. The weather completely failed to clear, so she never saw the rarely visible fantastic view, and had to set off on the weeks of journey home.
She never mentioned the Leshan Buddha in her letters, even though her boat must have gone past it. This had puzzled my mother. But now we know. It is actually quite hard to see the Buddha from the river, you'd have to happen to look when the boat was right next to him.