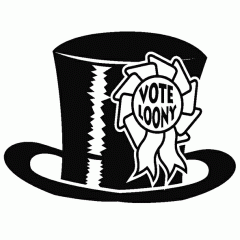 Looking for some sample data for the election quiz software I'm writing, I naturally went to the Official Monster Raving Loony Party website. The very first policy they list is:
Cool on the outside:
To combat global warming and climate change all buildings should be fitted with air conditioning units on the outside. (Source: Monster Raving Loony manifesto proposals)
At first this sounds just funny… Until you realise that we do have a technology that is the same as "air conditioners on the outside". Indeed, the office building I'm in right now is heated by one. They're called air source heat pumps (Energy Saving Trust link).
This air conditioner on the outside won't solve global warming by cooling down the atmosphere, but instead by saving energy on heating, and reducing the amount of fossil fuels we have to dig up and burn.
According to the Energy Saving Trust page above, they generate 2.5 times more heat by pumping than an electric fire would using the same electricity. Julian and I looked up the spec sheet for the ones in the basement of Liverpool Science Park ic2, and it claimed 4 times. There's a picture of the pumps and some details in the 10-page synopsis of David MacKay's energy book.
The Official Monster Raving Loony Party have 26 candidates according to YourNextMP. I wonder if all their policies secretly actually would work, and are only merely apparently funny? Much like I stopped reading the Onion when the normal headlines got as crazy (round about 2004), perhaps now is the time to start voting for the OMRLP.