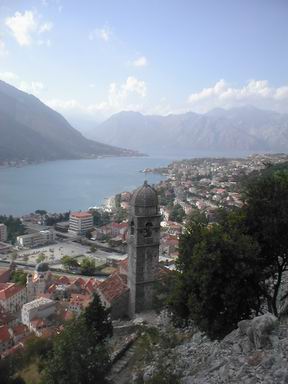 I quickly visited the ancient ruins of Butrint in the south-west, which were a bit disappointing. Tirana, the capital of Albania, was even more so. I arrived too near sunset, with the guidebooks both warning you to be careful going out at night, at least in the suburbs. In a rush, I found a decent hotel and then went out to buy a newspaper and get some food.
Shortly after leaving the Tirana International Hotel, where I had bought the Guardian in order to read about Tony Blair's testimony to the Hutton inquiry, a man started talking to me in Albanian on some pretext. I replied in English, and he looked all surprised, and flatteringly said back also in high-quality English that he had thought I was Albanian. He muttered something about the world service, and then started chatting to me. He was a teacher.
I was wary, but he seemed safe and interesting, and I agreed to let him sit with me while I had my dinner. Before I knew it, some inverted version of the Albanian hospitality laws, meant that I was paying for his dinner. This I could just about cope with. Then he strangely said that I could ask him anything I liked, as long as in return he got his two minutes. So I naturally asked him to say his piece immediately.
He had already mentioned his kidney was damaged, and explained that he had travelled all the way from the south-west to the capital for medical treatment. He had bought 450 euros, and spent it all on doctors fees, and didn't even have enough money to go back to his old mother. He was asking me for 10 euros to pay for his transport and some cheap food to have on the way. I was very suspicious, partly because I was in a twitchy mood, but also because it all seemed too convenient that he had found me.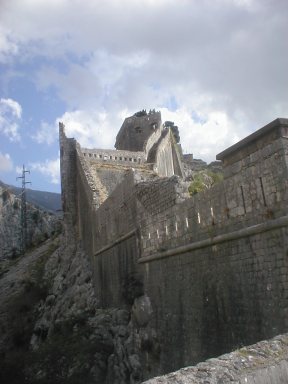 I thought about it a while, and ate my food. In the end instinct kicked in, having been bought up in the liberal tradition of giving to charities rather than individuals. I waited until we had finished our meal, paid for it (so he got a meal out of me), apologised and left. I'll never know if it was true, how can you know? Or the consequences of my inaction if it were. How many people are really in that sort of situation every day, in the whole world? Even one is too many.
Not to my surprise, I was again approached by the teacher the next day. Again, just after having left the Tirana International Hotel (to ask where I could change money on a Saturday). I looked at him, and he seemed calm and slick, so I asked him to leave me alone and went my way.
I spent a weary day in Tirana, and then a sleepless night listening to the dogs bark from the lots that they were guarding in the nearby streets. I got up and left the hotel at half past six, walking to the street where buses to Shkodra leave. To my amazement I was the person who filled up one of the minibuses, so it left immediately and I was at the northern capital by nine o'clock.
Not sure how to make my way on to the Montenegro border, I asked a lovely couple who ran a shop selling cheese pies for help. The nice thing about travelling here compared to Asia is that even with no languages in common, you have enough words and part-words from your common Latin and Greek heritage that it is remarkably possible to communicate. After a few phone calls, they found me a car to go all the way to Podgorica, including the border crossing, for 30 euros. Expensive business this Balkan country hopping. And I had a fine cheese pastry for breakfast.
Montenegro feels immediately different from Albania. The cars more expensive, the roads all in good condition and painted with signs. The people don't seem quite so pissed off, and there is a fair mix of men and women in the streets. In Albania most folk wondering about were male, with women more found working in the security of a shop.
I'm now in Kotor at the head of the deepest fjord in southern Europe. The photos are a view from part way up the hill beind the town, and the incredible walled fortifications that cover the hill. They spiral and zigzag on the steep slows, with castles and forts. Quite why anyone built them when the hill itself looks impenetrable is beyond me.
My plan is to go to Sarajevo tomorrow.