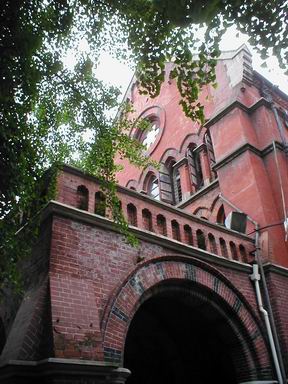 Almost as soon as we got off the plane on Wednesday, Rosemary (my mum) dragged me from the tourist trap of the Bund, into some overcrowded, grimy backstreets hunting for the derelict cathedral where her parents were married and she was christened. The magnetic levitation train from Pudong Airport was great fun – not because it travelled at 431 km/h, the fastest train in the world, but because at some points the earth around us seemed to rotate at what felt like, but could not have been, an unnerving 45 degrees. It turned out that we were tilting, but so exactly as we cornered that you couldn't feel any force.
In 1842, shortly after a war about opium (which sounds too inocuous, let's just call it heroin but with fewer laboratories), the British and other western countries gained effective territorial control over parts of China. In 1923, short of work, my grandfather came from Dublin to Shanghai by slow boat to work as a chemist for Shanghai Municpal Council. In 1930, short of adventure, my grandmother flitted through Canada and Japan before settling in Shanghai to teach Physical Education at Thomas Hanbury Public School, just north of Soochow creek. There's a love story here, but I'll tell that another time (probably if I ever catch the trans-Siberian express).
We found the cathedral, where they later married, in a pretty bad state, which upset Rosemary (the photo, right, sets it off in a good light, so as not to distress too much). There were small trees growing out of the brickwork, and junk piled up in the entrance. Buildings and walls set closely round it, ruining the grand space it occupied originally. The guard was friendly and let us poke about, we've found them much less hostile than Rosemary did 24 years ago when she was last here. There was a posh Chinese language Christian bookshop near the entrance, and the junk turned out to be for renovation work.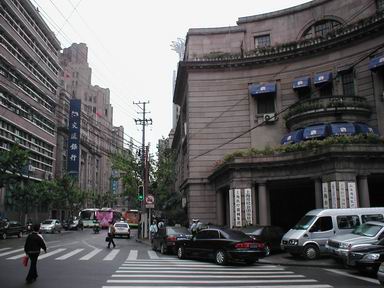 We also found the old council building (photo left), and nosed inside. It's lucky that the guards are friendly now, as it seems Rosemary won't let any fear stop her from access to family history. It was grand inside, and there were lots of old framed photos of the building under construction, and of speeches from the balcony (see photo) to celebrate when the Communists took over rule of the city in 1949. My grandfather worked in here. He did lots of different things, mainly to do with water pollution, but also, for example, helping to develop tarmac suitable for the local weather.
Everyone puts their own interpretation on places. To the signs made by the government, everywhere is a Communist memorial – where the first party congress was, how much they are doing to clear up the environment. To my mum, everything is the old Shanghailander in her – architecture from a grand age, bridges that Japanese soldiers marched them over, streets where her mother used to shop. I'll give my take on Shanghai in another post.